Who is online?
In total there are
34
users online :: 14 Registered, 0 Hidden and 20 Guests :: 2 Bots
acuya
,
CybeastGregarX
,
d_ultsch
,
k0hryuu
,
LadyX
,
LARIATO
,
Lobo
,
LtLukas
,
LunarWolf
,
Old_Man_Tai
,
Person
,
Underdog21
,
Vcom7418
,
veritech892
Most users ever online was
155
on Sun Oct 09, 2016 2:33 am
Champions & #1 contenders
Might be a bit slow
Thu Mar 23, 2017 9:33 pm by noob
hi people that im rping with. I'm gonna be away for a bit so I might be a bit slow with posting. Sorry xp
Comments: 0
Duo from Iceland has arrived!
Thu Mar 23, 2017 4:38 pm by Jaystar
Hello again everybody!
I managed to get creative, with the result of having two friends,
Isa
and
Julie
flown in from Reykjavik, who are ready to rumble in AFW!
While not sure if they get to decide, Isa is still a little bit reserved and is hoping to get a smaller opponent that she could use her lower body strength on, while Julie is very excited and eagerly up for pretty much anything!
If you have any characters who might want to challenge either one of the newcomers, or basically any fun …
[
Full reading
]
Comments: 0
Impromptu Break
Thu Mar 23, 2017 2:47 pm by Gadot
Hello,
I'm just leaving this here so people know! I'm dealing with a lot at my new job (coming in as a manager with a person on my team who's been there for years and being a bit of a bitch about it), and I'm trying to finish up my last year of college. So for right now, I'm probably not gonna be around. I'm sorry for everyone I'm leaving up in the air with matches, and that I vanished without saying anything to. If you need me, feel free to message me on Trillian. I'm on it from time to time, …
[
Full reading
]
Comments: 1
Page 1 of 7 • 1, 2, 3, 4, 5, 6, 7

Standard match.Won by Pin,Submission or KO

Tonight was another night for Jay Zokaro to fight.Being given information earlier about the match up,he found that his opponent was a new girl to the AFW.That didnt really matter to him though.To him,all opponents were the same and should not be thought of as weak.Jay didnt ask for much more than that.He'd ask for her name in person instead of knowing it already.It was better to do that than know already.That would be creepy.

Not wanting to diverge from his normal theme,Shake Me Down by Cage The Elephant played.Running out to see the crowd,Jay's facial expression did not change from his normal bland,bored,and angry face.He was referred to as a 'lion' because of his cat ears that came from his shaggy hair,and the tail coming from just above his butt.They were both animatronic;able to react to his emotions.He runs down the ramp and used the stairs in the corner to get in.He jumps up on top of the ring post before jumping off and landing in his corner.
Ninja-Ing For Dumbasses: Lesson #5
Dynamic Entry
Okay, listen up - shinobi strikes from the shadows. They are masters of the night. Captains of all manners covert and clandestine. When a ninja - a true ninja - is after you, you will not know it until you suddenly notice that your head has become mysteriousssly unattached from your shoulders. Master of stealth, secrecy, and seclusion. And, contrary to what fuckin' Chuck Norris would have you believe, they never dress in white.
But, on certain occasions - like, say, when a ninja joins a lucrative and partly pornographic league of wrestlers in order to lay low and simultaneously piss over her sociopath shinobi lord father and buy beer money - stealth is not needed. In the squared circle, there is nowhere to hide. Except under the apron. More on that in a moment.
So, in such cases that a ninja has to make herself known, she does so in style. Watch as our resident moonshine shinobi, Kozue Kaburagi demonstrates.
First, there was a loud explosion from her side of the ring, as a cloud of smoke covered the turnbuckle. Ooos and aws all around, questions, puzzled looks - all which vanish as the smoke clears to reveal Ninjette sitting on the top rope, her legs dangling down. In truth, she merely set up the smoke, then hid under the apron until her music played - she's good, but nobody's good enough to sneak into a ring surrounded by people and go unseen. But they don't know that.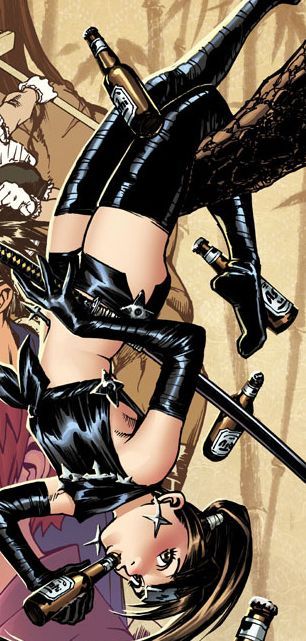 "Yo." She gives a wave with her foot. "Huh. Nobody told me I'd be fighting a furry."
The sudden boom of smoke had caught him off guard,but did not frighten him.Jay's cat ears twitch with the sound.At the time,he was just as confused as the crowd,and calmed down with them as they settled.His opponent had appeared,without music,nor running down the ramp.This was already proving to the lion that she was a different type of opponent.Now,it was a matter of her fighting style....

People always commented about his animal attire.But,no one understood the story behind it,and he didnt have the time to explain it all at the moment.Jay calmed down and brushed off her insult.Slowly,he starts to walk towards her.

Jay had fought tooth and nail with people to keep his custom going,It was eventually dropped in conversation due to their frustration.If allowed,Jay would hug the ninja girl and speak. "My name is Jay.Im willing to understand you,if you're willing to understand me."
"Whoa, no touchie." She held out her foot, keeping him at a leg's length. "I don't know where those paws've been, what they've been doing, or who they've been doing it to."

She flipped back, landing on the top turnbuckle in a crouch, perfectly balanced as she looked down at him. "Name's Ninjette - but you probably would have figured that out eventually." She did a handstand on the ropes, displaying the word 'ǝʇʇǝظuıu' emblazoned on her ass for all to see, before dropping down a moment later. "And yeah, nice meeting you. Sorry in advance for the asskicking, you seem like a nice guy/anthropomorphic feline."
Last edited by 12547 on Sat Mar 01, 2014 6:34 pm; edited 2 times in total
His custom was unable to be done.This happened often.It showed that his opponent had no time to understand him. "Fine.I understand" He says,taking a few steps back when she put her leg out to keep him away.

Jay watches at Ninjette,as he learned her name to be,do a few amazing flips and even a handstand.This showed that she was agile,and very well trained.He would watch in an emotionless anticipation for the match.He urns and starts walking back to his corner,listening to her hollow apology.He got to his corner and faced her again. "You know nothing about me.So dont make the assumption that I am nice.You'll find this out when I win."
"What?!" She called back, sliding down to her feet. "I can't hear you! I have a hard time hearing people on the other side of a ring surrounded by THREE THOUSAND SCREAMING JAPANESE PEOPLE!"

She actually could hear him just fine, but she could tell Jay was a lot more of the Silent Bob type - Kevin Smith reference, Jersey represent! - and that he was taking things way, way too seriously. I mean, damn - she was a ninja and he was dressed like a cat. The time for seriousness had long since passed.
Last edited by 12547 on Sat Mar 01, 2014 6:47 pm; edited 1 time in total
His rage was continuing to build.But,he was biding it.For the purpose of using it in some form later on.He couldnt help but find what she said funny,about how many people were around them.He never knew how many people were here in person.Must've been a lot.But....His mind digressed.Jay couldnt lose his focus,lest he would have been walking into a losing fight.

After a few moments of nothing but crowd cheering,the bell rang loudly.Jay made stance by moving his legs out to shoulder width apart,spread his arms out wide,and getting a bit low.He wanted to fight....And NOW.
"Gonna make me come to you, huh?" She smirked, eyes narrowing. "All right, pussycat - let's play."

Without a single word of warning - good ninja aren't partial to calling out attack names, forget what anime tells you - Ninjette will leap off the turnbuckle, flipping through air and coming down on Jay like the hammer of fucking god itself, bringing an axe kick arching towards his cat-eared skull.
He said nothing to her insult.Jay had to focus on the fight at hand.He took notice,that her leg reach was far,and her jump was even further.To get across the ring's diagonal was impressive to him;but not the attack.He had seen this kick done by his rival before,and even he could do it.But what shocked him,was the speed that Ninjette had.

Without much time to react to her kick,all Jay could think to don was jmp out of the way and land on all fours.He turned around to watch patiently to see if she would crash.Of course,that was only his plan.With that speed,she could almost kick the cat down flat on his face.
"Smooth move, Garfield." She misses, but she's semi-ready for it - send lands with her leg stretched out, perfectly flexible - if he's expecting a pause in her attacks, it won't be happening anytime soon. She didn't survive this long by giving herself opening. "You're not the only one landing on his feet."

She pops up and comes at him with a deceitfully damaging double snap kick, her taped toes flashing through the air in quick succession.
Page 1 of 7 • 1, 2, 3, 4, 5, 6, 7

---
Permissions in this forum:
You
cannot
reply to topics in this forum