Champions & #1 contenders
Summer Splash interest in Natasha Loclear?
Mon Apr 09, 2018 11:30 pm by daemongirl
Well my girl hasn't missed a summer splash yet, would anyone be interested in a match with her? Open to just about anything match wise, just pm me!
Comments: 1
Been Out with the Flu
Sun Apr 22, 2018 7:47 pm by daemongirl
Just letting those I have threads with know I've been out with the flu since early last week, but I will be back to posting tomorrow.
Comments: 0
The Austrailian Mudslide is Back.
Sat Apr 21, 2018 6:20 am by Softsquad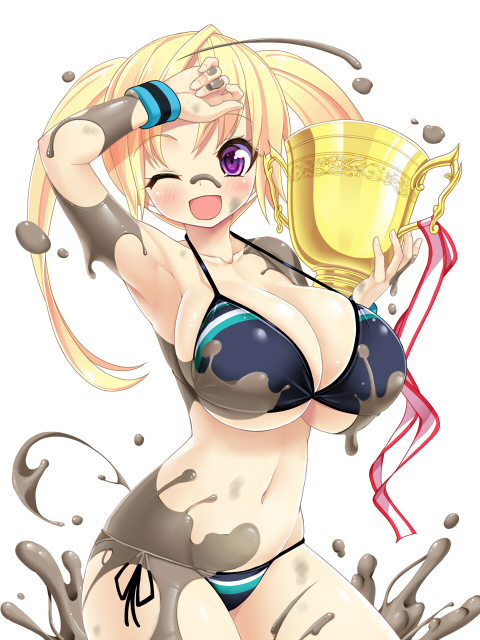 Granted that most of you won't know me or remember me, but I've had a few matches here and there some time ago. Well I think its time to become a regular around here and try to have some fun again, but at the same time keep coming back. Anyway I think its time to jump into some matches with Zoe Taylor, my mud wrestling character from Australia and get her back into the squared circle. Furthermore I will update my characters as I think some proper changes need to happen.
So if anyone would …
[
Full reading
]
Comments: 0
Page 1 of 11 • 1, 2, 3 ... 9, 10, 11


Akashi leaned back in her chair and closed her eyes. She then opened them and stood back up. She paced around and checked herself over. She was wearing a navy blue yukata embroidered with a subtle cloud pattern and black hakama pants. Her yukata was open, leaving almost nothing to the imagination as her bountiful cleavage was on display. After tugging at her yukata, she flopped back down in her chair and sighed.

Akashi looked around her house. It had been pretty empty since Cassie went back to Canada. She didn't know how long she was going to be and with Taylor busy with the new home, Akashi was feeling a little lonely. She didn't realize how much she loved having Cassie live with her, even if the two didn't seem to have a lot in common. Maybe it was the trials they had gone through that made them have a special bond? All she knew was that Cassie's presence had made her almost completely forget about Mina. Akashi barely spared a passing thought for her former lover but now that the house was empty, she couldn't help but think a little bit about her.

But she wasn't going to let that bring her down! She couldn't get sucked into a funk of depression and loneliness just because her girls were busy witht heir own things. She had a life too! Friends of her own! Or, so she thought. She would normally have thought about going out with Sarah, but she had disappeared again. Akashi was pretty sure that she wasn't going to be coming back this time. She scoured through her cell phone and flipped through the scant contact list. That was when one name popped up.

It was Angel. The current Friction champion. They had had a small encounter after Angel had own the belt. It went well and they did the usual thing to keep up appearances but, like usual, that didn't seem to happen very well. It was no one's fault, it rarely was, But as Akashi thought about it, she decided she wasn't just going to let that happen! She sent Angel a text and that turned into a small conversation. Next thing she knew, she was inviting Angel over to her house.

The only problem was, she didn't know for what! She had no clue how to entertain people! She was a terrible hostess. She also had no idea what Angel was into. They could drink or eat food but then what? They could watch television or spar but one was kind of boring and the other they could do at work. So, as she waited for Angel to arrive, Akashi's stomach was knotted up. She stood back up and looked around. She had made sure to clean the whole house, polish every samurai helmet, oiled every sword, dust every ukiyo-e scroll. She was really stuck in the past. Maybe when Cassie got home, she'd let the girl decorate a bit. She WAS living there, after all.
Angel stepped up to the door of Akashi's house, taking a moment to let her eyes scan over the place. It was a pretty nice looking place, way nicer than Angel was used to. Part of her was wishing she had dressed herself up a little more. She was wearing a simple pair of blue jeans and a plain navy blue t-shirt. Over the t-shirt she was wearing a comfy, soft jacket, white in color with navy trim along the edges. She had thought she looked fine, but now looking at Akashi's house she couldn't help but wonder just what she had gotten herself into.

She couldn't help but wonder what she was doing here, anyway. She liked Akashi, but she didn't really think they were friends or anything. At least, the Latina didn't think so. It wasn't like they saw each other all the time or anything. They had encountered each other...what? Three, maybe four times since Angel had came to the AFW? Not too many times at all.

It didn't matter though. Angel was here now, and it was too late to just leave and go home or anything. At the very least, it'd give Angel something to do today. Weekends were using pretty boring for her, after all. She just hoped things weren't too awkward. Akashi's house really did seem nice, perhaps too much so for Angel's tastes. She could only imagine what it was like inside.

Taking a quick, deep breath to calm herself (Why was she so nervous, anyway? Nice house or not, it was just Akashi), she lifted up her hand, knocking sharply on the door several times before shoving both her hands into the pockets of her jacket, waiting for a response from the sumo.
"Hai! hai! I'm coming!" Akashi had stiffened and then charged forward, rumbling through her house as she stepped towards the foyer with big strides. She grabbed the door and swung it open, smiling at Angel and trying not to pant. "Hello!" She said, grinning with her mouth open. She stepped away from the door. "Come in! Come in!" She greeted with a cheerful wave. "I'm glad you could come in, Tenshi-san!" She said and hopped out of the way, standing at the entrance of the foyer while Angel took her shoes off.

"Thanks for coming, I hope I didn't interfere with any plans you had. I just had the house to myself and figured that since we agreed to see each other more, that it would be good to actually do that, you know? Ehehe." Akashi smiled nervously.

"Come in! Come in! How are you doing?" She said, smiling at Angel and speaking with more excitement than normal. Was this how Cassie was most of the time? Or Taylor? Normally Akashi was much more calm. "This house was the one really big purchase I made and I made it so I really wouldn't have to get another one. That's why it's kind of big. Plus, it was meant to house a couple, you know." Akashi said, rambling a bit. "But then, well, it didn't but now! I have Cassie Elliot living with me, so it's kind of a couple thing again."

"Akashi's eyes widened. "Oh! Well, we're not dating! Cassie-san like boys and, well, eheh, I kind of think of her like a sister. I'm not dating anyone at all! But, you know, there's two of us living here now! But! She's not here NOW! She's off back home in Canada and she'll be gone for a while, I think soooo, we have the place all to ourselves!"

Akashi's cheeks were bright red but she continued to smile pleasantly. "I mean... if that's a problem, I could probably call up some friends. But if it isn't, then!" Akashi outstretched her arms. She wasn't really sure why.
Angel stepped back from the door as she heard something charging through the house towards it. Whatever was coming her way, she didn't want to be in the path of it!

She breathed a sigh of relief as the door open and saw it was just Akashi, and gave her a nod of greeting, smiling back at the sumo. "Of course I could come, chica," she replied back to her, stepping up to enter the house, stepping out of her shoes and glancing around the foyer. "Not like I have much else to do on the weekends." She gave Akashi a quick wink, then reached forward to unzip her jacket, letting it slip down her arms and off of her body.

She tilted her head towards Akashi, listening to the sumo ramble on and on. She seemed really excited. Angel had never seen Akashi this excited before! Was she really that glad to see Angel there? It was an interesting side to the sumo, acting all excited and nervous like this. It was kind of cute, in a weird way.

Angel listened, draping her jacket over one arm as she waited for Akashi to finish. When the sumo finally stopped talking, Angel stepped forward, reaching out to gentle rest a hand on her shoulder. "First things first, sumo? Calm down a little! You act like you haven't had a visitor in ages!" She let out a little laugh, shaking her head just a little from one side to the other. Seeing Akashi acting nervous like this was making her feel better about visiting, helping her feel more at ease. "And second? It's fine! I don't mind having the place to ourselves, silly. Besides, if you wanted more people around, you would have already invited them, right?"
"Oh, is that so?" Akashi asked, guiding Angel into the house. "I'm usually pretty busy on the weekends myself but I've hit a bit of a lull right now." She said, stopping when Angel told her to calm down. She looked at the woman with a slightly open mouth. "I... haven't!" She said. "Taylor-san doesn't count, really! She's my Imouto-chan, not some visitor!" Akashi's eyes widened. "I mean, not that you['re just some visitor, I'm glad you came!" She added, getting a little hyper all over again. "Ahhh..." Akashi blushed, yeah... I guess I would have." She said, smiling as her shoulders fell.

Akashi took a few deep breaths and then looked Angel over. "So, do you want me to put some tea on or ... I have some sake too. And, I ..." Akashi lowered her head. "I also bought some tequila because I know you..." Akashi lifted up her eyes and looked sheepishly at Angel. "T-TYea! Tea it is!" She said and whooshed her way to the kitchen.

"Go head an have a seat on the couch! I'll be there in a sec!" She called out, turning on the sink and filling up the pot. Once she was finished, she stepped back into the living room. "So... how did that match go with Adrian?" Akashi said, referring to Avalanche. She hadn't seen it and she honestly barely remembered anything about that night still.
Angel just listened as Akashi rambled on and on, smiling at the sumo all the while. "Tea is fine, chica. It's too early in the day for me to be getting drunk, you know!" She laughed, following her into the living room, her eyes glancing around again, taking in the place. The house seemed just as nice from the inside as it did the outside.

Angel stepped over to the couch and slipped onto it, giving the living room another look as Akashi hurried off to the kitchen. She threw her jacket over the arm of the couch and leaned back, making herself comfy. When the sumo slipped back into the living room and asked about her Avalanche match, Angel grinned up at her, giving Akashi a smug look.

"I'm still the champion, aren't I?" She laughed softly at her. "I won, of course. Did you think I wouldn't? I am the best, after all. Though..." She paused, the Latina thinking for a moment, then letting out a soft sigh. "Though, I'm not satisfied with the match and the way it ended, not at all. Ladder matches are such a dumb gimmick, you know?"
Akashi leaned her palms on the top of the couch next to Angel while the water was boiling. She smiled at Angel as she spoke. "Champ, sure." she said. "Best? Well, I don't know so much about that." She teased. "But, I didn't think you'd lose... unless Adrian-chan cheated or something." She added. Akashi then tilted her head. "How did it end? I wasn't exactly around for the match and even if I had been able to watch it, I probably wouldn't have remembered. I still don't remember much of that night, honestly." Akashi said frowning.

"And... I've never actually been in a ladder match. I've been in a couple of table matches but not a ladder one, so, I really don't know how they are. They don't seem like too much fun. I mean, if I fell from a ladder, I'd probably die!" She said and chuckled.
Angel looked up at Akashi, shaking her head at the sumo. "Adrian doesn't cheat anymore. At least, she claims she's not cheating anymore. She didn't in our match, at least." She frowned, just a slight downturn of her lips. "Girl's better than I gave her credit for. She's gotten a lot more serious since I fought her in the Temple Games."

She tilted her head to the side, thinking back on her match with Adrian. "How did it end? I went to kick Adrian's head off of her shoulders and ended up getting her tangled up in the ropes. The only reason she couldn't stop me from getting up the ladder was because she couldn't get untangled fast enough. If it wasn't for that, she would have been able to stop me." She paused again, then shook her head a second time. "I can't be satisfied with that. I didn't actually beat her. I just...you know, had her tied up long enough to win. It doesn't feel like I actually beat her in a fight, you know?"

"And you're right," she went on, folding her arms over her chest and starting to look kind of grumpy. "Ladder matches aren't fun. They're stupid. Ladders in general are stupid. It was stupid when I fought Heather and it was stupid when I fought Adrian. I...I want to fight her again. A rematch. No stupid gimmicks or stipulations. I can't be satisfied with that win until I know I can beat her in a real fight, you know?"
"Has she now?" Akashi said as she lifted her head up in thought. "Maybe it's because she's started to spread her own wings? Though, her and Rebecca-chan seemed quite close." She said tilting her head in thought. She then looked at Angel and thought about what she was saying. "I have felt that a few of my losses were not earned by my opponents, but rather given to them through serendipity or my own careless blunders." Akashi said. "Not that I should be undefeated. I have been challenged by worthy foes, however..." Akashi sighed. "I DO understand how you feel. Quite well." She said. "If she's not cheating, then you could beat her fairly in a standard match. If she DOES cheat, then the onus is on her, certainly." Akashi added.

Akashi grinned as Angel pouted. It was kind of funny. And cute, too. "Well, I don't think that it's fair to blame all of ladder kind because of a few bad experiences! I certainly don't hate all oars because one of them betrayed me in a foolish match!" Akashi said and laughed. "What will you do if you need to get on something high? Will you just avoid ladders for the rest of your life? Do step ladders count? This is a very important decision you're making, abandoning ladders, Tenshi-san!" Akashi said and giggled a bit.
Angel rolled her eyes at Akashi, trying not to grin as she shook her head at the sumo. "Of course I'm not going to avoid ladders, silly sumo! I just...don't think they belong in the wrestling ring, that's all!" She tilted her head further back, so that she could look up at Akashi better. "I might be an angel, but that doesn't mean I like to fly, you know!"

She chuckled for a moment, then stopped, letting out a sigh as she looked away from Akashi. "I just...eh. It doesn't really take any skill to throw someone out of a ring and then scramble up a ladder, you know? It doesn't actually feel like a win to me if I don't actually get a pin or make someone submit." She shrugged, glancing back up at Akashi. "The point is, ladders are a dumb gimmick!" She nodded, folding her arms over her chest and letting out a bit of a 'hmph' sound. "They're a dumb gimmick, and I don't like them!"
Page 1 of 11 • 1, 2, 3 ... 9, 10, 11


---
Permissions in this forum:
You
cannot
reply to topics in this forum