Who is online?
In total there are
44
users online :: 13 Registered, 1 Hidden and 30 Guests :: 1 Bot
acuya
,
axe2029
,
Cicilia
,
Daaharu
,
Harrier
,
Hedgehawk
,
ja15ke
,
kerflubble
,
Old_Man_Tai
,
Person
,
Teenwrestler
,
Underdog21
,
Vcom7418
Most users ever online was
390
on Tue Jan 02, 2018 2:02 pm
Champions & #1 contenders
Highfly Flying Out Of Town
Tue May 22, 2018 1:31 am by HighFly
Hello everyone, I just wanted to inform all I have threads with that I will be gone from this coming Wednesday through Sunday. I won't be able to post consistently if at all during this time, but I will try to make up for it next week! I am sorry for the inconvenience to everyone.
Comments: 7
The Austrailian Mudslide is Back.
Sat Apr 21, 2018 6:20 am by Softsquad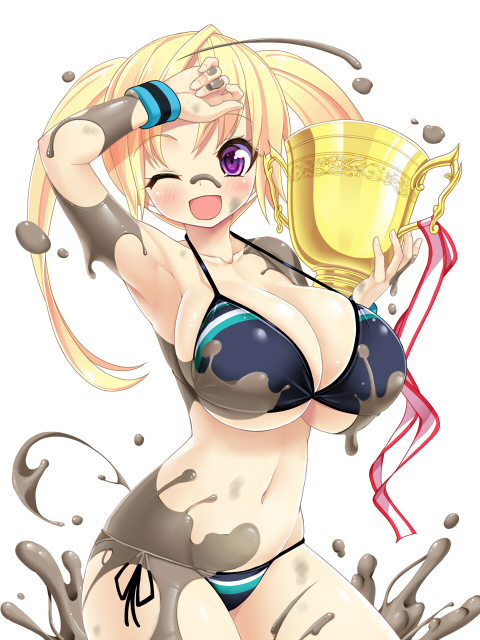 Granted that most of you won't know me or remember me, but I've had a few matches here and there some time ago. Well I think its time to become a regular around here and try to have some fun again, but at the same time keep coming back. Anyway I think its time to jump into some matches with Zoe Taylor, my mud wrestling character from Australia and get her back into the squared circle. Furthermore I will update my characters as I think some proper changes need to happen.
So if anyone would …
[
Full reading
]
Comments: 5
Page 1 of 4 • 1, 2, 3, 4


Standard Match
Win by pinfall, submission, or KO.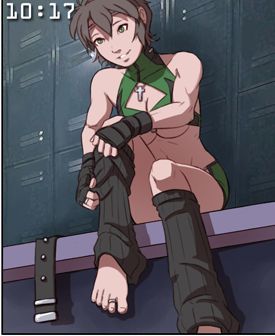 "Write a letter, Maria - bah da bah dah - address it to my wife - bah da bah dah - send a copy to my lawyer..."
Another day, another match. It had been a shaky start so far - fought a Leprechaun, lost to a Leprechaun; fought a bunny girl, lost to a bunny girl. The first match wasn't even official, so it didn't count to her official record, but all the same, she was on a losing streak. Technically. And while she didn't mind losing so long as she gave it her all, she certainly wasn't against winning, either. Today, she was looking to put one in the WIN column.
She sat in the back area, waiting for the commercial break to end and her music to start, doing some leg stretches while she listened to her iPod - her typical pre-match routine. As she twisted around, she saw one of the ring techs coming up, probably giving her the time - what was his name. P...P-something. Ah! "Hey, Paul!"
"It's Peter."
Crapnuggets! "Gah, sorry." She rubbed the back of her head, ruffling up her hair. "I'm not really a 'name' person; I register faces, you know?
"No sweat." He shrugged it off and pushed his thin-rimmed glass up on his face. "Two minutes till you start - ready."
"Born ready!" She blew him away with finger guns. "What can you tell me about Jamie?"
"Valentine?" He winced at the name. Cringed. "Well...she's...um..."
Blossom bite her lip - this didn't look good. She was always up for a challenge, but she thought they'd start her off against opponents more on her level, let her work up. "Is she that tough?"
"T-tough? No, what? Jamie?
No.
" He rubbed his eyes. "It's...kind of hard to explain in a minute. You'll see soon enough, just...prepare to be annoyed. That's all I can say."
Blossom smirked. "She can't be all that bad, people say the same stuff about me, and we get along fine."
Peter just smiled and shook his head as the music started and she took her cue, bounding out. "You'll see."
She skipped towards the ringing, doing her pre-match dance and getting the audience waving along, singing to the Clash - despite not even having won a match yet, she was already getting a little cult following, and she could have sworn she saw a few posters with her name on it. Heading down to the ring, she rolled in and bounced over to her corner, waiting for Jamie to make her way up.
Last edited by 12547 on Mon Mar 03, 2014 5:18 am; edited 4 times in total
Jamie wasn't messing around this time.

After enduring the first loss of her career, unjustly so, at the hands of a cheating sociopathic stupid idiot, she had worked harder than ever to prepare for this fight. Not by training, so much. Mostly grumbling and bragging to herself. But she was sure that whoever this next idiot was that she was going to make her wish she had never been born. She also hoped that it was the Blossom from TV.

[url=http://youtu.be/N9vFRNteDfM?t=40s:8gzuixbu]Her arrival was announced[/url:8gzuixbu] by the time-tested prose of Harper Lee. The resulting confusion slowly abated while Jamie strode smugly down the ramp. They didn't like her taste in music? Let's see them boo her over this. It was a classic.

She was halfway down the ramp when she heard the first one, a lone, solitary, bovine boo, from some greasy, pimply-faced little monster near the front. She stopped dead in her tracks and spun to level a glare at him so intense it would've vaporized a crowd back in Boston, but she was in Japan and nobody spoke English, so her facial expressions didn't translate very well either.

Then came another boo. Jamie's gasp was so loud that it could be heard in the back row, and so violent that she stumbled back before regaining her balance.

"What did you say?" She said with an entire lungful of air. The offending crowd-kid responded by booing again. Jamie gasped again, turned red, and folded her arms over her chest.

"DO YOU WANT ME TO GO DOWN THERE, OR NOT!" She shouted and stamped her foot. The booing spread like a virus through the crowd. "I WILL TURN RIGHT BACK AROUND! I'LL DO IT, AND YOU'LL NEVER SEE ME AGAIN!" Her voice rose to a hysterical shriek. That time the crowd cheered, and Jamie turned an even darker shade of red.

"You suck!" Someone yelled.

"YOU SUCK!!" Jamie shrieked. She tucked her chin down and stomped the rest of the way down the ramp. She wasn't embarrassed. She was just angry about how stupid everyone was, that's why her face was so hot, and she was going to take it all out on whoever...

She was halfway through the ropes when she spotted her, and she froze. Her eyes narrowed at the girl, short, fit-looking, and with an actual professional-looking outfit. Who did she think she was? Jamie couldn't afford stuff like that! It was an unfair advantage!

She cautiously stepped into the ring without breaking eye contact and slowly moved to her corner.
Blossom was still bouncing in the ring, hopping from foot to foot, expecting to have some cool entrance music to jive, too - instead, what she got was...um...what was that?
It was an audiobook. The entrance music...was an audiobook. And a familiar one, too - where had she heard that before? "...that'
To Kill A Mockingbird.
" Vague memories of many a late night cramming that book for a test in the morning swam into Blossom's head - it was a good read, she just had a bad habit of procrastinating with assignments, always preferring to read her own books on her own time. Still, it was nice to hear it again, after all this time. None of that explained why it was Jamie's entrance music, though.
The crowd seemed even more confused than she was - which made sense, since most of them didn't even understand a story about life growing up in the segregation days of the South, before the Civil Rights movement. Or English at all, for that matter. They sure seemed to have a thing for Jamie, though - a really solid distaste. She seemed like, well,
a total brat
, but Blossom knew better than to judge books by their covers.
"YOU SUCK!!" Jamie shrieked.
Even if their covers were incredibly, almost painfully loud. Jamie was probably just playing the heel up a little; you can't have a good league without them. Someone has to take the boos, and the better the wrestler, the better the response. Kurt Angle, Triple H, heck, even the Man himself, Ric Flair - you had to respect a good heel. No shame in it.
With that in mind, Blossom waved to Jamie as she entered the ring, strolling over to greet her. "Hey! I'm Blossom, Blossom Fields. Nice meeting-" She stopped halfway, when she noticed something of particular interest that hadn't been apparent from the other side. "Wow, you're almost as short as I am!" She took a step in closer, just to make sure - yup, if it wasn't for the shoes Jamie was wearing and Blossom wasn't, they'd almost be the same height. "That's awesome, I didn't think I'd come across another wrestler that even came close. You got me beat, by like...a half inch."
Last edited by 12547 on Wed Feb 26, 2014 6:09 am; edited 1 time in total
Jamie leapt back and her jaw dropped. The bell hadn't even rung, and already this idiot was assaulting her with her... observations.

"I am AVERAGE SIZE!" She shouted indignantly. "In Japan..."

But nevermind that! "That doesn't matter, though! You should be shaking in your... feet." She blinked, and noticed Blossom's toe ring. "Really? No shoes? You're so stupid, what about staph, or... athlete's foot, or who knows what's on the floor." She shuddered violently. "You are so gross. Have fun when your feet rot off. But anyway, you should be SO AFRAID right now! I'm practically undefeated! I'm really good, and I've got ninja training, and you don't even know what I'm gonna do!"

The sound of the bell interrupted her. "Eep!" She quickly scurried back to her corner like it would protect her somehow.
"Yeahbutwhat?" She looked down, wiggling her toes. "Oh, right. Yeah, my Mom used to get on me a lot about that, but I loooooooove the feel on my feet. Like when I'm in the grass and I can feel it tickle my soles - oh, and when I walk out in the morning, when the grass is all dewey? Awesome." She sighed, and pulled back from her little trip into barefooter land.
"Anyway, I mean - I guess that's a little scary. Never faced a ninja before - I think. Stealth and all, not like I'd really know if one was in disguise. Hmph." Blossom cracked her knuckles and dropped down in her old wrestling stance - knees bent, arms open, hands ready to grab, legs ready to move, good foundation all around. "But undefeated's fine by me - first time for everything. Let us-"

And then bell rang and Jamie ran off to her corner, even though Blossom hadn't taken so much as a step. "-rock?"

She straightened up and walked after her, padding across the ring. "Hey, come back!" She chuckled, walking after her again. "It's cool, I'm not gonna sucker punch ya or anything. Just want a good match."
Jamie shrieked and retreated to the next corner. "REF!" She shouted, frantically pointing at Blossom. "Ref you have to check her! There's no telling what kinds of illegal stuff she has in that... thing. " The ref looked at her like she was being ridiculous, but she was SO NOT BEING RIDICULOUS.

"DO YOUR JOB, REF!" She screamed. "DO YOUR JOB, REF! DO YOUR JOB, REF!"

Finally, the ref-girl acquiesced and approached Blossom. With an apologetic look she reached out to check her legwarmers and... there wasn't much else left to the imagination with Blossom's ring gear. She shrugged and waved to the two wrestlers to get started. Jamie cautiously approached the center of the ring, rubbing her hands together nervously.

"Okay," she said. "Since you're nobody and I'm a famous wrestling star, it's standard practice that I get to take the first shot, so just... stand still. Don't try anything funny."
Blossom shrugged as the ref came over and checked her leg warmers - even held up her feet to make it easier. It was a weird request, but it wasn't all that weird, she supposed. She could have hid something in them, like...maybe...some kind of metal-leg-armor thing. That would work, were she so inclined.

...actually, that wasn't a half bad idea. If she ever got into a hardcore match, she'd have to remember that one.

Anyway, Blossom was half-tempted to point out that Jamie was wearing leg warmers, too, but she figured it wasn't worth the effort. What Jamie said next was a lot more interesting.

"I'm, like...96.764% sure that wasn't in the AFW 2014 Edition Rule Book." And she had read that thing. Cover to cover. Twice. It was actually a pretty satisfying read. "And I'm pretty sure I've never heard of you before, but...I mean, maybe you're just real big in Japan." She chirped, shrugging as she beamed back at Jamie.

"Anyway...okay. Go ahead." She put her hands behind her back and waited - a little weird, but Blossom was only vaguely familiar with Japanese wrestling - for all she knew, it was a rule, or at least a tradition. When in Rome... "What are you going for? Uppercut? Right cross? Maybe try a move, get me in a headlock? Ooo! A ninja move, show me one!"

Besides, it was just one hit, and she'd be taking many more. No biggie. She lightly bobbed up and down on her heels, whistling as she waited.
Last edited by 12547 on Wed Feb 26, 2014 5:19 pm; edited 6 times in total
Jamie blinked. That really worked? Either Jamie was super amazing or the green girl was a super dufus. Probably both.

"Okay..." She cautiously approached her and stood in front of her in her best approximation of how she figured ninjas stood. "I'll show you a ninja move... in the stomach. You won't even see it coming. On three, ready? Ooonnnneee..."

She didn't bother with two. She sprung at Blossom and reached up with both hands to rake her nails down the girl's face. It was kind of legal. She wasn't just gouging her eyes, that was just a bonus.
Jamie's stance seemed a little...odd, Blossom noticed. It looked less like how a ninja would stand and more like what someone who'd never seen a ninja except in video games and bad movies would think a ninja stood. It was almost as if...

Before Blossom had any real chance to dwell on it, she was taken off guard when Jamie raked her eyes. She let out a shrill cry, staggering back as she covered her face - that was an eye guoge, and while she couldnt be sure if Jamie meant it, either way it hurt to high heavens.

Sneaky. But, well, ninja. She could say she didn't see it coming.
Last edited by 12547 on Wed Feb 26, 2014 8:06 pm; edited 1 time in total
Jamie cackled gleefully. Wrestling was so easy! Everyone was so stupid and Jamie was a genius. She was going to be champ in no time once she beat all these chumps.

While the referee hurried around to see what Jamie had done, Jamie followed up by swiftly splitting Blossom's uprights and punting the poor girl in the crotch, earning her an earful from the annoying ref-girl. Who cares what she did? It wasn't against the rules! The kicking part, anyway.

"IT'S NOT MY FAULT IT HIT HER THERE! SHE'S CHEATING BY STANDING LIKE THAT!" Jamie screamed so loud at the ref that she backed up a step and put her hands over her ears.
Page 1 of 4 • 1, 2, 3, 4


---
Permissions in this forum:
You
cannot
reply to topics in this forum