Champions & #1 contenders
Highfly Flying Out Of Town
Tue May 22, 2018 1:31 am by HighFly
Hello everyone, I just wanted to inform all I have threads with that I will be gone from this coming Wednesday through Sunday. I won't be able to post consistently if at all during this time, but I will try to make up for it next week! I am sorry for the inconvenience to everyone.
Comments: 7
The Austrailian Mudslide is Back.
Sat Apr 21, 2018 6:20 am by Softsquad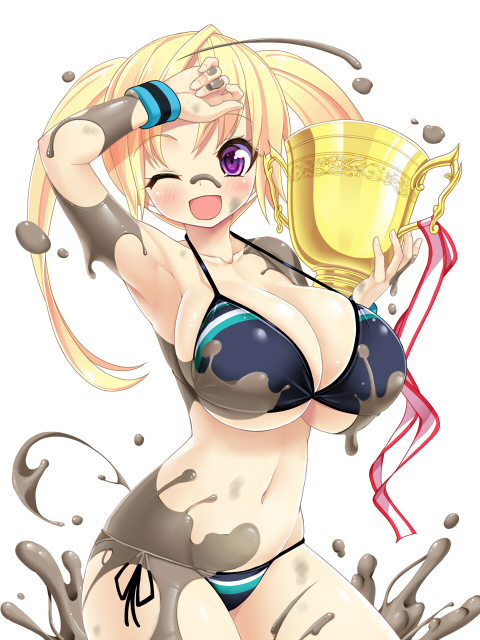 Granted that most of you won't know me or remember me, but I've had a few matches here and there some time ago. Well I think its time to become a regular around here and try to have some fun again, but at the same time keep coming back. Anyway I think its time to jump into some matches with Zoe Taylor, my mud wrestling character from Australia and get her back into the squared circle. Furthermore I will update my characters as I think some proper changes need to happen.
So if anyone would …
[
Full reading
]
Comments: 5
Page 5 of 6 •

1, 2, 3, 4, 5, 6


Taylor nodded quietly and listened to the story. She kept waiting for Junko to get to the part where she gave her advice on what to do about Morrigan, but it never seemed to come.

"Okay..." She said. "So... wait, am I you, or... Is Morrigan? I don't get it." She shook her head and shifted uncomfortably in the driver's seat. "Are you saying that I should just ignore her shit and deal with it? Or... Should I not take her shit and let her deal with it and if she walks out then tough shit? I dunno, man, I just feel like... I feel like I told myself I'd be better than Lukretia, and I am, but like, I just don't have the fucking gravitas to make people like Morgan respect me. All I really know how to do is beat people up."
Junko sighed. Usually these things worked out. Maybe she was too exhausted from the workout. "Taylor-chan." She said in a serious, motherly tone. "Just make sure she's doing her job and that you're safe. If you have to kick her butt once or twice, that doesn't make you Lukretia. All I'm saying is normal rules don't apply. If you're just calling me now about this, it does seem like things have been going pretty well, right?" She said, raising her eyes hopefully. "I think you're doing great and you've been handling it very maturely, Taylor-chan."
"Okay. So just, like... be cool, then." Taylor assured herself. She propped her foot against the dashboard, with her knee nearly in her chest. "Okay. Thanks. I can do that. Thanks. See you later."

She hung up and took a deep breath. She stared off at the entrance to the store where the red devil in question was at once the cause of all her problems and the source of new awesomeness, and held up her hands, level and flat to see if they were steady. When she was satisfied that she'd settled down, she got out and jogged to the far end of the strip mall to a store that sold modern and alternative and idiosyncratically 21st century Japanese furniture.
Morrigan leaned back in her chair. In front of her was a take out box filled with some chicken-broccoli thing that she was picking at with some chopsticks. Next to that, there was her phone with was on and had some website brought up. On the other side was a flyer that was opened that Morrigan was pointing to.

"Ok, so, I know that you were cool with spending money so, I just went right for the best. If you're going to set something up, you might as well make it as awesome as possible. But, electronics aren't really that expensive anymore, relatively speaking. You can get a really nice television for a couple thousand euros or, whatever the yen equivalent is. But, anyway, I think you might as well just wire up the whole house. I had them order a huge flatscreen for your basement, it will be, like, half the wall." Morrigan smiled. "It's pretty awesome. But, you can set it up so even the rest of the TVs can be controlled from anywhere in the house so, if you and Johnny could record two different shows on two different TVs in two different rooms at once while you're in the bedroom doing it." Morrigan laughed.

"Well, you'll thank me when you figure it out but the basement set up is killer. Crank that baby up too loud and you'll blow out some windows." Morrigan grinned. "But,t hat's why you get it, right? The sound system guys will set up and it'll be like you're in a movie."

Morrigan popped a piece of broccoli in her mouth and then held out her phone to Taylor. "Ok, so, here it is. I know that showing you a picture doesn't really help, but it's going to be pretty awesome."
Taylor' looked at the phone, and her grin stretched impossibly wide. It forced her eyes shut because there just wasn't enough room on her face for them both. She emitted a quiet, high-pitched tone, a squeal like distant thunder, signalling an impending storm.

"Mooooorrrrrrgaaaaaaaaaaaaaaan!" She stretched her arms upward. "Dude! I should've hired you a long time ago! Maybe I would've, ya know, if you weren't busy ambushing me with tasers and shit. That's so awesome! I'd hug you, but I know that'd be totally gay. Bro-hug? Fist bump." She nodded, and held out her fist. "Fist bump me, dammit."

She grabbed Morgan's wrist and bumped her knuckles, and then she couldn't stay sitting anymore. "When is it all going to be here? Are you going to be able to set it all up, or like, do we need to get a guy? Which reminds me," she waved a finger at the redhead. "There's another thing I want you to take care of. Two things, really."
Morrigan lowered her head as Taylor got excited. She tried to keep the grumpiest face possible but it was hard. Her slightly blushing face betrayed her pouty grump and she sighed when Taylor fist bumped herself with Morrigan's hand. "It's only gay if someone's ass gets grabbed." She said, turning her head. "Geeze..." She said. Taylor sure talked a lot about that stuff for someone who supposedly loved the cock. She looked back up at Taylor and lowered her gaze. "I got someone to set it up. Everything should be here early next week. It's just going to be easier to have professionals do it. I guess that's the perks of 'money's no object, right?" She said, smiling a bit.

"The system's probably as nice as Lukretia's. Or close to it. Though she doesn't have televisions in the mansion. She does have a pretty killer sound system though, so, I guess it was a good place to contrast and compare." She said and plopped a ball of sticky rice into her mouth.

"Sure thing, boss. What is it?" She asked, looking down and poking her food with her chopsticks.
"Okay," Taylor said. She sat back down, but she might as well have stayed standing. She was jazzed enough that what she ended up doing could hardly be called sitting. "First, a movie theater needs movies." She said, counting on one finger. "So you get to go shopping again. I want you to put together a library. I got big fucking shelves that we can put everything on. Go nuts."

Finger number two. "Second, we'll need to break it in. So like, I want to do like a viewing party and stuff. I'll work on a guest list and stuff, but I want you to be in charge of organizing it and all that. It's like the Majestic, and you're Jim Carey. Sort of.

"And by the way, it depends on how gay the chick is. Hug Natalia at your own risk, man. Though I guess, like, for you, gaying it up with her would be like... um... I can't think of any guys that would be about the same who aren't Johnny. It'd be like hitting the jackpot. But anyway, movies. What do you think!"
Morrigan's mouth opened up when Taylor spoke but she closed it. "If it's like that, I'll just get a little bit of everything. It's going to be hard buying junky movies but, no offense, some people like them and they do serve a purpose." Morrigan furrowed her brow. "Ok, so, really I don't want you to think the wrong way or anything, but if you want to like shitty movies then, I won't hold it against you because..." Morrigan looked down. "I'll probably hold most other things against you..." She muttered. "Anyway!" She said, blushing again, waving her hands at Taylor a bit. "I'll just get a lot of everything and whatever you watch is fine with me." Morrigan sighed. She was trying to tell Taylor that even though she liked certain types of movies, that if Taylor just wanted a shelf full of Dukes of Hazard then Morrigan wasn't going to say a word about it. But even Taylor didn't suck that much.

"But, you might want to hit me up with the genres you prefer so I can pad those a bit more. I don't want to go out and come back with Les Diaboliques and Un Chien Andalou and you're all 'Where's Sandlot 2 at?' you know?"

Morrigan then turned her head and blushed. "Yeah... I don't think that girl likes my hugs." Morrigan said, her smile suddenly forming into a little sinister curl.

it was at that moment that the front door opened. Johnny was carrying bags under one arm while his keys dangled in his mouth. In his fee hand he had his fist closed.

"Oi!" He yelled out. "I'm home babe!" He said. He had had a nice workout at Tension and that had melted away most of the anxiety from earlier. Now he was ready for another kind of workout from his wife. Hopefully he'd get one if she forgave him for being a dummy. He'd already felt like it wasn't worth it to argue with Taylor. She knew what she was doing and that was good enough for her. it wasn't like he'd have to see Morrigan every day or anything.

He stepped through the house after kicking off his shoes at the front foyer and began padding through the room. "I just stopped at the store. I figured I could make us a big ass salad and junk." He said, stepping into the kitchen. He had a bright grin on his face. It faded immediately when he saw Morrigan and empty containers of food. He tried hard not to frown but suddenly it felt like she was just here to rile him up.
Taylor couldn't help but feel a slight twinge of apprehension when Johnny came home, with Morrigan still in the house, as if they'd been caught in the act. But she brushed it off and med him at the door as a completely different person from the one he'd left.

"Hey, Tiger!" She crashed into him and stood on her toes to kiss him. Then she remembered he said he'd be bringing stuff home for dinner. She covered pretty smoothly. "Awesome! We had a little something earlier, but you know me, right? Salads would be great."

She quickly made sure there were no visible signs of their secret project, and then face Johnny with her hands on her hips and a big grin. "Guess what we're working on! Actually, don't. You'll see. It'll be awesome. Morg's got it all locked down." She glanced over at the redhead. "Hey, so you want to just call it a day for today? Unless you want to watch me and Johnny eat vegetables and make out."
Johnny accepted the kiss and gave it back. He smiled weakly at Taylor, knowing she was doing everything to diffuse the situation. That alone made it better and he sighed. "Ahh, yeah, man, that's pretty cool. I could probably juice a lot of this stuff too if you wanted to make it real light." He said with a chuckle that said joking but with Johnny, he never joked about juice.

Morrigan's hair stood on the back of her neck when Johnny came home and she got cautious, ready for anything. But when Taylor seemed to settle down, Morrigan played it cool. She tossed her chopsticks into her take out box and stood up, gathering the flyers and shutting off her phone.

She smiled slyly at Taylor. "Some people might take you up on that offer, you know. Too bad Johnny's tits aren't the right shape for me." Morrigan said crudely as she made a curving motion over her own breast. She smiled and then looked at Johnny.

"You better watch her though. With the way she talks, one day she's going to be undressing me while telling me how she'll never catch my gay. Before you know it, she'll be pushing me into a threesome against my own will." Morrigan laughed and raised her hand up in the air. "I got my own bitch to fuck so you can live to be straight one more day." She hollered to Taylor. "See ya, boss." She gave her outstretched hand a tilt before slipping on her shoes and heading out of the house.

Johnny watched her with a mix of caution and confusion while Morrigan left. Once she closed the door, Johnny's tense muscles relaxed. He held out one of his hands that had a little velvet box and offered it to Taylor. "Here." He said. "Just a little something I picked up on the way home. It's cool though." He added. "I don't know how this junk works, so... yeah..." He muttered.
Page 5 of 6 •

1, 2, 3, 4, 5, 6


---
Permissions in this forum:
You
cannot
reply to topics in this forum