Champions & #1 contenders
Highfly Flying Out Of Town
Tue May 22, 2018 1:31 am by HighFly
Hello everyone, I just wanted to inform all I have threads with that I will be gone from this coming Wednesday through Sunday. I won't be able to post consistently if at all during this time, but I will try to make up for it next week! I am sorry for the inconvenience to everyone.
Comments: 7
The Austrailian Mudslide is Back.
Sat Apr 21, 2018 6:20 am by Softsquad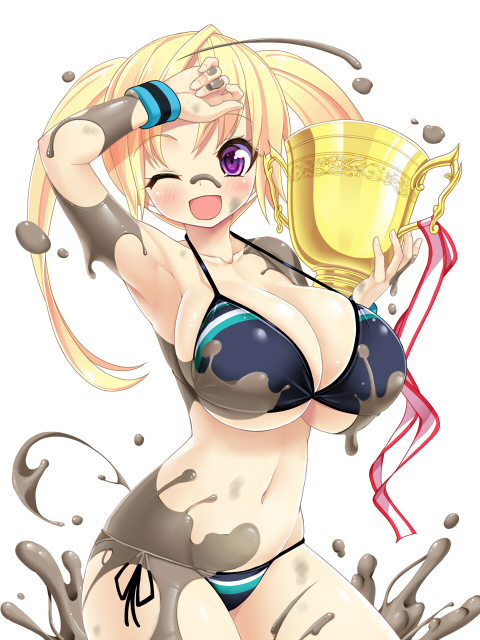 Granted that most of you won't know me or remember me, but I've had a few matches here and there some time ago. Well I think its time to become a regular around here and try to have some fun again, but at the same time keep coming back. Anyway I think its time to jump into some matches with Zoe Taylor, my mud wrestling character from Australia and get her back into the squared circle. Furthermore I will update my characters as I think some proper changes need to happen.
So if anyone would …
[
Full reading
]
Comments: 5
Page 8 of 9 •

1, 2, 3, 4, 5, 6, 7, 8, 9


King will not only gonna deal with Sarah but he will also gonna have to deal with the sisters who was trying to help out Sarah, but he isnt going to let him do whatever they want and try to help Sarah beat him, he wont allow it, he'll have to destroy the sisters before then. "Grrrr!"

The mad beast went after the sisters by jumping right at them using his powerful arms to collided them down with his on top of the girls this time with just his strong arms. "Diet? I am not fat or anything bitch!" He spatted at her which didnt spitted out due to the mask blocking it, then the other sister wanting him to get off the girls, he grins looking at Amy. "You want me to get off? Fine!"

He slowly pushes himself up but not without his one hand reaching down grabbing onto Amy hair as he looking down at the fine busty breasts to get her standing. "How long was ago when I kicked you and your bitch ass? huh?!" He asked Amy before he was ready to use her as his play thing. King tries to pull her around so he get her head and upper body to arch backward to tuck under his arm, applying the Dragon Sleeper while he can look down easily to check out her amazing breasts. "GRRR!"
The girls were admittedly trying to have their cake and eat it to with their play so far. Their hope being to either help Sarah win or be able to back out in case things went south. Neither girl was eager to have King win and do whatever he wanted with the 'interlopers' of the match.

While things were looking pretty worrisome there, Wendy couldn't help a laugh at how his spit ended up not going anywhere. But this really wasn't the time for it and she tried to quiet herself before she got them into even more trouble. Not that he wasn't already pissed off and had Amy rather worried about what he intended to do next.

Sarah of course was too in pain and exhausted to help right now. Groaning and getting on all fours just to try and recover and head over there to help. That was all she could do right now.

Amy groaned as she was brought along for whatever King was planning. "Like I remember..." Amy groaned squirming and certainly not wanting to give him a proper answer. Though it wasn't like she could forget losing to this beast. Squirming but still getting turned around and forced to arch backwards. Her primary worry being that dragon sleeper that suddenly was cutting off her air. The girl stomping on the mat and squirming, her breasts well exposed and shaking along with her resistance. "No..." She groaned unable to get herself out of this.

Wendy was slowly getting herself up. "Hang in there..." She panted trying to hurry and stand so she could back Amy up. Although taking that heavy clothesline took a lot out of her and despite hurrying, she wouldn't be that fast.
King gotten the hold of Amy the more sexier version than the little pipsqueak Wendy, he began toying with the busty one by jerking her so that he can see her breasts jiggles under her outfit while he lightly chuckling, just messing with her badly while shes groaning out in pain, unable to escape it seems but he doesnt care, kept on pulling onto her a little bit more. "Mmmm I mostly remember how great your breasts looks babe!"

He soon moving his free hand up to her breasts to slide it down, rubbing over her body to get it down to her waist where he grab onto her waistline of her clothes to lift her up and flipping her to drape belly first onto his shoulder, turning himself around to see whats Wendy up to, holding onto Amy his strong arm. "Grrr... not fully down yet?" His own body feeling a bit better since the girls isnt too strong until they constantly hitting him repeatedly, but luckily they didnt, a great luck for the beast.

King moving towards to Wendy but not slowly, he moving quickly increasing his speed and tries to raise his boot high enough and aiming to knock Wendy head right off and when he connects. The beast will try follow up by grabbing hold of Amy body as he tilt his himself forward to slam her down her back right onto the mat, power slamming her. "Hurgh!"
Amy of course had a feeling she'd gotten grabbed simply because he wanted to fool around with her body which left her red and frustrated in that hold. Still she couldn't help stomping and shaking leaving her breasts to move rather freely in response. Amy going even redder at that comment as her breasts were forced to stand out even more by the continued pulling on her.

"You damn..ah!" Amy gasping as she felt that hand touching her breasts and then sliding down her front making her squirm a bit. Unable to really speak much in her position and getting worried about how he might follow up. "Put me down!" She groaned unable to do much after getting flipped over his shoulder and being weakened from the lack of air.

"Just let my sister go!" Wendy complained starting to move in despite being a bit weakened and having the smallest body of them all. Eyes going wide in surprise though as she saw him rushing at her. The best she could do was raise her arms in an attempt to defend herself. Wendy crying out as that hard hit still sent her flying backwards and landing hard and with now very sore arms.

"You!" Amy cried out hearing Wendy's cries as she was sent flying backwards. Though hardly having time to complain as he suddenly moved and slammed her down on the mat. The girl crying out in pain as she almost bounced on the mat from the force from the impact.

At that point Sarah was still getting to her feet panting heavily and slowly walking towards King. Hoping to get there in time to at least help the other two to avoid any serious consequences.
King was doing great right now, starting to feel like hes in control of the match even with the stupid sisters were getting involved foolishly thinking they can stop the beast, the King of Kings of all heels in the wrestling business. Now with Amy on his shoulder he can now target Wendy who was ready for the beast big boot that knock her flying backward and at the same time he also pulling her sister Amy down to slamming her right onto the mat which he can see those sexy breasts jiggles just for him. "Mmmmm nice!"

The beast is still tempting to have his fun with the sisters, mostly Amy since shes have more mature body than the little shrimp. But just in case, while the sisters is down, he turn to face and see whats up with Sarah his legal opponent and notices shes getting up, feeling pretty weak and still want to go at him. "Grrrr.... looking to lose so badly?"

King slowly stood up where his body shines from the sweats over his muscled body, the beast moving towards to Sarah as he tries to reach out to get a good hold of her throat just like before, hopefully he catches her. "GRRR!" If the beast could, then he would pull her arm to drape over his grabbing arm, and his free hand grabbing onto her outfit, using both hands onto her to lift her up high quickly and aiming to drop her down as he kick his legs out to slamming her back right between his legs where he would sit-out onto the mat, sit-out chokeslam her in front of him into finisher- King's Throne. "Hurgh!"
It seemed like all three were having some serious problems right now. Amy groaning down on the mat in pain while Wendy was rolling onto her side after taking that powerful kick. She was probably in the best condition and could at least try to use the ropes to stand herself up, but things were getting pretty hectic here.

Sarah just wasn't the type to run and hide while others were trying to help her out. If those girls were in trouble the least she could do was buy them some time or at least give them a chance to escape. Even if it meant winning she couldn't stand watching those two get beaten up and abused while King allowed things to continue on.

"Please...I'm just reminding you...that I'm your opponent." Sarah panted and charged forward only to quickly be met by King and felt him grabbing onto her throat. The girl groaning and squirming as he kept a hold of her. The girl desperately kicking at King as hard as she could even as he lifted her up rapidly and then slammed her hard back down onto the mat. Crying out in pain as the impact ran through her back and made her squirm on the mat. The energy almost knocked right out of her as she lay there stunned.
King now having both sisters down and going after Sarah where he was suppose to take out, he knew he'll crush her soon enough as he had enough of the blue haired girls teaming up on him. So now the beast heading to Sarah with his hand able to catches her by the throat, firmly squeezing her but he isnt planning to squeeze her to choke out, but he wanted to use his latest finisher and lifting her up high in the air before slamming her down with him sitting out, placing her small body between his legs like having her laying in front of the beast. "Grrr.... good!"

From there, he let go of her throat and only needed to hook her one leg over her body and the other placing his hand down onto her chest, pinning her as the beast is going to try go for the win, panting, not too tired just a tittle, but King knows he will beat her if the sisters isnt going to stop him again like before. "Count you damn ref!"

The referee went down and start the count for Killer King pinning over Sarah O' Sullivan. "ONE!..........TWO!............"
After having taken that finisher Sarah really had nothing left to really fight back against King with. Amy was also just on her hands and knees panting heavily from her own heavy hits. She didn't quite have the energy to rush over and get to King in time seeing him try to put in that fast pin.

"No..." Sarah whispered as she panted on the mat heavily. Her body aching as she couldn't get her leg to kick free from the hook. All she could do there was squirm away as she lay there.

The only one with a bit of energy was Wendy right now. Though her legs were aching she did make a run towards King. Hearing the numbers counting and jumping as she tried to drop kick King away from Sarah. But she heard the word "THREE!" As she landed the kick on King's head not sure what would happen as she landed on the mat and Sarah of course was in no state still to move around either way.
The beast is waiting to get his win over Sarah that his partner Kent lost to her once, King isnt going to let Sarah beat him and suffered the same fate, so he have to land his finisher hard enough that he can quickly pinning her down for the win, Sarah does have pretty nice legs which King slowly rubbing her thighs a bit while the count down kept going for him, eventually he can hear the sweet sweet number THREE counted. "Rahh... yes!.... GAH!"

King was bit surprise he felt his head was hit, pushes Sarah away from him and turn himself around and facing Wendy, that little punk kicked him or something? "Grrrr... I just won... now I can beat the shit out of you, your sister, and Sarah all I want!" He said panting while quickly getting up right toward to Wendy, grabbing her wrist and lifting her up to drape her across his shoulders to hold onto the back of her head and legs, he would held her up and turn to look at Amy, and then turn to look at Sarah, just to see if they're gonna witness the destruction on Wendy.

"Here we go... the F5!" He then turn his upper body to one direction then twist the other way where he pushes Wendy legs out in front of him, pulling her head under his arm and dropping down with her to slam her head and face and her whole tiny front body to slamming down vicious into that huge power move.
Sarah could only lay there helplessly as she heard the count slowly reach 3. On top of all that she was dealing with the added humiliation as King went ahead and rubbed at her thighs making Sarah blush on top of having to deal with the defeat she was suffering right here.

As the bell rang Sarah knew she was done for and now King was pretty well free to do whatever he wanted. All the more frightening though for Wendy as she gasped seeing King looking pretty upset and knowing their hope of backing up Sarah had failed miserably. Normally the only real choice now would be to flee, but even that might not be so easily done.

"NO! Let me go!" Wendy cried out worried about what he was going to do as he picked her up and prepared to unleash something on her. The girl squirming and shaking on top of King's shoulders and the other girls watching were equally worried. Amy of course was groaning and trying to get herself up but failing at it. "Stop!" She cried out watching in utter shock as he used that power move on such a little Wendy.

Wendy of course crying out as she was slammed hard face first into the mat and left in an incredible daze and amount of pain. The little cutie left in quite the horrible state there.

Sarah of course was watching with a pained expression as she was partly to blame for Wendy and Amy getting involved in this.
Page 8 of 9 •

1, 2, 3, 4, 5, 6, 7, 8, 9


---
Permissions in this forum:
You
cannot
reply to topics in this forum