Champions & #1 contenders
Summer Splash interest in Natasha Loclear?
Mon Apr 09, 2018 11:30 pm by daemongirl
Well my girl hasn't missed a summer splash yet, would anyone be interested in a match with her? Open to just about anything match wise, just pm me!
Comments: 1
Been Out with the Flu
Sun Apr 22, 2018 7:47 pm by daemongirl
Just letting those I have threads with know I've been out with the flu since early last week, but I will be back to posting tomorrow.
Comments: 0
The Austrailian Mudslide is Back.
Sat Apr 21, 2018 6:20 am by Softsquad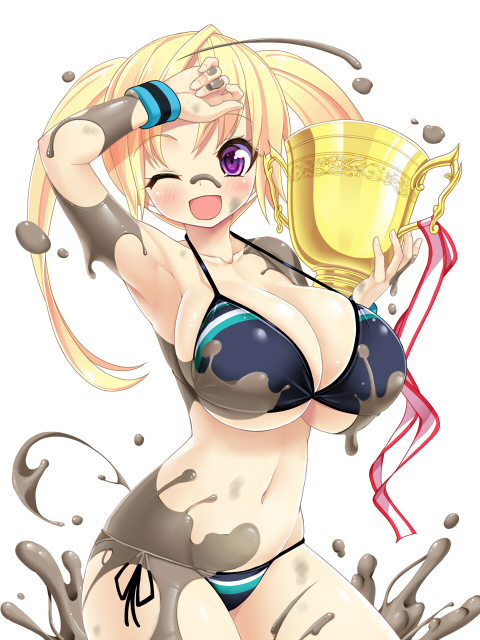 Granted that most of you won't know me or remember me, but I've had a few matches here and there some time ago. Well I think its time to become a regular around here and try to have some fun again, but at the same time keep coming back. Anyway I think its time to jump into some matches with Zoe Taylor, my mud wrestling character from Australia and get her back into the squared circle. Furthermore I will update my characters as I think some proper changes need to happen.
So if anyone would …
[
Full reading
]
Comments: 0
Page 2 of 4 •

1, 2, 3, 4


Once Lia put the brakes on any real fighting, Lukretia stopped dead in her tracks. She lifted up her glove and tore at the laces with her teeth. She threw the glove off her hand and tore the other one off. She then reached up and grabbed Lia by the collar and yanked her forward so she could look the girl straight in the eyes.

"I vant you to listen to me very carefully." She said, only seriousness in her tone. "Vhen it comes to ze vell being of zat child, I am villing to do vhatever it takes. She does not belong in zis league und until I can pry ze hands of zat wretched doktor off of her, zen you, as meine bodyguard, vill do everything in your power to assist me in meine endeavor. If zat means being squeezed to death. If it means getting beaten to a pulp. If it means zat you vill tuck her in at night und read her a bedtime story, zen you vill do it vithout a vord of protest. Zis is no laughing matter und zis is non negotiable. I vill not have a child be abused by someone who only desires to step upon zere backs because zey are too veak to stand up for zemselves."

"Do I make meineself perfectly clear... Ms. Cross?"
Lia had finally gotten under Lukretia's skin. It was gruesomely satisfying but it still felt... cold. Satisfying but only in the most superficial way. She hated this. She hated feeling like this. Acting like this. It was so empty.

When the German closed the distance, Lia could barely resist flinching. Lukretia was an imposing woman when she tried to be. She tensed up as Lukretia grabbed her but willed herself to stay calm. She focused on ice, ice water, anything to keep herself under control.

Lia pondered Lukretia's words carefully before responding. For once, Lukretia revealed to her something she cared about. Something the German wanted but did not have. Something that drove her. It took a lot of effort to dig something like this from her. Iron Maiden was a child, yes... but was Lukretia really any better a steward for her?

After several seconds of staring into Lukretia's eyes, Lia blinked and finally spoke, "No. You listen. I'm the hired help. I do a job. I am NOT one of your slaves. If you are putting my life on the line, you need to involve me." She took a deep breath, "You honestly think you're better for the giant than that doctor? I've seen how you treat the kids here." Lia shoved Lukretia's hands off your collar. "But a mercenary does not care about why. You want a mercenary, not a bodyguard. But when you hire a mercenary, you need a plan. And your plan sucks." Lia's tone of voice quickened. She threw her arms out, "The giant is the doctor's patient and charge. She's probably the only family the doc has. 'Provoke and confront' is not the right call here. Especially not 'Provoke mom and give toys to junior.' You called your shot. You made it obvious what you wanted. And now that doctor views you as the enemy. Which is doubly worse considering she commands a weapon of mass destruction."

Lia was getting worked up now. It was all a stream of consciousness for her. Seeing this side of Lukretia changed everything and reawakened a lot of old instincts. "With a little bit of subtlety, you probably could have broken the doctor's resolve or distracted her with another shiny toy or just bought her off. Hell, you're the damn GM of Friction. You could throw her out of the league easier than you can wiggle your big dumb tits. You fucked up. If anyone dies, it's on you. Same as that little girl you threw to the doc and her giant." Lia twitched as she spoke of the kawaii champ. A realization dawned on her. She bounced on her feet and pointed an accusing finger at Lukretia. "You made this a battle of giant egos. You started this fight and endangered everyone but yourself. A drunk frat boy could have managed more competence than you... but you're not that stupid, are you?" Lia licked her lips and paused, she was in dangerous territory now. Her words had gone a bit faster than her brain, but everything seemed to check out.

"No, you didn't just luck into where you are. You aren't sitting here, with the greatest assassin alive in your house without knowing exactly why she's here, are you? Yeah, maybe you do want to save the giant, but what was the first thing you did? You strutted your stuff in front of the doctor, you prodded her, insulted her. Do NOT lie to me. You didn't JUST want to take the giant. You wanted this dumb dick-waving contest between you and the doc. You won't be happy unless you get to lord it over her that you won, isn't that right? I could get you dozens of helpless little girls, but you want someone ELSE'S toy and you want them to know YOU took it." Lia panted, but did not stop.

"I'm a mercenary. I work towards an objective. And you have to tell me what that objective is. Are you here to save the giant? Or are you here to score that slam dunk on the doc? The former is a real goal. The latter is all you. And IF I end up working for you on this, here's how this will work. I will be part of the decision making process. Nobody dies. Nobody gets hurt needlessly any more. I get veto power over all of your awful decisions on this objective. I will work with you to deliver you yet another life for you to ruin. I don't care what happens after that. I get paid." Those last two sentences were an obvious lie. The clown act was a defense mechanism. It kept Lia's tells hidden. When she was direct like this, she could not hide her true feelings. "But I hope you remember what happened at the end of Of Mice and Men, Lukretia. You're trying to steal an awful big burden."
Last edited by 241 on Sat Feb 15, 2014 9:41 pm; edited 1 time in total

_________________
[size=85:clw9vi85]My [url=http://afwrpg.informe.com/forum/members-blogs-f42/hawthorne-s-hussies-t1347.html:clw9vi85]roster[/url:clw9vi85].
Once Lia was finished, Lukretia turned around. She stared a cold, steely gaze at Cardia as she took a few steps to clear the ring and snatched up her robe. She slipped it on and tied herself up so that she was covered and then looked back at Lia with all seriousness still on her face. "Zere is no comparison between Doktor Fairchild's charge und zat little girl who foolishly entered zis company. She said as she took slow, purposeful steps to clear the distance between Lia and herself.

"Ze girl i sent to interview Doktor Fairchild was fully aware of what she was doing. She knows at any point in time zis league, ze vomen in it could snatch her up and carry her off. I vill not allow veaklings to hide under some ridiculous banner just because others believe zey are cute." Lukretia clenched her fists tightly. "As long as she is able to make ze choice to be here, zen she must also live vith ze consequences zat come VITH being here."

She lowered her gaze, staring at Lia's chest, focusing on a point past the girl. "But Doktor Fairchild's charge has no cpacity for independent thought. She has no idea vat she is doing or vhy she is doing it." Lukretia sighed, her stern face falling. "Zis... is truly heartbreaking to see such a precious child taken advantage of." Lukretia's features turned angry once more and her fists squeezed tightly. "Especially vhen I her so called 'mother figure' has brought her over here vith ze sole purpose of compensating for her own veaknesses!" Lukretia bellowed the words at Lia's face.

"Intolerable Unconscionable!" She said and then straightened herself, glaring at Lia. "So yes, Ms. Cross, you vill forgive me if I vant to destroy zat doktor. Vhatever could be done to her is not good enough for vhat she is doing to ze child. Vould I make a better mother? I do not know. I do not have ze time to personally care for her as she deserves. But, I vill use my considerable vealth und influence to try und find a place zat could."

Lukretia then looked at Lia. Zis is vhere I am at, Ms. Cross. I am going to wrench ze child avay from Doktor Fairchild und until zat happens, zen I vill make sur she understands very vell, zat she vill be to me, vhat she has made zat child. A dog. She has a collar und I hold ze leash. Und aftervards, i vill make sure every day she spends in zis organization is a living hell. Do you understand?" She said, tilting her head expectantly at Lia.

"I vill hire you on as my body guard but if you are too squeamish at ze prospect of ze other vork, zen I vill make sure vehn it comes to Doktor Fairchild, you are not liable or responsible for meine actions. I do not really care if I must do zis alone. Vhen you are passionate about something, ze fire zat burns is vhat determines success."
Lia grit her teeth at Lukretia's answer. "Yeah, that kid had to deal with the consequences of authority figures they trust screwing them around to teach them a lesson. Let me spoil it for you: You wouldn't make a better mother for that giant than the doctor. And, in a sane world, someone would make YOU live with ze consequences of your choice." Lia spat, giving Lukretia a snarl, mocking her accent, "Do you ever ask yourself why you aren't getting your friends to help? Only the people who wouldn't give you the time of day unless you were paying them? You reap what you sow. The only reason this league is unsafe for that girl is because people like you lord over it."

Lia trusted almost nothing Lukretia said or did, but it was hard to argue with her motivation, as much as Lia wanted to. "Hmph. You better throw a lot of cash around once you get that girl. She will not be easy to rehabilitate. I've seen it before. You can't fix everyone."

Lia took a deep breath and sighed, she tried to rub her temples but the boxing gloves did little to help. "You want to crush the doctor. To grind her beneath your heel. AND you want the giant free from her clutches. So you want to essentially beat her at the only thing she cares about and steal the one thing she cares most about..." Lia shook her head, "Man, you don't pick easy fights..." She bit her lip, "I'd only take your money for that if I thought it would help your objective, but I think you've got the right idea. The ONLY way you are going to really take the doctor down a peg, REALLY break her is to do it alone. Without backup, without support. Show her you're the alpha and don't give her the out of blaming the numbers game..." She clicked her tongue, still in thought. "I... let me get back to you on that. I make no guarantees but it's worth the effort to try to come up with a plan to meet your objectives. It's... kinda what I do for a living. Plan, then execute... But, yeah, ground rules for now, I think it's best you stay center stage on those efforts. I'll stay close, because, hey, you're still paying me, but I doubt even my modded tazer is beefy enough to slow that giant down if the hammer comes down on you. There's a lot to be said for grit and pluck, but there's more to be said for playing it smart." Lia shrugged, "That said, I'm not entirely convinced the giant is even capable of hurting you enough that you wouldn't just shrug it off with that dumb smile of yours."

Lia cocked her head to the side, "I'm jealous though. That doc is the only thing I've seen that stoked a fire in your dead eyes since I've known you. I've gone out of my way to make sure you know I regard you as total scum and all I get for it is your stupid condescending grin. What does a girl have to do to get you to hate her as much as you hate that doctor?"
Last edited by 241 on Mon Feb 17, 2014 6:11 am; edited 1 time in total

_________________
[size=85:clw9vi85]My [url=http://afwrpg.informe.com/forum/members-blogs-f42/hawthorne-s-hussies-t1347.html:clw9vi85]roster[/url:clw9vi85].
Lukretia ignored Lia's comments about Kagami. She was done even thinking about the girl. If she could have it her way, the entire kawaii division would be fired as fast as she could draw up the pink slips. She looked Lia up and down. "Let us get one thing straight. I never asked anyone else to get involved in zis. I fully understand I am doing it on meine own. Ze doktor vas zere to legitimately treat injuries." Lukretia waved her hand. "Of course, I knew she might become a victim of ze girl's ire. Und of course I knew things could go wrong. Und i know zat she very vell may crush meine throat in her grip." Lukretia said. "I am villing to take zese chances. Do you believe zat I am someone who vould hide behind others? I vould be truly offended if you did think zat vay."

Lukreti's smirk began to slowly return."Anything zat is vorth doing is not easy, Ms. Cross. I believe zat ve both share zis opinion. I believe ze two of us are more alike zan you vant to admit. Und zat is most certainly vhy you lothe me so. Und it is vhy I could never hate you." Lukretia's grin was at full capacity.

Lukretia then sighed. and turned around. She waved her hand at Cardia. "Fetch us some beer." She said. and stepped out of the ring. "I do not take it vell vhen people who cannot defend zemselves or have no control over zere own lives are used by people who should be taking care of zem. I don't like to see ze helpless suffer, Ms. Cross." Lukretia said as she looked back at Lia. "You must find zat statement nauseatingly hypocritical but I assue you, zat I am not as black hearted as people vould believe. I only expect ze best out of people who are capable of production."
Lia scoffed, "Psh, please, if it were that easy just to crush your throat like that, I would have done it ages ago." Lia just shrugged at Lukretia's hypothetical question. "Truly offended? Well then, if that's all it takes..." She sighed. Lia was tired of this conversation and tired of this woman. She simply rolled her eyes at Lukretia's suggestion, "Yeah, sure, I'm sure that's it. Totally, totally alike. You've been watching WAY too many movies... Yeah, I'm gonna need that drink. Not finishing this meeting sober..."

Cardia perked up at the command, having zoned out, watching her mistress topless. She had not thought much of how Lia was talking to her but she knew better than to get involved. Most of the conversation was just white noise to her. She moved quickly to get the beers. "Wait!" Lia called out to Cardia and stuck her gloves outside the ring. The maid reached out and undid Lia's gloves, taking them aside as she left to go get the beers.

Lia climbed out after her, and at the last statement, Lia cracked up laughing. "Pffftnnngh! Ahahaha! Y-you're kidding, right? No, really, say that again. You don't like to see ze helpless suffer? Like... literally, the swelling on your sweaty little maid's face is still fresh. And then you say that? Hahaha!" She cracked up once more, "Okay, okay, sorry..." She calmed down and took a deep breath. "But, seriously, I don't give a shit about what you think your heart says. I just need to look at the results. I see what you do. I see who hates you and who likes you. Any sane person can decide which team they want to be on just from those numbers, Luky-baby."

Cardia returned with the two beers. Lia snatched it quickly and cracked it open, taking a big swig. She opened her mouth to say something to Cardia but thought better of it. The maid was an idiot working for this woman but she had enough abuse from her boss. "Anywho, back to threats, I think the only two I have left on the bullet list are Era of Hell and whatever that blonde screamer you hired is planning. Trouble? Yes, but for other people. I think they'll give you a wide berth. That's my list. Any input from you? Are you EVER going to put a shirt on? Or a bra? Anything?"
Last edited by 241 on Wed Feb 19, 2014 4:09 am; edited 1 time in total

_________________
[size=85:clw9vi85]My [url=http://afwrpg.informe.com/forum/members-blogs-f42/hawthorne-s-hussies-t1347.html:clw9vi85]roster[/url:clw9vi85].
Lukretia endured Lia's attempt at beratement until Cardia came back witht he beers. She took one for herself and poured it into the frosty mug that accompanied it. Then she took a deep and satisfying draught. After she was finished, she looked at Lia. "Her?" She said motioning to Cardia. "She is not helpless. She is free to leave if she desires. She is free to try und get stronger if she desires. But she is veak und she knows zis und because of it, she has gained quite a comfortable life for herself. If she cannot seize her own destiny zen she vill be happy vith ze one I chose for her. She understands zis much." She spoke almost as if Cardia wasn't there.

Lukretia then lifted her head and stared confidently at Lia. "Tell me." She said. "Vile you vere analyzing your numbers, did you ask any of ze people who "hate" me if ze also did not respect me? I am not concerned who favors me,but I assure you zose zat despise me can still not manage to muster up disrespect. Und, I believe zat is more telling."

When Lia got back to business, Lukretia laughed. "Era of Hell?" She said. "How interesting. Zey can do as zey like. I am interested to see vhat becomes of it. If you can figure out vhy it amuses me so to vatch zem, zen perhaps I vill include a bonus. Also an amusing proposition."

Lukretia tlted her head. "Ze poolboy!?" This time Lukretia laughed loudly. "If SHE can manage anything of consequence, zen I vill be quite impressed! Zose who bumble into vhatever ridiculous veb she believes she is veaving also deserve vhat zey get. Perhaps if zey untangle zemselves from it, I may show interest in zem meineself."

Lukretia calmed down and looked over Lia. "Vell, zen, for ze amusement alone, I think I vould hire you back." Lukretia licked her lips. "Are you sure you vouldn't vant to fight me for real, Ms. Cross? How is a voman supposed to feel vhen her charges are more interested in playing vith ze gardener?" Lukretia clicked her tongue and slid through the ropes. "I must be losing meine touch." She said and took another long swig from her mug. She looked at Cardia. "Fetch me meine dress. Our new employee is more modest zan I remember."
Lia pursed her lips. Lukretia's logic was, to her, the gibberish of a blackguard trying defend her bad behavior. She barely spent the effort to listen to it and yet it irritated her all the same to even have to suffer it. She had heard a great many justifications from smooth-talking assholes before. "Free, you say? I'll take your word for it." Lia's tone suggested anything but.

For once, Cardia spoke up. "We are. I did leave." There was a fire in her eyes. She could not abide Lia disparaging her mistress any long.

Lia's rabbit ear's perked up, "Really? And you're back... So... Cardia," the first time Lia addressed the maid by name, "How'd that work out for ya?"

The fire in Cardia's eyes died pretty quick. "I've... had better trips." She bit her lip and looked away from Lia's gaze.

Lia simply shrugged and took a sip of her beer. "Free." She turned back to Lukretia, "Complicated word, isn't it? But, to be honest, of course she is to blame for picking you of all people to hang around, to the degree you could blame a junkie for hanging around her pusher..." Cardia did not appreciate that, but held her tongue, "That's a deflection though. It does not change what you do to them. I'm... actually kinda curious about one thing, Luky-baby: Is there a single bad thing you have ever done that was not someone else's fault?"

Lia cocked an eyebrow, "You missed one." She raised both her thumbs and pointed to herself, "Dislike and disrespect. I'm a full service dick."

Lia shrugged at Lukretia's suggestion about Era of Hell, "I'll have you know I took Cerbera out for ice cream once. I'm betting it has to do with you fucking her, you sicko. She's adorable!" Lia always addressed Lukretia in a familiar way, largely to try to muscle through her elegant exterior, but this was the first time she had made a genuine joke with the domme this meeting that had not carried the tone of being meant at Lukretia's expense. Lia shook her head, but then she froze, as if coming to a realization, "Oh... those aren't contacts, are they? You sick fuck, you're two for two." Lia laughed before continuing, "And 'consequence' doesn't matter to me. I'm not here to play pretend byzantine power games with you. I'm here to keep you away from assholes who get lucky, and experience tells me never to underestimate a loudmouth asshole."

Lia shifted uncomfortably when Lukretia brought up the gardener. It was a good point. Violate was scum, no better than Lukretia. She was simpler to deal with than the German but her hands were probably far bloodier than the German's were. And yet here she was talking shit to Lukretia and she fucked Violate. Lia pursed her lips. She decided for now that she hated Lukretia's ego more than anything, as selfish as it was to engage in something so petty, "I think it means you may be past your prime... And you'd enjoy me kicking your bitch ass too much. And I don't quite like you enough to give you pleasure, at least not for free."

Lia shrugged, "For what it's worth, I'll shoot your dumb-ass gardener but not you. So there's that."
Last edited by 241 on Thu Feb 20, 2014 5:23 am; edited 1 time in total

_________________
[size=85:clw9vi85]My [url=http://afwrpg.informe.com/forum/members-blogs-f42/hawthorne-s-hussies-t1347.html:clw9vi85]roster[/url:clw9vi85].
Lukretia watched as Cardia spoke up for the first time. The girl was nearly dead inside so when she saw the spark it intrigued her. She wanted to see more but it was a painfully tedious process that even Lukretia did not have the patience for. She'd be a good pet and probably nothing more beyond that, much to the German's chagrin.

Lukretia closed her eyes. She rubbed her temples but smiled. "Ahhh, Ms. Cross. You're ze only one here who vould imply zat anyone believes I'm a saint, including meineself. How amusing." Lukretia then tilted her head. "But it is not as amusing as someone whose morals can be bought vith money accusing someone else of being quite dastardly." Lukretia frowned. "Ahhh, perhaps I should also dislike und disrespect you, Ms. Cross." Lukretia beamed again. "But I am villing to set aside your shortcomings because you have something zat quite appeals to me." She wondered how Lia would take that, considering she'd been on the offensive, crusading against Lukretia all evening. It was time for Lia to start tasting a bit of her own medicine. After all, she HAD been accused of growing old. Getting soft. If there was anyone to test how sharp her blade really was, it was Lia.

Lukretia lowered her gaze and chuckled. "She is quite precious." Lukretia said. "A kleinkind after meine own heart. Zough... perhaps a bit misguided." Lukretia said, tilting her head in thought. She looked back at Lia when the girl already seemed to figure out that Sarvara was taking her place for the moment. "Oh my. Really, now? You already figured it out? Vell. Zis is vhy I pay you after all. I'll make sure you have a nice bag of carrots vaiting for you."
Lia sighed. As much as she tried to get Lukretia to kick her out so she could tell Chesna, 'Welp, I tried. Sorry! Let's go find a real job without creepy Germans!' once again she found herself hired by this loathsome woman.

Cardia returned quickly, carrying Lukretia's dress. Her scowl at Lia for depriving her of the eye-candy was thinly disguised as she handed the garment to Lukretia.

Lia was a little surprised but happy to see Lukretia taking the offensive, "Would you dislike and disrespect me? Seriously? I mean, I would LOVE that..." Lia took another sip of her beer as she focused her gaze on Lukretia. It was true, she had done a few things in her career she was not proud of. But that was the past. Lukretia did have a point. Lia had not intended to but she did spend most of this time lambasting Lukretia with arguments she had probably already heard... And Lukretia had touched on exactly why. She wanted Lukretia's hatred. She could not stand Lukretia's affection. Still, Lia deflected, "My morals are most certainly for sale and you buying them makes a statement. You hire me, shit gets done with the absolute minimum of violence. No needless confrontations, nobody gets hurt. If more people bought morals like mine, the world would be much better off."

Lia gave Lukretia a grin. She HAD gotten it right. "Oh, oh that? Knew it all along."

_________________
[size=85:clw9vi85]My [url=http://afwrpg.informe.com/forum/members-blogs-f42/hawthorne-s-hussies-t1347.html:clw9vi85]roster[/url:clw9vi85].
Page 2 of 4 •

1, 2, 3, 4


---
Permissions in this forum:
You
cannot
reply to topics in this forum