Champions & #1 contenders
The Austrailian Mudslide is Back.
Sat Apr 21, 2018 6:20 am by Softsquad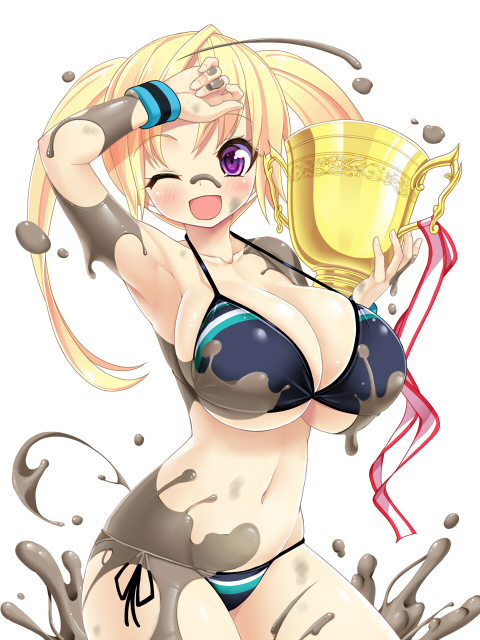 Granted that most of you won't know me or remember me, but I've had a few matches here and there some time ago. Well I think its time to become a regular around here and try to have some fun again, but at the same time keep coming back. Anyway I think its time to jump into some matches with Zoe Taylor, my mud wrestling character from Australia and get her back into the squared circle. Furthermore I will update my characters as I think some proper changes need to happen.
So if anyone would …
[
Full reading
]
Comments: 4
Looking for debut thread.
Sat May 12, 2018 9:28 pm by Hedgehawk
Hello All.
I am looking for a debut for my girl Trinity (http://www.afwrpg.com/t18107-trinity-cordova#495678).
This doesn't have to be a match, it could be a gym battle, interview or anything else. I just want something to help get Trinity off the ground. If you wanna plot feel free to reply to this message or fire me a PM.
Many thanks in advance and thank you for reading my message,
Hedge
Comments: 0
Page 3 of 4 •

1, 2, 3, 4


Thirsty for air, Mindy gasped when she was released from the sleeper hold; feeling Anesthesia's body move away from her, she likewise rolled away, rising to her knees. While she recovered her breath, she watched the nurse carefully, but it looked like her opponent wasn't going to attack her again for the time being; she seemed more than content with declaring superiority over the rookie.

"So the first step of your plan was to get knocked down and punched in the face? Doesn't seem very brilliant to me," Mindy quipped back. She said that as much to taunt Anesthesia back as to reassure herself, because all the threats had planted a seed of doubt on her. What if she was telling the truth...? No, that couldn't be, Mindy had to tell herself. She was just lying to cover her own weakness... right?

Getting to her feet, Mindy would walk closer to Anesthesia in a defensive stance. Once she got in range, she would step forward and try to send two punches, one with each fist, at the nurse's chin.
_________________
Roster:
[url=http://afwrpg.informe.com/forum/friction-roster-f10/mindy-priest-t7579.html:3kx69zdu]
[/url:3kx69zdu]
Anesthesia laughed at Mindy's reply, shaking her head as the woman climbed back to her feet. "That's because a simple-minded nobody like you cannot possibly comprehend my brilliance, little girl." She was still bluffing, but as long as Mindy thought she was being truthful, that's all that mattered. "I was only testing your strength, you know. And now that I know just how strong you are...?" Her lips curled upwards, into a nasty sort of sneer. "You won't be able to lay a single hand on me again..."

She gestured towards Mindy, as if daring then woman to come after her again, then settled into a defensive stance. She felt alive, every cell in her body at attention as she watching Mindy come moving in towards her. When the musclegirl started to punch at her, the nurse leaned back, weaving to each side to avoid the blows. She was totally focused on her defense, watching Mindy closely. No, not watching. Studying. She was studying her, trying to learn as much as she could about the woman, trying to find something else she could use against her.

After the second punch came in and she dodged it, Anesthesia threw her arms out to her sides. She stood there and released another mocking laugh at Mindy, shaking her head towards the larger woman. "Come now, dear!" She cried, taking a single step towards her, almost as if daring her to try something. "Surely you're not really that slow, right? You can land a hit on me, can't you?" She stuck her chin out, pointing it towards Mindy, like she was offering the woman a free shot. "Come on! One little hit! You can do that, can't you?"
Mindy did not reply, realizing that there was no point in arguing with someone that confident. Ever answer she gave was just another opportunity for the nurse to belittle her some more. Don't reply to the bully, her father used to tell her, and the advice was more than appropriate right now. The muscle girl wasn't going to give Anesthesia the satisfaction of knowing what was going on in her mind anymore. This was a wrestling match, not a taunting contest! She stepped forward, throwing two punches to end the discussion.

One, two fists hit nothing but air, as Anesthesia's head swayed to each side. There was fire in Mindy's eyes, but for some reason her strikes just weren't connecting. The nurse's words now gnawed at her. "No... no! She just dodged twice! Anyone can do that. Doesn't mean she's untouchable!" But the doubt was there, like a prick on the blonde's side, and what annoyed her even more was that Anesthesia wasn't even fighting back. Did she think this was some sort of game?

She had to make the nurse take her seriously. Stepping forward again, Mindy reared her fist to send a mighty haymaker - not at Anesthesia's chin, because that would be doing just what the nurse wanted her to do, but at the larger target of her chest. She tried to put all her power and speed behind the punch, simply not willing to accept Anesthesia could dodge everything.
_________________
Roster:
[url=http://afwrpg.informe.com/forum/friction-roster-f10/mindy-priest-t7579.html:3kx69zdu]
[/url:3kx69zdu]
Anesthesia stood there, her arms outstretched, her chin pointed at Mindy. She was giving the woman a perfect target, and she could only hope that she was foolish enough to take the bait. The problem was, Mindy was a bit smarter than the nurse was giving her credit for. While Anethesia was ready to spring out of the way as soon as the punch came in, she wasn't expecting the blow to her chest at all. As soon as she realized the punch was coming in lower than expected, the nurse tried to dodge out of the way, not wanting to get hit at all by the powerful punch.

She twisted her body to the side, but the nurse was just a bit too late in her movements, Anesthesia took the punch dead on, but rather then taking it in her chest, it struck her hard in her shoulder. Despite the composure she had tried to maintain for the entire match so far, she couldn't stop herself from releasing a cry of pain from her lips. She stumbled to the side, staggering away from Mindy, as she grabbed her shoulder with one of her hands. That had hurt almost as much as the blow to the face from earlier, and Anesthesia was absolutely pissed that she had allowed herself to be hit again!
Mindy spotted Anesthesia moving again; for a split second before the punch reached her, it looked like the nurse was going to dodge the attack yet again. "No way...!" If she had managed to escape unscathed, that would have been a hefty blow to the muscle girl's confidence - but as it soon turned out, Mindy had aimed at just the right target! Her gloved knuckles at last struck Anesthesia's shoulder, causing her to groan and stumble backwards. "HA!," Mindy exclaimed in triumph when the haymaker connected.

More than just hurting her opponent, the attack also gave Mindy a big injection of morale. So she was bluffing, after all! But of course. There was no way Anesthesia was as invulnerable as she claimed, and here was the cold, hard proof! Encouraged by her success, Mindy lost no time and pressed her offense, charging at the nurse to tackle her and hopefully bring her to the mat again!
_________________
Roster:
[url=http://afwrpg.informe.com/forum/friction-roster-f10/mindy-priest-t7579.html:3kx69zdu]
[/url:3kx69zdu]
Anesthesia took several steps to the side, turning away from Mindy as she held her shoulder. Gone was the smile that graced the nurse's face for the entire match. In it's place was a look of anger, a furious expression crossing over Anesthesia's face. It was time to start taking things seriously. As far as she was concerned, Mindy was all strength and little else, and if she could get past that and really start wearing down the girl, she just knew that she could completely break her confidence.

She turned back to Mindy, giving her shoulder a final squeeze before looking up at the musclegirl. As close as Anesthesia was to Mindy, she had no time to react to the suddenly tackle, and as soon as she realized that, she knew she was in trouble again.

Down to the mat she fell, the larger girl crashing down right on top of her. "A-aah! Dammit!!" she cried out, her mask of confidence starting to break further down. She knew she needed to act, and she needed to act fast. She couldn't afford to keep letting Mindy press an advantage over her. Not like this!

Up came Anesthesia's legs again, just like the last time that Mindy had been on top of the nurse. This time though, she was trying to wrap them around her waist, trying to scissor them around the musclegirl so that she could start squeezing her between them. If the very least, she felt that she could catch Mindy off her guard and buy herself some time with the simple move, and at best she hoped she could earnestly begin to grind the larger woman down.
Just as Mindy buried her shoulder into Anesthesia's midsection, she spotted the livid emotion painted on the her face, and when she tackled the nurse to the mat the fact that she cursed didn't escape her either. Yes! The heel was finally showing her true colors now! Mindy couldn't help but grin a little, wondering in jest if this was also part of Anesthesia's brilliant master plan.

The muscle girl was on top of her opponent again, and had free reign to do what she wanted - or, not quite! The nurse's legs sprung up just as Mindy was about to make her next move, trapping her waist in a scissors. "H-hey!" One of her hands flew to Anesthesia's knee, trying to push it away, but she couldn't prevent from getting locked in place; the two ankles had already joined behind her back.

She knew this wasn't a good position to be in. Her body squirmed between Anesthesia's thighs, feeling the pressure. "Let me go, or I'll...!" Rearing her fist, Mindy would throw a downwards punch at Anesthesia's face. It was a simple move, yes, but she had already stunned the nurse with it once, and she could certainly do it again.
_________________
Roster:
[url=http://afwrpg.informe.com/forum/friction-roster-f10/mindy-priest-t7579.html:3kx69zdu]
[/url:3kx69zdu]
Anesthesia was in a bad spot. She couldn't do much to Mindy from this position, other than try to squeeze the very life out of her with her legs. She grit her teeth again, squeezing her with as much power as she could muster, her thighs grinding and rubbing against the woman's waist. With any luck, she could get the woman to try and escape her, or split her legs apart, and she could use that chance to launch another assault towards Mindy.

But then, Mindy's fist came rearing back, and the nurse knew exactly what was going to happen. Acting quick, she moved her arms in, just in time to protect her face from the mighty punch. The impact that the musclegirl's fist made with her arms still forced a cry from Anesthesia's lips though, and she knew that while she she had protected her face, her arms couldn't stand up to any kind of assault like that for long, if Mindy chose to keep punching at her like that.

She decided to stay her course, splitting her arms apart after the punch landing, yelling back up at Mindy. "Or you'll what, little girl?!" she barked up at her, hurling more insults up at the girl. No need to be subtle anymore, she decided. "What could a weak, pathetic little girl like yourself possibly do to me, huh?" She gave her legs a sudden, tight clench around Mindy's waist, trying to add emphasis to her words. "You can't even get out of a simple little hold like this! Do you really think that I would be scared of you and your idle threats? Never!"

She hoped her words could still have an effect on Mindy, in any case. She was just a bit worried though. The musclegirl seemed like she was starting to get fired up, and there was no way that would end well for Anesthesia.
Last edited by 549 on Fri Jan 31, 2014 12:54 am; edited 1 time in total
Anesthesia's arms got in the way, forming a barrier to block Mindy's punch before she could pound on the nurse's face again. Despite Anesthesia's cry, the blow apparently wasn't enough to loosen the body scissors; much to the contrary, Mindy found herself being squeezed with renewed strength, while enduring another verbal assault from Anesthesia's foul mouth.

"Ngh!" Mindy winced, feeling a jolt of pain in her midsection as the scissors were clamped tighter. Her expression turned into a frown; she preferred to stay level-headed during a match, but Anesthesia's constant barrage of insults was making her seriously upset. "Oh, so now you're yelling?!," she shouted back in an outburst of emotion. "What happened to all your composure? Did I just punch it out of you? You're just a bully who talks too big! YOU'RE the weak one here!"

Mindy put her arms around Anesthesia's legs in a strong grip. "And this hold is nothing! Just watch!" Mindy would attempt to rise to her feet while in the scissors, lifting Anesthesia's lower body off the mat with her in the process. If she managed to do that, she would then turn, trying to start spinning in place faster and faster to whirl the nurse in the air with a giant swing.
_________________
Roster:
[url=http://afwrpg.informe.com/forum/friction-roster-f10/mindy-priest-t7579.html:3kx69zdu]
[/url:3kx69zdu]
Anesthesia scowled at Mindy. Mindy was right, of course, and Anesthesia had lost all of her composure, but she didn't like being called out on it. "Shut up!" she yelled, glaring up at Mindy with hate-filled eyes. She really didn't like losing her composure like this, but she had to do something. She had let herself get stuck beneath Mindy, and it didn't seem like there was much she could do about it.

Her situation only grew worse, as Mindy started to climb back up, using her mighty power to haul Anesthesia right up with her. Despite the nurse's efforts, she just couldn't keep squeezing her legs as hard as she had been while she was lifted up. She knew what was coming, too, and once again she was feeling powerless to stop it.

"N...no! No! AAAAAAAH!" she cried out, closing her eyes tightly as Mindy began to swing her around and around and around. Anesthesia's arms went flying out, flailing at the air as the musclegirl began to whirl her around in the giant swing. This wasn't good. This time, there was no way that she was getting out of this in one piece.
Page 3 of 4 •

1, 2, 3, 4



Similar topics
---
Permissions in this forum:
You
cannot
reply to topics in this forum