Champions & #1 contenders
Summer Splash interest in Natasha Loclear?
Mon Apr 09, 2018 11:30 pm by daemongirl
Well my girl hasn't missed a summer splash yet, would anyone be interested in a match with her? Open to just about anything match wise, just pm me!
Comments: 1
Been Out with the Flu
Sun Apr 22, 2018 7:47 pm by daemongirl
Just letting those I have threads with know I've been out with the flu since early last week, but I will be back to posting tomorrow.
Comments: 0
The Austrailian Mudslide is Back.
Sat Apr 21, 2018 6:20 am by Softsquad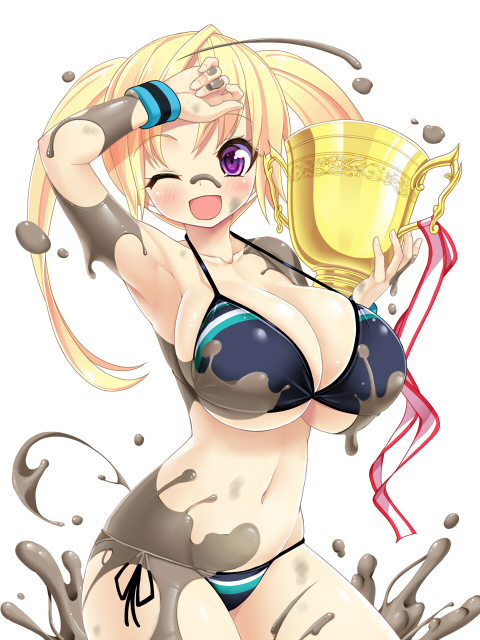 Granted that most of you won't know me or remember me, but I've had a few matches here and there some time ago. Well I think its time to become a regular around here and try to have some fun again, but at the same time keep coming back. Anyway I think its time to jump into some matches with Zoe Taylor, my mud wrestling character from Australia and get her back into the squared circle. Furthermore I will update my characters as I think some proper changes need to happen.
So if anyone would …
[
Full reading
]
Comments: 0
Page 1 of 3 • 1, 2, 3


Morrigan walked down the halls of the AFW building. She let one arm swing softly from side to side while the other was in her pocket. She knew her reputation and she knew that there was a real possibility that someone might do to her what she had spent the last long while doing to others. It was part of the reason she had decided to bring Brittany under her control. Brittany liked to believe it was a mutual partnership but Morrigan knew better. The dim witted brunette made an excellent shield. Unfortunately, in their last tandem appearance at Avalanche, the shield had not been so effective. Morrigan had been given a taste of her own medicine thanks to some bitch named Annelle. She knew she'd have to get back at her eventually but in the meantime she had had a lot to think about.

The Irish lass stopped just past a small door. All the meetings were being held in this office. She had scammed a key card off one of the office busy bodies and made her way up to the executive level. once there, she waited around. She knew the approximate times when meetings were scheduled and she could always get information she wanted. Someone in particular was in the midst of negotiations and she wanted to see them and have a nice chat.

She waited casually off to the side and when the woman walked out of the room, quickly began to follow her. She let go of the item that was in her pocket and wrapped an arm around the woman and with a bright smile, turned her towards the nearby woman's bathroom.


Junko, frowned when she felt the touch and turned to see who it was. This was the last thing she needed and, if not for fear of what might happen if she didn't comply, and because the girl hadn't actually done or said anything threatening, she would have done her best to get far, far away from the mad woman named Morrigan.

Morrigan let her arm slide along Junko's back as her hand slid back into her pocket. She looked down to make sure Junko noticed but other than that, she did not speak about it or threaten her in any other way.

"You're Taylor's manager, right?" She said and looked her up and down.

Junko lowered her gaze. "Look." She said, trying not to sound too stern. "If this is going to end up with me getting a swirly, can we just get it over with?"

Morrigan raised an eyebrow and smiled. "It's very tempting." She said, thinking it over. "But I actually didn't come here for that. I just wanted to get a good look at you."

"In the women's bathroom?"

"Someone like me doesn't have too many options with her reputation." Morrigan said. She then stepped away from Junko and made sure that she was between the woman and the door. Just in case. "So... How is she?"

***

Junko didn't understand what all this was about. That girl Morrigan had Taylor's number. Why was she the one to set all this up? She was now sitting at a noodle restaurant somewhere in Tokyo as she waited. She had three bowls of udon. One in front of her and one to either side. After her visit, Morrigan had told her to tell Taylor to meet up with her on a certain day at a certain time. and not to mention that Morrigan was coming. Of course she told Taylor everything instantly. She didn't really know what was going on but she still set up the meeting. Whatever the red head wanted with her bizarre act was intriguing, at least. Now all she had to do was wait.
Taylor was already in Tokyo before the meeting. She had errands to run: she bought a special present and a fern for Junko, took a run on her old route, showered at Junko's house, met with her business manager and signed some checks, and then took a long walk from his office to the noodle house. She found she actually enjoyed the crisp January air, possibly because she had a proper winter coat on and not some skimpy ring gear or workout clothes.

On the way, she pulled out her phone and sent a quick text to Akashi, "hey if I don't call you in a couple hours you have to track down morrigan and brittany. Watch the movie Taken to get the idea".

She wondered what Morrigan could be up to with her little game. Why would Junko not tell Taylor about a meeting with Morrigan? It didn't make any sense. She had to know she would tell her anyway.

Well, whatever. She was pretty crazy, anyway. Taylor knew what she was going to do, and hopefully she wasn't going to walk into a room with Morrigan and Brittany holding tasers or whatever. That would ruin her day. She couldn't quite decide, though, on what she should do if they did attack her. Run? Fight? Nothing at all? If she didn't show Morrigan that she intended to trust her, the whole job offer was bogus.

She was ruddy cheeked and smiling when she pulled open the door to the restaurant and strode inside. An orange and green crocheted beanie fit snugly on her head, just covering the tops of her ears, and kept her straight blonde hair down flat. She had a black and blue parka on over her hazard orange skinny jeans and beat up Doc Marten's. She looked around for Junko and quickly found her booth.

"Hey," she said, and slid into the seat next to her. She glanced at the udon. It was okay, though she tried to stick to soba. Buckwheat was way healthier than just white flour. She couldn't expect Junko to be quite as psychotic about her diet as she was.

"So I met with my guy today," she began. She decided not to bring up Morrigan, despite the somewhat conspicuous third bowl that waited for her. "Business is doing alright. We've got a bunch of designs and stuff for some stuff that we want to try to get into stores. Like, actual stores, so it won't just be all online and junk. Should be pretty cool, everything's going pretty okay. So what's up?"
Last edited by 1167 on Thu Jan 23, 2014 9:04 pm; edited 3 times in total
Junko beamed brightly when Taylor entered and bowed her head as Taylor sat down next to her. She smiled as she listened to the girl begin. It was nice to see she was taking care of herself and thinking beyond wrestling. it was something Junko never really did and she wondered if it was a reason her and Ichiro split. She sighed, covering her mouth with her sleeve as she did and smiled whens he lowered her hand. "That's great dear." She said with earnest and then took a slurpy mouthful of noodles. "I was just enjoying myself and having a nice, quiet moment alone. I've been in a lot of meetings lately, trying to rework out part of your contract but it's nothing too drastic. Just tidying up clauses here and there, fun, contract stuff, fufuf~" She said, grinning at Taylor a bit. "I'll make sure you can look it over before you just sign away your life... some more."

Morrigan had been watching from a spot near the cafe for some time. She watched as Junko entered and then a little later Taylor. She wondered what she should do as she saw the three bowls. She didn't like that one bit. Junko must have told Taylor. She had actually expected it though. It was less a trap and more done out of curiosity's sake. She needed to know everything about what she was getting into. She would have a tough decision to make and she wanted all the facts.

A few more minutes and she hopped off of her perch and tugged at her clothes. She was wearing a pair of light blue jeans that hugged her snugly, a red t-shirt that had a black bird embroidered on it and a cream colored button up shirt that she was wearing unbuttoned as an overshirt. She still kept her long, red locks in an unkempt main as opposed to straight and silky like before. She adjusted her glasses and then walked to the door, pushing it open and strolling up to the empty seat.

She took it without even saying a word and grabbed the chopsticks. She pulled them apart and began to eat like she had been there as long as anyone else. She wasn't going to say a word on an empty stomach, that was for sure. After a few quick slurps of the thick noodles, she turned her head.

"Ok." She said simply. "I'm in."
"Yeah, man. Meetings, and meetings, and meetings..."

Junko didn't like it when Taylor called her "man". She wanted Taylor to call her "okaa-san". Or was it "okaa-chan"? Would that be wrong? Either way, Taylor just wasn't totally comfortable with calling her anything right yet, though she thought about it often.

Taylor's spotted Morrigan the moment she walked through the door. She looked her up and down, like she'd be able to tell if she was planning something by the way she dressed. She looked a little crazy, but she always looked like that. She was there, though, and that meant something. Taylor just wasn't sure what.

"I like your shirt," she said as Morrigan slid into her seat next to Junko. She had always liked birds, especially blackbirds.

She stirred her noodles around with her chopsticks, but found that she was too tightly wound to think about putting any of it in her mouth. Was she nervous? Maybe excited was a better word. When Morrigan spoke, it took Taylor a moment to realize what she had said.

"Wha-, really?" Her eyes lit up with her smile. "Dude, that's awesome!" She reached around Junko to give Morrigan a little push on the shoulder. "That's really cool, man, I'm glad. Um..." She glanced down at her food. She wasn't sure what to do first. "Do you want to eat first, then talk? Or, like, talk while we eat, or... I dunno, I have a few questions for you, and we have to talk about the contract a little and stuff... Do you have any questions? Like, I'm sure you do, and junk, but like..."

She looked to Junko for help.
Morrigan didn't say anything as Taylor spoke. She ate her noodles in silence and had to hide a bright grin. She needed to be as serious as possible right now. She didn't want to give away anything away. That she was happy, that might have a hint of betrayal on her mind. After a long moment, she set down her chopsticks and leaned forward.

"Alright." She said and smiled at Taylor. "I don't really know what the deal is, but how hard can it be?" She said and smiled. "Working for Lukretia is the most demanding job there is. If I could do that, then the rest has got to be cakewalk, right?" Morrigan leaned back in her seat. She had given this a lot of thought. Not just about maybe betraying Taylor or Brittany but beyond those two. Her ultimate goal was always to get back into Lukretia's good graces. She wanted to be acknowledged by the woman, respected? That was asking too much. She didn't know why, but Lukretia seemed to hold Taylor to a different standard and maybe being around her might actually help her figure out what it was.

Junko regretted her placement of the noodle bowls. She wondered just why she had positioned herself between the two girls. Maybe it was out of necessity to put a buffer in case things went bad? She wasn't sure. She saw Taylor's look and just grinned. She'd be there, of course, but she wasn't just going to hold Taylor's hand. It was the reason that she was slightly perplexed. She finally had a daughter to dote over but the daughter was already fully gone and independent. She felt like she had been given a cruel gift.

She looked back at Morrigan. "I'm glad you're much more reasonable than your ..." Junko put her finger to her lips. How could she talk about Brittany? "The girl you like to, uhh, fraternize... with..."

"Lilith." Morrigan said, furrowing her brow. "She's my lover and partner." She said, leaning forward and eying Taylor. "Well, I could use other words." She said. "But I know when to not just shove my fingers in people's eyes." Morrigan smiled a bit and turned her head. "Even if it doesn't seem like that.'
"Oh... yeah." Taylor stared off into space. She knew Morrigan wasn't going to suddenly be a perfect little angel just because she wanted to pay her to do stuff. But... she had hopes. She wondered if all of it, her intentions and her people and her life, would be enough to make any of it come true.

"Okay, well, we have a contract here for you. It's just because... well, you'd be in charge of a lot. It's not just like a normal job, ya know, there's like legal stuff and the contract takes care of all of that. Especially because you're under contract with AFW too."

She fidgeted in her seat while she settled in. Down to business.

"So, questions. We'll talk about Brittany and stuff later," she grinned, with a little mischief and a little uncertainty. "So. First question. Can I, we, can we call you Morgan?" She leaned forward and painted Morrigan with earnest blue eyes, as if it was the most important question.
Morrigan raised an eyebrow at Taylor. She was actually a little surprised at the girl's words. Despite the girl seeming to have everything together, she also sort of didn't. Morrigan was wondering if this was the right decision, especially when shesaid the stuff with the contract. Morrigan looked down into her bowl. "I've signed contracts before. This isn't my first job." She said simply. "Even Lukretia made me sign one. She looks like she just does whatever she wants but she didn't get where she was by being lackadaisical with her affairs." Granted it was a loose contract and had a lot of things covered in case Lukretia wanted to fire the girl on a whim or if Morrigan wanted to leave. She never expected the latter to happen first.

"Yeah." She said. "You can call me Morgan, i guess." She shrugged a bit. She didn't really know what to think about that. She tilted her head, ignoring the Brittany thing. She didn't need to say a word about it. If it happened, it happened and that was Taylor's risk, not hers. Taylor had made her the offer after all.

"Do you just want me to call you Taylor or something?" She then grinned for the first time since arriving. "I'm guessing that you don't want to be addressed as Mistress." She then looked down at her soup and pulled up her chopsticks, shoveling some noodles in her mouth to hide her blush. Not that she'd want to do it with Taylor but she couldn't deny her masochistic itches hadn't been scratched in a while. A part of her still yearned for Lukretia's mistreatment even if she seemed to be doing everything to achieve the opposite.

"What am I gonna do then?" She asked finally. She guessed that was the 64K$ question and Taylor's answer would make her decision one way or another.
"A'right, cool. I mean, it's your name and everything. I mean, I looked up 'Morrigan', and I guess it's like either a weird demon chick in tights, or a girl-monster. And you're not a monster, so you're Morgan."

Taylor glanced around and then got up and pulled a chair over across from Morrigan. She moved her bowl of udon over, though it was mostly a formality. She'd never be able to eat anything until the meeting was over, but luckily she didn't mind cold food. She sat down so she could face Morrigan, and nodded.

"Yeah, man. Just Taylor. Do not call me mistress, unless it's, like, part of some elaborate sexy birthday prize for Johnny. Johnny's my husband, you'll meet him at some point."

She grinned at Morrigan. That was a question she probably should answer if she wanted the girl to actually do anything for the money she was going to pay her. "Well, officially you'd be my personal assistant. So, basically, you'd be doing whatever I need you to do, but you're not a servant or anything. I know you're smart, and you can handle a lot more that just getting me coffee." She gave her a shade of a lopsided smile.

"But like if I'm in Kyoto, and AFW or RSG needs me in Tokyo, I'd send you instead. You might even end up talking to Lukretia for me." She laughed, but then she wasn't sure if it was funny. "You could assist with workouts and stuff, that'd be fun. My business manager right now handles the accounting and shipping and all that stuff, he's like the whole company, so if he gets really busy you might go help him with all the stuff he does. And since I have a lot of meetings and stuff these days, and I live in one city and we work in two other ones, I want you to help keep track of my appointments and stuff."

She leaned back and propped an elbow on the back of the chair. "I'm sure more will come up as we go, but for right now I just want you to keep your phone on you, and check in every morning."

She paused for a moment, and her smile faded. "And... Brittany. You guys are tight or whatever, but you believe in all that survival of the strongest, law of the jungle kind of shit. Right? Well, Brittany sent me a love note recently just begging for an ass kicking, and I'm gonna give it to her. I'm gonna stomp that stupid bitch. I'm gonna make her cry, and then make her say she's sorry. If that's a problem for you, tell me now." She leaned forward, with her elbows on the table, and looked Morrigan straight in the eye. "And when that happens, you will not be there. Got it? You will not fuck around with what happens between me and Brittany. You're going to let us handle our own shit."

She held Morrigan's eyes with her own, not even blinking, and waited for her to give the answer she was looking for. "Are you cool with that?"
"She's a goddess." Morrigan said, pushing her finger into the table to emphasize her point. She was a little annoyed with Taylor's 'research.' She didn't mind being called Morgan outside of wrestling but she didn't like it when people sullied that name, either. Beyond annoyance, and as polite a correction as she could allow herself to make, she wasn't going to belabor the point. Besides, Taylor brought up another interesting point and Morrigan couldn't help but put on one of her famous sadistic grins. She had been trying really hard. Taylor just made it too easy.

"Oh, I think we've met before." She said simply. She'd only faced up against one boy in her time in Friction. A long time ago when she got the idea to recruit Brittany to her side. The night that Taylor lost her entropy title, a man came after Brittany and then after her. Morrigan put him down easy enough with her taser. She didn't know who the guy was but it was easy to put two and two together. Obviously it was Taylor's husband. He was definitely a hardbody but he was also a chump. Morrigan tried to pull back her smile as Taylor spoke. Taylor must have been so out of it that she didn't even remember what they did to her and her boytoy.

Morrigan's face settled back into nondescript features as Taylor explained her job. It sounded easier than what she was doing with Lukretia. She was basically going to be a gopher and intermediate. Easy enough and more in line with what she wanted to do anyway. She kept her poker face while Taylor spoke about Brittany and when she was done, she looked down at the noodles. "I have one question." She said.

"Will my travel expenses be covered? If I'm doing that much running around, possibly often between Kyoto and Tokyo then shouldn't my expenses be covered? I'm pretty sure on your end it will benefit you to do so. If I'm spending half my check on gas or train tickets then what's the point?" She said, almost sounding reasonable and normal, like she knew what was going on and wasn't just looking for an opportunity.

She then leaned back in her chair and crossed her arms under her chest. She put on smug airs and closed her eyes. "As far as Lilith is concerned, well, I guess you'll just have to take that chance. Maybe I'll show up. Maybe I won't. Maybe I'll help her kick your ass, maybe I'll help you kick hers. Maybe I just won't be around. If you want to hire me so badly, then you'll just have to wonder about it." Morrigan nodded her head. "Maybe I'll surprise you? Who knows?" She shrugged. "Maybe I won't." She grinned.

She let herself move forward and smiled at Taylor, opening her eyes. "I'll do my job whether or not I kick your ass, help kick your ass or, whatever." She said waving her hand. "This is business... The AFW and everything I do there, is pleasure. I think I can separate the two. Who knows, maybe I won't want to fucking end you after working for you." She grinned. "Or maybe I'll want to more than ever."

Junko furrowed her brow. "Taylor-san." She said. "Don't bring this woman into your world." She said, annoyed and worried at Morrigan's tone. She didn't like it one bit.
Last edited by 445 on Sat Jan 25, 2014 7:00 pm; edited 2 times in total
Taylor was not amused. She held up a finger, not to be rude, and kept her eyes locked on Morrigan. She was not going to let the redhead smug her way through this. She grabbed the contract and slapped it down in front of her.

"Let's get one thing straight..." She began slowly. "I understand that you used to work for Lukretia, and now you're upset. But you don't work for her anymore. Maybe Lukretia let you fuck around and do whatever you wanted... But I don't." She pointed her finger into the table just like Morrigan had a moment ago. "You sign that contract, you work for me. Understand? Now, I think you'd do a good job. I want your help, but I also think we're going to have problems. When we have problems," she said slowly, making sure she was crystal clear on the point. "I'm going to deal with them. Brittany is not a problem we need to have. If you sign that contract, and then you and your girlfriend decide to try to fuck me over, you'll be right back out on your ass, see you in the ring. You don't want to get canned from every job you ever get, right?"

She eased up, leaned back, idly gave her noodles a stir. "Don't think I forgot any of the shit you've done. I know what you've done to other people and to me. So, next question. Am I completely out of my mind for wanting to bring you in?"

She pulled a pen out of her pocket, clicked the end, and slapped it on the table in front of Morrigan. "I hope you do surprise me, man."

She wanted so badly to tell her about the clause right then and there. She felt dirty for holding back on her. Even if she read every word of the contract, she might not see it, at least that's what Mercy said. Taylor could barely make sense of any of the legalese. Her top priority, though, was getting the girl to sign the contract, and that clause might have been a deal breaker.
Page 1 of 3 • 1, 2, 3


---
Permissions in this forum:
You
cannot
reply to topics in this forum