Who is online?
In total there are
42
users online :: 9 Registered, 0 Hidden and 33 Guests :: 2 Bots
dlamp
,
dragonswill
,
Iron Soldier
,
LARIATO
,
LtLukas
,
Mystery Dragon
,
Person
,
RadiantKarna332
,
Underdog21
Most users ever online was
155
on Sun Oct 09, 2016 8:33 am
Champions & #1 contenders
Reduced Post Rate
Tue Jun 27, 2017 12:14 pm by RadiantKarna332
For those who are currently roleplaying with me in threads, you guys may have noticed my reduced post rate. I'm sorry for being so late to inform you guys about this, but due to some real-life businesses, I have no choice but to post infrequently compared to usual. I'm so sorry about that.
So, I will return to my normal schedule next week, so please don't worry about me not posting. Have a nice day.

Comments: 3
Catching up and stuff
Wed Jun 28, 2017 4:19 am by LARIATO
Hey guys.
First, trying to finally get my ass in gear and get caught up with threads and everything. Pretty sure I've finally posted to all active threads I'm involved with now. But I can be very scatterbrained and forgetful at times. So if anyone's got an active thread still waiting for a post for me, it probably just means I've forgotten, so PLEASE let me know about it so I can get on that asap.
And second, I'm aware it took me a long ass time to get around to a lot of these posts, and some …
[
Full reading
]
Comments: 0
Active Kawaiis
Sat Jun 24, 2017 1:25 am by Daaharu
Hey, guys. I'm hoping to get a sense from everyone of where the active kawaii girls are at. No guarantees or anything, but I am looking to figure out who is out there consistently making matches because we are looking to inject some new blood into the kawaii title scene, and I don't want to have tunnel vision on just the players and characters I know.
So, if you've got a kawaii girl who's had at least one match and is currently active, can you let me know either here or via PM or IM? This …
[
Full reading
]
Comments: 6
Page 1 of 6 • 1, 2, 3, 4, 5, 6

Fight at the beach, No rules, no DQ

The fight takes place in an open area surrounded by people. Fighters can use any means necessary to win.
Victory is decided when the opponent is knocked out.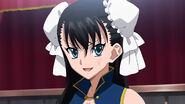 Xue Lan wasn't expecting to be put in such a fight. A no-hold bars brawl was not unusual to her, but to fight at the beach was something she wasn't used too. Nevertheless, the girl made the best of it and just took it as a chance to beat another girl down. Though she wasn't a sadist normally, she had been frustrated by the lack of opponents recently. Today she finally got what she wanted.
She took a taxi towards the beach where she saw a large crowd gathering around what appeared to be a large area in the shape of a square. It resembled a ring at the beach, but instead of ropes, there were people there instead. Xue Lan sighed as she made her way towards to the center of it. As she was a participant, many people made way for her. She was dressed in her usual choengsum attire that belonged to her family, but underneath was a sexy black laced bikini that she considering revealing to all, depending on what her opponent came dressed in.
As soon as Xue Lan made her way to the center, a sound of a motorcycle came from a distance. It would be fast at first, but then slowed as it was nearing the crowd of people. The rider was wearing a red helmet, a red biker-like jacket and a dark red shirt, dark pants, terra cotta fingerless gloves, and dark boots. As soon as the rider removed the helmet, it revealed a blonde woman with blue eyes. She would shake her head a little to let her hair flow free before smiling. She was excited for this fight and was willing to get her fists in shape.

The girl made her way through the crowd and she saw Xue. She would see her and say, "Ah! Bonjour, mademoiselle. I suspect you are my opponent?"
_________________
Focusing on good old fashioned basics and just having fun. Nothing else and nothing more.
The World of Dynamo
Xue Lan was envious when she saw Payback make her appearance. The girl was preety which she liked. She enjoyed fighting girls who were tough and also pretty. Deep down, Xue Lan wished she had a motorbike. The girl had gotten a license long ago, but had no bike.

When asked if she was her opponent, Xue Lan replied..."Yes I am. I am Xue Lan, but you can call me Xue." She than looked at her clothes first before asking..."Do you really want to fight like that? As we are at a beach, I imagine you would have cjosen something like a swimsuit/bikini. I am wearing one under my dress at present."
Xue Lan didnt kind eitherway. If Payback fought in casual so would she, but a small part of her wished that they fought in swimauits at least because of the environment.
Payback would hear Xue's question about whether they should fight in the clothes that they have right now or in swimsuits. She would look at her own jacket and said, "Hmm, well I do have a swimsuit under here in case I felt like swimming after the match. Do you want to fight in our bikinis or swimsuits?" She would start zip down her top to show the swimsuit underneath.
_________________
Focusing on good old fashioned basics and just having fun. Nothing else and nothing more.
The World of Dynamo
"Swimsuits it is then. " Xue Lan agreed as she undid the zip behind her dress and let it fall to the ground, revealing a sexy black laced bikini underneath. Most onlookers were quite shocked at how large her breasts was. Definately they couldn't have seen properly while she was wearing her cheoungsam.

Picking up her dress, she threw aside before glancing at her opponent. "Two things I must say. First, what should I call you? Payback seems more like a title. Second, I would like to say sorry in advance, as you would most likely be unconsious after I kick your pretty face in."
As soon as she declared such, Xue Lan would get into a fighting position.
As Xue Lan was removing her clothes, Payback would do the same. She would remove her jacket first to reveal the first half of her red swimsuit, which covered up her cleavage nicely. She would even take off her pants to reveal the second half of her swimsuit. The reason why she wore a one-piece swimsuit was because she didn't want any men to gaze upon her. It just felt uncomfortable to her and wouldn't allow it until she felt ready. Once Payback put her clothes aside, she would reply, "Well, first off, apology accepted though I feel eet is YOU who will have your face kicked een. Second, I usually stick weeth Payback, but other times I am called Le Rog. I hope you don't mind me keeping my boots on."

(Do they remain with shoes on or shoes off?)
_________________
Focusing on good old fashioned basics and just having fun. Nothing else and nothing more.
The World of Dynamo
"Hmm...." Xue Lan was in thought. "I mean no disrespect but I think it be best if you take yor boots off. It would be quite disadvantageous of me if I was to try and kick your leg because of the extra weight. I would end up hurting myself." Xue Lan regretted wearing high heels at a time like this. Fashionable, but useful in a fight.

"That said, any prefence on you wish me to beat your pretty face in? I am only asking so you wont deel so bad when you wake up." Upon declaring her challenge, she took a fighting stance. "On a side nlte, I ask if I can adress you as Le or Rog. It sounds better than payback."

it was at this moment did the announcer spoke loudly.
Ladiea and gentleman! Today we have a special treat! These two beauties are to have a no hold bars brawl while dressed in a sexy swimsuits and bikinis!! There is only one rule! Knock your opponent out to win! One thing to note is no one is allowed to cross the line! However if a fighter gets shoved towards you, you are free to hit, grab or even feel her up as you please!!

The crowd cheered loudly at the news they were able to get a piece of the action.
"Oh, well een that case..." Payback would go over to her motorcycle to change shoes. Opening up the back compartment, she would take out a pair of red slip on shoes in place of her boots. Putting the boots in the compartment, she would wear her new shoes and get back to Xue who was already set to fight. "Uhh, are you sure you're good weeth high heels on?"

Payback then added, "You can call me Le Rog, it's all one name. And if you must ask, just hit me wherever you please. I'm not afraid to take any damage myself."

Once the announcement was heard through the speakers, Payback would get in her fighting stance and inch herself to Xue immediately.
_________________
Focusing on good old fashioned basics and just having fun. Nothing else and nothing more.
The World of Dynamo
"I asked how you wanted to be beaten? It was meant as a joke." Xue Lan replied as Le Rog inched closer. Taking the initaitive, Xue Lan would suddenly. Leap forth and produce a roundhouse kick followed by a mid kick using the momentum generated by her first kick. She was confidant that even if Le Rog avoided the roundhouse kick, she would most likely be kicked in the stomach, and Le Rog was going to learn how been kicked in high heels hurt like a bitch.
" I know," said Payback with a smirk. "I went weeth it either way." She would keep her eyes on Xue as she took the first move. When she jumped for a roundhouse kick, Payback would duck to avoid it. But she didn't know Xue had a mid kick coming at her as soon as she landed.

"GUUH!!" Payback cried out in pain as the high heel actually made contact with the stomach and she doubled over before backing away. She would huff out a little before glancing up to Xue and smirking. "Not bad, mon ami...but I won't stop zat easily." Payback would try to recover as she walked to Xue. Once close, she would also try to stomp on Xue's foot to catch her off guard before throwing a haymaker punch.
_________________
Focusing on good old fashioned basics and just having fun. Nothing else and nothing more.
The World of Dynamo
Page 1 of 6 • 1, 2, 3, 4, 5, 6


Similar topics
---
Permissions in this forum:
You
cannot
reply to topics in this forum