Champions & #1 contenders
Moonhearts Promo intro thread is O p e n.
Mon May 21, 2018 4:21 am by XSirenX
Feeling brave?, lost?, or without a thread to post in?, hit up the newest Moonheart if any of those apply!
CLICK HERE
What Moon has to offer?, many things...:
Comments: 0
The Austrailian Mudslide is Back.
Sat Apr 21, 2018 6:20 am by Softsquad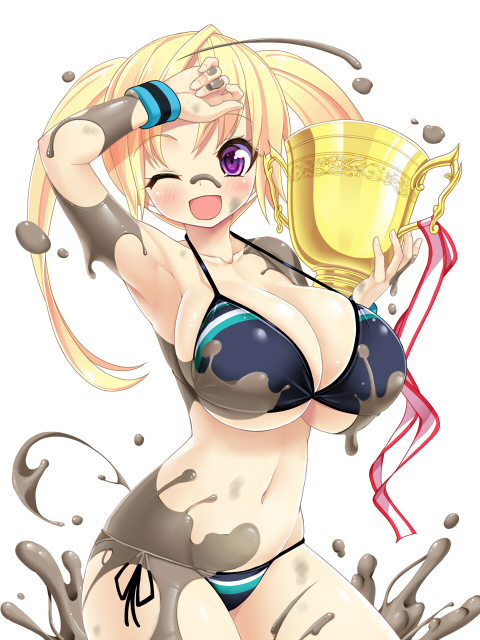 Granted that most of you won't know me or remember me, but I've had a few matches here and there some time ago. Well I think its time to become a regular around here and try to have some fun again, but at the same time keep coming back. Anyway I think its time to jump into some matches with Zoe Taylor, my mud wrestling character from Australia and get her back into the squared circle. Furthermore I will update my characters as I think some proper changes need to happen.
So if anyone would …
[
Full reading
]
Comments: 4
Page 2 of 7 •

1, 2, 3, 4, 5, 6, 7


The mighty battle between the two beauties raged on for quite a while, the crowd was in awe at the strength and the endurance that these two beauties had in them. With as close to perfect bodies as one could get, each woman was pressing, grinding and fighting tooth and nail with their entire frame in this tough struggle. Muscles flexing on every creves of their mighty frames, all the while their large firm breasts were mashing up in their own war for dominance and power. Who would win in the end ? It was truly anyones guess. From the looks of the battle so far, the slightly bigger newcomer was putting Cecilia through a hell of trouble.

Foreheads pressing tightly against one another, as red and brown eyes glared deeply into another with a fire of warriros who wanted to defeat one another, but at least seemed to respect each other quite a bit. There was also of course that hint of lusting from both of their eyes. " How hot?!..gnh...I'd say almost coming close to my level ~" Cecilia let out as she struggled to dig in deep and attempt to fight back against Rosaria.

Finally! The blond beauty managed to get her foot, a good grounded stance as she held against the mighty Rosaria, feeling the girl's frame grinding up against hers and struggling fully to try and overcome the powerpacked body of the Northern Queen. However, Cecilia wasn't done with just stoping Rosaria, she would continue and push onwards. Moving one step at a time as she tried to release her mighty power in a burst and try her best to shove Rosaria back. Pushing and pushing she began to feel Rosaria falter and soon enough the raven haired hottie was giving in. Cecilia would try and push onwards, attempting to have her entire being over power Rosaria in an attempt to get the beauty into the corner. Pressing her mighty chest against Rosaria's, her forehead and her dominating soul through her eyes right against her foe. " They don't do me justice though. Wouldn't you say ?!" Cecilia let out teasingly as she attempted to keep her current upperhand.
Still getting used to what she assumed to be a standard part of any AFW match, the banter, Rosaria had more than a few choice words for Cecilia on the tip of her tongue but forgot them the moment her legs gave way underneath Cecilia's strength. Once she began moving backwards there just wasn't anything she seemed able to do to put a stop to Cecilia's progress, Rosaria unable to get a solid enough footing before the blonde would drive her back yet another step. She kept her eyes fixed on Cecilia throughout the struggle however, not bothering to glance back at the rapidly approaching corner like many women might have since her ring awareness was good enough she didn't need to see the turnbuckle to know it was drawing close.

"Well at the very least the tales of your...lets say extreme confidence are understated." Rosaria finally replied though it wasn't with her originally planned response, just saying the first catchy line that popped back into her head in the end. "And as for the other stories...well I guess I will just have to put them to the test myself."

She could almost feel the leather of the turnbuckles digging into her back but Rosaria was never one to go quietly into the night and as the corner drew nearer she placed herself fully into the hands of her instincts. Once she was only a few feet from the corner Rosaria threw herself back and down to the canvas, her fingers digging into the blonde woman's arms with no intention of letting go until Cecilia was dragged forward and had her face introduced to the middle turnbuckle in a big way.
Last edited by 10067 on Sun Aug 03, 2014 7:43 am; edited 1 time in total
Cecilia had always been pretty confident when it came to her physical strength, and it seemed as if she wasn't going to have to be proven wrong in that confidence. She was pushing back her slightly larger opponent in their tightly locked test of strength. While Rosaria was more than a fair match for her in this little contest, it seemed as if the blond beauty was winning out in the end. One step, then another and so on it continued as the blond beauty kept pushing her opponent of the night back more and more by each passing second. Though even Cecilia had to admit that Rosaria was putting up one hell of a resistance against her, which had proven to be quite a difficult thing to break through.

The comments which was made by the raven haired beauty about her how the confident the blond were, didn't really bother Cecilia, she simply snickered a bit and kept pushing her foe backwards. Her large breasts digging in against Rosaira's and pushing, flattening her likeable opponent's pair under her own. " Do what you must ~ I'll be in here showing you the ropes ~" Cecilia teased back in a confident tone as she tried to keep pushing Rosaria backwards.

Things did turn a bit sour for the blond beauty though, as Rosaira had used her loss in strength to her advantage now. When they finally reached the corner, Cecilia felt the nails of her foe dig in against her gloves and soon enough she was pulled foward. *BAM!* Cecilia face was painfully introduced to the cushioned turnbuckle." Mmghp!" Cecilia let out a muffled groaning yelp of pain and surprise, as her body then crashed down towards the mat, right on top of Rosaria's shapley frame. Slightly dazed by the smack in the face and the surprise of this clever girl's move.
"And maybe in the process I will show you a thing or two as well." Replied the raven haired woman with a wide grin on her lips and a glint in her eyes, for despite the fabled overwhelming strength of Cecilia who was said to be one of the physically strongest women in the AFW Rosaria found herself nearly holding her own. Perhaps just a bit more time in the gym hitting the weights and she would be on equal footing with the former champion, a thought that brought her no small amount of pride in her abilities in what was only her first match. But she needed to focus on the now and as she was Rosaria knew she couldn't overpower Cecilia like she had so many other women in her MMA days, leaving her to pull from the arsenal of moves she had relied on back when she was just a scrawny teenager fighting for the first time.

Fully intent on staying true to her words about teaching Cecilia a few thing Rosaria figured then was as good a time as ever, especially if she didn't want to end up pinned back in the corner she had started from. She had glanced back when she had just started to fall back under Cecilia's push but hadn't since then, not wanting to give away what she had in mind Rosaria was relying on her instincts and where she thought she was in the ring based on the map in her head when she initiated her plan. Falling back she dragged Cecilia forward, using the woman's own momentum against her as she brought her face slamming into the turnbuckle with the woman collapsing right on top of her immediately afterward.

Cecilia was not a light woman by any means but fortunately only part of the blonde's weight was on top of her thanks to how she had fallen during the throw, leaving Rosaria to drag herself out from underneath the woman, slipping out from between her legs and turning around once she was on her knees. Rosaria would reach forward after Cecilia's wrists while sliding her body forward so that she would be sitting just above the woman's ass, putting her into position to yank back on the woman;s arms placing Cecilia into a modified rocking horse hold.
Cecilia was always glad to find opponent who could give her a run for her money when it came to thinks like strength, perhaps it was for how much she enjoyed those close and even battles one could have, to test herself against other powerful opponents, and perhaps it was a bit that she liked to use her body as a dominating weapon against her foe and hammer that point in with a firm and solid test of strength. So Far Cecilia felt that she had done so quite well, with her powerful muscular body and her shapley bust having dominated Rosaria a slight bit in their little struggle.

Of course, the further back they went, the more it seemed to be going well for the Northern Queen. At least that was how it felt until her face smacked into the turnbuckle. While not the hardest hit that the buxom blond had taken, it was a head that did sort of daze her a bit, mostly from the sheer surprise. Rosaria hadn't struck Cecilia as the kind of girl to abandon a test of strenth like that...though it seemed she had misjudged the Raven haired beauty.

Falling down on top of her beautifull opponent in this match, didn't seem to stop Rosaria very much. As the girl quickly slipped out from under the Viking wrestling and got up on her knees at Cecilia's feet. It wasn't long before the Swedish powerhouse felt her foe reach out for her hands and grab a hold of them by her wrists. Cecilia let out a low grunt of annoyance, as Rosaria planted her firm rear down the small of Cecilia's back and began to pull back on Cecilia's arms in a painful angle, putting a strain her shoulder joints, which made the blond beauty wince out in pain.
Rosaria loved more than anything to be involved in just a straight up fist against fist brawl when her opponent was as equal to her as Cecilia was in nearly every way, but part of being a fighter was knowing how to play to your strengths and to take advantage of your opponent's weaknesses. In this fight strength, which had always been something she could fall back on in her MMA fights, was not in her favor and that meant she was going to have to think a bit past just going right for contests of strength. As much as she didn't want to concede this first battle between them Rosaria knew if she didn't she would be at a disadvantage, stuck in the corner where Cecilia could quickly tip the scales of the match in her favor with a few big blows.

When the tables were reversed as they so often had been in her fights outside the AFW Rosaria had never shown much in the way of mercy until the victory was secure and she highly doubted Cecilia would give her an inch, which was something she actually respected about the woman but it left her needing to use force to get out of her predicament. With a quick move on her part Rosaria drove Cecilia's face into the turnbuckle and escaped in the process, leaving her with a prime opportunity to pull ahead in the match early on.

"Gotta keep on your toes Cecilia." Rosaria said with a smirk on her face that Cecilia couldn't see as she pulled the woman's arms back into the submission hold, applying pressure to both her back and shoulders simultaneously. With her arms locked down Cecilia wasn't going to be grabbing the ropes which meant this was going to be a duel on endurance, Rosaria intent on holding Cecilia within her hold for as long as possible while the blonde bombshell undoubtedly wished to break herself free.
With Rosaria being able to turn the tables by throwing Cecilia over her and smacking into the padding of the turnbuckle head first, while not very painful it dazed her more than enough to allow the beautiful and buxom raven haired girl pushed out from under the blond beauty and decided to mount the back of the blond beauty, pressing her rear down upon the small of Cecilia's back and reaching forward with her arms to grab a hold of Cecilia's and take control of the blond beauty, pulling them up and back in an awkward position for the blond beauty.

"Hnngh.." Cecilia annoyingly grunted out as Rosaria hold was putting preassure on Cecilia upper back and shoulders. The blond would turn her head from left to right and wiggle a bit underneath the raven haired beauty who had her locked in tight. " You think this is keeping me on my toes ?" Cecilia let out, as she would proceed to try and pull her arms apart, trying to pull them down and to the sides in order to weaken Rosaria's hold, all the while the buxom blond would attempt and push her knees up off the mat and try and push herself closer towards the ropes. " Don't think so light of me." Cecilia let out as she would try and pull her arms free as she attempted to get close enough to the ropes that her head would touch the bottom ones.
"Well are your toes not touching the ground right now?" Rosaria quipped back with a laugh following soon after while she continued to work over Cecilia, keeping the woman's arms pulled straight back at an unnatural angle, putting strain on her shoulders, elbows, and even her back. The best part though was that unless Cecilia planned on hooking her chin over the bottom rope she wasn't getting out of it without first overpowering her. And while Rosaria had now tasted just how powerfully built the blonde was she was confidant she could keep Cecilia under control, at least long enough to have some fun.

Cecilia wasn't making anything easy on her however and Rosaria couldn't have been happier to see it, it would have been boring if she had just given up or so she felt. Her grip was beginning to loosen but faced with either having to release the blonde's arms or to hold on as long as she could she chose the second option, struggling to keep Cecilia stuck in her hold until somehow the woman did exactly what she had thought of as a joke moments earlier, she actually got her chin to brush the bottom rope. While she knew she had a five count to let go, perhaps more depending on the referee's tolerance, Rosaria wasn't the sort to take unfair advantages in a fight and released her promptly, leaving the woman to lay on the mat while she rose to her feet and took a few steps back.
LunarWolf wrote:Getting out of Rosaria's hold had not been easy, there were many ways to try and do it but only one which was really a way that would strain the blond beauty the least and leave her ready to keep fighting Rosaria at as much to 100% as she could. Therefore she went with the chin on the ropes route to get free. All she could hope for was either Rosaria changing the hold, trying to pull her away or simply letting her go after the count. However, the buxom raven haired beauty let her go much much earlier, almost instantly when the ref girl came in and saw the rope break.

Being released from the hold, Cecilia would push herself and turn around, looking on at the girl in the similar colored ring gear. She would lean back against the corner and drap her arms over the top ropes. " Well well. Looks like I'm gonna get to have some fun after all." Cecilia let out with a smirk on her lips, already taking a bit of a liking to Rosaria. She once again eyed the beauties body before she would gesture for Rosaria to come right at her. Cecilia though would keep herself in her lazy looking pose and position against the corner. Just waiting for Rosaria to come forth and get a round two going between them.
Rosaria stepped away from Cecilia to let the woman untangle herself from the ropes the moment she felt the ref tapping upon her shoulder to release her. She had always believed any true victory came when one won the fight and followed the rules set forth for it, taking cheap shots and unfair advantages tainted any win that might come from them. She knew very few in the AFW would share her views and in fact her best friend Isabella had tried several times to convince her to change her mind on the subject, but Rosaria was just as stubborn as her friend and would live by her own rules, and if she lost because of it then so be it.

"You mean you weren't having fun before? Could have fooled me." Rosaria replied with a light chuckle, her hands coming up in front of her face as she readied for Cecilia to come out of the corner. However the blonde looked comfortable where she was and even beckoned for her to come and join her, an offer she responded to with a mere shake of her head. "Sorry but no, why don't you come out of that corner and we can fight like we both want to, all out and in the middle of this ring where nothing can get in our way."
Page 2 of 7 •

1, 2, 3, 4, 5, 6, 7


---
Permissions in this forum:
You
cannot
reply to topics in this forum