Champions & #1 contenders
The Austrailian Mudslide is Back.
Sat Apr 21, 2018 6:20 am by Softsquad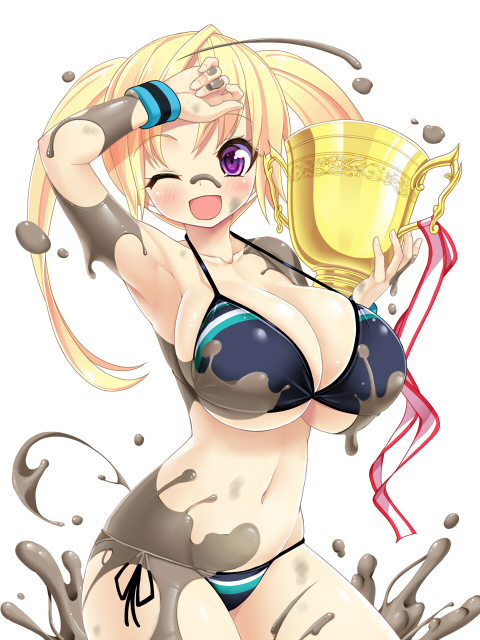 Granted that most of you won't know me or remember me, but I've had a few matches here and there some time ago. Well I think its time to become a regular around here and try to have some fun again, but at the same time keep coming back. Anyway I think its time to jump into some matches with Zoe Taylor, my mud wrestling character from Australia and get her back into the squared circle. Furthermore I will update my characters as I think some proper changes need to happen.
So if anyone would …
[
Full reading
]
Comments: 4
Looking for debut thread.
Sat May 12, 2018 9:28 pm by Hedgehawk
Hello All.
I am looking for a debut for my girl Trinity (http://www.afwrpg.com/t18107-trinity-cordova#495678).
This doesn't have to be a match, it could be a gym battle, interview or anything else. I just want something to help get Trinity off the ground. If you wanna plot feel free to reply to this message or fire me a PM.
Many thanks in advance and thank you for reading my message,
Hedge
Comments: 0
Page 2 of 2 •

1, 2

"MMMGGGHHH!" Mayu screamed as she felt the clothespins attached to her nipples, her face turned red and tears began to flow from the corner of her dark eyes.

She shook her head frantically, trying to tell the twins that she didn't enjoy enjoy their treatment. That seemed like pointless, though, as her captors seemed to be enjoying her predicament. The pounding on her sex, the soft, pillowly breasts rubbing on her back, the pain on her nipples, and the brushing tongue of Yuka on her body starting to drive her crazy with mixed sensations. She panted, and drools began to flow from her gagged mouth, her eyes narrowed as her body and mind was under assault by the merciless twins.

"Mmmpphhhhghhh..." she let out a weak groan, shaking her head again as her resistance slipping away. "Mmmmhh...!"

The short haired girl felt slightly lightheaded now. She thought it's not possible for her to reach an orgasm in this state, but her arousal was surely building up according to Yuki's thrusting. She began to sob, not knowing whether she should feel ashamed from being aroused in this kind of situation.
"Her muffled screams are just lovely aren't they Yuka-chan? Yukino says as she continues to fuck her victim harder and deeply while taking great pride in what she is doing, not caring that she is doing an awful thing to Mayu. As the same with Yukari who kept licking away with her tongue around the wondrous lovely body. Soon Yuka stops at Mayu's armpit, probably the sweatiest part of her body but she kept licking there and circling her tongue around it.

After a bit more of fucking Mayu hard, Yuki pulls the strap on out of her pussy and walks away to her front. "I'd say it's time to swap now, right Yuka-chan?" She asks her sister who also stops what she is doing and looks at Yuki. "Yes, but lets take a break and give her a quick one too. We aren't that mean right..?" Yuka asks with Yuki nodding, who then takes the clothespins off her nipples and even lowers Mayu down so she is sitting down but still keeping her arms in the air with Yukino staying at the chain like a guard ready to sound an alarm.

Yukari then pulls out a water bottle from the bag they brought and crawls over to Mayu and straddles her, then opens the bottle before pulling the gag out of her mouth but keeps it on and grabbing her neck. "I'll give you some water, but you if you scream I'll choke you. Deal..?" Yuka says as she waits for Mayu to agree to bring the bottle to her mouth and slowly move it up so the water slowly goes into the girl's mouth so she doesn't choke on the water then pulls it away once Mayu has had enough.
Last edited by 11297 on Thu Jan 02, 2014 11:38 am; edited 1 time in total
Mayu's eyes widened as she felt Yuka's tongue licked the are around her armpit, and she began to squirm again, yanking her chains a bit from the tickling feeling. She felt like she was close to an orgasm when the other twin suddenly stopped and pulled the strap-on from her wet womanhood, eliciting a frustrated groan from the short haired girl. Her head rolled down, before the sharp pain from her nipples made her jump slightly again. Looking down at her chest while panting heavily, Mayu noticed that the clothespins had gone and she sighed in relief.

She watched as Yuka brought her a water and nodded meekly to the girl's words. When the gag was released, she gasped for air first and drank from the bottle, as much as she could, but not too fast since she didn't want to choke herself. She panted and looked at her captors as the bottle was pulled away from her mouth, her face had a mixture of exhaustion and angst.

"W-who are you...?" she dared herself to ask the twins. "W-why are you... doing this... to me?"
Yukari remained straddled on Mayu's lap after giving her some water while giving her a breather and a quick break from the raping, just to try and make herself look dominate over Mayu even though she'd rather be subdued instead. She and Yuki both had grins on their face while watching their prisoner which soon faded once the girl asked who they were and why they did this. Yukino giggles as she crawls over to them and goes to the right side of her sister then she and Yuka speak in unison. "Yukino and Yukari Izumi, we the Incest Twins, a brand new wrestling team." The two said before lowering their heads down closer to Mayu's, to then answer her second question. "And we are doing this because we just want to~"

Giving Mayu her answer, Yuki just goes back to the chain to wait for her sister to end the break who still remains on Mayu who then wraps her arms around the girl's neck with a playful smile. "We specifically chose you as our first target because you are so sexy and cute, and not to mention your cousin is Tsuki-hime. So this is to send out a message to her and everyone else..." Yuka explained as she then brings her head in close to press her lips against Mayu's for a kiss which she holds for a while before pulling away.
Last edited by 11297 on Thu Jan 02, 2014 12:15 pm; edited 1 time in total
Mayu felt a shiver as she watched the twins giggled and spoke to her in unison to introduce themselves. Their answer made the short haired girl frowned as she felt a little scared now. Doing this kind of things just because they wanted to? That's just... crazy, to say the least. Mayu then heard Yuka's explanation, and had a puzzled look on her face, although before she could say anything her lips was sealed with a kiss.

"Mmm!" she protested into Yuka's mouth.

She gasped as the the girl's lips was withdrawn from her own, her cheeks blushing from what just happened. The short haired girl quickly shook her head, though, reminding herself that the girls in front of her were a pair of psychos. What exactly they wanted from her cousin anyways?

"M-message...?" Mayu asked in confusion. "W-what kind of message is this...?" she asked in defiance.
Yuka licked her lips with a slightly satisfied expression after she kissed Mayu, her mouth tasted a lot better then her body thanks to the water but her sister tastes a lot better then any girl she would ever meet as her heart and love belongs to her. But she still remained straddled on the girl's lap and playfully shakes her sexy hips then giggles again at Mayu's next question about this message. "To pretty much tell every wrestler we are here, and that anyone one else might become one of our targets to rape. Especially your sexy cousin, we want to fuck her hard...~" Yukari explained as she giggles again and Yukino snickers by the chain hoist.

"Anyway, break time is over...~" Yukari said as she put the gag back in Mayu's mouth and finally got off of her lap with Yukino pulling on the chain hoist to lift Mayu off of the ground off her feet again. Yuki takes off the strap-on and hands it to her sister who puts it on herself then goes over to Mayu's front with the strap-on poking her pussy. "This time, there will be no breaks...~"

Sparking a cute but sinister grin, Yukari grabs and lifts up Mayu's legs by her thighs for leverage to get between them then shoves the strap-on fully in the girl's pussy til she couldn't go anymore in. Then the Yuka starts to pump Mayu's sex, but she goes in and out slowly and very deeply at first just to get accustomed to Mayu's body before increasing her speed as she licks and sucks on her breasts which are right in front of her mouth. While Yuki on the other hand, simply watches with her arms crossed to decide what to do next to their captive.
"Wha...? T-that's craz-mmmph!" Mayu's reply was cut by the gag, and she could only resume her protest in muffled grunts while squirming helplessly again. "Hnngghh!"

The poking at her sex along with Yuka's threat made her stiffened for a bit, and soon enough her legs were lifted and the strap-on was jammed deep into her pussy, eliciting a muffled groan from Mayu. The fucking started slow and picked its pace from there, and the same went for the short haired girl's muffled moaning, which became gradually louder. Her breasts being sucked and licked by Yuka made her body twitched cutely every now and then, while she could feel her orgasm building up again.

"Mmmmpphh! Mmmm!" squealed Mayu as she continued to endure her predicament that was enforced to her by her captors.
Yukari was as giddy as a school girl as she had her turn to fuck away at Mayu's lovely body. It was her first time using a strap-on on someone other than her sister, it wasn't as fun but it was fun enough. Still going slowly faster as time went by fucking the poor girl and got slightly more rougher with the sucking of Mayu's cute and yummy breasts, all while adding a few light bites to the errect nipples to pull them back a bit and lightly chew on them.

While watching the deliciously show her sister is doing, Yukino smirks after thinking of what to do to her victim and decides to do it. But before she can do it, the sadistic twin digs into the bag to see if the tool she wants is there and it is. Yuki pulls out a big and thick vibrator from the bag and waves it at Maya as she giggles with a wide grin, to give the girl an idea what it's for. Standing back up, Yuki walks over to her sister and Mayu in a slow manner like a slasher horror film villain. She kisses Yuka on the cheek and then licks it before going around behind Mayu and then spanking her ass hard.

Giving herself a moment to admire Mayu's lovely ass, Yuki lowers herself to lick her butt cheeks before trailing her tongue to lick the black head's anus hole itself to prime it for whats to come. Spinning her around the asshole, Yuki savors the moment before pulling back and giving the girl light taps on her butt cheeks. "Bottoms up!" Yukino says as she then suddenly shoves the vibrator into Mayu's anus deeply before cranking it up so it vibrates inside of the girl's ass. All while Yukari continues to fuck Mayu gtoo.
Mayu shook her head as Yuki waved the vibrator in front of her, feeling that she's already fucked enough as it was. She initially thought that the girl was going to use it on her sex to amplify her twin's fucking, never once it crossed her mind that Yuki was going to use it... somewhere else. So she was a little confused when Yuki just went around her, wondering what the girl was planning with the thing she just showed her.

"Nnnghhh!!" the short haired girl almost shrieked through her gag as she felt her cute butt cheeks spanked hard by one of the twins. Her body jumped slightly, pressing her breasts to Yuka's mouth slightly further, eliciting another moan from her lips.

She was just recovered slightly from that spank when she felt Yuki's tongue on her butt, her eyes widened from the surprise. That only seemed to be the opening act, though, as the next thing she felt was her rear hole being prodded and licked by the girl! Mayu let out a muffled squeal, shaking her head in protest again, starting to realize what's going to happen to her next... and just how helpless she was to prevent it from happening.

She wailed as the vibrator was jammed into her ass, and soon after the toy starting to vibrate inside her, Mayu's body stiffened. Within seconds, she let out a loud, muffled cry, her head rolled backwards and her dripping sex began to spasm. The short haired girl burst shortly after that, moaning loudly through her gag as her lower half wiggled itself, her juices coating the strap-on and dripped to the floor. Every muscle on her body felt like jellies after that, as Mayu limped on the chain, panting and sobbing quietly, her reddened face was washed with her own tears.
Yukino had just put the vibrator inside of Mayu's ass and then turned it on, but not even 10 seconds after putting it in the girl's body spasms out of control and she cums. Both twins were really surprised and they both pull out of Mayu at once. "Well, she reached her breaking point it seems." Yuki says with Yuka nodding in agreement right after, they soon look at each other for a few seconds and then they both nod again with a decision of what to do next.

"Okay, we are done with you Mayu-chan..." Yukari says in a way as if they did nothing wrong while taking off the strap-on and Yuki lowering Mayu back down so she is on the ground again laying down, but this time so that her arms aren't hanged in the air anymore. Yukino then walks up to her sister and they both start to lick and suck on the strap-on to savor the taste of Mayu's juices. "We couldn't have done a lot more with you if we wanted to, buuuuut we'll let you off easy."

The twins left Mayu gagged and handcuffed still because they wanted to do at least ONE more thing to her before releasing her, and that is to clean her up. Yuki and Yuka lower themselves down so they their heads are close to the broken girl's pussy and starts to lick it clean of the juices together.

After they were finished cleaning the girl's pussy up, the twins immediately began to make out again in front of Mayu but for a short while this time. They pulled away from each other and began to put their clothes back on along with packing all of their toys up minus the gag and cuffs on Mayu, and Yuka went to get a ladder so she can take the hoist off from the ceiling and then put that in the bag as well. With everyone else packed up, the twins then take off the gag and cuffs and just leave Mayu laying there in the shower stall. "Thank you for giving us a good time Mayu-chan, give our regards to everyone okay?~" Yukino said as she began to walk away as Yukari lifts and positions Mayu so she is against the wall and then points the shower nozzle at her before turning it on at a very warm temperature to help further clean her up and relax her a bit.

"Bye bye..." Yuka says lastly as she follows her sister, as they leave Mayu in that shower stall. Alone and broken... for someone to find her, and hope that this was enough to send out the message that they wanted to send.
Page 2 of 2 •

1, 2


Similar topics
---
Permissions in this forum:
You
cannot
reply to topics in this forum