Champions & #1 contenders
The Austrailian Mudslide is Back.
Sat Apr 21, 2018 6:20 am by Softsquad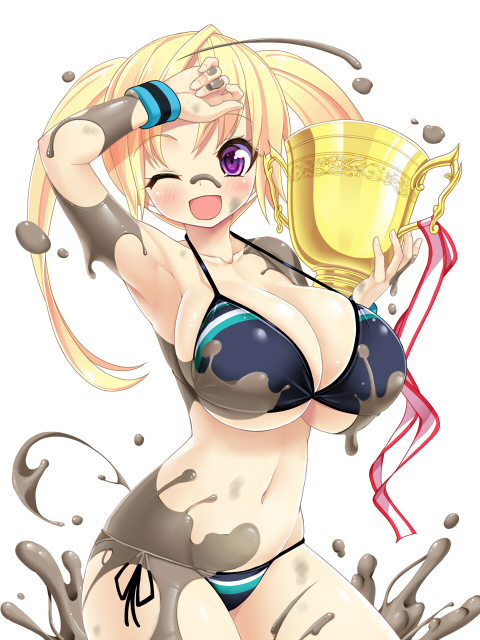 Granted that most of you won't know me or remember me, but I've had a few matches here and there some time ago. Well I think its time to become a regular around here and try to have some fun again, but at the same time keep coming back. Anyway I think its time to jump into some matches with Zoe Taylor, my mud wrestling character from Australia and get her back into the squared circle. Furthermore I will update my characters as I think some proper changes need to happen.
So if anyone would …
[
Full reading
]
Comments: 4
Looking for debut thread.
Sat May 12, 2018 9:28 pm by Hedgehawk
Hello All.
I am looking for a debut for my girl Trinity (http://www.afwrpg.com/t18107-trinity-cordova#495678).
This doesn't have to be a match, it could be a gym battle, interview or anything else. I just want something to help get Trinity off the ground. If you wanna plot feel free to reply to this message or fire me a PM.
Many thanks in advance and thank you for reading my message,
Hedge
Comments: 0

Daisuke Kamiya vs Tai Kamiya
Falls Count Anywhere

(Match will be posted in parts, done over im)
(edit: broken image link removed)

Tai Kamiya scowled as he came out to the ring, dressed to compete in a pair of black sweatpants, boots, and a T
shirt, entering the ring and demanding a mic. "So...you all saw the PPV a couple weeks back, where my dear cousin
and I battled it out....and though I hate to admit it...I lost. I made one mistake, and I got beat for it....Well
now, I'm here for one thing! Dai! I want you to come out here, and accept my offer for a rematch! Any match you want! But I'll prove I can beat you!"



It looks he might not get an answer, but eventually he gets one as Daisuke comes out, not really dressed to wrestle,
but still she comes out and alone.  She enters the ring and takes the mic that Tai had.  "I'm not saying it made a
difference, but mistake or not I did beat you.  Now you want to try again?  As you can tell I'm not really dressed to
wrestle, than again neither are you.  But that's fine.  You want a rematch, you got it.  Last time you proved that
you could fight by the rules. As good of a match that was I think it would have been a lot more fun if there were no
rules.  You want a rematch right here right now?  Then the only thing that seems to make sense is to make it anything
goes, falls count anywhere."

Tai frowned as Dai came out and said she would only accept under a hardcore rules style match. Taking only a second
to answer, he nodded and picked up the mic. "Your on, now get over here so I can take you down!" He said, intense and
ready to brawl as he tossed the mic down.


She looks around and tells him even though she didn't pick the mic up.  "Shouldn't we wait for a ref to get here?" she smirks as she turns and gives her butt a little shake towards him.
He sighs and rolls his eyes and leaned against the ropes, back to her, until a ref girl comes to the ring which he then slaps Dai's as the ref singals for the bell.  

Dai looks a bit shocked then smirks a little "You always were a pervert. I dare you to do that again."  She looks like she is going to give him that but instead of turning
around she slaps him across the face and grabs him with the
intent of throwing him out of the ring.

Tai smirked back, actually reaching out and groping her breast..right as she slapped him across the face, knocking him back, then grabbed his hair, pulling him towards the ropes.
Before she could throw him out though, he would elbow her in the side to free himself, before trying to punch her in the ribs!

Dai groans as she gets knocked off of him and is forced to let go.  

Tai, getting free, grabs Dai, and gives her another hard slap on her ass, calling her bluff, before trying to toss her outside the ring now! "See how you like it!"

After falling to the outside and landing near the railing, she uses it to help pull herself up but leans against it.

Tai followed, heading outside the ring and going up to his cousin. "Not as easy as you thought, huh cousin?"

Dai has one arm on the otherside of the railing and as soon as she feels something touch her hand she swing it over and nails Tai upside the head with what was a bottle of beer.

Tai had just been about to grab Dai when she swung her arm, Tai feeling an impact, hearing a crash, and dropping to his knee's holding his head after Dai broke the beer
bottle on his head, leaving him groaning and seeing stars.
"Ugh...."

It takes her a moment to fully get to a standing basis but when she does she shoves him down and tries to go into his pants "Give me your keys you drunk bastard."
as she actually finds a set of keys of some kind and starts to grind them against his face.

Tai groaned as she went into his pants, only to be disappointed as she rubbed his own keys into his face as he tried to get to his knees. "Damnit Dai....
you finally get in my pants and don't grab what I want you too..." He groaned.

After grinding them a bit more she drops a knee into the upper part of his chest and tells the ref "As him if he's had enough" even though she had a feeling he still has a lot left in him.  
She goes over to where the timekeeper's table is and picks up the ring bell and pours another fans beer all over it, waiting for him to get back up "I know you ain't a lightweight, got
another cold one for ya" and charges at him when the timing's right.

Tai groaned as he got up to his feet, shaking his head as the ref asked if he wanted to quit. "No way!" He replied, hearing Dai taunt him about another beer.
Sensing the worst, he turned and lifted his foot while turning, ending up booting the bell back against Dai's chest when she charged at him!

Not expecting him to give a ye ol' return to sender, Daisuke takes the bell and the bell sounds off as it tolls upon

impact, causing her to double over.

Tai smirked as Dai doubled over, grabbing the ring bell and lifting it up, aiming to bring it down upon her back!

Dai groans after getting nailed with it again.

Tai drops the bell after the second hit, grabbing Dai by the hair and going to roll her in the ring, reaching under to start tossing weapons into the ring. Chairs, chains, kendo sticks, even a table he slid in!
By the time Tai got in the ring himself Dai was trying to pull herself up with one of the ropes, holding her chest a little

Tai slid back into the ring, raising his arms up to the booing crowd as he heeled it up, feeling certain he had this in the bag.

Dai pulled herself up into the corner and noticed all the stuff Tai threw in.

(TBC)
Last edited by Maxy on Sun Jan 18, 2015 4:21 am; edited 3 times in total
_________________
Quick roster info:
Want more detailed information and maybe unlock hidden characters?:



Posts

: 2893


Join date

: 2009-07-25


Age

: 35



Tai looked to the corner Dai was in, running forward before leaping towards her, trying to splash his body against hers!

By the time she doesn't where Tai was he was maybe a few inches away from her and had no time to try to avoid the splash as Tai was right on target

Tai's body connected against hers, the pink haired fighter grinning and leaning himself in, grabbing Dai's breast and giving her a quick kiss on the lips before trying to irish whip her into the opposite corner!

When she made contact with the corner on the other side she wasn't happy as she wiped her face after Tai kissed her.

Dai growled at him and found a chain that Tai tossed in by the corner and grabbed it.

Not noticing the chain in her hand, Tai ran across the ring and leaped again, trying to splash against her again!

This time he was ready for him and moved out of the way before turning back to him and began to use the chain as a whip.



Tai let out a grunt as he hit the turnbuckle pad, shaking his head to clear the stars that were in his eyes after the miss..until a hard whip against his back made him cry out, falling to his knees.


Daisuke gives him another lashing with the chain, to the shoulder this time before going behind him and chokes him with the chain "Kiss me again and eat all your meals through a straw!" she barks at him, wanting him to suffer.

Tai cried out as his shoulder was lashed with the hard chain, before gasping as it went around his neck, grabbing at it in a desperate attempt to pull it off as she started choking him with the weapon.

Daisuke holds him in there for a little while longer until she decides to let go, giving him a lash against the back before going after some of the chairs he tossed in. She sets two up beside each other and one on top of them. After wrapping the chain around one of her fists she goes to pick him up, wanting to suplex him onto the chairs.



Tai stayed on all fours, gasping and coughing after she let go of him, having only just recovered and gotten to his feet, turning around to be grabbed by Dai and suplexed onto the chairs, flattening all three of them and rolling
around the mat, crying out and holding his back in pain!

Dai smirks seeing Tai like this. She wanted to do more to him and went to find and set up the table Tai brought it there. But, since he was technically family she figured she's give him a break and end it for him, having a slight
change of heart. She put down the table she was going to set up and picks him up instead as she slowly licks the chain around her fist and winds up, going for a knockout blow.

Tai turned around, seeing Dai swinging at him, just barely managing to get his hands up in time to catch her chained fist, before he pulled her arm, forcing her body forward, then pushed back on her hand, trying to make her hit
herself in the face with her own chain fist!


Daisuke attempted to fight his resistance but got caught and she got hit herself. Not enough to knock her out but enough to send her back and away from him and to give him an opening.


An opening was all Tai needed, giving Dai a swift kick in the gut and bending her over before grabbing her in a tight headlock, moving over to the fallen pile of chairs before falling back, trying to DDT her headfirst onto the chairs!


By the time Dai figured out what happened she was a moment away from being planted and she groans after falling on her back after getting planted on her head.


Tai smirked and gave Dai a hard stomp on her stomach before reaching down and pulling off her boots one by one, then unbuttoning and pulling her pants down, tossing each item into the crowd after!

After tossing her pants to the crowd, Tai pulled her shirt off as well to leave her in her underwear, tossing her shirt away as well before stripping himself, so that when she recovered, she would see him in his underwear, licking his lips as he stared down at her, When she came too she noticed the lack of clothing she had, then the lack that he had. her eyes go wide "You sick fuck!"

She kicksherslefup and stares back at him, but looks very causious now

Tai smirked as Dai got angry at him for his actions. "Oh shut up Dai. You've been a damn tease to me for years now.

You'r finally gonna pay for that..."
He growled, before trying to stomp hard on her legs repeatedly
Dai went back down after Tai got her in the legs. She cries out a bit from the repeated stops. one of her arms flail out and eventually come into contact with a trash can lid


After the hard stomp, Tai reached down her legs, planning to grab her panties and try to pull them down as well!
The gasps feeling her panties go down and she wacks him in the leg with the can lid, trying to get him to back off


Tai yelped as he was hit in the leg, falling to one knee, even as he pulled the panties off of her leg!

She wacks him a few more times with it, though each time with less behind it "Don't you dare!"

The blows still hurt, even with less to them, soon making Tai back away, crawling backwards, tossing her panties out of the ring while holding onto his head and groaning, dazed from the smacks.

She felt like running, not wanting to be seen like this, though there would be no point now. She looks even angrier than before and rushes him


Tai quickly reached over, grabbing one of the kendo sticks he tossed in the ring earlier, swinging it so it cracks against Dai's leg as she charges at him!

She falls to a knee after being struck, the stick almost breaking on impact.


Tai smirked as she went down, getting to his feet and letting her grab her leg. He grabbed the table he slid into the ring and set it up before grabbing Dai, forcing her between his legs, and lifting her up in a powerbomb hold, keeping
her still so he could lick between her legs a few times before he turned and powerbombed her through the table!


Before she could thought process the idea of clawing his face for her he just did to her she found herself going through the table, after which she couldn't even think that as she laid motionless.


With Dai going through the table and clearly beaten, Tai went in for the kill, ripping off her bra and leaving her nude before he stripped off his own boxers, folding Dai's legs above her shoulders and forcing his member into her tight ass, letting her wake up a bit, kissing her neck, as he started fucking her!

She flinches a bit not knowing what is going on, but when she comes to she realizes what's going on, and she doesn't seem too thrilled. "GET THE FUCK OFF ME!!!"

Tai pins her down, keeping her held down as he continues fucking her. "No way. Not till I'm finished. This match is mine..."

She tries to reach for something, nothing really in reach and with him on him the way he was she wasn't having a good time. Before the referee can even get halfway through his/her sentence of if Dai wants to give if up she does, not wanting anymore.


Tai smirks as the ref signals for the bell, naming him as the winner, continuing his actions and giving Dai a long kiss on the lips before getting off of her and leaving the ring, not even checking on her.

Luckily for Tai, Sion didn't see what Tai did to her, but he did see Tai pass by when he left the ring, surprised seeing him without pants wondering what happened, which around the same time a crew person hands him Dai's clothes that had to be retrieved from the crowd. He was confused and before he could put two and two together Dai grabbed hold of him, shaking as she was helped back by the referee. "You were right, I should never have came here." It took him a bit to figure out what happened out there but didn't think Tai would do something like that to her. He looked in the direction Tai went. He did have an idea now of what went down, but second guessed wanting to hear details from the ref right now, unsure of how he'd take the truth, but he took Dai somewhere to calm down.
_________________
Quick roster info:
Want more detailed information and maybe unlock hidden characters?:



Posts

: 2893


Join date

: 2009-07-25


Age

: 35




---
Permissions in this forum:
You
cannot
reply to topics in this forum