Champions & #1 contenders
Kawaii Opportunities
Sun Jun 17, 2018 3:04 pm by Daaharu
Hey, guys!
With the kawaii title match at Avalanche taking on an interesting wrinkle with the interruption by the Brat Pack, we are moving forward with the overall kawaii storyline, and at this point I'd just like to take stock of what kawaiis are out there that are interested in participating in a cohesive storyline.
Can't make any promises about titles or what exactly each girl's given role would be. We can talk a little more about the specifics of where the story is going soon, but I …
[
Full reading
]
Comments: 3
Match for Takeichi
Tue Jun 12, 2018 6:13 am by GrandAkumaShogun
So with my other two guys having their own matches I figure I should do something with my first character on here, Takeichi Mori. If anyone is interested feel free to post here or get in touch through a pm so we can plan it out. I can either have Takeichi remain a jobber or begin to work him towards being a more serious competitor.
Comments: 1
Match or RP?
Wed Jun 13, 2018 3:48 pm by Lotuswarrior
I'm just looking to do something while I wait for match replies. Really want to get some characters cemented a bit with a rival or some interactions with other characters here.
If anyone wants to do something hit me up.
Comments: 0

Name: Xue Lan
Age :19
Personality: Confident, brash, not afraid to speak her mind, and easily embarrassed. The girl shows a confident side to everyone around her, not willing to back away from a challenge, or turn down one. The girl is mostly business and fighting first before casual talk. She isnâ€
t used to hentai or dirty things due to her upbringing, so she isnâ€
t good at slang or interpreting dirty things.
Nationality: Chinese
Birthplace: China
Height: 4.8
Weight: 110 lbs
Occupation: University student/ fighter
Theme music: Silver will, Golden wings
Fighting style: Xue Lan uses a traditional kung fu martial arts from china, but the difference is that she specializes in kicks a lot. Her kicks are swift, powerful and accurate. However the problem was that it was unbalance. Despite her deadliness, Xue Lan doesnâ€
t use her arms properly in a fight and that has cost her to lose quite a number of fights.
Her other weakness is pain tolerance. Xue Lan having adapted kung fu which doesnâ€
t use submissions, is not use to being placed in a submission hold, and often it hurts her more than it does to other people.
Ideal matches: Xue Lan likes taking rough and brutal matches. In fact the harder it is, the better. The same however canâ€
t be said for hentai matches where she is quite ignorant of it.
Finisher:
Dragon Lance: A high flyer finisher. Xue Lan jumps on top of the turnbuckle where she then proceeds to jump off it and executes a diving kick towards her opponents face in an attempt to one hit K.O them.
Lionâ€
s Barrage: Her second finisher is when she knocks her opponent into a corner. She would then proceed to execute a barrage of kicks, starting from her opponentâ€
s stomach, and then proceed upwards.
If her opponent is a guy, she would simply continue upwards until she hits their face before backing away for a second and then hitting him with a sweet chin music to his jaw.
However if the opponent is a woman,
Appearance: Her cheongsam is a standard fighting outfit that was gifted to her by her family, and so she often wears it for fighting.
Xue Lan upclose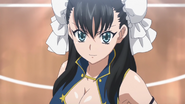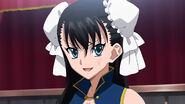 Her in her fighting stance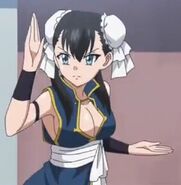 History: Xue Lan was born into a household of a martial artists. From young, she was schooled in the way of her familyâ€
s kung fu martial arts, she learnt quickly, but she couldnâ€
t adapt her families fighting style entirely because she couldnâ€
t break the habit of over using kicks in a fight.
To break her habit, her parents first advised to take part in several martial arts tournaments in China. These were all mixed martial arts, meaning she would have the chance to fight a number of people not from her familyâ€
s school.
Over a few months, Xue Lan took part in a number of them, each time she did well, until an opponent exploited her weakness of her overreliance on kicks and weaknesses to submission and defeated her.
It wasnâ€
t until one particular girl by the name of Koneko beat her down and humiliated her in front of thousands.
Koneko putting her in a terrible submission causing her to submit while screaming in front of thousands.
This event caused her to become more determine to break her weakness. Her family advise the AFW as a training ground, and to take up boxing as a sub martial arts style to break her habit by forcing her to use her fists which she almost never did.
It was a good idea in theory, so she was willing to give it a try after picking up boxing for several months. She vows to become stronger and return the humiliation to Koneko one day.
Trivia: Xue Lan hasnâ€
t had time to pursue a relationship, so sheâ€
s kind of dense towards dirty talk like sex and all.
Xue Lan likes man who doesnâ€
t talk too much, and that they arenâ€
t huge muscular types.
The woman feels uneasy around large man, and so she tries looking for short guys, some people mistaken her for a shotacon because of this.



Posts

: 2990


Join date

: 2010-10-14




---
Permissions in this forum:
You
cannot
reply to topics in this forum