Champions & #1 contenders
Reduced Post Rate
Tue Jun 27, 2017 12:14 pm by RadiantKarna332
For those who are currently roleplaying with me in threads, you guys may have noticed my reduced post rate. I'm sorry for being so late to inform you guys about this, but due to some real-life businesses, I have no choice but to post infrequently compared to usual. I'm so sorry about that.
So, I will return to my normal schedule next week, so please don't worry about me not posting. Have a nice day.

Comments: 0
Active Kawaiis
Sat Jun 24, 2017 1:25 am by Daaharu
Hey, guys. I'm hoping to get a sense from everyone of where the active kawaii girls are at. No guarantees or anything, but I am looking to figure out who is out there consistently making matches because we are looking to inject some new blood into the kawaii title scene, and I don't want to have tunnel vision on just the players and characters I know.
So, if you've got a kawaii girl who's had at least one match and is currently active, can you let me know either here or via PM or IM? This …
[
Full reading
]
Comments: 6
Ending RPing
Sun Jun 25, 2017 7:04 am by KillerV
After I finishing up couple of threads, I am officially done RPing here. I apologize to you guys currently with me and even the future ones. But I am just tired of it, not going into too much details as it makes me feel like ranting so much, rather not.
But will still be here just to read n respond, as for Trillian, wont able to contact me soon, rather send PM here instead.
Good luck with everything.
Also, NOT gonna give King, rather not see people using him like
[
Full reading
]
Comments: 7
Name: Jill Rolig
Nickname: "Jilly", Wrath
Gender: Female
Age: 29
Eyes: Blue
Hair: Brown (later dyed a more reddish brown)
Height: 5'4"
Weight: 120 lbs.
Nationality: Swedish
Alignment: Face
Entrance music: "Almost Easy"-Avenged Sevenfold
Wrestling Information
Style: Streetfighting, Martial Arts, Submissions
Preferred Attacks: Hard punches including haymakers and strong kicks
Preferred Matches: All except Hentai
Endurance:★★★
Strength:★★★★
Speed:★★★★
Defense:★★★
Technique:★★★★
Finishing move(s): Demon Within (Front: Stomps hard on opponent's foot and holding it down before giving three punches to the face. Then, she grabs the opponent's head and gives them a knee strike to send them on their back to the mat. Finally, she sits on their stomach and grabs their head to punch twice before a massive headbutt.)
Characteristics
Visual Appearance: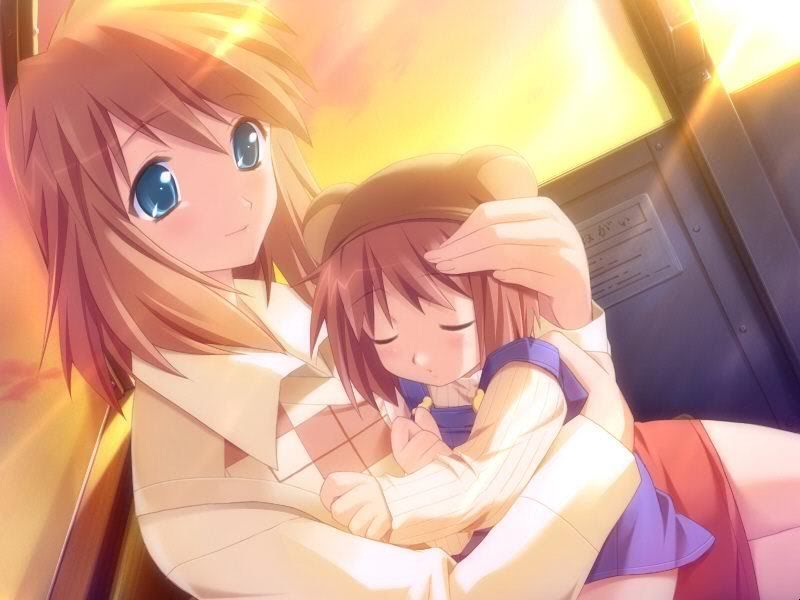 (Just a single mother with her 5-year old daughter, Jenny)
(Hair dyed more red now; like mother like daughter)
Attire:
(Her sleeveless hooded jacket is more crimson red though along with black pants, black fingerless gloves, and crimson red wrestling boots
"My husband's work and death fueled me to take his place...and his mask. With the mask, they have called him a demon that is under it, but he never was...and neither am I. I am the wife of a murdered crusader trying to stand for what's right and a mother trying to protect her daughter!"
Personality: When she fights, Jill shows no mercy and fights like a wildcat. But outside the ring, she's very calm, composed, well-mannered, and kindhearted. She may be shy also, but she cares for her friends, family, and even opponents and is willing to help in any way she can. (She doesn't want to show it on camera though for she feels that she's better off as an unsung hero)
Background (in the words of Jill): "Oh, where to begin...so much has happened that made me the person that I am today. In describing my path in short, I use the words of Hemingway: "Gradually, and then...suddenly". Yes, being a fighter wasn't exactly an option I wanted to pursue right away, but as time went on, I soon found it to be part of my calling.
Back when I was young, I wasn't always a tough girl; rather, I was the exact opposite. I am a bookworm, I'm considered smarter than most of the kids in my class, I am not much interested in sports, and yes, I had my fair share of being bullied and picked on. I never really stood up for myself because I was shy and afraid. I did have friends who supported me, but I always felt that I should do something in spite of my fears.
Then in high school, there was one boy who actually changed my life. Vilfred. Although he was in the school's wrestling team, he had a heart of gold and he was willing to stand up for others who have been bullied, especially me. It came to no surprise that we both had interest in each other and he was soon teaching me self defense on weekends. Vil made me stronger as a person and I was no longer picked on or pushed around again. Years later, Vilfred took part in our national wrestling league where he was Sweden's reigning champion 3 years running. But that was no excuse for his good heart even though others may think of him as strange. Soon, he retired to leave wrestling for good, we were both married, and had a beautiful daughter we named Jenny.
Just as we were comfortable with our new lives away from violence, there suddenly was one night that changed my life forever....
As we were walking home after having dinner in order to meet with our babysitter and be with Jenny again, a group of shadowed men came in and had us cornered. I felt their cold hands grab at my arms and held me close as the leader seemed to know Vilfred. Apparently, they both were once partners back in their old wrestling federation and this other guy was offering a chance to get back in the ring. But Vilfred refused, saying that he didn't want to be a part of it anymore, not after what his partner did. It was that moment that life seemed to flash before my eyes...literally...and it sounded so loud...
(I...I'm sorry. Please, give me moment...)
Anyway, you can imagine how hard it was when I realized that Jenny will never know her father and she was still an infant back then. Not only did I have sorrow remain in my heart, but also anger that affected both it and my mind. I felt I could've done something...I could've saved Vil! Ever since the incident, I have had this feeling of self defense. Whenever I felt threatened, I couldn't help but lash back at those people as if my own life and my daughter's life was at stake.
At that point, I started to train in my fighting skills again just as Vilfred has taught me before. The point was not in power to be feared, but rather to defend those who are afraid and not to let them have a similar fate that I had faced. Suddenly, I found out on TV that the same man who murdered my husband was now fighting in AFW. The first few seconds in seeing him made my blood began to stir and a new fire burning within me. I not only have a chance to show my skill, but also to have justice be done!
Now that I'm in this league, I'm continuing where my husband left off just to take care of my daughter, my family, and my friends. They mean everything to me. This may not be necessary to pursue in life, but I am willing to stand up for what's right. My husband's killer has unleashed the demon in me and he will feel...my...WRATH!!!"
Interesting Fact(s): Even at 5 years old, Jill's daughter, Jenny, has been trying to encourage her single Mom to find a new daddy to be a complete family. (Isn't she cute?)
Even though Jill is a bookworm most of the time, she also has a musical side to herself. She loves to sing and play her guitar or piano to brighten anyone's day.
AFW Information
Record: 2-0-0
Wins: 2 (against Sabre via Submission) (against Kei via Pinfall)
Losses: N/A
Draws: N/A
Championships/Accomplishments:
Friends/Allies: Kei, Lina, Lita, Sion, Daisuke, AJ, Alex, Excel, Sky, Light Faction
Rivals: N/A
Enemies: N/A
Crushes: N/A
Last edited by Dynamo44 on Mon May 04, 2015 10:46 pm; edited 4 times in total (Reason for editing : update on AFW records)
_________________
Focusing on good old fashioned basics and just having fun. Nothing else and nothing more.
The World of Dynamo



Posts

: 11529


Join date

: 2010-04-14




Similar topics
---
Permissions in this forum:
You
cannot
reply to topics in this forum