Champions & #1 contenders
Highfly Flying Out Of Town
Tue May 22, 2018 1:31 am by HighFly
Hello everyone, I just wanted to inform all I have threads with that I will be gone from this coming Wednesday through Sunday. I won't be able to post consistently if at all during this time, but I will try to make up for it next week! I am sorry for the inconvenience to everyone.
Comments: 7
The Austrailian Mudslide is Back.
Sat Apr 21, 2018 6:20 am by Softsquad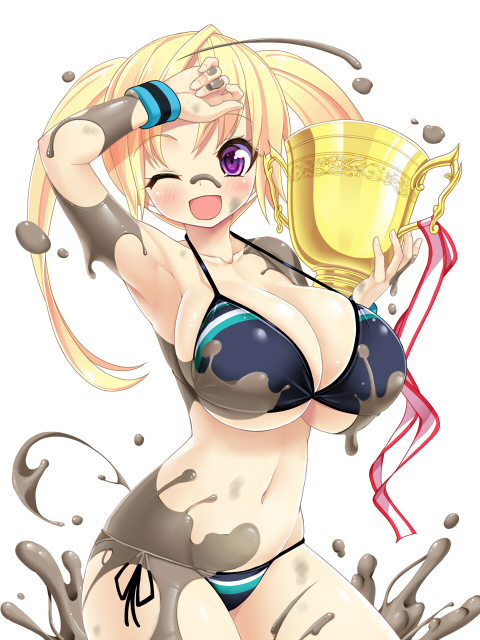 Granted that most of you won't know me or remember me, but I've had a few matches here and there some time ago. Well I think its time to become a regular around here and try to have some fun again, but at the same time keep coming back. Anyway I think its time to jump into some matches with Zoe Taylor, my mud wrestling character from Australia and get her back into the squared circle. Furthermore I will update my characters as I think some proper changes need to happen.
So if anyone would …
[
Full reading
]
Comments: 5
Page 1 of 6 • 1, 2, 3, 4, 5, 6


Yi Lan had been living in Japan for almost two months, now, but still, everything and everyone she encountered seemed very strange to her. Walking down the street, with every turn she discovered something new—something that she could hardly explain in the context of her own culture and experience. Japan was an impressive place. For a reclusive, introverted girl such as Lan, it was all a little too much. The change had been too abrupt. She rarely left her apartment, except for necessities such as groceries, or to work out in the AFW gym.
"Necessities" did not include getting her hair or nails done. She had been doing those tasks herself, whenever it had seemed that one or the other had grown too long, or too unruly. And, of course, as she was not a trained hairstylist or manicurist, the results were predictably...mediocre. Her hair looked alright, if a little bit lopsided, but her nails slowly grew from merely uneven to an almost total disaster. It did not help that she had the bad habit of gnawing on them when she was nervous about something—which she had been virtually every day since arriving in Japan.
Finally, after two months of putting it off, Lan finally forced herself to leave her apartment and make the twenty-minute walk down to the nearest place which offered haircuts and manicures. Upon entering, the Chinese girl found herself in a rather normal-looking—but undoubtedly upscale—salon. It was much like the ones that her mother had taken her and her sisters to back home in Guangzhou. That helped to calm her nerves, if only a little bit. She walked up to the girl at the front. "Ah...I need...my hair, and my nails done...please," she said haltingly, finding it a little difficult to speak. She hadnâ€
t said more than a sentence or two at a time ever since she arrived in Tokyo.
The young, pretty blonde American girl who had met her at the front would take her over to one of a number of open chairs in front of mirrors, and Lan would follow obediently, sitting down and letting herself be covered by the little cape that kept the hair which was cut from getting down her clothes. She closed her eyes and breathed softly, thinking about the last good book she had read as the blonde cut her hair. Any question from the girl was answered with one or two words—while Lan certainly did not wish to be rude, she was not the sort of girl who could handle a lengthy conversation with a stranger, especially not in English. Luckily, the blonde did not press her, and, after Lanâ€
s hair was washed, then cut, then dried, then styled, the girl got to work on her nails, efficiently and professionally filing them into a proper shape before applying the first coat of polish. Lan sighed, trying to relax as her nails were given a lovely purple hue.
"It looks...good," she tried, and earned a smile from the blonde manicurist, which she returned with only a moment's hesitation. This wasn't so bad...
Last edited by 10885 on Sun Oct 20, 2013 8:37 am; edited 1 time in total
_________________
Okay, one more thing here. I'm sure most of you have noticed that I suck and the old Daaharu who could finish a thread in three days is gone now. But even so, I shouldn't be leaving threads for more than a week, and that has been happening with alarming frequency lately. So, please, if I have not replied to our thread in the last SEVEN DAYS, please LET ME KNOW on here or on Trillian so that I can suck a little bit less and not leave you hanging for a month.

Officially caught up to my AFW replies on May 24.
The small clang of the bell which heralded the arrival of a new patron chimed momentarily and settled in as the door to the spa was opened and allowed to softly swing shut of its own course. Now standing in the doorway was a stunning blonde whose olive colored eyes twinkled with something a little more sinister than mischief.

She was dressed in anachronistic garb, more fitting of an olde tyme gentleman than any sort of modern woman. She wore a magenta colored suit coat with majestic tails, an eggshell colored vest and matching slacks. Adorned upon her long, flowing hair was a magenta top hat that sat perfectly askew.

"Fufufu." Her exhale upon entering released a murmured chuckle as she scanned around the room. Her lips parted into an easy smile as she observed the patrons. Her name was Violate and she was looking for trouble. Always.

On this occasion, she wished to share it with the owner and proprietor, Ms. Sarah Allison Watson. An associate by profession and keenly dear to Violate by virtue of the blonde's whims. She found "dear Allis" to be a woman after her own heart. Magnanimous with her cruelty and never lacking for style. Though she also found Allis to be a bit too stiff and stuffy at times, she realized that no Mad Hatter could be without their March Hare and often found herself drifting into Allison's spa when the mood struck her.

"Twinkle, twinkle, little bat." Violate said to no one in particular as she stepped through the front of the spa, taking one big step with each word she spoke. "How I wonder where you're..." Vi had cleared the room with her long strides and was now behind Lan and standing next to the blonde assistant.

She leaned in and with a sly smile, whispered near Lan's ear. "At?" She queried. "Fufu." She chuckled. Vi then straightened out her body and winked at Lan. "You're looking quite lovely. Good work is done here, fufu." She said and then strolled to the front desk. She gently tapped the bell with her gloved hand twice and then lifted it to her mouth.

"Chaaaange places!" She called out before chuckling to herself once more. It was the way she liked to call Allison when she was in the back, as if to say, 'move from the back to the front, I am here!' or 'Get your butt out here!'
Amy smiled across the table at Yi Lan. "You have very nice hair," she said. "Can I ask where you're from? You're very unique."

She didn't even need to look up to know that Violate had arrived. She knew her voice, full of good cheer and high-spirited lunacy. She strolled into the spa from time to time, and Amy had never got used to her. She put her on edge immediately, and she wished that Allison would do something about her. She could only be bad for business.

Amy remained quiet until Violate returned to the front and rang the bell, and then she looked over as if she was still considering not saying anything. She was alone in the front, there was no one else to deal with Violate, so she reluctantly put on a polite smile and addressed her.

"Ms Placido, Ms Watson is in her office. Would you like me to let her know you're here?" She asked nicely. Allison no doubt already knew she was here, and what she really would rather have said was "Can you please leave?" But she didn't say that.

Through the large, carved oak doors at the back of the room that led to the spa, at the far end of the long, handwoven rug that ran down the striking bloodwood floor and around a corner was the door to Allison's office. Inside, it was immaculately arranged and finely decorated, as much a work of art as it was a functional workplace. She sat behind her moderately sized desk, a fountain pen in one hand and a small stack of papers in front of her, but her attention was fixed on the displays to her side.

She had to smile when she watched Violate enter, knowing that Amy would have to deal with her. She liked Amy, she did good work, but admittedly she liked her the least. She was too young, and too... American. She would never have hired her were it not for her exceptional talents.

She noted Violate's abuse of the front desk bell, and then returned her attention to her work.
Violate tilted her head at Amy as she came to deal with the smiling Portuguese woman. She could see the subtle irritation. Violate was an itch that couldn't be scratched and she reveled in that fact. She tilted her hat and bowed graciously.

"Please, fetch my dearest Allis. Tell her I have missed her so, fufu." Violate then turned and looked at Lan from her position. "Your guest will be in good hands in the interim, fufu." Violate then marched with high strides towards Lan until she was behind Lan. She turned and looked at her, making eye contact through the mirror and smiling pleasantly. "Oh. Hello, fufu." She greeted Lan and then lifted up her gloved hand. She ran her finger along the back of the girl's neck slowly and then lifted up her finger as though she were inspecting it for dust.

"I like the color of your nails, though I think I may just prefer red, fufu." She said, tilting her head and eying Lan through the mirror, winking at him. "But purple suits you?" She asked, deciding to put her words as a question.
Last edited by 445 on Sun Oct 20, 2013 7:54 pm; edited 1 time in total
Lan blushed profusely when Amy smiled at her and told her she had nice hair. The girl was not used to getting compliments like that, and it was difficult for her to focus and give a coherent response to the lovely blonde American. "Ah…thank you," the Chinese girl managed to get out. "Iâ€
m from…Guangzhou, in China. Southern China, on the Zhu Jiang—the Pearl River."
Suddenly, just as the blonde was finishing with the polish, the chime that indicated another visitor to the spa sounded. The manicurist seemed instantly on-edge, and, soon enough, Lan would know why, as a voice unexpectedly whispered right into her ear. The Chinese girl flinched. Even after the girl complimented her and spoke of the good work that the spa did, Lan remained tense as Amy walked away to deal with the new arrival—a Ms. Placido, evidently. The woman was loud, and boisterous, and seemed cheerful. But her presence still unnerved Lan. The fact that the woman seemed to have taken an interest in her was only that much more horrifying for the introverted Chinese girl.
"Hello," Lan replied quietly, shivering as the girlâ€
s gloved finger ran along the back of her neck. When this Ms. Placido asked about the color of her nails, Lan paused for a moment before replying: "I…like purple. It is my, uh, favorite color. Red certainly would…suit you, though, I think."
_________________
Okay, one more thing here. I'm sure most of you have noticed that I suck and the old Daaharu who could finish a thread in three days is gone now. But even so, I shouldn't be leaving threads for more than a week, and that has been happening with alarming frequency lately. So, please, if I have not replied to our thread in the last SEVEN DAYS, please LET ME KNOW on here or on Trillian so that I can suck a little bit less and not leave you hanging for a month.

Officially caught up to my AFW replies on May 24.
Amy nodded. "I'll do that for you, Miss Placido." She leaned over to look at Lan and smiled warmly. "Excuse me for a moment."

She walked briskly back toward the large oak doors, and once she was sure no one could hear her she muttered under her breath "Why don't you tell her yourself?" Of the three who worked in the spa, Amy was the least in control of her demeanor, and on rare occasions, almost all of them caused by Violate, her tongue slipped.

The doors swung shut, and then Violate was left alone with the tall young Chinese girl.
Last edited by 1167 on Sun Oct 20, 2013 10:33 pm; edited 1 time in total
Violate's eyes softened at Lan's response. She smiled at Lan through the mirror and tilted her head to look at the drying nails. "They say that purple is the color of royalty. Is that why you like it?" She asked. "You are like some queen?" She asked. Violate then lifted her hands and ran them through Lan's freshly cut hair, almost like petting a cat. The hair was nice and while Violate did not approve of the length, the style was a good representation of Allison' own style, imposed upon her customers as she imposed everything she was on everyone she met. Such a boldly crushing personalty made Violate tingle with delight.

"Fufu, but I do not understand this. The Queen of Hearts wears red, not purple, so how could it possibly be the color of royalty? Fufu." Violate chuckled softly to herself while she gently began to massage Lan's scalp like she worked at the place. She honestly had no clue. She was a gardener and only liked people because they could be tormented.

"Perhaps you are a knave? Your nails are more like the filling of tarts than that of royalty. I fear the queen shall be mad." Violate leaned closer and once more whispered in Lan's ear, this time she was able to get much closer without Amy in the way. "I'd hate for you to lose your head over such a crisis." Violate said as she smiled coyly at Lan through the mirror. She then straightened herself out and chuckled marvelously to herself. "Fufufufu, oh what company we keep." She added thoughtfully to no one.
Though the oddly-dressed woman was certainly intimidating, she seemed to be nice enough. Lan could understand why the young American girl who had done her nails had seemed so tense at this oneâ€
s presence, but such a presence was not a wholly unpleasant one. "Royalty?" Lan repeated, a little confused. In her culture—Chinese culture—yellow was the color of royalty. Purple represented spirituality, health, and strength. But she didnâ€
t choose purple for that reason—she just liked the color.
Her face, though, turned a little redder as Violate asked her whether she was like a queen. Lan did not like questions like that. She did not like being compared with royalty. She was not necessarily ashamed of her cushy, comfortable upbringing as a member of Chinaâ€
s privileged elite…but it made her very uncomfortable even just to think about it. "Ah…no. No, Iâ€
m not a queen or anything," she answered, a little hesitantly. "I just like the color, is all." She might have said more, but she tensed up when the woman began running her hands through her freshly-cut hair, toying with her like a little girl might toy with a doll. The Chinese girl said nothing as the overly-friendly woman talked about red, and purple, and the Queen of Hearts. She did not understand what Violate meant—she was well-versed in Western literature, as well as the great works of her own nation, but that particular reference had flown over her head.
"I…would rather keep my head, I think," she said at last, smiling into the mirror at the woman, hoping that the humorous nature of her reply came through properly, and that it did not come off as awkward.
_________________
Okay, one more thing here. I'm sure most of you have noticed that I suck and the old Daaharu who could finish a thread in three days is gone now. But even so, I shouldn't be leaving threads for more than a week, and that has been happening with alarming frequency lately. So, please, if I have not replied to our thread in the last SEVEN DAYS, please LET ME KNOW on here or on Trillian so that I can suck a little bit less and not leave you hanging for a month.

Officially caught up to my AFW replies on May 24.
Violate tilted her head as her smile faded when Lan smiled, as if Vi's smile had been stolen by the blonde Chinese girl. She stared at her through the mirror, examining her thoroughly until finally, she laughed heartily and patted Lan on the head. "Fufufu, wouldn't we all, my little pearl, wouldn't we all?"

Violate spun on her heels and clapped her hands loudly. "The time has come to talk of many things: of shoes, and ships, and sealing-wax: of cabbages and kings. And why the sea is boiling hot, and whether pigs have wings. Quit hiding, dearest Allis or I shall surely perish from a broken heart, fufu." Violate mused as she stared at the entrance. She knew Allison heard her but if she wanted to miss out on the fun, that just wouldn't do!
Nearly on cue, Allison arrived with Amy a step behind her. It was instantly clear that she was in charge, even in a small spa she exuded a regal authority, a strength of character that commanded attention. She was breathtakingly beautiful. Her immaculately styled blonde hair, her flawless skin, the subtle smolder of the makeup around her emerald eyes, and the way her blood red silk blouse conformed to the generous curves of her body, buttoned just so far as to show enough of her chest as to entice, but not so much as to be called vulgar, she was without question a queen amongst anyone who came into her spa seeking beauty. Her slim black dress pants displayed a figure that was at once feminine and athletic and capable, and she strode with confident ease in her heels as she approached Violate.

"Oh, Vi, are you disturbing this poor girl?" Her posh English voice was so easy and deliberate and soft it was instantly intoxicating. She had an effect like an expert massage and a glass of wine, with a brilliance like diamonds on red velvet.

She walked past Violate and stopped behind Lan. Amy returned to her place across the table from her and took her hand to resume her work on her nails, while Allison placed her hands on the back of her chair and examined her.

"Hello, darling, is everything to your liking so far?" She asked pleasantly. "Lovely work you've done, Amy, but of course the work is easier with such exquisite materials..." She gently place her hand on Lan's jaw and turned her head to the side, and deftly arranged a few locks of hair. "My, you are a pretty thing. A little flower, untouched and perfect." She smiled warmly. "You're... Chinese, yes? From southern China? Tell me, how did you come by such striking hair color?"

She looked back over her shoulder at the mad one. "Violate, if you'd be so kind as to pour the tea?" She smiled.
Page 1 of 6 • 1, 2, 3, 4, 5, 6


---
Permissions in this forum:
You
cannot
reply to topics in this forum