Champions & #1 contenders
Match for Takeichi
Tue Jun 12, 2018 6:13 am by GrandAkumaShogun
So with my other two guys having their own matches I figure I should do something with my first character on here, Takeichi Mori. If anyone is interested feel free to post here or get in touch through a pm so we can plan it out. I can either have Takeichi remain a jobber or begin to work him towards being a more serious competitor.
Comments: 1
Kawaii Opportunities
Sun Jun 17, 2018 3:04 pm by Daaharu
Hey, guys!
With the kawaii title match at Avalanche taking on an interesting wrinkle with the interruption by the Brat Pack, we are moving forward with the overall kawaii storyline, and at this point I'd just like to take stock of what kawaiis are out there that are interested in participating in a cohesive storyline.
Can't make any promises about titles or what exactly each girl's given role would be. We can talk a little more about the specifics of where the story is going soon, but I …
[
Full reading
]
Comments: 2
Match or RP?
Wed Jun 13, 2018 3:48 pm by Lotuswarrior
I'm just looking to do something while I wait for match replies. Really want to get some characters cemented a bit with a rival or some interactions with other characters here.
If anyone wants to do something hit me up.
Comments: 0

Name: Aria Snowheart
Age:23
Appearance:[url=http://media.photobucket.com/user/Squirrely-sama/media/moeArcherko.jpg.html:mtxwn0ak]
[/url:mtxwn0ak]
Aria when waking up is usually a mess.
[url=http://media.photobucket.com/user/SunsetKatana/media/Anime%20Girls/ZEROCHAN/1034034.jpg.html:mtxwn0ak]
[/url:mtxwn0ak]
Aria is not a morning person...
[url=http://media.photobucket.com/user/SunsetKatana/media/Anime%20Girls/ZEROCHAN/1034042.jpg.html:mtxwn0ak]
[/url:mtxwn0ak]
Aria in her casual outfit...
[url=http://media.photobucket.com/user/Haseo88/media/Fate%20Stay%20Night/Archerko-Chan.jpg.html:mtxwn0ak]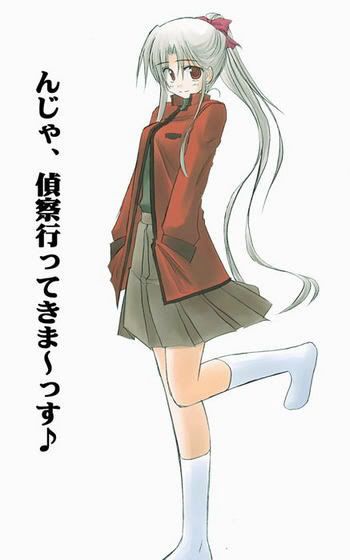 [/url:mtxwn0ak]
Her type of outfit she usually prefers.
Personality: Aria is a girl who considers herself tough. She likes taking challenges head on. Since young, she was taught to never run whenever faced with difficulties. She was too stay calm and look for a way out of it. Because of this, she never backs down from anyone or anything.
Despite her tough personality, she retains her feminine side. She likes to be adorable and somewhat fashionable, and she retains an easy personality to talk to when she isn't fighting. When she's fighting however, her personality switches between to a rough and cold personality, if albeit also somewhat a masochist. She likes reading and her sister. Everything else she does simply because she has nothing better to do.
Also, she doesn't differentiate between boys and girls. An opponent is an opponent, all are welcome.
History: Aria grew up in a part of Germany where it was always snowing. Her family was of high society, because of this, she was raised in isolation as they believed themselves to be above everyone else. When young, she was taught many different skills, such as self defense, economics and business, riding and other activities that people of high society enjoyed. She didn't hate her life, but she felt that something was missing.
Her family's status did not last however, as one day they were cheated out of their money. Though they didn't lose everything, they certainly lost enough to be forced out of their glorious mansion and into a semi detached house in the town nearby.
It was here did Aria learn what she was missing in life. A challenge.
School was no problem to her, as her advanced tutoring allowed her to exceed her fellow classmates, but what really caught her attention was the physical competition. Things like sports where she had to work hard to fight against others always got her blood boiling. She went through almost everyone of them, and found wrestling to be the hardest among them.
But for her, the greater the challenge, the greater the joy. Because of this, she joined the local wrestling club in her school and from there, she started working her way up. She won several championships over the years as she graduated. Now as an adult, she runs a small antique shop with a few friends of hers, while trying to score work as a professional wrestler in the AFW.
Fighting style: Because of her upbringing, Aria doesn't beat around the bush when fighting. She doesn't rely on cheap tricks and often settle things head to head. The girl prefers to tough things out while waiting for a chance to strike back. She doesn't mind taking several punches and kicks if it means getting a chance to strike a critical blow. She is swift and acrobatic, but she packs a powerful punch as well.
Often she uses her legs to squeeze the lights out of other people. She also often tries to go for a cross counter whenever someone throws a heavy punch in order to attempt a one hit K.O hit on them. Though this doesn't usually work, it still inflicts a lot of damage to them.
Though she can't throw people very well, her punches and kicks make up for it, as does her endurance. She does a lot of moves that involve running, such as a hurricana, a clothesline and even a spear.
Endurance:★★★★★
Strength:★★★★
Speed:★★★★★
Defence:★★★★
Technique:★★
Signature moves:
Winter's solace: A move where she throws her opponent towards the ropes, once then she would run towards them while performing a cartwheel before she jumps forth and attempts to bodyslam them.
Winters Swirl: Whenever she is knocked down, if presented a chance, she would lift her legs up and wrap them around her opponent's neck before twisting and turning them like a tornado before throwing them violently to the side.
Finisher moves:
Icy's Gale: A powerful combo consisting of several strikes. First it begins with a low blow before she shoots an uppercut to her opponent's chin. Once then, she would reach forth and grab their head before hitting it with her knee to the face. Once then, she would throw many punches to the face left and right until her opponent is helpless and then finishing it off with a roundhouse kick.
Frozen Edge: When she tosses her opponent to the corner, she would then execute a spear hoping to smash their stomach. This move is more dangerous than a regular spear as she violently leaps forth rather than running, which means the speed and power behind the attack is much greater.
Hentai/humuliation finisher:
Winter's Glory: She places her opponent in a tree of woe position, once then, she would use her leg and kick and drive it into her opponent's crotch while playing with it. She would do so until they are ready to cum, once then she would release her hold for a moment. Depending on the gender of the opponent, she would react differently.
For a guy, she would wrap her toe around his penis and crush it with extreme force to ensure that he couldn't cum despite all the sexual tension, which results in a lot of physical agony in his crotch.
If it was a girl, she would use her fingers to fuck her pussy until it was about to cum before she violently twists it in a circle, hoping to twist her innard organs. This results in a lot of pain and the inability to cum. She continues to twist it in such a manner until her opponent breaks.
Winter's grasp: Once her opponent is lying down on the ground, she would drop her bare naked ass onto their face while she grabs hold off their legs and lifts it up. She then brings their crotch to her face so that she can eat it. If it's a girl, she eats her pussy, while she gives a blowjob to a guy. All while doing a graceful belly dance, using her butt to rub her opponent's face in.
Fun facts:
She spents all her free time in the library reading books.
She doesn't really like interacting with people even though she can do so properly.
She likes to collect cute things when no one is looking.
She likes surfing the net looking for brutal action movies.



Posts

: 2990


Join date

: 2010-10-14





Similar topics
---
Permissions in this forum:
You
cannot
reply to topics in this forum