Champions & #1 contenders
Summer Splash interest in Natasha Loclear?
Mon Apr 09, 2018 11:30 pm by daemongirl
Well my girl hasn't missed a summer splash yet, would anyone be interested in a match with her? Open to just about anything match wise, just pm me!
Comments: 1
Been Out with the Flu
Sun Apr 22, 2018 7:47 pm by daemongirl
Just letting those I have threads with know I've been out with the flu since early last week, but I will be back to posting tomorrow.
Comments: 0
The Austrailian Mudslide is Back.
Sat Apr 21, 2018 6:20 am by Softsquad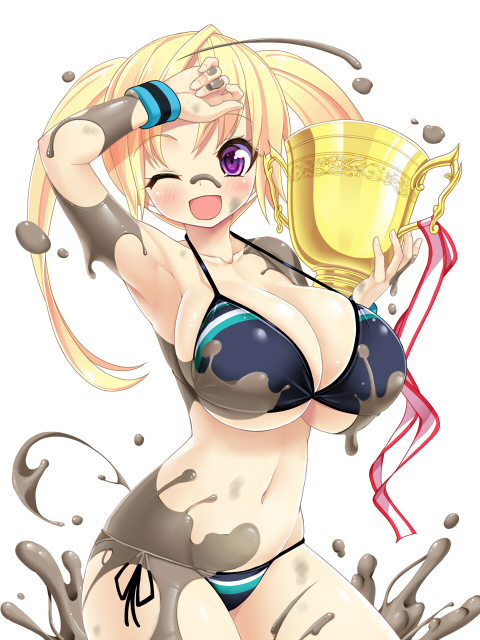 Granted that most of you won't know me or remember me, but I've had a few matches here and there some time ago. Well I think its time to become a regular around here and try to have some fun again, but at the same time keep coming back. Anyway I think its time to jump into some matches with Zoe Taylor, my mud wrestling character from Australia and get her back into the squared circle. Furthermore I will update my characters as I think some proper changes need to happen.
So if anyone would …
[
Full reading
]
Comments: 0
Page 3 of 8 •

1, 2, 3, 4, 5, 6, 7, 8


With a spurt of adrenaline due to her anger, the cute girl had effectively sneaked out of Ryu's hold and rolled away from him.
Ryu would not mind: matching skills and strenght of that level would be nothing more than a light fighting workout to him. At the moment, his main focus was on how to convince Jezebel to follow him without hurting too much her body... or her pride.

In any case, the girl did not seem to represent any threat... until she suddenly "puffed" into a cloud of orangish mist before Ryu's surprised eyes.
"Gulp... t-then she really can.....", the young monstergirl hunter would say mostly to himself, swallowing reflexively as something unusual was going to happen before his eyes. He still could not see what was going to come out from that mist... but his instinct told him that whatever it would be, it was going to be troubles.
The smoke disappeared, floating off into the air, leaving Jezebel's new form bare to the world. The figure in front of him was a good five inches taller--her long, purple ponytail was gone, along with her former outfit. Instead, the light blue, bustier woman was wearing an interesting tribal bra, held up with string tied to a ring around her neck. Instead of arms, the woman had a huge pair of wings--her hips and thighs had been replaced by wider, thicker, feathered ones, and her little feet were now little talons. Her bust had expanded noticeably, and her was much shorter.

"How's this for transforming?" She said, her voice huskier and deepier as she thrust out her chest, a confident grin on her face. Her wings flapped, kicking up a little bit of dust as the powerful muscles slapped the air, the harpy-girl giving Ryu a knowing wink as she slowly stalked closer. "You're intimidated right now, I can see it. My harpy form is awesome, after all... wanna run away, little boy?"
"G-Gasp...! I-Incredible...!" Freezed in place at Jezebel's radical change of appearance, Ryu could just watch in awe as the colored mist dissolved, showing her harpy shape in all its glory.

She was right, Ryu was surely intimidated by this new and clearly powerful form of Jezebel, knowing at first sight that the match would be a lot harder than he had hoped as the mere flapping of her wings caused enough wind to push him one step backwards.

"Uhh...l-little.. boy..?", he would mumble as the Harpy-Genie took her confident strutting forward, proudly thrusting her large breasts out for him, making him feel intimidated and even embarassingly seduced by her looks and attitude, which she could probably tell from the blush raising to the Ryu's cheeks.
Not good at all, since he was in the middle, or better said in the early part of a match.

Shaking his head to get his mind back on track, the redhead boy would assume his ready stance and try to regain a bit of a composture. "R-Run away...? You must be joking..", he said, trying to sound confident mostly to convince himself. "This is why I came here in the depths of the forest after all, so bring it!", he would finally declare, getting ready for whatever she could pull... or thinking so.
"...Heh. Like what you see?" Jezebel's smirk grew wider, turning slightly to show off her hips and chest, while one large wing swooshed over her hair, brushing it out. "I guess I'd normally say look, don't touch... but you're gunna get touched, big boy. You're gunna get touched a lot." With that, the suddenly forward and flirty harpy--was it just Ryu, or was Jezebel acting different?--crouched down, licking her lips, before charging forward! Her wings were folded closely to her sides to minimize drag as the suddenly fast-moving harpy went straight for Ryu! When she got close enough to him, she'd swing out one of her wings, going for a wing-slap straight to the stomach!
Jezebel's sultry movements, together with her assertive comments caused Ryu to blush even more evidently now. There was definitely something wrong, she looked so different from the nervous, tsundere-like girl that he had met not long before.

Could her shape shifting abilities affect not only her body and powers, but even her personality? Sure thing, with that seductively intimidating attitude she definitely seemed to be more... well, more harpy-like!

While such thoughts were distracting Ryu, Jezebel would not waste time and make her move. No prob, thought Ryu in first place, I can foresee his movemen....

"Unpffhhh....!". No he could not. With inexplicably increased speed and strenght, Jezebel hit across Ryu's stomach before he could even try to dodge. Her large wing might look fluffy and soft, but the impact still was heavy, enough to make Ryu double over in momentary lack of of air.

"D-Damn... n-not bad...", he would groan, his guard clearly open from Jezebel's first strike.
Jezebel grinned as her wing-slam caught Ryu off guard--he might have been able to overpower her genie form, but harpy form was evidently too much for him! Laughing, she bapped him on the side of the head with a wing, just hard enough to knock him around, not to do any real damage. "That's for thinking I was weak!" She took another step forward, swinging a wing to try and keep him off balance and bop him on the head again. "That's for thinking I couldn't shapeshift!" If she could, she'd then go for a sudden bearhug, wrapping her wings around the monstergirl hunter and smooshing him to her in a massive hug! "And this... is for thinking I'm hot!" The sultry harpy takes hold of the back of his head with her feathers, using it to tilt his head up--and planting a hard, rough kiss on his lips, before breaking it almost immediately with a wet, teasing pop!
"Damn... wait until I .. ummfhhh... <3 ??!!!" Toyed around as Harpy-Jezebel kept tossing him around with just playful bumps from her powerful wings, keeping him constantly offbalance, Ryu would suddenly find himself wrapped up into the fluffy hug of her wings, his mouth promptly silenced by her demanding lips as she forcefully kissed him and he could clearly feel another wave of warmth rise to his cheeks to become a bright pink blush.

"G-Gasp....!", he would amusingly need to take a breathe after the short yet hot kiss, only to then realize that, fluffy and pleasant as it could feel, Jezebel's wings hug was virtually inescapable.

Trying to summon his chi to enhance his raw strenght and possibly break free, Ryu would not realize that his embarassed/seduced conditions were not allowing him to focus enough to reach that state now, and the soft sensation from her feathers holding him prisoner was definitely not helping with his concentration: as a result, the human boy was just squirming in the harpy's teasing hug with not many chances to go anywhere.
Last edited by 157 on Tue Nov 12, 2013 12:00 am; edited 3 times in total
Jezebel tilted her head as Ryu squirmed in her wings, enjoying his cute, embarrassed face and useless wiggling in her tight hug; however, she had been through enough of reality to recognize chi when she felt it. "Oh... have a trick or two up your sleeve." She says, nodding knowingly, even as she squeezed him hard and firm! She begins to brush her feathers up and down his back, tickling him and distracting him. "Love my feathers too, don't you? Probably can't get enough of me... for good reason! I'm hot, hot, hot; too hot to stop, stop, stop~"

She bounces him around in her embrace, giggling, before kissing him hard on the neck; hard and wet and firm enough to make a hickey on Ryu's neck! "Can't very well channel chi when you're too distracted to, huh?" She coos, lifting him even higher in the air as she sacrifices most of the squeezing pleasure of her vice to playfully mark him as her own, feather's still tickling him as she makes hickies on his neck and chest!
Helpless to escape, the boy can only squirm to no avail while Harpy-Jezebel bounces him around and even lifts him up so that his feet are no longer touching the ground.

"W-What...? S-Stop it.. I don't mmnn... want to.. mnhh....". Greatly embarassed as the sultry harpy keeps swaying him in her tight embrace and pressing him against her ample chest, the boy is now even covered with hickeys as Jezebel is playfully marking his as hers by making more reddish marks on his skin with tauntingly demanding kisses, thus making Ryu feel even more helpless and embarassed.

Consequent to his weakening protests, the Harpy can clearly feel to her satisfaction that even those faint traces of Ryu's chi have been dissipated now, effectively drained by her "distracting techniques", making the boy's resistence soften in her arms, his feeble struggles only making things more fun for Jezebel: still wriggling to get free, Ryu is just a common, hopeless little boy in her Harpy hug without his chi powers.
Last edited by 157 on Tue Nov 12, 2013 2:28 am; edited 5 times in total
Jezebel giggles, sounding rather cute as she lowers Ryu again, having had her fun with his chest and neck. The harpy pauses a moment, feeling his chi energy dissipating, then shrugged and squeezed him tight for another rough harpy kiss! It wasn't really necessary to distract him again, but... he was fun to kiss. And harpy-form Jezebel did what she wanted! Jezebel, if she could, would make the kiss a french one--she's press his own tongue down playfully with her own.

She'd hold the forceful, firm kiss for half a minute, tasting him playfully, before suddenly releasing him from the wing hug and letting him drop to the sandy beach. The harpy leered down at him, licking her lips and remembering the taste, but not saying anything. She would stare silently at Ryu for a second, then turn around without a word, flapping her wings as she flew a few feet into the air!

If he wasn't quick, Jezebel would just drop, coming down feathery-ass first on Ryu's face!
Page 3 of 8 •

1, 2, 3, 4, 5, 6, 7, 8


---
Permissions in this forum:
You
cannot
reply to topics in this forum