Champions & #1 contenders
Summer Splash interest in Natasha Loclear?
Mon Apr 09, 2018 11:30 pm by daemongirl
Well my girl hasn't missed a summer splash yet, would anyone be interested in a match with her? Open to just about anything match wise, just pm me!
Comments: 1
Been Out with the Flu
Sun Apr 22, 2018 7:47 pm by daemongirl
Just letting those I have threads with know I've been out with the flu since early last week, but I will be back to posting tomorrow.
Comments: 0
The Austrailian Mudslide is Back.
Sat Apr 21, 2018 6:20 am by Softsquad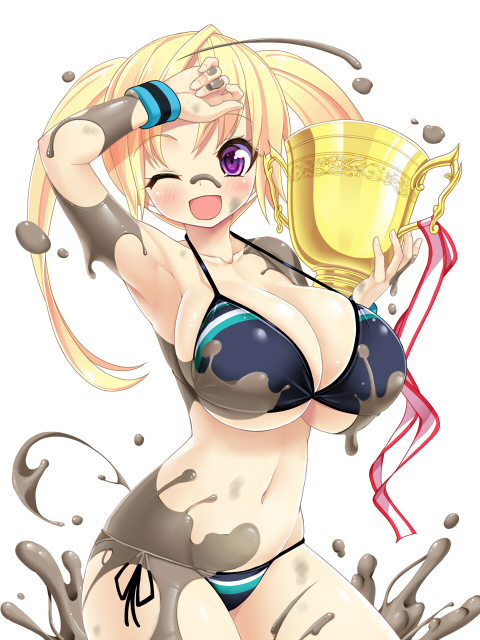 Granted that most of you won't know me or remember me, but I've had a few matches here and there some time ago. Well I think its time to become a regular around here and try to have some fun again, but at the same time keep coming back. Anyway I think its time to jump into some matches with Zoe Taylor, my mud wrestling character from Australia and get her back into the squared circle. Furthermore I will update my characters as I think some proper changes need to happen.
So if anyone would …
[
Full reading
]
Comments: 0
Page 1 of 2 • 1, 2


(Open for others to join but pm for permission first)

After quite the night, Heather Sunderland and Natasha Loclear were ready for a nice relaxing day off. They were planning on spending the afternoon just laying back at a public hot springs, something that Heather had been getting more and more into ever since she arrived in Japan. The idea was new to her until she was taken there by Rei, in which she actually also had an encounter with Natasha..quite the steamy encounter. However, this was quite different, it was just a time to just relax in Heather's eyes.

With them finally arriving at the hot springs, Heather stretched herself out, standing at the entrance. She couldn't remember one time she was at a place like this and it didn't lead to something ridiculous or sexual. She trusted Natasha enough to not turn it into that..though in all honesty she couldn't deny that a part of her would like quite a bit. The plan however was to just relax.

"Haah..haven't actually been to one of these in a while. It should be nice for a change." She let out to Natasha, a big smile on her face.
_________________
Friction/Tension:
| | | | | | |
| --- | --- | --- | --- | --- | --- |
| Heather Sunderland| | Alessa Mason| | Sena Iwakura| | Cristina LaBrie| | Victoria Baynes| | Cheryl Pride |
Alternative/FnF
Trisha Birkin
Tension:
| | |
| --- | --- |
| Dante Sunderland| | Ambrogio Mastrostefano |
Natasha wasn't sure which one of them had first suggested they spend the afternoon at one of the numerous hot springs near the city, but whoever had mentioned it hadn't needed to do much in the way of convincing as both women had developed a love of this uniquely Japanese hot spot. She had heard of these public baths back in France but she had never seen one until moving to Japan where she immediately fell in the love with them, even having one built on the grounds of her home. But as nice as that one was there was nothing compared to the real thing, especially when she got to go out and experience it with Heather.
Even though the whole point of the trip was to strip down and bathe in the steaming waters of the spring Natasha had taken her time choosing her outfit for the day, having decided upon one of her favorite dress which she had brought over with her from France. It was low cut and quite form fitting on the top like something one would wear for a night out on the town while the bottom half was more like a sun dress with how it flowed down to midway between her ankle and knees.
She liked to look good for Heather, no matter what they were doing together, and she was quite looking forward to just spending a relaxing day with her girlfriend, something the two had not done in far too long.
"Yea me neither if you don't include the one at home. Say Heather, remember the last time we were at a place like this? If my memory serves you were having a little fun with Rei-chan right?" Natasha replied with a rather mischievous grin forming across her lips, the french woman covering her mouth for a second as she giggled at her own little joke, only to then step in close to Heather and slip her arm through Heather's, walking side by side with the woman as the pair stepped into the lobby.
Natasha was wearing one of her outfits that Heather loved quite a bit. Even after having quite the night before, Heather couldn't help but keep glancing and looking over her. This far into their relationship and Heather still couldn't get over how beautiful and sexy Natasha looked all the time. Heather herself was wearing her favorite long purple dress.

She heard Natasha's next words, causing her to blush quite a bit, remembering that night again. "A-aah yeaah. That was the thing Rei had made me do after our match when she beat me." She let out with a little nervous laugh, the blush on her face deepening as Natasha would slip her arm through her's, walking with her.

A big smile appeared on Heather's face, hugging Natasha's arm close to her a bit as they would enter the lobby. "Uh..It's..actually been a while since i've been at one of these. Um..c-could you take care of everything? Or do we just go in or?"
_________________
Friction/Tension:
| | | | | | |
| --- | --- | --- | --- | --- | --- |
| Heather Sunderland| | Alessa Mason| | Sena Iwakura| | Cristina LaBrie| | Victoria Baynes| | Cheryl Pride |
Alternative/FnF
Trisha Birkin
Tension:
| | |
| --- | --- |
| Dante Sunderland| | Ambrogio Mastrostefano |
"You know Heather, that sort of thing seems to happen to you a lot now that I think about it. You need to stop losing all those POW matches." Natasha said teasing Heather a little as she hugged her close, resting her head against the woman's shoulder and purring softly. "Well, at least to people other than me." She said after remembering their first unofficial match had been a POW one, Natasha rubbing her free hand up and down along the woman's arm as she recalled their first meeting.

The doors to the hot spring slid open as they stepped into the main lobby, the room fairly small with only one desk where a woman likely in her mid thirties sat doing a bit of paperwork. As they entered the woman looked up from her work and smiled before rising to her feet and giving them a short bow. "Welcome, you two must be Heather Sunderland and Natasha Loclear correct?" The woman asked just after Heather had mentioned wanting Natasha to handle everything.

"Actually I already have, I called ahead and made sure they weren't busy before putting our names down, told them we'd be the lovely and happy couple." Natasha whispered into Heather's ear before reluctantly pulling away from her so that she could talk with the hostess. "Why yes that would be us, do you need me to sign in or anything?" Natasha wasn't quite sure how this was supposed to work either but the woman was pleasant as she politely shook her head and marked their names down as checked in for them.

"No need miss Loclear and since you paid over the phone earlier you two can go on ahead and go inside, the changing room is on the other side of this door to my left and the spring is just beyond that. Have a pleasant bath." The woman said with another bow before opening the door into the changing room, Natasha taking Heather by the hand and leading her inside.

Once the door was closed behind them she dropped down onto one of the benches and slipped out of her shoes, lifting her left leg up into the air and wiggling her toes about with a happy sigh. "Thats better, these shoes sure look nice but they definitely aren't the best choice for any extended amount of walking." She let out before reaching behind her and placing the shoes inside one of the lockers along the sides of the small room. "This is nice, with everything going on at work lately its been hard finding some time for just us. I'm glad we were able to take the day like this." She said while her hands worked at getting her out of her dress, the straps sliding down over her shoulders easily enough though it took a bit of tugging to get her tight dress down around her stomach, her large orbs bouncing gently as she freed them.
Heather looked down and bit her lip a bit as Natasha would tease her like that. She knew that was actually a problem with herself and she hated that it seemed Natasha noticed it. However, she could tell she was only teasing as she would rest her head on her shoulder, causing her to sigh out and nod her head. "R-right..I'll try not to end up like that too much. S-sorry" She let out, genuinely apologizing to t he girl before they would enter the lobby.

Greeted by the woman at the desk, Heather blinked a couple times, nodding before she would hear Natasha's words. "Oh..wow..well that works." She let out at her whispers, though blushing at the description that she gave them. She saw the woman park their names down before she would state that everything was already paid for. "Aaah..Natasha come on, you have to let me pay for at least some stuff.." She let out, pouting just a bit before they headed to the changing room.

Heather would let out a sigh just as Natasha did, hearing her next words. "Should have worn something more comfortable. I appreciate you dressing up for me..b-but I'd rather you be comfortable than that." She would say, undoing the bow on her collar of her dress before opening the top, undoing her belts next to let her dress fall off her body, leaving her in her boots and black lace bra and panties.

"Yeaah it really is nice." Heather let out, watching Natasha tug her dress, seeing her large breasts gently bouncing as she freed them, Heather unable to stop herself from staring, blinking a couple times.
_________________
Friction/Tension:
| | | | | | |
| --- | --- | --- | --- | --- | --- |
| Heather Sunderland| | Alessa Mason| | Sena Iwakura| | Cristina LaBrie| | Victoria Baynes| | Cheryl Pride |
Alternative/FnF
Trisha Birkin
Tension:
| | |
| --- | --- |
| Dante Sunderland| | Ambrogio Mastrostefano |
Natasha had brought up Heather's little habit of losing in POW, and hentai matches in general, up just as a little teasing joke, but from the way Heather sounded as she answered her Natasha could tell she hadn't taken it as such. Sighing as she rested her head upon the woman's shoulder, Natasha looked up into Heather's face finding her chewing on her lip just like she always did when something was bothering her.

"You don't need to say sorry Heather, so long as you give a match your best I will always be proud of you." She said knowing she had to set things right here and now, not mentioning that she had a suspicion Heather lost some of those on purpose because of her submissive streak.

Natasha waved Heather's little money complaint off as it was one that came up quite a lot. She never even gave paying for the things the two did together a second thought, after all the money spent was well worth it in her eyes as well as being a drop in the bucket for the heiress. "Heather don't worry about it, you're more than worth every penny." She said once the door to the lobby had been closed leaving them alone to chat in private.

"You worry too much Heather I'm fine, its my own fault for buying these shoes in the first place and besides, they look too cute with this dress right?" Natasha let out just as she slid her dress down over her the curve of her ample chest, her nipples stiffening as a draft of cool air blew through the room. Rising up to her feet Natasha had to wiggle her ass a bit but after a few moments she succeeded in slipping herself out of the dress completely leaving it in a heap around her feet, Natasha now wearing nothing but a dark blue pair of panties.

Natasha had been so focused upon getting out of her tight outfit that she had yet to look up since Heather slipped out of her own dress, but now that she was done she lifted her head up to speak only for no words to come out as she froze upon seeing Heather in nothing but her underwear and those sexy boots, spending a few moments clearly ogling her girlfriend before she found her voice again. "You know whats funny? I've gotten so used to being naked in front of a crowd I sometimes imagine a roaring round of applause whenever you or I strip like this."
"Ah...th-thank you.." Heather let out at Natasha's words, those words and the next about the money really put quite the smile on her face. Natasha really knew how to cheer her up and take care of her and Heather was more than happy about it.

"Mn...well I can't argue with that..they DO look cute with it." Heather let out, shrugging before NAtasha would finish slipping herself out of her dress, the entire motion of it causing Heather to blush quite a bit, unable to take her eyes off her before she stood in front of her in just her panties. Just as Natasha was doing to her, Heather couldn't help ogling her a bit before Natasha spoke.

"Ah-ahha Y-you're ridiculous." She let out, blushing deeply at those words before she let out a long breath. She would unlace and slip herself out of her boots and socks, unclasping her bra and pulling it off, next bending down and slipping off her panties as well. She nodded her head to herself a bit before looking over to Natasha.

"Come on Natasha, finish up so we can go in." She would say, a bit eager to feel that relaxing sensation of the springs.
_________________
Friction/Tension:
| | | | | | |
| --- | --- | --- | --- | --- | --- |
| Heather Sunderland| | Alessa Mason| | Sena Iwakura| | Cristina LaBrie| | Victoria Baynes| | Cheryl Pride |
Alternative/FnF
Trisha Birkin
Tension:
| | |
| --- | --- |
| Dante Sunderland| | Ambrogio Mastrostefano |
It always made Natasha's heart skip a beat to see Heather smile like that, she had been with the woman through a few difficult times in her life in the short year they had been together, chief amongst them being her break up with Cecilia and her unsuccessful bid for the world title. So whenever she could bring a smile to her face Natasha jumped at the chance, only too happy to help cheer Heather up any way she could.

Of course that included turning the woman on and she could think of few better ways than what she was doing now, Natasha able to feel the woman's eyes upon her before she even looked up, though it wasn't until she had that she noticed Heather wasn't looking into her eyes but rather admiring her body. Natasha wasn't the type to blush easily but whenever she found Heather's eyes lovingly gazing upon her body like she was now she couldn't stop her cheeks from turning a deep crimson hue. "Like what you see?" Natasha teased as she ran her hands down along the curves of her body, squeezing her breasts together for a moment when she saw the woman's eyes settled there.

"Really? You can't tell me you don't think we deserve to be praised each and every time we show off these bodies of ours?" Natasha replied while watching intently as Heather continued to free herself of her bothersome clothing, Natasha unwilling to look away as she wanted to savor every moment of the show.

When Heather had finished Natasha was nibbling upon her bottom lip, her eyes roaming along the woman's curves until Heather told her to finish up, a look of surprise on Natasha's face until she looked down and realized she hadn't taken off her panties yet. "Well I would say this was a first, you getting naked before me, but now that I think about it most if not all of our matches have ended this way no? Including our little sparring match back when we first met." Natasha said as she slid her panties down to her ankles, slipping her left foot out only to then flick her panties at Heather with a quick kick with her right.

"There, a little gift to say I'm sorry for taking so long." She said teasingly before walking past Heather, her left hand brushing along the woman's breasts as she passed, and to the door which led out of the room. As she slid the door open a draft of warm air flooded into the room, catching Natasha's wavy blue hair in the process, the french woman gasping in delight afterward as her eyes fell upon the massive natural hot spring they were about to enjoy.

The main pool itself was large enough to fit dozens of people and a smaller pool, which looked to have been artificially made, sat not ten feet away and looked capable of containing about four people snugly. Her assumption was proven correct as she noticed a series of jets along the wall of the smaller pool which gave it away as a hot tub. There was a wooden deck attached to the building they had just been changing in but beyond that the ground was covered in soft, lush grass up until the rocks which surrounded the edges of the hot spring itself. A trail of stepping stones led to the main pool as well as to the hot tub so they didn't have to touch the grass if they didn't want to, but the first thing Natasha did was step onto the grass and curl her toes up in it.

"Oh wow even the grass here is relaxing, its so soft and thick it feels great on my bare feet. Come on Heather you've got to try this!"
As Heather wasn't able to take her eyes off Natasha, she was led to blush even more as the girl would tease her like that, watching her run her hands down her body and squeeze her breasts together. "Kh..n-nh..y-you know I do." Heather would say to Natasha's teasing words, having to use everything in her will to hold her back from taking her in that room.

"Aah..well I guess..Th-though I dunno it's..just a little embarrassing. How ridiculous is that..been in AFW for almost two years and I'm still embarrassed by those things." She shook her head as she finished undressing.

"Sh-shut up." She would say with a little grin on her face at Natasha's words. Watching her finally slide her panties down to her ankles. Heather gulped a bit at the display before Natasha flicked her panties at her, Heather's eyes widening as she scrambled and caught them, freezing up for a second before throwing them to her pile of clothes. "Y-you're something else Natasha..I-I'm TRYING my best not to make this into a sex night b-but you keep making it difficult." She said with a deep blush and a grin on her face at her 'gift'.

She shivered out a bit as Natasha brushed her hand along her breasts, Heather biting her lip a bit before she would follow her, her eyes constantly darting down to her butt.

Finally entering the room with the springs, Heather let out a long relaxed sigh to the feeling, the heat already helping relax her. She would see Natasha step on the grass and get quite excited, Heather smiling and walking over to her, doing the same. "Haah..It IS pretty nice." She let out, nodding her head.
_________________
Friction/Tension:
| | | | | | |
| --- | --- | --- | --- | --- | --- |
| Heather Sunderland| | Alessa Mason| | Sena Iwakura| | Cristina LaBrie| | Victoria Baynes| | Cheryl Pride |
Alternative/FnF
Trisha Birkin
Tension:
| | |
| --- | --- |
| Dante Sunderland| | Ambrogio Mastrostefano |
"Oh I don't know, its rather cute if you ask me." Natasha said with a laugh while she watched Heather finish getting undressed, giving her a few slow once overs with her eyes before finishing up herself.

Heather wasn't wrong in describing her tendency to get embarrassed by the smallest of things ridiculous, considering all she had done in the AFW up until this point it did sound quite silly, but it was also one of the things Natasha loved about the purple haired beauty. It was a trait she both never wanted Heather to lose but also one she had hoped she would get over one day, since while it was incredibly adorable it also cost Heather matches she would have otherwise won, and the matches she lost because of it were usually ones which resulted in someone else having Heather for the night.

But Natasha wasn't going to bring up such a topic today, this trip was all about having fun with the person she loved and making sure she was up to date on everything Heather. "Silly Heather, this was always going to be a sex night." She replied as she passed by her, stroking the woman's breast as another tease to reward her for saying something as funny as that.

"But its still daylight outside so you're just gonna have to wait, this trip is for us to relax and enjoy each others company as we so seldom get the chance to do lately, and I've done nothing to tease you have I?" Natasha finished her statement with a wink and a soft laugh, teasing the woman even further before walking outside.

Natasha knelt down to run her fingers through the thick grass, looking like a cat playing with yarn for a few moments before she rose back up and raised her arms as high as she could above her head, stretching in the warmth of the sun and the heat coming from the hot spring. "I think I'm gonna have to ask how they keep the grass as soft as this, that or just buy this place and have them tell me then." Natasha said jokingly, though with her spending habits Heather might not realize that, before she stepped up to the edge of the pool and took a seat upon one of the rocks around its edge with one leg crossed underneath the other which she dipped into the waters.

The spring lived up to its name as she almost pulled her leg out the moment she felt how truly hot the water was, but she resisted that and soon her leg grew acclimated to the temperature and then it began to feel incredible. The water soaking into her skin and relaxing her calf muscles, feeling so good Natasha could actually be heard purring softly to herself. "Now this hits the spot."
Page 1 of 2 • 1, 2



Similar topics
---
Permissions in this forum:
You
cannot
reply to topics in this forum