Champions & #1 contenders
Belated Apologies
Sun Mar 26, 2017 9:58 am by Clobber Jobber
So, I'm not super fond of doing non-match threads because it messes with my organization, but I feel I owe everyone an apology. I just kind of up and dissapeared for, what, a few months? With the exception of one wave of posts, I've been super quiet, and a lot of threads have been held back because of me. So, I'm sorry to everyone about that, and I'm going to at least get another wave in.
To explain myself a bit, I've had a few things going on that slowed me down. For the first couple months, …
[
Full reading
]
Comments: 0
Looking for debut matches/RP's/microphone exchanges/Gym sessions/What have you
Sun Mar 26, 2017 6:14 am by JohnnyFlash
Hey gang!
According to our wonderful administrator
Person
I am happy to report that both
Buzzy Armstrong
and
Johnny Flash
have been deemed acceptable. Woohoo!
Logically, the next step would be to get their proverbial balls rolling with their respective debuts. I am interested in any kind of
match
,
promo segment
,
gym meetings
,
backstage
elbow rubbings, or whatever else have you with either of the two boys. I could always just do an open promo but I am up for ideas and story building with …
[
Full reading
]
Comments: 2
i am sorry
Sat Mar 25, 2017 2:51 pm by xalex
Hey guys
I won't talk much about it just wanted to put it out here
I need to step back from are dramatically because of stress in the uni and some problems of mine
I will keep working on the ppv matches I am in and maybe one or two more but to the rest I need to say sorry
Thanks for understanding
Comments: 4
Name: Masane Tajiri
Alias: None
Sex/Gender: Female
Age: 22
Eyes: Azure blue
Hair: Light brown, with pink headband
Height: 5'6"
Weight: 122 lbs
Nationality: Japanese
Citizenship: Japanese
Wrestling Information
Strategy: Defensive normally, uses counters a lot.
Style: Striker
Type: Technique
Preferred Attacks: Kicks, punches, chops, elbows, backfists, knees.
Preferred Matches: Standard matches.
*Update*
RPG Style Stat spread(out of 5 stars)
Endurance:★★★
Strength:★★★
Speed:★★★★
Defence:★★★★
Technique:★★★★
Finishing Move/s:
Counter Elbow Assault: When her opponent is charging at her, she'll grab their arm with one hand, and pull her opponent towards her so that their waist is unguarded, and putting the momentum of her body into the strike, she'll slam her elbow right into her opponent's ribs to stop their momentum dead.
Spinning Crescent kick: She'll leap up and twist in the air, and throw her foot up in a bridge arch, normally aiming for the head before landing back on her feet.
Iron Palm: If she can get past her opponent's guard, she'll step in close and throw both palms up right into her opponent's sternum to leave them breathless.
(Follow up) Axe Kick: She'll normally follow up into this move if she's looking to end the match in a KO. When her opponent is down on her knees gasping for air from the first move, she'll lift her leg up high before throwing it down hard over her opponent's head.
Hammerlock suplex to fierce knees: She'll only use this as a last resort, if the match has gone on for a while, and she can't seem to get a pin or a KO. She'll wait for a punch, then catch it, twist the arm and move behind her. From there, she'll use her hips to lift her opponent up and over her so that their opponent slams face down. She'll then keep the hammerlock and roll over to start throwing knees to her opponent's head until either the opponent submits, or escapes.
Hentai Moves:
Masane does not have any hentai moves.
Entrance Music:
Characteristics
Visual Apperance: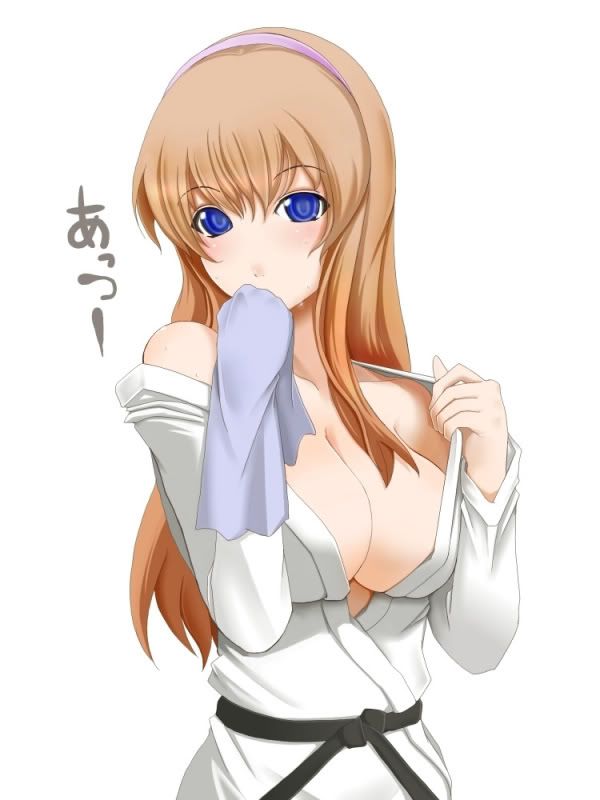 Physical Appearance: Masane has the body of a martial artist. Disciplined to take hard blows and dish ones out as well makes her a nice challenge.
Personality: Masane is friendly to those she meets. She's more than happy to make friends, but for her, fighting comes before making friends. In a match, she'll grow serious and her face will be expressionless. There's nothing she enjoys more than a good spar, especially when going against somebody of similar or equal talent.
Past/History: Masane trained in karate for most of her life. Back then, she found wrestling to be a complete joke, until she came across Yatori. They became quick friends, but when Masane heard what Yatori did for a living, she was unable to help but laugh and ridicule the sport. She did not find it so funny, and challenged her to a match, no holds barred. Masane, never one to back down from a challenge, accepted, and even wagered that if she lost to her friend, she would join the AFW.
Yatori agreed, and the fight was on. Masane was doing all right at first, until Yatori decided to pull a trick Masane has never experienced before, and used the pleasures of the body to combat against Masane's fierce blows. Masane was not a virgin, but even so, it was surprising for her to find that people fought in this way. Eventually she wore Masane down, and ended up forcing her to tap. Masane was not sore about it though, and was even impressed by how soundly she managed to beat her. She now accepts wrestling as a serious sport, and has grown another interest after her fight with her.
Attire: Masane is always seen in her white gi and black belt. In a normal match, she'll wear a black undershirt to conceal any cleavage, but in hentai matches, she'll spare the black undershirt and just fight in her gi, pantyless as well.
Fun Facts:
She is partial to strawberries
She has grown a secret desire for bondage, and to be humiliated publicly, although she hides it well.
She enjoys listening to music, particularly bands like Blink 182 and NOFX.
She smells like french vanilla up close.
Her main weakness in sex matches is her neck. she loves having it bitten, sucked on, or licked.
She does not pull back her attacks, regardless of who she is fighting. If you're in the ring with her, expect to be hurting afterwards.
AFW Information
Championships/Accomplishments:
Friends:
Yatori
Allies:
Kirin Sumomo
Rivals:
Enemies:
Makoto Aihara
Sarah Gatt
Crushes:Yatori
Alliance: Face
Won Against:
Violet
Kirin
Yatori
Sarah
Tyris
Takai
Lost Against:
Helena
Makoto
Mina
Suyou
Seraphim
Sarah
Seraphim
Sarah
Draws:
Akashi
Ring Matches(not necessarily in chronological order):
[url=http://afwrpg.informe.com/forum/post18329.html?hilit=masane#p18329:3brkpfi0]1. vs. Violet[/url:3brkpfi0]
[url=http://afwrpg.informe.com/forum/archive-matches-f16/helena-macleod-vs-masane-tajiri-t962.html:3brkpfi0]2. vs Helena Macleod[/url:3brkpfi0]
[url=http://afwrpg.informe.com/forum/archive-matches-f16/the-judo-babe-combats-against-karate-t1199.html:3brkpfi0]3. vs Makoto[/url:3brkpfi0]
[url=http://afwrpg.informe.com/forum/tournament-archives-f43/kirin-sumomo-vs-masane-tajiri-t1203.html:3brkpfi0]4. vs Kirin Sumomo[/url:3brkpfi0]
[url=http://afwrpg.informe.com/forum/archive-matches-f16/mina-vs-masane-t1215.html:3brkpfi0]5. vs Mina[/url:3brkpfi0]
[url=http://afwrpg.informe.com/forum/tournament-archives-f43/round-two-masane-tajiri-vs-yatori-shizuku-t1360.html:3brkpfi0]6. vs Yatori[/url:3brkpfi0]
[url=http://afwrpg.informe.com/forum/archive-matches-f16/suyou-vs-masane-tajiri-complete-t1375.html:3brkpfi0]7. vs Suyou[/url:3brkpfi0]
[url=http://afwrpg.informe.com/forum/tournament-archives-f43/title-match-masane-tajiri-vs-sarah-gatt-t1688.html:3brkpfi0]8. vs Sarah Gatt[/url:3brkpfi0]
[url=http://afwrpg.informe.com/forum/archive-matches-f16/grudge-match-masane-vs-sarah-gatt-t1739.html:3brkpfi0]9. vs Sarah Gatt[/url:3brkpfi0]
[url=http://afwrpg.informe.com/forum/post37346.html:3brkpfi0]10. vs Tyris[/url:3brkpfi0]
[url=http://afwrpg.informe.com/forum/the-ring-f8/akashi-tanikaze-vs-masane-tajiri-t2220.html:3brkpfi0]11. vs Akashi Tanikaze[/url:3brkpfi0]
[url=http://afwrpg.informe.com/forum/the-ring-f8/takai-vs-masane-t2287.html:3brkpfi0]12. vs Takai[/url:3brkpfi0]
Last edited by 145 on Sat May 12, 2012 3:45 pm; edited 4 times in total



Posts

: 6476


Join date

: 2008-04-30



---
Permissions in this forum:
You
cannot
reply to topics in this forum