Champions & #1 contenders
Summer Splash interest in Natasha Loclear?
Mon Apr 09, 2018 11:30 pm by daemongirl
Well my girl hasn't missed a summer splash yet, would anyone be interested in a match with her? Open to just about anything match wise, just pm me!
Comments: 1
Been Out with the Flu
Sun Apr 22, 2018 7:47 pm by daemongirl
Just letting those I have threads with know I've been out with the flu since early last week, but I will be back to posting tomorrow.
Comments: 0
The Austrailian Mudslide is Back.
Sat Apr 21, 2018 6:20 am by Softsquad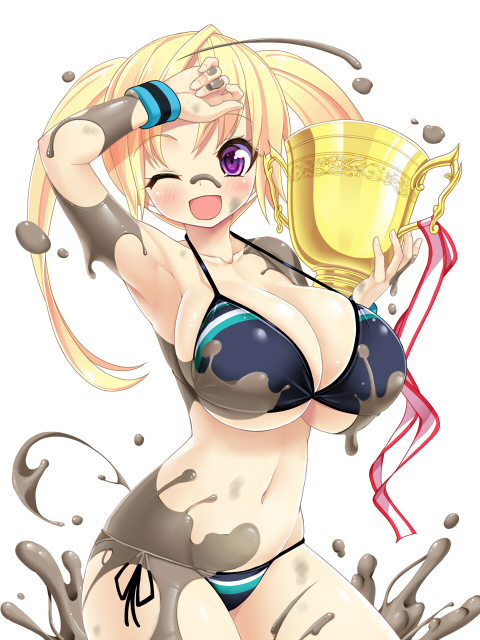 Granted that most of you won't know me or remember me, but I've had a few matches here and there some time ago. Well I think its time to become a regular around here and try to have some fun again, but at the same time keep coming back. Anyway I think its time to jump into some matches with Zoe Taylor, my mud wrestling character from Australia and get her back into the squared circle. Furthermore I will update my characters as I think some proper changes need to happen.
So if anyone would …
[
Full reading
]
Comments: 0
Page 6 of 8 •

1, 2, 3, 4, 5, 6, 7, 8


Tatsuki's eyes were shut tightly and she felt real bad and nervous if the person she hit was mad. To her relief, the woman wasn't mad and the athlete slowly opened one eye as she looked up at the woman who had crimson red hair and was wearing a black dress with a short skirt. "H-huh?" She was wondering why this woman was acting nervous herself as Tatsuki opened her other eye but then she introduced herself. "Talia??" The athlete remembers that name and knows she was the Tension wrestler who vanished a long time ago, sparking an excited expression, Tatsuki accepted Talia's offer and grabbed her hand as she pulled herself up. "It's good to finally meet you Talia-san!"

Getting a better inspection of Talia's new look, Tatsuki was rather intrigued by her new look but her attention was taken away when Talia tried to say her name. "Le Feuvre, Talia-san and I know about you. Well... a little anyway, like how you disappeared out of nowhere and haven't been around for a long time." She heard people think she was french before but this was the first time Tatsuki heard that mispronunciation before. Looking more at Talia, she had to ask. "So last time I saw you Talia-san in the reruns you had auburn colored hair, what decided on this change?"

Despite knowing this is in fact Talia, something about her kinda bugged her a bit. About her eyes, they seem.... familiar somehow.
Talia nervously nodded. Why was everyone so interested in what she'd been doing? It was like her disappearance from tension had a bigger effect than she ever did while in it. "I've been training a lot since then. I'm hoping to make a triumphant return soon! Kinda like what Taylor Parker is doing." She subconsciously looked away when Tatsuki looked at her hair as if thinking it gave her away.

"Honestly...all those Japanese girls dye their hair bright colors. I just thought I'd give it a try too for tonight." Talia brushed her crimson hair out of her face and twirled it around her finger. "So how do you like Friction so far? I know it's tough being...small compared to others but..." Talia never noticed how much smaller Tatsuki was than her. For once, Talia was looking down on someone. "...but there are ways around it."

Talia scratched the back of her head. "So are you just clubbing tonight?"
Tatsuki smiled more at Talia hearing of how she had been training all this time for a comeback like Taylor is. A comeback for Talia who improved a lot would be so great for her. "That's great! Although... if you want, I can help train you if you'd like." Tatsuki offered since it'd be bet to have a training partner to help improve faster, and Tatsuki's athletic skills would also do someone like Talia good too.

When Talia mentioned that of Japanese girls dying their hair colors Tatsuki giggled a bit while also feeling a bit like that was directed towards her since the little athlete was half Japanese herself but more so than her siblings. "Yeah, Japanese girls like me do dye our hair colors often. Me personally however, I would prefer a wig so I don't ruin my hair just in case you know?" She answered back before hearing the redhead's question about the athlete's Friction experience and also commenting on it being tough with Tatsuki's height. Tatsuki grinned widely before answering. "It's really fun here! I made lots of good friends and rivals here already and the experience in wrestling is so thrilling too! And my size doesn't mean anything really, besides taking double damage which sucks.... but all in all, it's still great being small has it's advantages." Tatsuki answered and making a cute cat face on her expression.

A question lingering in her mind about Talia's change, how much more is she gonna change? "So a question Talia-san, despite changing yourself, are you still gonna keep the sexy pink bikini look?~ Or are you gonna wear something else?" When Tatsuki asked that first option her expression had a slight blush on it with a bit of a mischievous expression and added a wink to it, and for the second option she returned her expression to normal but with a bit of curiousness in it. "This is my first time here, and I might come here more often every now and then."
Talia awkwardly crossed her arms. It should have felt no different acting like she hadn't met Tatsuki before. She had played the role with three people now already. But it was different. Johnny, Taylor, Akashi...they had all wronged her in the past in some way. She was content lying to their faces. Tatsuki was different. It was like the Tatyina thing all over again. She felt nothing but guilt lying to people who hadn't done anything wrong.

"Yea...the small issue is much worse in tension. Some guys are just...overwhelmingly huge." Talia tilted her head. "What do you mean rivals?" she asked, concerned Tatsuki had been referring to her. "Against someone as nice as you?"

The question on her outfit, however, caught her off guard. That...revealing outfit got her into far more trouble than she wished. She tightly hugged herself with her arms. "I...I'm thinking of something new..." She use to think she looked cute in it. But in recent months she didn't think it was the case at all. Even Tatsuki's expression was interpreted by her as amusement rather than admiration. "Something less revealing..."
Last edited by 9943 on Sat Sep 28, 2013 5:28 am; edited 1 time in total
Tatsuki's grin kinda dropped at what Talia said about Tension and she knows it's true. There are men there, and even women in both Friction and Tension that are so tall and big that it makes smaller wrestlers like Tatsuki and Talia here seem like flies waiting to be squashed by them which is one of the reasons why she dislikes Tension. "True, but even someone as small as me can give someone twice my size a run for their money." Then the question about her rivals came which made the athlete raise an eyebrow a bit. "What do you mean "what do you mean"? During my career I made many friendly rivals that I get along with like GreatForce and Lady Lakota, although.... I only have one enemy though..." Tatsuki's expression went real serious when she said that last part, just thinking about that 4 eyed woman made her skin crawl.

Even though she was in serious mode for a bit, it was easily broken after hearing the answer about the outfit question. Tatsuki giggled a little bit with blush still on her face before recollecting her thoughts before responding. "I'm sorry Talia-san, I had to ask. You did look real sexy in that bikini though. How about I help you with your new outfit as well? In fact, how about I make it for you?" Tatsuki is great with making outfits and has made her signature Fantasy Hero outfit and every other cosplay outfits she wore so she is sure she can make a new outfit for Talia.

The athlete kept tight eye contact with Talia and was able to learn more, understanding the familiarity she saw before in them and why it bugged her. Talia was hiding something with lies and is afraid.
Talia tilted her head in genuine amazement. "How could anyone pick a fight with you?" They must have been jerks. The mention of that one enemy, though, made Talia's stomach sink. She feared Tatsuki was referring to herself and that made her feel awful. She wasn't sure of the truth, though, and managed to keep her composure. "But yea...I do need a new costume...I was thinking something outspoken...you know...fiery...like my hair!" she suddenly added with a little bit of excitement. Though she originally re-dyed it to avoid looking like DA, she had to admit she enjoyed this new look.

She needed to build on that confidence. All the courage she had built up with the DA persona was shattered by her loss to Cassie. "I don't want to be just like...another jobber that gets tossed around and...and..." Raped was the word she was looking for. Talia sighed and rolled her eyes at herself. Things were getting a little too personal and emotional. They were at a freaking club after all. "But whatever...it's cool...can you actually make things like that?" she asked trying to return back to the original topic. "Because that would be awesome."
"How? Because four eyed snaked, known as Reika "The Viper" Suzuka, ENJOYS it." Tatsuki stated regarding who her enemy is, ever since the Entropy Challenge where she met her, Reika has just been haunting her due to how dishonorable and cruel she is. "She disgusts me. Cruel and evil with no honor or respect for others, she doesn't deserve to be a wrestler." She closed her eyes when she made that last statement and then took a deep breath to calm down before opening her eyes again but with the same serious expression.

While listening to Talia's speech about her new look and desire to change herself from a jobber to a real wrestler, Tatsuki closed one eye and form a rectangle with her thumbs and index fingers to look through as she slowly circles around Talia to check her out to get an idea. "Hmmm..... Like your hair huh? That can be arranged, but of course I'll need to measure you." Tatsuki just might have a few good ideas for Talia's new outfit but of course it's her call of what she wants and she will make it to the best of her abilities. She grins a bit while inspecting Talia who asks if she can make that for her."Of course I can! Whenever I am not wrestling, training, or doing anything athletic related, I am usually either out shopping for Beauty Salon stuff, cosplaying, or making new cosplay outfits. If I can make an outfit as awesome and my signature wrestling outfit, I sure can make one for you."
Reika Suzuka? Talia actually remembered that name. She never fought the person but she was originally suppose to be tag team partners with them way back when. Thankfully, that fell through when she dropped out of that title race. She somehow managed to make Tatsuki this angry. That seemed unreal. Talia nodded along to her as she finished the clarification. At least Tatsuki didn't think the worst person was Dark Angel. That slightly relieved her at least.

"Yea...that's cool." Talia said and got out her phone. "I had to like...not have an outfit last time because I couldn't find anything...lemme text you my number. We can totally meet up sometime so I can show you some of my ideas on what I want." Admittedly, part of her wanted to just out of guilt. She felt like Tatsuki deserved far better than how she treated her before. But also, she really didn't think she could brave making a whole new outfit on her own.

Looking at her phone, though, made her realize how late it already was. She needed to find Taylor before she left. "Hey look...I got to go...but we definitely should hang out sometime, alright?" Talia smiled and nodded to the girl. "Take care of yourself," she added before making her way back into the main room.
Tatsuki dropped her arms down after getting her inspections of Talia's frame, now all she will need are the measurements for when she makes the costumes for her the now redhead. "That is usually the case for most newbie wrestlers actually." The athlete was surprised when Talia was gonna give her her phone number so they can hang out, but was grinning widely and soon took out her cell phone. "Okay Talia-san! Here is my number."

She really was happy to get Talia's number and added it to her contacts pretty quick. "And.... saved." Tatsuki puts her phone away before hearing Talia say she has to go. "Oh, okay Talia-san. I'll see you again sometime! And please TRY not to drink too much tonight okay?" She said energetically while waving to the woman as she walks away before switching to a slightly nervous tone since this IS a club after all, who doesn't drink at one?

Once Talia leaves, Tatsuki drops her arms and her expression is now deadpan. Talia really is a nice person, but what is it she is hiding? So much that she has to lie to conceal it, and why are her eyes familiar? This all bugged Tatsuki a bit, but soon shook her head and returned to smiling. "I'm sure it's nothing." She said before returning to the dance floor to resume dancing.
Natasha had finally ended up alone, or about as alone as one could be at a crowded night club, with her girlfriend Heather Sunderland after Taylor had made her abrupt exit. She almost went after the woman but thought better of it when she glanced back to Heather and saw that look in her eye she knew to mean stay with her. It was a suggestion she had no trouble with and the two made their way out onto the dance floor not long after being left alone, Natasha keeping her lover close to her so that no one else got to rub up against the purple haired beauty but herself, as well as to make sure Heather didn't fall over after that drink she had gotten her to enjoy.

After a time though Natasha's drinking seemed to be catching up to her and soon she knew she either had to make a run to the restroom or risk something too embarrassing to even think about. Luckily Heather seemed to be doing fine so she didn't have to worry about her, at least not enough to drag her along to the restroom with her, something she wanted to avoid if she could help it as she didn't know if Akashi was still in there or not. She didn't think the woman would be but there was always the chance and that was the last thing she needed, Heather running into her in the state Akashi was.

"Hey lover, I'm uh gonna be right back, gotta hit the ladies room. Just wait out here ok, don't want you listening to me when I, well go you know, can't have that on your mind tonight when I take you home." Natasha said to Heather as she led her over to one of the tables close to the restrooms, giving her a little parting kiss before quickly making her way to the restrooms.

A quick glance around told her Akashi had indeed left, in fact she was all alone from the looks of things which was a great relief to her. Stepping into one of the stalls she hadn't been having sex in earlier Natasha wasted no time in pulling down her panties, dropping down onto the toilet, and relieving her bladder. Once she had finished up she made her way over to the sink, washing her hands before splashing some of the water over her face to freshen up.



Posts

: 3886


Join date

: 2012-03-31


Age

: 27



Page 6 of 8 •

1, 2, 3, 4, 5, 6, 7, 8


---
Permissions in this forum:
You
cannot
reply to topics in this forum