Who is online?
In total there are
47
users online :: 3 Registered, 1 Hidden and 43 Guests :: 2 Bots
killcarrion
,
LtLukas
,
Old_Man_Tai
Most users ever online was
390
on Tue Jan 02, 2018 2:02 pm
Champions & #1 contenders
Highfly Flying Out Of Town
Tue May 22, 2018 1:31 am by HighFly
Hello everyone, I just wanted to inform all I have threads with that I will be gone from this coming Wednesday through Sunday. I won't be able to post consistently if at all during this time, but I will try to make up for it next week! I am sorry for the inconvenience to everyone.
Comments: 7
The Austrailian Mudslide is Back.
Sat Apr 21, 2018 6:20 am by Softsquad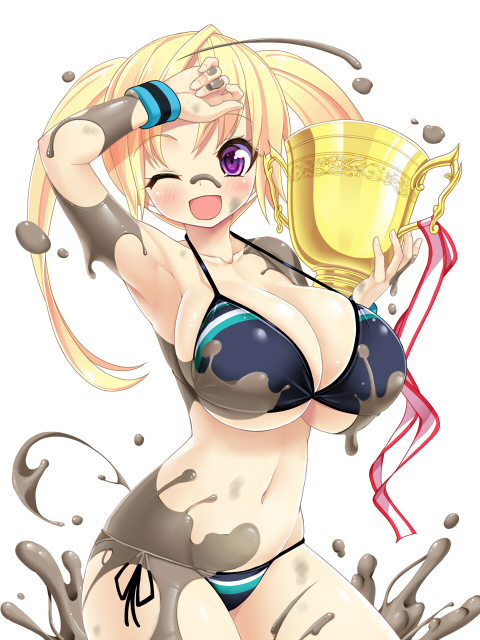 Granted that most of you won't know me or remember me, but I've had a few matches here and there some time ago. Well I think its time to become a regular around here and try to have some fun again, but at the same time keep coming back. Anyway I think its time to jump into some matches with Zoe Taylor, my mud wrestling character from Australia and get her back into the squared circle. Furthermore I will update my characters as I think some proper changes need to happen.
So if anyone would …
[
Full reading
]
Comments: 5
Page 4 of 8 •

1, 2, 3, 4, 5, 6, 7, 8


Clyde gave another quiet growl, curling his lip as he got scolded, reluctantly accepting the wait, despite knowing in his mind he could take either one on his own.

"It ain't just hard on you, brother. I don't take kindly ta' just layin' around all day. I like movin'." Bonnie added softly.

Clyde rubbed his temple out of agitation. Waiting would not be easy. "...I'm just glad yer' okay." He would say after a brief period of silence. Bonnie just closed her eyes and smiled.

"Uugh... I gotta fight somethin' tho!" He exclaimed as he planted his fist in his palm. "Or..." Clyde looked at Mercy briefly before turning to look out the window, thinking of ways to blow off steam.
Mercy was glad that Clyde was settling down. But he was still riled up and Mercy shook her head. "Or?" She said and raised an eyebrow. "What?" She said. She then looked at Bonnie. "Um... maybe we should go. I think that the way things are, when your girlfriend gets back, those two might really fight for real. Even if they both might like it, this is a hospital after all."

Mercy nodded to Bonnie. "It was nice meeting you though." She said and tugged on Clyde's arm. 'I'll send him back your way later after I've settled him down." She said with a wink at the female twin.

Mercy then slipped her arm around Clyde's. "Come on, Clyde. Kiss your sister goodbye and let's get going. The more she rests, the quicker she recovers and the quicker she recovers, the sooner the two of you can run off and have your little showdown."
"Nothin." Clyde dismissed plainly in a more docile tone.

But at the mention of a fight with Duffy. Clyde would huff in amusement while Bonnie began to laugh lightly. "It's true. And you'd look real bad Clyde, if she kicked your ass..." Bonnie said with a coy grin, leaving out 'Again' to avoid embarrassing him in front of Mercy. Clyde just rolled his eyes and slid back when Mercy tugged on his arm.

"Yeah, it was nice meeting you too." Bonnie beamed pleasantly, giggling and winking back at the Paralegal after her later statement.

"I knoow..." Clyde would say to Mercy like he was aware. "Bye Bon." He said softly as he leaned down to kiss her cheek. "See ya later. And STAY outta trouble." She said sternly.

"Yeah, yeah..." The cowboy complied, walking out the door with Mercy. Either leading or being tugged along. Bonnie watched them leave and didn't see it before but she did now. That little girl certainty had a mature figure.

"So...Where do ya' wanna go? ...Breath is clean by the way..." Clyde said now that they were in the hallway.
Mercy said her goodbyes and let her hand drop to intertwine her fingers with Clyde's. "Oh..." Mercy said. "I don't know. I guess we should go somewhere to help calm you down." Mercy added.

She smiled at Clyde when he said that his breath was clean. "Is that right? I would hope so with how long you were in there spying on us. Do you think I wouldn't say everything I said to Bonnie to your face? I mean every word of it Clyde. Don't go going after those two." She said and pulled him intot he elevator. She pushed the lobby button and when it whirred a few floors, she reached out and hit the stop button. She then grabbed Clyde by the collar and pressed into him. She kissed him deeply and passionately for a long few seconds before pulling away and winking at him. She then snaked her foot back and pressed the start button with her heel, still holding onto Clyde.

"What do you like to do to relax, Clyde?" She asked, smiling coyly at him.
"That's an easy place ta' think of." He thought as he held her hand, squeezing it firmly but not too tight. He sighed just slightly when Mercy said he was spying and that everything she said was not to be taken for granted. "Yes dear." He mused with a tiny hint of sarcasm but still complying with her request/orders. For now at least.

He followed her inside the elevator, turning himself to put his back against the wall while she pushed the buttons, licking his lips and tapping her knuckles with her fingers. He somewhere between eager, hoping and knowing she'd turn around, biting his lip in anticipation. Finally she hit the stop button and pulled herself into him, bumping the cowboy into the elevator wall slightly. Clyde quit biting his lip and met Mercy have way to return the kiss, pressing tightly against her lips to taste them as he pressed his hands tightly into her shoulders while sliding them down her sides and hips before he clasped onto her rear, pressing his finger tips into her glute and lifting up to pull her in closer and tighter while he kissed her affectionately and with yearning.

When Mercy pulled away, Clyde exhaled and looked at Mercy with a coy grin. "Fuck." Is what he thought about telling her. There was more he had for relaxing but doubted she'd enjoy that.

"Prolly this." He mused with a smirk. "But seriously Mercy, yer support means a lot ta' me, Bonnie too. Thank you fer' comin." He told her sincerely. "I just wanna get outta here, lets go somewhere more quiet, just me and you. Maybe your place...Or... a hotel?" Clyde said as he looked her in the eyes, far from nervous. "You know, if yer comfortable and all that."
Last edited by 621 on Sun Sep 22, 2013 11:49 pm; edited 2 times in total
Mercy thought what Clyde said at first was a little cute. if not probably mostly horndoggy. She nodded at his next words. He didn't mind spending time here especially for him and his sister. She smiled at him. But his suggestions...

Mercy stepped away from him, balled her fist and slapped Clyde in the chest with it. "You wish, boyo." Mercy said and shook her head. "If you think I'm the kind of girl who just goes to a hotel for... that then you need to get your head examined. "I'm pretty sure the best way to keep yourself out of my pants is to say something like that, Mister Gastin.. She said and flipped her hair at him when the doors opened. She strode a few paces away from him and turned around. She put her hands on her hips. "If you think I am going to let you use that time to get any wild fantasies about the way things work, you're sorely mistaken. You can cross MY apartment off the list for tonight too. Maybe if you had a little more tact, I would have thought about it considering the situation. See, Clyde." She said, lowering her eyes as she gave him the third degree. "Look what rushing into things and assuming gets you. It gets you a lecture and a cold night alone without this fine ass!" She said and turned, wiggling her hips at Clyde.

"HMPH!" Mercy crossed her arms under her chest and fumed for a moment before she began to fish out her MP3 player. "If you want to go somewhere quiet and relaxing, then take the bullet train back to Kyoto!" She said, furrowing her brow. But even she knew she was probably laying it on a bit too thick. She huffed as she [url=http://www.youtube.com/watch?v=zAhCqdBKR_M:lfgrnfcm]found some music[/url:lfgrnfcm]. When she was finished and the music began to sink into her, she sighed and looked up at Clyde. "Ok, let's go back to your." Place she said finally, as if nothing else between them was said. "I just hope it's not gross." She added, raising her eyebrow. She probably caught him. But she could handle a little gross as long as it wasn't too nasty.
"Ow." Clyde exclaimed dully when Mercy hit him, sounding like a small book hit his shoulder. "B-But..." He tried to explain immediately but Mercy kept on tearing into him. "But-" He tried interjecting yet again but all he got was her pretty pink hair flipped right in front of his face, he followed behind her instantly and backed up hastily when she turned around. Mercy made Clyde feel only worse about his suggestion when she stated that her apartment was off the list and that Mercy would have thought about the situation had he been more tactful but NOW he was getting yet another lecture.

He narrowed his eyes dully while he slumped forward as she let him know what assuming and rushing got him apparently. "What did I do ta' deserve this?" He asked himself as he watched his girlfriend, the Queen of flipping out, going off on him, which wasn't so bad when she turned around and wiggled her hips at him. It would be a lot better if he didn't feel like he was being taunted with something he wasn't gonna have!

He stood there speechless as she gave her final huff and turned around, leaving Clyde to just stare at her in bewilderment. He then frowned deeply when she told him he could go back to Tokyo. "Tch. Well geez. Fine, man." He muttered while stuffing his hands in his pockets, he'd just get that hotel for himself in Tokyo like he was going to anyway.

He was about two seconds from walking away without a goodbye before he heard her sigh, she sounded like she was going to say something else else. Clyde rolled his eyes, he didn't need another grilling but he got something else... An agreement to back to his place. Both of them.

Clyde turned to Mercy and looked at her with his mouth hanging open for a good minute. Completely silent.

"......................" He didn't know whether to be happily excited or fuming. The only thing that kept him from wanting to her off and skip out on her was the prospect of getting laid.

">Dear God<" He muttered in twangy french before reaching out for Mercy's hand to quickly tug her along and hail for a cab outside, bouncing on his heels as he waited for the ride to pull up so he could open the door, let Mercy and tell the Cabbie to take them to the station. Clyde sat in the car and rubbed his temple. He felt like he was getting a headache now.
mercy slid into the taxi and then quickly opened the door ont he other side and stepped out. She flashed a grin at the cab driver and held up a finger. "DO you think I'm just going to go to Kyoto with what I have on me? I'll definitely need to pack a few items." She said.

"Son, Go head and ride tot he train station. I'll meet you there. If you want to kill some time, it's fine. If you think of something better to do, call me. I mean, other than ... the hotel.." She said, frowning. She then leaned in and pecked him on the cheek before pulled away and shutting the door, strolling down the block as she coyly looked for another cab with her back turned.
Clyde sighed as he closed the door behind him. They could just chill now. It was a 2 hr ride back to Kyoto but he was fine. He just wanted to chill with Mercy anyway and... "She's stepping out the cab. Why is she stepping out the cab?" Clyde thought as his eye twitched. Pack a few items? Just what could she need? But Clyde gave in and complied after a long sigh. But just what was he supposed to do?

"Uh but..." He tried to explain the hotel situation just before she pecked his cheek and shut the door, leaving Clyde silent and blinking as she walked away. The cowboy just sighed. "Please take me ta' Tokyo Station, friend." He muttered and the cabby complied, taking Clyde to the station. He paid the man, got out and went for a cheeseburger near the station. Ate it fast. He then got some chocolate ice cream that he ate on a bench in front of the station. He ate that one slowly.

"Man... Maybe I should buy a Nintendo DS or somethin'." He mused, wondering if he shouldt ext Mercy that he meant a fancy hotel with room service that they could cozy up in.

"...Nah." He slumped on the bench and just stared at the lights, playing back the events of the night in his head and how smug Jocelyn was over torturing the both of them, he thought of the shame he felt from imaging him and Allison intimately, he thought about how much he wanted to punch everyone in the arena for ogling Bonnie's body and the guilt he felt for potentially making things worse for her.

"Eugh." He doubted he'd be sleeping peacefully tonight. He didn't know if it was a good idea to tell Mercy he wanted to have sex to remove any thoughts about Allison. Clyde wasn't about to cheat on Mercy with Allison but simply imaging what it would be like to bed the British woman, made Clyde feel dirty. He didn't think he should fantasize about a psycho bitch who enjoyed hurting his loved one. It didn't matter how drop dead gorgeous she was. "Euuugh."

He slumped on the bench and continued to wait.
Last edited by 621 on Sat Sep 28, 2013 11:10 pm; edited 1 time in total
Mercy took the next cab back to her apartment and packed a small, travel suitcase. She was bringing a change of clothes as well as some pajamas in case and her bathroom utensils.

It wasn't too long before she was back to the train station, carrying a little pull along briefcase like the professional she was. She was actually feeling pretty good now and walked up to Clyde. "No change in plans, I see. Ok. Let's go." She said with a friendly smile.
Page 4 of 8 •

1, 2, 3, 4, 5, 6, 7, 8


---
Permissions in this forum:
You
cannot
reply to topics in this forum