Who is online?
In total there are
33
users online :: 3 Registered, 0 Hidden and 30 Guests :: 2 Bots
Gator_Tooth
,
kerflubble
,
Teenwrestler
Most users ever online was
418
on Tue Jul 30, 2019 9:51 am
Champions & #1 contenders
Back to rp :]
Sat Aug 17, 2019 9:32 pm by 321Shazam
I know it's been awhile but I'm back into the swing of things. I'd love to get some sexy and fun matches with you guys
Please pm me here or in the discord if you have an idea for matches
Comments: 5
LF matches or rps
Thu Aug 15, 2019 5:40 am by kiranar
I have several characters on most rosters except tension, but I am not against some of my characters taking opponents from there. Celeste the Carpathian Impaler, The Emerald Moons are my friction wrestlers Kirana is a character I made based off of Monster Hunter series along with my Xeltron from the starwars universe. Message me if any of the characters seems interesting.
Comments: 0
Looking to get my feet wet
Wed Aug 07, 2019 3:59 am by beachking
Comments: 11
Page 1 of 9 • 1, 2, 3, 4, 5, 6, 7, 8, 9


Ty lee dress in a cheerleader outfit was waiting to see if the new girl would be coming to the gym soon.
''I show that stupid cheerleader why she should not be in the afw'' thought ty lee as she waiting for a chance to attack the girl and prove she should never have young the afw
The evening drew to a close, the night was already well above the AFW. Becky had enjoyed a quiet evening to come to the gym to train. Only, she could raise her cardio then enchainer a few exercises strikes.

Now she wanted to go take a shower. But for that, it would leave the cardio room to make it in the locker room ... and go through the room fight ...

Sweaty, Becky wearing her cheerleader outfit but without the usual protection. She entered the room fight, plunged into darkness without doubt that it was there to be expected ....
[url=http://www.servimg.com/image_preview.php?i=45&u=16607035:277eb9qd]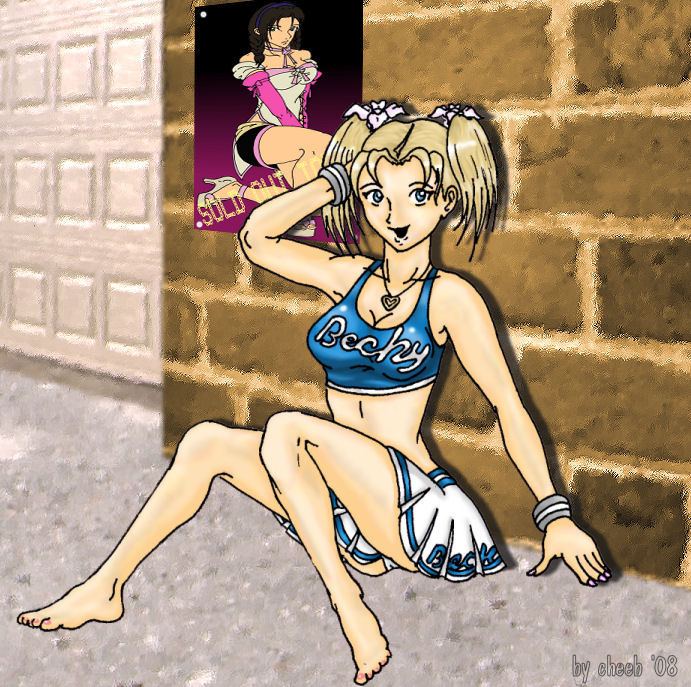 [/url:277eb9qd]
Hearing the little cheerleader entering the room Ty lee would try to grab her her from behind.
''So your becky right the little cheerleader who thinks she got what it takes to join the afw well think again''whispered ty lee.
If the hold she had on becky was not broken she would try to rub one of becky breasts trought her cheerleader outfit.
Becky gasped when she was suddenly grabbed from behind. The young cheerleader a while to understand that it was faced with a new opponent. And all this time she lost, Ty Lee stinks to use to understand and prevent him becky this debate.

-"Hey!?"

Not including any of the following words, Becky let this take:

"Yes I'm Becky. And you who are you? And what do you want?"

Suddenly, Becky felt a hand go under her cheerleader top and place it on one of her breasts. A groan of surprise stinks be held ...

- "Humm? What are you doing?"

Becky did not understand, but began to squirm in an attempt to escape the surprise attack!
''what i want is to beat you in a hentei fight untill one of us gives up''whispered Ty lee as she keeps rubbing becky's breasts.
''The loser will be striped nude of their cheerleader outfit which will belong to the winnaar up for it becky''taunted Ty lee hoping her opponent will try to run as she licks becky neck.
Becky was hard to think about what that girl said to him as part of his attention was focused on petting his chest. Why and who she was, though she would eventually find out. But for now, she had to get out of this mess.

Accepting this lick once, Becky moaned as she wiggled it to take the position she wanted.
Suddenly attacked against the cheerleader. Turning his head quickly, she tried to kiss on the mouth his opponent to make him stop. At the same time, one of his hands went to get the opponent to caress her panties.
Ty lee moans as becky rubs her pussy as she duels becky tongue.
Ty lee pushes Becky away and turns on the light so she can see the little cheerleader bimbo she would be fighting.
''So do you think you can handle a real woman like me in a hentai match becky''taunted ty lee
Becky was suddenly pushed forward. Taken by surprise the first time, she was again and fell to the ground head first, exposing her panties to his opponent when the latter turned on the light ...

Ashamed, Becky raised in this rougisant and delivering its high up, abused by groping her breasts had suffered.

- "I guess I have no choice ... but who are you and why you want to win in my hentai?"

Becky put it in a position of fighting. But she had to admit, she had that many can experience in the field and the young woman she had in front of her was absolutely charming ...
''You cheerleaders think your so hot it time someone put you in your place becky'' replied Ty lee as she got ready.
''And the best way to humilated someone is to beat them sexual as i think you know as well slut so be ready for the best sex of your pathetic life becky''taunted Ty lee as she circled around becky waiting for the right time to strike.
Although knowing something can be outclassed by his opponent, Becky did not intend to leave this post.
Always on guard, she was waiting for Ty Lee take the first step.
The young cheerleader was still sweaty after his workout. His body aspired to a hot shower and rest. In short it was not in the best shape to fight!
Page 1 of 9 • 1, 2, 3, 4, 5, 6, 7, 8, 9



Similar topics
---
Permissions in this forum:
You
cannot
reply to topics in this forum