Champions & #1 contenders
Moonhearts Promo intro thread is O p e n.
Mon May 21, 2018 4:21 am by XSirenX
Feeling brave?, lost?, or without a thread to post in?, hit up the newest Moonheart if any of those apply!
CLICK HERE
What Moon has to offer?, many things...:
Comments: 0
The Austrailian Mudslide is Back.
Sat Apr 21, 2018 6:20 am by Softsquad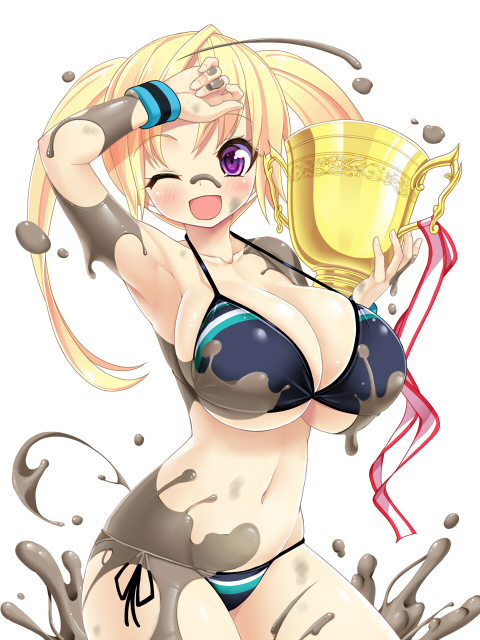 Granted that most of you won't know me or remember me, but I've had a few matches here and there some time ago. Well I think its time to become a regular around here and try to have some fun again, but at the same time keep coming back. Anyway I think its time to jump into some matches with Zoe Taylor, my mud wrestling character from Australia and get her back into the squared circle. Furthermore I will update my characters as I think some proper changes need to happen.
So if anyone would …
[
Full reading
]
Comments: 4
Page 3 of 15 •

1, 2, 3, 4 ... 9 ... 15


"Oh." Taylor realized how little she'd actually eaten, and quickly shoveled in several bites. She couldn't have Junko thinking she was dieting or some nonsense like that.

With her mouth crammed full and her plate closer to clear, she nodded to Junko. "Thanks," she said, covering her mouth with her hand. She was just no good at eating in front of people.

"Well," Taylor said. "I don't have a plan. I'm just going wherever he goes." She leaned into Johnny and wrapped her arms around his arm and leaned her head on his shoulder. "But... I am pretty excited to meet dad. His dad. Ya know, to see where all the magic began and everything." She looked at Johnny. "Do we have a plan? What are we doing?"
Junko snatched away Taylor's plate quickly and flopped it on her stack sharply. She She tilted her head. "I'm sure that will be wonderful, Taylor-chan." She hauled up the dishes and then looked back at Taylor. "Well, I'm sure the next time you're traveling you can stay with him. I'm sure he'd love the company." Junko quickly turned to Johnny. "Junichi-kun, is your father still living in Yokohama?"

Johnny shrugged "Nah. I think he's livin in Hiroshima now."

"Oh. Well, then." She said and took the dishes to the sink and began to wash them down.

Johnny leaned his head in and kissed Taylor's head. "Dude..." He whispered. "Maybe you shouldn't bring up my dad so much around Ma, babe. She's been looking forward to this since I told you. She's been super excited to meet you for real."

Johnny kissed Taylor again, not wanting to upset her. He then glanced back at his mom who looked like she was murdering the plates she was washing.

"Yeah, Ma, I dunno. Taylor's lived in Tokyo but not all that long. I figured maybe we could see some junk that she hasn't before. I mean... Japan is her home now right? Shouldn't she get to know what it's like and junk?" Johnny turned back and smiled at Taylor. "What do ya think babe? Wanna hit the city after we meet dad?"
"What?" Taylor whispered back to Johnny. "She has? Why?" She glanced at Junko. "I don't think she likes me. I don't know if I like her very much."

She drew a big breath and then deflated like a balloon. She felt like a dick. She was no good at this. "Well, um..." What was she supposed to say to that? Why was Johnny asking her about plans with his dad right after he told her not to talk about him? "Uh, um, well... I think so? Yeah? Sure, whatever. I mean, we don't have to. Like... Well, are you coming too?" She asked Johnny's mother.

She didn't know what to do, and blurted out "I've been thinking about moving back to Tokyo." Even though she yet to mention as much to Johnny.
Last edited by 1167 on Fri Aug 16, 2013 5:41 am; edited 1 time in total
"Dude... Do you know how long she's wanted a daughter? Almost as long as she's wanted grandkids. I dunno man. Growing up in a house with three boys and junk..." Johnny said and shrugged, still trying to keep most of what he was saying hushed so only Taylor could hear.

Junko's ear twitched as she tried to listen in. Her dish washing had become more sullen and less murderous. "No.. No..." She said, her voice faltering. "You two love birds have fun. You don't need me harping about grandkids the whole time." She said and half-heartedly flashed Taylor a smile.

Junko was ready to start toweling off her dishes when she heard Taylor's words. Instantly there was a squeal of elation and Junko shuffled back towards the two and pulled Taylor into a tight hug. "I'm so glad you two are coming back up here!" She chirped.

"Ooooh, you'll be so close! And you can come over whenever you want. You know we have a full sized regulation wrestling ring? Fully stocked training facility? Right in this house? Johnny can come train here and you two can spar and do other things!"

Johnny was speechless as the words were news to him too. After a moment he gave Junko a shove to put some distance between her and Taylor and stood up off his chair, backing away from the girls.

"When the heck were you plannin on tellin me?" He asked, clearly soured by the news. "Like... we're you even plannin on bringin me or were ya just gonna sneak off up to Tokyo in the middle of the night?" He knew he wasn't really being fair to Taylor but he just couldn't help himself. His hands ran through his silver hair.

"Junichi-kuuun." Junko said, furrowing her brow at the boy. "Don't you talk to Taylor-chan that way." Even though it was clear that the two of them had not discussed the matter before, Junko also knew there were certain ways to behave and Johnny didn't seem to be going about things the right way.

"Ma!" Johnny barked. "Can you please just give us two seconds?"

"Fine. Fine!" Junko snapped back. She patted Taylor on the shoulder. "Don't be afraid to get a little rough with that boy, Taylor-chan." She encouraged. "I know I've had to in my day." The older woman gave Johnny one last look before passing him and heading off into another room for a moment.
Taylor knew before words had even left her mouth that she shouldn't have said them. She rigidly allowed herself to be hugged, as her face turned bright red. She could feel the heat coming off Johnny's glare.

"Johnny..." She said softly. She watched Junko leave the room, and suddenly she wanted her to stay. She looked at Johnny with pleading, apologetic eyes. "Don't be mad at me, Jun-Bug..." She said gently, but she knew she wasn't going to be able to cute her way out of this.

Her voice rose to a defensive whine. "Well, I was just talking to Akashi, and she told me that we should come back to Tokyo, and like, she was really convincing, and..." She took on an edge of an attitude, but it was halfhearted. "And no, I was not going to sneak off without you, I just... didn't really find the time. I dunno. Would it really be the worst thing in the world?"
Last edited by 1167 on Sun Aug 18, 2013 7:37 pm; edited 1 time in total
"I'm not mad.' Johnny said, crossing his arms under his chest. "It's just... this is kinda comin outta nowhere and junk, ya know? If you were thinkin about it, then why didn't ya come and tell me? Man, we coulda talked about it and junk." That was what miffed him a little bit.

"Didn't find the time?" He asked. Johnny stood up and ran his fingers through his hair. "I dunno man. I don't know? My career's startin to pick up and junk. It's a lot easier for me to be in Kyoto. What do you have going on that you need to be on Tokyo anyway?' He asked. "Did you finally decide to come back to wrestlin too? Were you just going to wait to spring that one on me too?"
"No, gawd, Johnny! Stop!" Now he was just being unfair. "I know that. You know I do. And... I didn't want to make you feel like I wasn't supporting your career, because you know I do, but... I dunno, I don't have anything going in Kyoto, and the train ride is sooooo booooring."

She felt like a selfish bitch for even bringing it up. She couldn't expect Johnny to take the train all the time just because she didn't want to spend the few hours to go see her friends every once in a while. And she wasn't coming back, so she didn't have any leverage. The most convincing argument she could make was that she wanted to hang out with her friends more, and in so doing she'd be asking Johnny to compromise everything he'd worked for, everything she'd wanted to help him achieve.

She shook her head, feeling sorry but also put off by the whole thing. She couldn't deny that she felt the sting of being denied something she wanted, but she couldn't stand to have Johnny mad at her. Not like this.

"Just forget it, okay? I didn't even bring it up because it's not a big deal. It was just something Akashi said, and I thought maybe it might cheer up your mom, since I'm such a giant fucking downer."
"Dude, like..." Johnny began and then stopped. His brow furrowed as he tried not to just blow up. "If the trains boring, what the hell am I gonna do? I'll be ridin it three times a week. You come up here and visit, like, once a month."

After a moment, Johnny sighed. He really wasn't trying to start a fight. "Man, I ain't tryin to make a big deal about it an shit. I just... It came outta no where and junk." Johnny paused and rubbed his temples.

"You're not a downer, like, what the hell?[/i]. Ma's weird and... I figured the two of you were just gonna fight the whole time. Man, you've been askin' ta meet my dad and stuff, but you coulda met my Ma at any point. I figured you didn't want to see her at all and I was just gonna be nice and junk, cause she's been begging to meet ya and... You ain't gonna ruin her day, babe. She's, like, the coolest and junk." Johnny shrugged as he looked at her.
Last edited by 445 on Mon Aug 19, 2013 1:23 am; edited 1 time in total
"I know that, Johnny, that's why I didn't bring it up..." Taylor said under her breath.

Then she got heated. "Well, yeah, okay, excuse me. Sorry I didn't want to meet your mom right away, but why would I? Since when is being someone's mom such a great thing that I have to automatically run off and be best friends with them? You never wanted to meet my mom, and ya know why? She sucks. She doesn't care about you, just like how your mom doesn't care about me outside of making her grandkids and maybe my ass. You don't even ask about my mom, but I'm so glad that your mom is so awesome."

She lowered her voice, hoping that Junko wouldn't be able to hear her. "And not for nothin', Johnny, but what makes you think I need another mom and another dyke to try to grab my ass whenever I walk by. I mean, Jesus fucking Christ, Johnny. Maybe you think it's normal that you don't know a single hetero chick, but it's a little much, that's all. A'right?"
Johnny furrowed his brow as Taylor went off. "What the hell, dude?" Johnny spat back. "No one said you gotta be best friends with her. But man... It ain't like your ma is a train ride away. You woulda come up here anyway to see Akashi. You wanted to see my dad so badly. What's so great about a dad, anyway?" Well.. Johnny probably didn't mean THAT one but right now, he couldn't help himself.

"Dude, like.. You really think she's LIKE that!? I mean, that she'd really try that shit with you? What the fuck. When she was married to Dad, she was loyal to him. Didn't do that shit. She ain't going to do that to my fricken WIFE, man." Johnny shook his head. "I ain't sayin you NEED anything anyway."

Meanwhile, Junko was, of course, listening in on the conversation. She couldn't help but feel like this whole situation was her fault but she wasn't sure what to do. She furrowed her brow. Junko finally stepped back into the kitchen and looked at them both.

"Enough of this, you two." She said in a stern voice. "You aren't even talking about what caused the commotion anymore. Junichi-kun." She said waving a finger at her son. "I'm sure that Taylor-chan would have told you when she was good and ready, don't you dare get on her case she's clearly been thinking long and hard over it. You're never going to get her to tell you anything if you're going to snap at her when she does."

Junko turned and looked at Taylor. Her eyes softened a bit. "Taylor-chan. I'm NOT trying to replace your mother or fill some void. I truly want you to feel welcomed as a part of our family. But I am who I am. I'm proud of the things I've done and the things I do. And I'm proud to be a mother most of all." Junko crossed her arms under her chest. "And this is STILL my house and I won't be talked to like that. Not to my face and certainly not behind my back. I'd kick Junichi-kun's ass if he ever bad mouthed me like that."
Page 3 of 15 •

1, 2, 3, 4 ... 9 ... 15


---
Permissions in this forum:
You
cannot
reply to topics in this forum