Champions & #1 contenders
Summer Splash interest in Natasha Loclear?
Mon Apr 09, 2018 11:30 pm by daemongirl
Well my girl hasn't missed a summer splash yet, would anyone be interested in a match with her? Open to just about anything match wise, just pm me!
Comments: 1
Been Out with the Flu
Sun Apr 22, 2018 7:47 pm by daemongirl
Just letting those I have threads with know I've been out with the flu since early last week, but I will be back to posting tomorrow.
Comments: 0
The Austrailian Mudslide is Back.
Sat Apr 21, 2018 6:20 am by Softsquad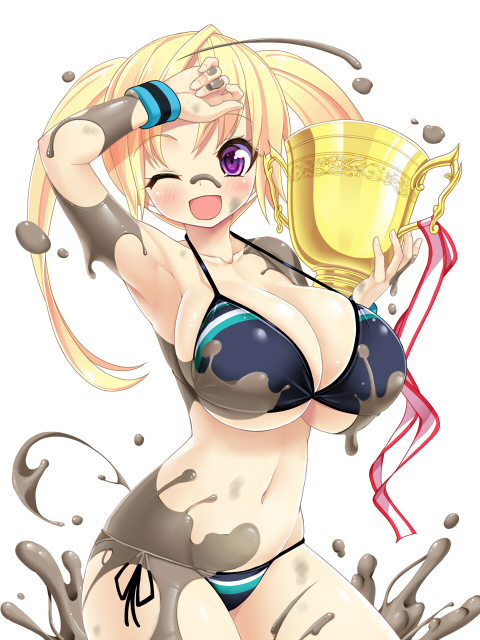 Granted that most of you won't know me or remember me, but I've had a few matches here and there some time ago. Well I think its time to become a regular around here and try to have some fun again, but at the same time keep coming back. Anyway I think its time to jump into some matches with Zoe Taylor, my mud wrestling character from Australia and get her back into the squared circle. Furthermore I will update my characters as I think some proper changes need to happen.
So if anyone would …
[
Full reading
]
Comments: 0
Page 2 of 15 •

1, 2, 3 ... 8 ... 15


Taylor got the distinct impression that mom-Higurashi didn't believe her, or that she thought that Taylor and Johnny would only last so long. The feeling drained all the humor out of her face, and she couldn't help but cock her head at Junko. It was all she could do to not give her attitude about it.

And of course she's a skeevy homo. Apparently, that's the only kind.

She snapped out of her gloomy spiral with a shake of her head and looked back toward the kitchen. She smiled again. "He knows not to leave me hungry for too long..." She said. That sounded a little too sexual. Didn't it? "Heh, like after working out. With Johnny. Afterward, I get..." She lowered her eyes. "Pretty hungry."

"Jun-Buuuug!" She whined. "I'm dying!"
Junko raised her eye incredulously at Taylor. She understood exactly what the girl was getting at and she raised her hand and laughed. "Ufufufufufu..." She smiled at Taylor. "I'll have to tell Johnny-kun to work out with you more often. I'd like to see you as hungry as possible Taylor-chan. The hungrier you are the more you can be filled up. Ufufufufufufu." And the more she was filled up, the more chances there were for her to get a bun in the oven.

Junko was about to step through to the kitchen when Johnny stepped out. She beamed at him and he had a smile on his face. "Everythin's set up and junk. Guess we can eat. Hope Ma hasn't been grossin you out too much or... whatever she does." Johnny said and eyed Junko.

Junko slid past Johnny and patted him on the chest. "I absolutely love her, Junichi-kun. She's such a fiery spirit."

"Uh... thanks?" Johnny said and as Junko slipped into the dinning room, Johnny looked at Taylor and shrugged. He took a few steps to clear the room and looked down at Taylor. "Uh... But, like.. she hasn't actually been weird or anything, right babe?" He asked, pulling her off the couch and into his arms for a strong hug and a deep kiss.

"Oh, you two don't need to worry about dinner if you're going to get started on those grandkids of mine~ Fufufufufu~" The silky voice chirped from the kitchen.
Taylor only timidly kissed Johnny back at first, until she noticed his mom behind him. She batted him away and made some hushed protests. "Johnny! Quit it, your mom!"

She scowled, and gave him a hard shove. "You dork." Who just made out with a girl in front of his creepy weirdo mom? Well, that was a little strong. She was just... odd. And a little creepy. Actually, she was pretty weird. Whatever.

"Awesome, let's eat." Taylor led the way into the kitchen, and then felt weird. For all the time she'd spent in Japan, she'd never had to live with Japanese etiquette. She always had the feeling she was acting like a jerk, or she was about to randomly offend someone. She turned back to see if everyone else was coming too, then continued to the kitchen, then stopped again. She retreated to the safety of her husband.

"Smells good." She said, catching his eye and giving him a smile that was warm, and a plea for help.
"Gah!" Johnny managed when he was shoved and shooed. Johnny turned his head and blushed. "M-Ma! What the hell!?" His head snapped back to Taylor and he apologized with his eyes. "It's not like I knew!" He snapped back to look at his mom. "Stop following me around, dude!" He said with a flustered tone.

Junko chuckled. "I'm not a dude, Junichi-kun. I'm your mother." Junko looked past Johnny to Taylor. "Does he call you dude too? Honestly, I'm not really sure where he picked it up. All that gaijin-talk." She said and looked at Taylor. "No offense, of course. I'm glad really... I am glad he is able to embrace new things. I just don't know where he picked it up from." She said, genuinely confused as she shuffled into the kitchen behind the two.

Junko sat down and Johnny smiled and nodded to Taylor and sat down as well. They said the prayer and then Junko started scooping out food for Taylor, then Johnny and finally herself.

"Taylor-chan." She said after a few moments of eating. "I know you've retired, but I'm a little curious. You're still so young and beautiful. You weren't exactly at the peak of your career when you retired. Your upside... you had so much potential still." She was serious. She could definitely judge potential and she knew Taylor had a ton of it.

"Don't tell me that you dropped out of wrestling just so Junichi-kun could be your sugar-daddy?"

"Ma! I ain't her sugar daddy!" He said, furrowing his brow.

'I'd expect that sort of thing if you were dating Mamouru-kun but not Junichi-kun. What do you plan on doing to support yourself when you two start to have grandchildren? I mean... Of course they'll be spending all their time here, so... you'll be bored silly if you don't have a job."

Johnny furrowed his brow again. "Ma. Taylor-chan can do what she wants! As long as she's happy, she can loaf around on the couch all day." Junko opened her mouth but Johnny was quick. "I'm NOT her sugar daddy!" He barked. "And it ain't like she even does that! She's gone almost as much as I am. It's cool, man!" He said. "Everyone's always talkin about how she needs to go back and junk but she can do whatever she wants. It's not like you gotta get involved in all that either!"

Junko quietly ate her food while Johnny ranted and when she was finished, she swallowed quietly and lifted her head. "Junichi-kun, she's a part of this family and I have a right to know how my daughter-in-law is spending her time. It certainly wasn't such a horrible question, now was it?"

"I don't hear you asking about uncle Tanaka and he's got a little kid. What if I didn't live down in Kyoto, huh? I'm practically raisin Kimiko myself!"

Junko wiped her napkin. "Junichi-kun. You know that your uncle is a layabout otaku neet. Someone like him..." Junko paused. "Everyone appreciates what you do for Kimiko-chan. But this is different."

Junko lifted up her head and eyed Johnny with a scolding look. "This is different." She repeated. "I have a right to ask my daughter-in-law about her life. About how she's behaving around my son. About what kind of atmosphere she's creating for you and, possibly, you're children. And if I don't ask her now, who knows when I will get to again. I may not see her for another two years because you're embarrassed to bring her around!"

Junko saw the atmosphere begin to tense up. "Taylor-chan." She said sweetly, addressing Taylor directly with a charming a smile. "I do agree with Junichi-kun. As long as the two of you are happy together, then so am I. I just want to know more about you. You're my daughter-in-law and I feel like we're strangers. I want us to be close. I'd like for you to be able to visit even if Junichi-kun isn't around."
Taylor was always uncomfortable when they did their little prayer thing, but she'd learned to sit still through it and not make any sort of fuss. But then just on the other side of it, there came that question.

"Oh, right. You are a manager..." Taylor said with a smile, and poked absently at her food with her chopsticks. She looked up at Junko with a serious expression. "That's exactly right. He is my sugar daddy. I worked really hard on my body to land a rich husband, and now it's time to watch TV and get fat." She laughed, and looked down at her food.

Junko wasn't wrong... Just surprising direct, to the point of hostility. Taylor didn't know if she wanted to fight her or run away or just chit chat like it was nothing.

She nodded. "Right... Well, um... You definitely don't have to worry about me laying around on the couch. Um... I've been sort of on my own for a long time, and I know that if you want anything you have to work for it yourself. My dad's dead and my mom's a tool, so... I'm not really used to doing nothing."

She cut a piece of fish with her chopsticks and picked it up, and then set it down in the middle of the plate. "Right now I'm doing, like, t-shirts and working out, learning new stuff. I did a lot of publicity stuff. I'm making money right now, really, I just don't have a job. I do volunteer work, too, so that's cool." She stopped playing with her food and looked straight at Junko. She debated saying anything, but as confrontational as Junko had been so far, Taylor had to keep up.

"Don't count on your grandkids any time soon, man," she said. "If ever. I'm twenty two, and I'm unemployed, but I can do whatever I want, and I don't want to have to get fat and lug babies around. That's not happening. The only things I've ever been good at need my body to be on point, and I'd be a retard to throw it away just so I can fail at being a mom."
When Taylor was finished, Junko looked at her seriously for a long moment. As if Taylor had just said something horribly wrong. Then, a smile cracked over her features and she broke into hearty laughter. "Ufufufufufufufu!" She chuckled daintily and when she was finished, she inhaled and sighed, smiling pleasantly.

"Taylor-chan." She said in a sweet voice. "I know that you're young and in love and just want to do my son a-"

"MA!" Johnny's face went beet red and he waved at her with his hands.

Junko dismissed him with a coy gesture. "Oh, shush, Junichi-kun. I'm your mother. You think I don't know what the two of you are doing. You're married, I'd HOPE that you'd be doing at least THAT much." She quickly turned back to Taylor and continued as if she was never interrupted. "It was the same for me at your age. Though... I didn't marry THAT young." Junko smiled. "I'm not really expecting the two of you to settle down and have children just yet but... you'll get the urge eventually. Until then, I'm going to just have to keep teasing you about it, fufufu~"

Junko took a small bite of food and ate it daintily. She swallowed it and looked back at Taylor. "But. It's a serious matter about raising my grandchildren." She began. "And there's nothing retarded about throwing away your life for kids. It's the greatest ting you two will ever do in your lives. And... you have no choice but to succeed as a mother, Taylor-chan." Junko added with bit of a grim under tone to it.

Junko then smiled. "There IS one thing that bothers me though, Taylor-chan." She said and looked the girl over. She pouted suddenly. "I'm not man. I'm Okaa-chan! I didn't have children just so they could fly off and get married and their wives could just address me however they liked!"

Johnny groaned and frowned and poked at his food. He flashed Taylor a look that told her if she didn't just say it once Junko might be on his case for the next month.
One thing Taylor couldn't stand, and Johnny knew it as well as anyone, was being told what to do.

She narrowed her eyes and her posture shifted. Her head tilted to the side and she slouched a little more, her shoulders angled and her face hardened. It was as deeply conditioned in her as swatting her alarm clock and stretching in the morning.

"Look," she said. "I don't call my own mom 'mom', so maybe it's gonna take a little bit before I can get used to the idea of saying that to someone else. In my experience, it's a bad thing. It's a four-letter word." She stopped herself, took a breath, and tried to settle herself down like she'd practiced. She looked at Johnny and knew that she wasn't doing him any favors by giving his mom attitude. She had to salvage the subject somehow.

"Um..." Her mind raced. "So have you met Cassie?"
Junko merely raised an eyebrow at Taylor's words. She understood how the girl felt and felt bad for Taylor. But Junko WAS a mother and a GOOD one and she'd be doing Taylor a disservice if she didn't act like on to her as well. But, she wasn't going to press the issue now, aside from a stern look that she gave to Taylor.

When Cassie's name came Junko put a finger to her lips in thought. "Cassie-chan... Cassie-chan... No... I don't remember a name like that. Did she say something about me?" Junko said, blushing with embarrassment.

Then suddenly the name sparked inside her head and she flushed even deeper with embarrassment. "Oh, wait! Isn't that Mamouru-kun's little girlfriend? She's precious." Junko said. "But... He won't bring her around to see me either!" Junko furrowed her brow. "These boys. One foot out the door and their gone forever. I expected that from Junichi-kun, but Mamouru-kun?" Junko sighed. "It's been a while since he's called me and that's pretty strange for him. I hope something didn't happen." Junko frowned.

"Dude. They aren't goin out." Johnny said. "She don't even like dudes, man. Don't you pay attention and shit?"

"Ju-nichi-kun!"

"Uh... and junk... sorry, Ma." Johnny said, lowering his head for a moment. "Cassie-chan's, like, the chick that bro was managin. But he ain't anymore. She lives with Akashi. Like... Ma..."

Junko shook her head. "Oh, Junichi-kun. You always were a little naive. But... you know I don't get a chance to watch matches like I used to. I barely even saw any of Summer Splash!"
Taylor was glad Junko just let it drop. She was too on edge. She needed to chill out. She didn't have to like Johnny's mom, but she couldn't get into a fight with her right away.

"Nooo, no no," Taylor said, shaking her head and waving a finger. "They're totally not like that. Especially not now." She took another bite of fish. "Mam turned her down."

Taylor got the distinct impression that she'd just said way more than she should've. If Cassie ever heard that she was blabbing about her business, she'd kill her. Like, kill her for real. Bones sticking through her skin and shit.

Well, she was in too deep already. "Maybe Mamouru just doesn't go for nice girls?" She shrugged, and took a drink of tea.
Junko heard Taylor's words and put a finger to her lips. "Well, THAT certainly doesn't sound like Mamouru-kun." She said. "And... especially weird that he turned her down. She was all he ever talked about. You don't act like you're infatuated with someone if you're looking to turn a girl down." Junko shook her head. "No. That doesn't make any sense at all." She said.

Junko sighed. "He won't listen to me if I talk to him. He's better than Junichi-kun." She said and flashed Johnny a playfully stern look. "But... now that my boys are men, I'm afraid they just don't need my like they used to." Junko frowned and looked a little crestfallen as she stood up and began to clear her plate and prepare to put away some of the food.

"So... other than meeting Junichi-kun's father, do the two of you have plans while you're in Tokyo?" She asked. Johnny had already scarfed his food down and Junko took his plate. She looked at Taylor for an answer to her question, as well as to see if she was finished eating.
Page 2 of 15 •

1, 2, 3 ... 8 ... 15



Similar topics
---
Permissions in this forum:
You
cannot
reply to topics in this forum