Who is online?
In total there are
43
users online :: 10 Registered, 0 Hidden and 33 Guests :: 2 Bots
CybeastGregarX
,
Harrier
,
Kamoi
,
killcarrion
,
LARIATO
,
LunarWolf
,
Maxy
,
Person
,
PrizewellStar12
,
RadiantKarna332
Most users ever online was
155
on Sun Oct 09, 2016 8:33 am
Champions & #1 contenders
Just so y'all know
Thu Jun 22, 2017 3:27 am by LtLukas
I am going to a wedding, and will be traveling for the next few days. Sadly, I will not be able to post. But do not worry, I shall return. Sorry to all the people I am delaying.
Comments: 0
Not dead! Sorry!
Wed Jun 21, 2017 5:02 am by veritech892
Sorry for the recent slowed responses and disappearing act! Life, work, all that stuff, kind of got the jump on me! I'm back now though, promise - or I really hope I'm back now at least. I'll be replying to all the threads I have now, and hopefully I'll be around more now that things seem to (hopefully) be slowing down a bit.
Comments: 0
Does anyone feel up for an open thread bar?
Tue Jun 20, 2017 10:05 pm by Ragdoll_Jobbers
Hi guys, um well...considering I've been gone for a few months contemplating on life and death, uh that's dark, I was wondering, any body up for an open thread bar? I have some ideas but was wondering, well, if I open a bar thread, I would need "customers". Thoughts?
Comments: 3
Page 1 of 2 • 1, 2

Kayla was getting ready for her first match.She had not one bit of nervousness in her as she did warm ups back stage in her new costume.It was her first match and it was not like most people's first matches when it came to the attire,she was forced to cosplay!Kayla took little notice to that fact and would deal with it after all,it's more interesting then just her normal attire.She choose to dress on one of her favourite video game characters,Tifa Lockhart.She would do a few jumping jacks in the mirror until finally she was ready for the match.She heard her entrance music start to play and she quickly hurried to the arena where the crowed awaited her and they seemed to love her costume!They cheered as she ran down to the ring and climbed inside it and walked over to her corner and waited for her opponent.
Little did Ms Wilson know that she had a doozy of a foe lined up for her, it was the ex wrestler turned psychiatrist womanizer known as John Grange. He stood with his team getting ready for his match "Damm I feel good!" John said as he looked over his outfit. He was Adam Jensen from Deus Ex human revolution.
"Oh yeah! Secret agent G! We got a badass over here!" Erica said as she dressed in her Harley Quinn outfit, she needed a little help from Ryan to get her hat on.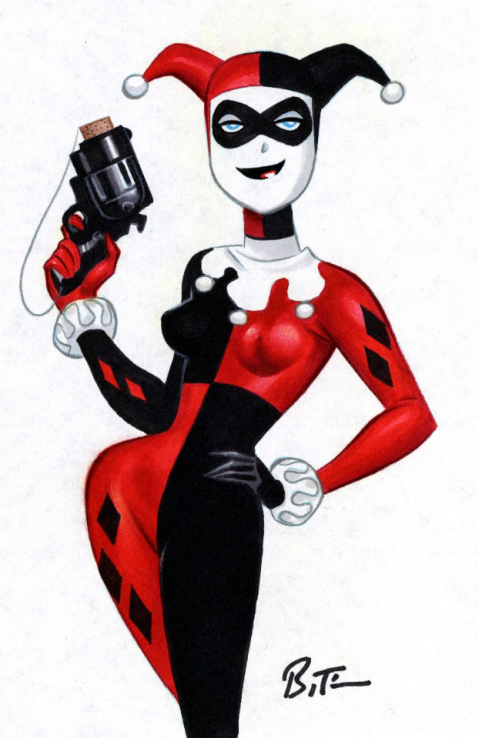 Ryan meanwhile was always in favour of classic and regal clothing, well suited to his tastes in opera and classical music.
Mr Knight was Raphael Sorel from soul calibur 2, Ryan checked the replica rapier was secured on his side.
"Okay Mr Grange you're on now!" A female stage hand said.
John winked at the girl and said "Please call me John madam."
With that the group got ready for their entrance, [url=http://www.youtube.com/watch?v=gF5LaVkDhyk:1mdwmved]Run to you[/url:1mdwmved] by Bryan Adams began to play. Erica ran ahead of the two, doing backflips and cartwheels towards the ring before landing onto the ring apron. John had used special effects to make his coat look like it was flowing in the wind, like some detective from a film noir story. He slowly entered with Ryan following, Mr Knight would take a second to wipe his shoes on the ring apron before entering.
"Ah you must be my opponent! I'm John Grange baby, the girl here is my maid Erica and the gentleman is my son Ryan." John said with a grin.
Ryan would bow and say "Hello Ms." Mr Knight would then do his normal greeting for a woman and that was to kiss her hand. Erica would hug John and take his coat off from behind, showing the man's bare and toned arms. John was at the peak of his strength and had kept that for many years, not to mention he was on his college's wrestling team. Kayla might be a bit over her head here with her foe.
Once his coat was taken off John would stand in his corner to get ready.....
_________________
Check out my wrestlers
here
, but PM me for match requests.
Solaire of the AFW.
Kayla watched as her opponents came out and she had suddenly became scared once she found out there were 3 of them.Kayla suspected that she would only be put in the ring with only one of them but it seemed that was not the case at all.She watched as one of the male opponents stepped into the ring and watched over to her and introduced himself."Ya that's great.I'm Kayla.Try not to lose in the first few seconds would ya?" taunting him and trying to show no fear at all

A moment later though Kayla noticed that her opponent bent over and grabbed her hand to kiss it.After the kiss Kayla quickly put on a shocked face and slapped her opponent in the face."Don't ever try that again!" she would yell out loud.
Ryan's response to the slap was simple, he merely said "Well excuse me then Ms." he then walked right past her as if she didn't exist. He shoved her shoulder with his own as he walked past and said not a word to her

Erica looked like she was gonna charge right at Kayla, however John grabbed by the shoulder and said "No Erica, we're keeping this clean and by the book. Ryan's already made his point."

The maid looked at John and then Kayla, Erica blew a raspberry at her foe and slid out the ring.
John then sighed and said "You know Ryan was just trying to a gentleman, but whatever you prefer. Anyway we have a match to deal with so shall we get down to business?" Mr Grange flexed his arms and his neck as the bell would ring.

"Ah this is like college all over again." John said to himself.
_________________
Check out my wrestlers
here
, but PM me for match requests.
Solaire of the AFW.
Kayla watched as her opponent got angry with her and bumped her shoulder with his own,causing her to let out a small grunt.Kayla saw her opponents female partner get angry at her for her cocky and rude attitude any even saw her climb into the ring,Kayla quickly got into a swift fighting stance just in case that she tried to make any sudden moves."Don't even try it,Clown" she would say,making fun of her costume.

Kayla watched as her male opponent walked over to his corner and the two waited for the bell to ring and Kayla was eager to give them all a beating.After a few seconds Kayla heard the bell ring and she would waist no time in trying to make the first strike.She would charge at her opponent and attempt a quick clothesline.
John was planning on waiting first after the bell rung to see what she would, the experience edge he had made him do this. Now he was all business, this woman was clearly a heel in his mind and that meant he wouldn't mess about here. His face was devoid of it's often jovial look, now it was totally serious.

Thus when Kayla was charging right at him John didn't panic, he waited for the right moment to strike.
He'd try to duck under her arm as she neared him, then wrap his arms around her waist for his trademark German suplex.
_________________
Check out my wrestlers
here
, but PM me for match requests.
Solaire of the AFW.
Kayla thought that the clothesline was going to work perfectly but that was far from correct,right before her shoulder hit her opponent he ducked and grabbed her waist,Kayla put on a shocked face right as she was grabbed and flipped over her opponent."Oh no!" Kayla would moan out as she fell backwords into the suplex and finally,hitting her back into the floor."Ugh...." Kayla would moan out as her opponent still held her in place
"Nice one Doc!" Ryan yelled.

"Beat that woman down!" Erica said.

John stood up after slamming down his foe and said "Are you sure you're up to this? I don't mean to brag but I was Captain of a wrestling team back in college." It seemed like John had the advantage right out the gate, he had more experience, was taller and kept his peak condition for several years. In fact many wondered why John rarely fought, maybe it was because Ryan was the technical leader of this odd family? But regardless John put Kayla on notice.

Mr Grange then quickly went for an elbow drop onto his foe, he'd do this once and then back off while taunting her with "Well?"
_________________
Check out my wrestlers
here
, but PM me for match requests.
Solaire of the AFW.
Kayla laid on the mat under her while her male opponent standing above her,her eye site was slightly blurred but could still tell what was going on,she look to her side and saw her opponent raising her elbow and Kayla knew just what was coming,she would quickly roll out of the way of her opponents range to edge of the ropes and grab the ropes one by one to help her back up to her feet.
John cursed under his breath as his elbow missed it's mark. It was a little numb but could still be used.
"My John is gonna beat you down!" Erica said.

Ryan merely stood next to Ms Iona, glaring daggers at Kayla.
Mr Grange rolled over and stood back up "Well maybe you ain't as green as I thought, that's good. I hate short and anti-climatic matches."

John would then taunt Kayla by flexing his arms, his peak body on display here as he won the crowd over.
_________________
Check out my wrestlers
here
, but PM me for match requests.
Solaire of the AFW.
Page 1 of 2 • 1, 2

---
Permissions in this forum:
You
cannot
reply to topics in this forum