Champions & #1 contenders
Highfly Flying Out Of Town
Tue May 22, 2018 1:31 am by HighFly
Hello everyone, I just wanted to inform all I have threads with that I will be gone from this coming Wednesday through Sunday. I won't be able to post consistently if at all during this time, but I will try to make up for it next week! I am sorry for the inconvenience to everyone.
Comments: 7
The Austrailian Mudslide is Back.
Sat Apr 21, 2018 6:20 am by Softsquad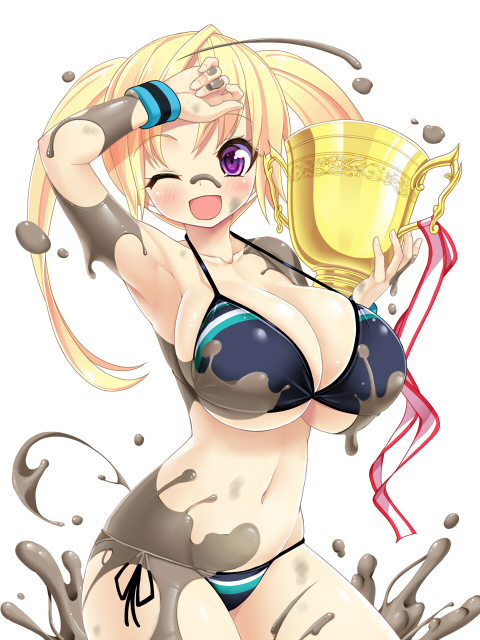 Granted that most of you won't know me or remember me, but I've had a few matches here and there some time ago. Well I think its time to become a regular around here and try to have some fun again, but at the same time keep coming back. Anyway I think its time to jump into some matches with Zoe Taylor, my mud wrestling character from Australia and get her back into the squared circle. Furthermore I will update my characters as I think some proper changes need to happen.
So if anyone would …
[
Full reading
]
Comments: 5
Page 2 of 7 •

1, 2, 3, 4, 5, 6, 7


"Mmm!" Azami yelped into Natasha's mouth as she felt the girl inserted a third finger into her ass. "H-hey... don't make use my fist..." she laughed softly as they broke their kiss again.

The princess already finding herself weak on her knees with this reinforced assault from her opponent, and she could feel her legs began to shake. Her arm tightly wrapped around the other blue haired girl's waists while she inserted another finger as well to keep up with Natasha. She didn't mind to be called boring, she's not ready to be overwhelmed yet!

Her attempts to stimulate the girl was getting weaker when her opponent went for her sex, however, and Azami would start to moan uncontrollably on Natasha's grasps. Her blue eyes were rolled as her grip around the girl's waists began to loosen, the same applied for her pumping. The princess would still try to keep up by spinning her fingers inside Natasha's butthole while pumping them some more, but eventually she's starting to feel like she's about to fall pretty soon. Being assaulted in both her crotch and ass simply driving her crazy.

"H-haa..." she gasped after she forcefully broke the kiss by rolling her head backwards. "Oohh... N-Natasha-chann...!"

She leaned forward again, resting her head on one of Natasha's shoulders to take a little break from their kissing. She needed some air, although her breath wasn't about to get any steadier as it was from the look of it. One of her fingers slipped out from the other girl's ass, while her other arm was now desperately clinging around her opponent's back.

"Ahhaa..." she moaned. "T-this is kinda too intense for a starter... don't you think...?" Azami asked half-jokingly, chuckling.
Natasha was way past just trying to get Azami started at that point and she had been for some time, for despite having proposed this little duel of theirs as a means to simply begin their match, much as she had last time, she had no intention of letting her princess go until she had reached her climax for the first of many times tonight.

Azami was giving every bit as good as she was receiving from the french heiress though, Natasha for all her confidence in her sexual prowess unsure just which of them would outlast the other in this delicious hold. "Mmmmmm." She let out in a long, drawn out moan once Azami matched her for number of fingers in the others third hole, wiggling her hips back and forth to help Azami in driving her fingers even deeper into her ass, of course this meant she was also humping the woman's pussy with her own but she had little problem with that and she knew Azami didn't either.

"Your fist? Why Hime-chan you have the best ideas!" Natasha replied as she broke her kissing of the woman's chin, but only for a moment before she would bring all of her fingers together and drive them into Azami's ass. Her lips would finds Azami's once again for a fiery kiss while she worked her hand inside the girl, struggling to drive her entire hand inside before balling it into a fist.

Things could not be allowed to remain equal forever however, Natasha being driven absolutely wild as every part of her body was stimulated at once, her pussy sopping wet with her juices staining her white bikini bottom, if this went on much longer she would surely cum.

"You make it hard...not to fall for you Hime-chan." She let out, feeling how damp Azami's own bikini had become and knowing they were both close to going over the edge already, only natural seeing how wet they had both been before their match had even begun.

Once she added on a bit of heavy clit rubbing to the already extensive list of ways she was pleasuring the woman Natasha felt the battle slip in her favor, Azami no longer even trying to kiss her back as she rested her chin upon Natasha's shoulder. Feeling the girl's finger slip out of her ass sent a shudder through Natasha's body, a soft gasp escaping her in the midst of her continued moaning.

"Would you hate me if I said this wasn't just a starter, I want to make you cum Azami!" Natasha whispered with her lips a mere inch from hers, teasing the woman with another kiss only to suddenly try to mix things up. Her fingers would side down from Azami's clit, her hand sliding further into the woman's bikini as three of her fingers delved into the princess's dripping pussy, Natasha not bothering with starting out slow as she sent her fingers into a flurry within the well lubricated sex of her fellow blue haired beauty, her fourth finger sliding over the top of Azami's clit with every movement of her hand. Natasha would then cease her teasing and outright kiss Azami once more, forcing her tongue into her mouth to wrestle with the woman's own little pink muscle.
Azami was only threatening with her fist idea, but it seemed Natasha took the ball and ran with it as she drove all her fingers inside the princess' rear hole! She gasped, slightly jumped on spot and let out a lewd moan at the sensation, clinging tighter onto her opponent as her head rolled back again. She was already losing herself, and so early in this match!

"H-haa... W-waii-aahhh...!" she moaned, almost slipping down to her knees if it's not for Natasha's hands holding her lower part. "Oohh... Y-you beast..."

She couldn't even think about getting even again at this point. Both of her arms were wrapped around Natasha's ass and back now just to support herself as her legs began to shake harder. When the other blue haired girl began to insert her fingers into her dripping sex, Azami felt like she could have squirted right there.

"Ahn...! N-Natasha-chaannn...!" she cried in pleasure, her face starting to turn a little red from the merciless assault of Natasha. "Mmwaah..."

The princess quickly became putty in her opponent's hands when the girl kissed her again. Her sex juices already dripping from her soaked bikini bottom, running on her thighs as her whole body trembled slightly. Even with Natasha ceased her teasing, Azami was already brought into such an ecstasy that she moaned loudly into the girl's mouth, her eyes closed as she hugged the other blue haired vixen tightly for a few seconds.

"Mmmmmmpphh~" she mumbled as her back arched and her pussy walls began to spasm wildly, her juices almost literally exploded to drench everything in their way - fingers, panties, legs, before eventually spoiled the pool.

All the muscles inside her felt like jelly afterwards, and should Natasha release her, Azami would instantly drop to her knees, making a little splash. The princess felt like she need to lie down for a bit after such a devastating orgasm, her eyes getting a bit teary from the intensity of her orgasm.
Natasha knew her friend's orgasm was both inevitable and imminent if she didn't let up now, but she had no intention of letting her foot off the pedal with Azami so close to enjoying her first orgasm of the match, she simply couldn't deny the woman what was sure to be an incredibly intense orgasm. She seemed to recall Azami doing just that in their first match though, stringing the french woman along with promises of letting her cum if she just submitted, but fortunately for Azami she couldn't possibly do that to her.

"You sound so beautiful when you say my name with such ecstasy Azami-chan. Don't worry, I will give you the orgasm you so desperately desire." Natasha broke their kiss for a moment to reassure the girl, smiling cheerfully as she then leaned back in to reestablish their passionate kiss.

She felt the woman's pussy clenching tightly around her invading fingers just as her ass was doing to Natasha's fist, she didn't let this slow her down however as she continued to pump both in and out of the woman's holes until the orgasm she had promised Azami came. The literal flood of juices which gushed from the princess's sex surprised even Natasha, the woman breaking their kiss to stare down in awe as Azami's sweet honey flowed down along not only her legs but Natasha's as well, with what didn't cling to their legs pooling around their feet in the water.

Natasha, with no small amount of effort, withdrew her fist from Azami's ass with an audible "plop" while her fingers she allowed to a few more pumps inside the woman's pussy before she pulled them from her body as well. She wrapped one arm around Azami's waist to keep her standing for a moment while she lifted her hand, slick with Azami's juices, up to the girl's lips to let her have a taste before she abruptly kissed her once more so they could share the taste. Slowly she would lower both Azami and herself down onto their knees, kissing her all the while, and only once they were both down would Natasha break the kiss and caress Azami's body, one hand sliding along her inner thigh while the other stroked her breast.

"Ahhh Azami-chan, you're simply too beautiful for words right now, drenched in your own ambrosia as you are. Did you...enjoy your release?" Natasha said in a calm and soothing tone, the hand upon Azami's breast sliding up to gently cup the woman's cheek while she stared into her eyes.
Breathing heavily while still clinging onto Natasha's luscious figure, Azami groaned weakly as the girl withdrew her fist from her ass, followed with a moan when the invading fingers left her drenched pussy. Her face clearly shown just how drained she was after her first orgasm, something that didn't happen too often. The match seemed to be slipping fro her mind for a while Natasha slowly letting her down, kissing her sweetly until they reach their knees.

"O-oohh... y-yes, very much so..." she admitted, smiling weakly to the other blue haired girl. "Mmmh..." the princess purred as her body was caressed gently.

Wow... that was just... crazy... she thought to herself. Natasha really meant it when she said that she's going to make their first meeting seemed boring in comparison. If only this wasn't a match, she would have eagerly let the girl have her way with her drained body! It's not that she could resist whatever Natasha was going to do to her in at the moment, but she knew she'd have to eventually.

Weakly, she would try to push herself away from Natasha. As much as she wanted to feel the girl's sensual touch, Azami was aware that it would cost her even more. The princess' body flopped to the pool with a little splash, and she lied on her side for a bit, inches away from her opponent. Heh, I can barely move, let alone stand... Azami sighed as she realized just how much her orgasm had exhausted her. This wasn't something she needed to exaggerate.
Last edited by 10553 on Sun Sep 29, 2013 10:37 am; edited 1 time in total
Azami was a women she knew from personal experience possessed an incredible amount of sexual stamina, rivaling what she herself had as well as a certain someone she knew who liked to be called the Dream, and it was this knowledge that made how drained she looked so surprising for Natasha. She had seen such a look on Azami's face before, in their previous match, but that had taken the entire match to bring about and here she was already showing her fatigue.

What struck Natasha the most though was how genuinely happy the girl sounded as she freely admitted to enjoying her orgasm. That was likely what she loved most about her, it wasn't her looks or insatiable sexual appetite, even though those were both on the list as well, no it had to be her honest nature that she both adored and admired so much.

"I'm glad Hime-chan, everything I do is for your pleasure after all." Natasha replied with a warm smile, holding the woman close to her despite knowing just how dangerous Azami could be if she dropped her guard. In that moment however she couldn't resist the desire to just sit there with her, their bodies pressed together with the rest of the world tuned out, making it seem for just a few seconds that this wasn't a match and that they were simply two friends enjoying one another's company.

This trance Natasha was in was broken soon however as Azami pushed herself away from Natasha's embrace, though she didn't get far as she almost immediately fell over onto her side, drawing a goo natured bit of giggling from the french woman.

"Now now, if you're that tired you can take a little break if you want." She let out before reaching forward to grab onto the woman's legs just above her knees, giving them a gentle push to turn Azami over onto her back while she crawled forward on her knees until she was kneeling in between Azami's legs. "So just lay back and let me help you relax." She said as she leaned her head down, pulling the woman's bikini bottoms off as she did so, until her nose was nestled between the woman's pink pussy lips, rubbing up and down before poking Azami's clit with her nose, her tongue giving the girl's sex a series of deep, slow licks.
Last edited by 10067 on Fri Oct 25, 2013 12:50 am; edited 1 time in total
Azami didn't need to be told that she's in deep trouble as it was. With her body drained significantly like this, Natasha shouldn't need any invitation to take advantage of her current state. Unfortunately, even if she tried to shift herself around so she could crawl away from her opponent, her effort only ended up in vain as it didn't take too long until Natasha seize the opening and caught her legs.

"Oh no..." she let out softly as the girl turned her over easily and positioned herself between her still shaky legs. "Mmm...!" Azami's body twitched as she felt Natasha's nose rubbing her moist womanhood and poking her clit. "Ah... hold...ahhhnn~" her attempt to protest only concluded shortly with a long moan as the other blue haired girl licked her wet snatch sensually.

The princess couldn't resist the sensation and soon found herself moaning shamelessly again. This wasn't exactly what she needed to improve her situation, but Natasha's tongue running on her slightly sensitive sex seemed to drive away her awareness about the match. Azami's head turned from side to side as her body wriggled lightly on the pool, barely make any attempt to fight back.

"Ahh... t-this... mmm...! W-won't help me at all...!" she moaned, arching her back a little while slightly spreading her legs further. "Oohh..."
Azami was only becoming cuter in her eyes the more she tried to protest only to have her own body betray her with those drawn out moans, showcasing the woman's true feelings on the matter. It didn't take much from Natasha to get the princess moaning wildly for her once again, her tongue delving deeper inside Azami's sopping wet pussy with every tantalizing lick. Her nose pressing further down upon the woman's swollen clit as she sought to push her tongue into the deepest folds of Azami's sex.

"Hime-chan please don't say that, I would never lie to you." Natasha said in a low voice as she ceased her exploration of Azami's sex, sounding as if she had been hurt by the woman's words

"Just wait, once you orgasm again your whole body will relax, I promise." Her voice lost its sad tone as she spoke, becoming much more cheerful before she leaned back down to lick the princess's clit directly, lavishing it with her tongue and drenching it in her saliva which dripped down into the woman's pussy as well.

Natasha pressed her mouth down around Azami's clitoris after a few moments, rolling it between her lips which were slick from the woman's cum while her tongue continued to lick both around and over the top of the pulsing bud. With Azami's legs spreading themselves Natasha felt as if she had been given an invitation, moaning against the girl's clit even as she slid one of her hand up along Azami's thigh until it was gently rubbing the woman's nether lips. Slowly but surely she would press down further with each stroke of her hand, doing so until three of her fingers began to slip in between those pink lips and into Azami's sex proper.
"Mmmhh... T-that's what I'm hoping to avoid..." Azami said between her moaning as she was well aware of what Natasha meant when she said she's going to make her feel relaxed.

She couldn't back up her words with action, though, and with each passing seconds of the blue haired girl's assault on her sex, the princess began to thrash around some more. Her body obviously wanted to feel more and more of Natasha's sensual touches, even if her mind keep reminding her just how bad another orgasm would be at this point. Oohh... I can't resist her at all... she thought while letting out lewd moans as Natasha began to use her fingers to amplify her treatment of her sopping wet pussy.

"N-Natasha-chaann...!" she squealed, arching her back higher before flopping back to the pool. "H-haa... d-don't... stop..."

Azami eventually gave in to the pleasure and decided to lie back and enjoy the girl's treatment. Being stimulated right after an orgasm had always been one of her weaknesses, and Natasha really capitalized the princess' vulnerability pretty well as it was. Azami moaned louder and thrashed harder on the pool, causing little splashes here and there as she writhed helplessly. Her toes began to curl while her hands pressed hard on the pool as she could feel another orgasm coming pretty soon!

"Ahh...! I'm about to... haaaa... again..." she announced to Natasha.
Natasha was in love with Azami's pussy almost as much the princess appeared to love the french woman's treatment of it, the complete lack of resistance from her fellow blue haired beauty all the proof she needed, though the cute way Azami was begging for her to continue certainly didn't disprove that theory. Indeed Azami seemed to have lost the will to fight back against her entirely and was now just enjoying the journey she was being taken on by Natasha's lips and fingers, the destination in sight as Natasha could see Azami wasn't far from yet another orgasm.

Azami's next words only confirmed what she had already known, but it was still incredibly satisfying to hear Azami say that she was close to another sweet release. She rewarded the woman with a series of quick licks against her clit, Natasha keeping her fingers within the confines of Azami's sex while she savored the taste of Azami's sex, twirling them around slowly to further stimulate the princess.

"Then this seems a good place to stop." Natasha let out when she felt Azami moments away from cumming, suddenly withdrawing her fingers from the woman's pussy as she sat up, denying Azami the orgasm she had been longing for. Perhaps it was due to how much Azami seemed to want her orgasm but Natasha had a change of heart and decided it was best to torture the princess a little with denied pleasure.

But she couldn't have the woman bringing herself to climax so Natasha would move around Azami until she was above the woman's head, using her knees to pin down the girl's arms while her own sex sat just out of Azami's reach above her face.
Page 2 of 7 •

1, 2, 3, 4, 5, 6, 7


---
Permissions in this forum:
You
cannot
reply to topics in this forum