Who is online?
In total there are
31
users online :: 9 Registered, 0 Hidden and 22 Guests :: 2 Bots
Cirno
,
DizzyKnight
,
k0hryuu
,
LARIATO
,
mnpinner
,
Ragdoll_Jobbers
,
Underdog21
,
Vcom7418
,
Winner3
Most users ever online was
155
on Sun Oct 09, 2016 8:33 am
Champions & #1 contenders
Match For Max.
Thu Jan 19, 2017 5:52 pm by Scarf
Just wondering if I could get something going for my
newest Friction wrestler.
If anybody finds themselves interested or has any possible ideas for the future don't hesitate to hit me up, I'd be happy to hear from you.
Comments: 0
Inconsistent posting
Mon Jan 16, 2017 8:53 pm by RJD
I have stuff coming up in the next couple of weeks and will not be able to post anywhere near as often as usual/before. To be honest this has already been showing it's effects lately but it will do so even more from now on. I'll prioritise my Avalanche match and multi character matches but other than that I'll respond probably once every few days, I'll try not to leave anyone hanging though.
Comments: 10
Looking for Friction matches!
Sun Jan 15, 2017 2:07 am by tehbohemian
Hey everybody just posting a notice I have 2 wrestlers that could use some love!
Shinobu just got out of her match and I'm looking for some wins or losses to add to her record, she is a serious fighter and is looking for more straight forward fights, she could be a good match up against other "martial artist" type characters looking for a challenge or she could stand up to a violent heel, anything works.
Sonic is also up for matches, people familiar with Ring Dream or Wrestle Angels should …
[
Full reading
]
Comments: 3
Name: Kurt Goliath. Caine
Pseudonym: Lord Ryona, The Berserker
Gender: Man
Age: 33
Eyes: Red
Hair: Unknown, supposed to be white
Height: 205 cm (6"9)
Weight: 193 Kg (425)
Nationality:
Alignment: Crazy Heel
Entrance music: [url=http://www.youtube.com/watch?v=52yOH31UXVw:3tmglxr7]Scrambled Eggman[/url:3tmglxr7]
Wrestling Information
Strategy: Cruelty and Cheating
Style: Ryona B Style
Type: Dirty Fighter
Preferred Matches: Any.
Wrestling:
Endurance:
Strength:★
Speed:★
Defense:★★★
Technique:★★★
Favored moves: Using Weapons, Drop Kicks, Headbutts.
Finishing moves:
Die!: He use his wooden axe to chop his opponent from the head.
Go Die!: He use his wooden axe to chop his opponent from the back of their neck.
You must Die!: Drop kick the opponent in the head, and starts stomping repeatedly on the girl's head.
Now you surely will die!: Does a drop kick from the back to the girls' neck and head.
Past/History:
Just around 10 years ago, Kurt was a successful and handsome body builder guy master when he was young, he trained himself well, and lead a happy life. However he had a weakness for woman, and likes to molest young girls, especially those that comes to his gym. On one faithful evening around 8 years ago, he met a girl whom went to his gym, and he fell in love with her. A pretty, green hair girl with a rather cold and blank stare, a girl with the surname Kotobuki. She was slender with lean but powerful muscles, and watching the then 15 years old girl work-out gives Kurt a hard-on. He wanted her.
He had made a few advancements on her, and she rejected him, when he tried molesting her, she shoved him aside and terminates her gym membership on spot. No, he can't have that. And so on that fateful night, he tracked her down and ambushed her, using a stun gun to stun her before delivering a knock to the back of her head, knocking her out, and bringing her to his gym, attempting to totally violates and rape her once she woke up.
It was his greatest mistake in life.
When the girl woke up, he tries to forced himself on her after another shot with the stun gun, confident of his own strength, however, the unexpected happens, she over-powered him, using brute strength. Up to this day, he still cannot believed a small girl at the tender age of 15 had muscles strong enough to overcome him, she was so small and slender, but so strong. And she just maimed him from a mounted position, punching his face again and again after fracturing his hands when he tried to protect his face with them, her fists hard as steel crushing his arms and skull like a hammer smashing eggs, punishing him for trying to force himself on her. "You are not the first and you will not be the last, but no man can touch me against my will, try it, and feel my wrath." Was the last thing Kurt hears from the little girl, a 25 years old body builder, out-muscled and beaten to an inch of his life by a 15 year old girl less then a third of his weight, after she was hit by a stun gun.
He was fined and sent to jail for 5 years after being hospitalized for 1 month, his face permanently disfigured. His life ruin, totally ruin. Now he has to wear a mask for life, because his face has been totally ruin.
From that fateful night on, he hates woman, those whom can resist and fight men, who do these whore think they are? How dare they? When in jail, he trained himself everyday, becoming bigger, stronger by the day so he can take his revenge on women. And he was introduced to homosexuality by a few of his inmate, he found that he likes it.
When he was jailed, his gym was sold away, and when he come out of jail, he had some money, but it will not last long, and he could not find any decent job due to being horribly disfigured. His face ruin by a pair of little knuckles. His hate for woman soon had him joined an underground fighting pit fighting as a masked warrior, where he aims to fight and destroys the female contestants there. However, while he manages to beat a few novice female fighters, a few of the other girls didn't like it, and they challenged him, and totally creamed him. He was out-matched again and again, once by a little girl whom don't look a day above 12, sending him to the sick bay for days to a week, he finally resigned when a bunny girl creamed him, using her breast, slamming her chest against him again and again, before ending the match with a crushing bearhug that cracked his scapula, humerus and ribs, sending him to hospital for a month, he was asked to leave because they feared he would get killed by the next girl he fought.
After doing some odd jobs while continue to hit the gym and train himself to be stronger and stronger, he had tracked down the girl whom had cause his life to collapses, and he wanted his revenge, he heard she had became a female wrestler, and had joined some league called Wrestle Angels before the league closed down and she joined AFW. And thus he joined AFW in the Tension league, in the hope he can find her and have his revenge, while doing his best to maim and humiliate as many female wrestlers as he can. He calls himself 'Lord Ryona' and formed a team called "The Ryona Brotherhood" with someone called Honda Sakshirou, in their quest to defeat female wrestlers.
Personality:
He is a evil, brutal, cold-blood, mad and savage bastard whom hates strong women.
He believes that all women should stay in the kitchen, and obey their man, women should not have their own wills, but do as the will of their man and lord. Women should be stupid and weak, and the the sow and whore they are supposed to be to men. Women should not be fighters, and fighting women must be punished, be hurt, maimed and humiliated in public so that girls will know that the arena is not a place for them.
He is simple minded, but crafty in his own right, he can always think of new ways to fight dirty and cheat in his attempts to defeat the women he fights. He is gay, and no longer have love or desire for woman, the only feeling he has for women is the lust to totally and utterly destroy them in battle. He knows no mercy nor reason for woman, just vengeance, hate, angst and cruelty.
Appearance:
This is him:[align=center:3tmglxr7]
[/align:3tmglxr7]Him in action:[align=center:3tmglxr7]
[/align:3tmglxr7]The giant axe is a gimmick, it's made of wood and he only uses it in hardcore. He wears a hood over his head because while, he's totally disfigured.
How he used to looked:[align=center:3tmglxr7]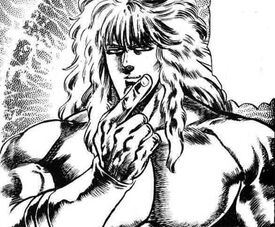 [/align:3tmglxr7]
Relationships:
Friends:
Allies: [url=http://afwrpg.informe.com/forum/tension-pro-males-f60/master-ryona-t8709.html:3tmglxr7]Master Ryona[/url:3tmglxr7]
Rivals:
Enemies:
Crushes:
Wins:
____
Losses:
____
Ties:
____
Last edited by 11749 on Fri Jul 05, 2013 11:17 am; edited 12 times in total



Posts

: 1024


Join date

: 2013-06-17



---
Permissions in this forum:
You
cannot
reply to topics in this forum