Champions & #1 contenders
Highfly Flying Out Of Town
Mon May 21, 2018 8:31 pm by HighFly
Hello everyone, I just wanted to inform all I have threads with that I will be gone from this coming Wednesday through Sunday. I won't be able to post consistently if at all during this time, but I will try to make up for it next week! I am sorry for the inconvenience to everyone.
Comments: 7
The Austrailian Mudslide is Back.
Sat Apr 21, 2018 1:20 am by Softsquad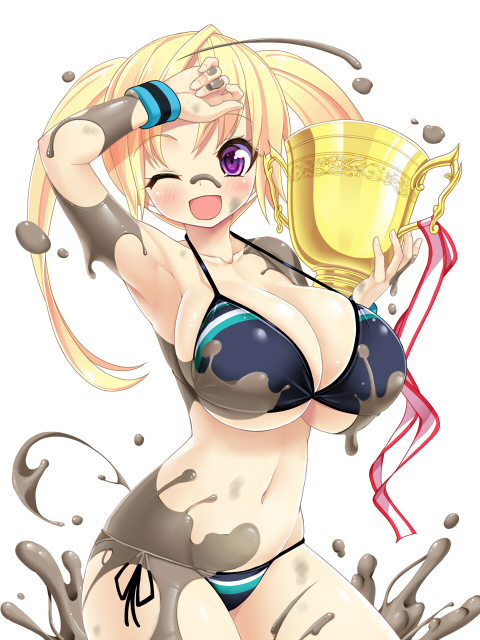 Granted that most of you won't know me or remember me, but I've had a few matches here and there some time ago. Well I think its time to become a regular around here and try to have some fun again, but at the same time keep coming back. Anyway I think its time to jump into some matches with Zoe Taylor, my mud wrestling character from Australia and get her back into the squared circle. Furthermore I will update my characters as I think some proper changes need to happen.
So if anyone would …
[
Full reading
]
Comments: 5
Page 8 of 9 •

1, 2, 3, 4, 5, 6, 7, 8, 9


Natalia always had loved to gloat when she was in control and Natasha was quickly losing her patience with her, but that mattered little as she would have to break free to make the woman swallow her words and try as she might there was no escape in sight. Her body couldn't decide if it was writhing in pain or trembling in ecstasy and her cries matched, going from low groans one moment to loud moans the next as Natalia worked over her body relentlessly, giving her no time to rest as Natasha was pushed closer to another orgasm. "I'm not surrendering to you! You are not going to win..." She shouted at Natalia hoping to trick her into thinking she had more strength left than she truly did, but her voice gave out quickly after as pleasure forced further moans from her.

Natasha could feel that she was on the verge of cumming to Natalia's fingers, moments away from succumbing to the pleasure assaulting her body when without warning the Dream slowed her fingers to a crawl. Natasha gasped at the abrupt change of pace, her pussy begging for the orgasm she had come so close to only for Natalia to deny it to her. "Ahhhh fuck Talia-chan!" Natasha cried out while clawing at the mat, desperately trying to drag them towards the ropes.
"Yes, Tasha-chan... that is what I am saying. Don't surrender. Don't let me win. Let's just enjoy this moment together." Natalia teased her opponent while she kept working the pussy and clit with her fingers, bending Tasha a bit more in the stretch muffler. Natalia was very tired from the long intense battle she had had with Tasha, but being in control made her feel invigorsted; she lived for moments like this. Still Tasha refused to let the orgasm and Natalia couldn't deny she was very impressed... and also aroused with the chance to play with her opponent even more.

Natalia slid her fingers slowly inside Tasha and began to explore her pussy trying to find the sweetest spots, the G and what not in the anatomy of her rival. But Tasha wasn't anything if not tenacious and began to drag them towards the ropes, carrying Natalia's weight with her while crawling on her belly. Natalia pushed her ass hard on Tasha's back, trying to make herself heavier and watched as the sexy French cutie struggled to get closer and closer to the ropes...

"Oh no Tasha-chan.... not the ropes.... that is cheap.... don't ruin this moment.... wow... you are almost there...nooooooooo..."

...and when she felt Tasha was close enough to almost grab them, The Dream stood up, still holding Tasha's leg over her head and started to walk towards the center of the ring, trying to drag Tasha all the way to really the stretch muffler out of reach of the ropes.
The pain shooting through her back as Natalia stretched her body to its limits Natasha could handle, so too could she endure the pleasure assailing her as the Dream worked her pussy over with every ounce of skill she had come to expect from the woman, but what she could not stand was how much Natalia was enjoying the torture she was putting the Frenchwoman through. She couldn't decide which Natalia was enjoying more, the physical control she had over Natasha or the mind games she was playing with her as she taunted and teased to her heart's content.

Whichever it was Natasha wanted nothing more than to ruin the woman's fun, her eyes fixed on the bottom rope which drew closer inch by agonizing inch as she dragged them both until it was just an arm's reach away.

Natasha outstretched her arm as far as it could go until her fingers brushed against the rope, making one last push to grab onto it and end the hold at long last so she could begin to work her way back into the match. Her hand dropped but all Natasha hit was the mat as Natalia abruptly stood up and dragged her right back to the center of the ring, dashing Natasha's hopes for escape. Her right hand clenched into a fist and beat against the mat in frustration, her body shaking uncontrollably as the orgasm she had been fighting for so long suddenly overwhelmed her.

Natasha had kept herself going with the thought that she could break free before cumming but now that the ropes were so far out of her reach her body succumbed, Natasha crying out in sheer ecstasy as spasms wracked her body and her pussy gushed with her warm honey, drenching Natalia's fingers while her inner walls closed tight around them. Natasha buried her face against the mat as she let out one long and very loud moan, her hands grabbing onto her own tits as she rode wave after wave of pure orgasmic bliss.
Natalia dragged Tasha back to the center of the ring and reapplied the hold, giggling uncontrollably just thinking how Tasha must be feeling after being so close to escaping and then trapped again. Natalia so wanted to do it again but before she could even tease Tasha about it the delicious French beauty went pop. "Oh Tasha-chan.... thank you so much. I didn't knew you loved me like that...." Natalia said as she felt her opponent's orgasm. It was such a beautiful thing to behold and even more to feel. Natalia definitively had the best spot to enjoy Natasha's climax and she immediately got to work, massaging Tasha's inner walls and clitty, trying to drain all the honey from the French woman while at the same time bending Tasha's back and crushing Tasha's sexy body under her ass. Natalia wanted Tasha to have the most delicious and draining orgasm possible... all while being physically over powered and dominated.

"Just let go, Tasha... there is no point resisting. " Natalia whispered softly with a seductive tone as she continue working her opponent through the orgasm. "You can submit if you had enough, Tasha.... or I can try another sexy hold for another orgasm... it is really up to you."" Natalia kept saying as sweetly as she could, removing her fingers from Tasha's pussy to very gently massage her sex, wanting to give Tasha a small break to fully assimilate the orgasm but no chance to recover.
Natasha could barely hear the teasing words from Natalia over her own loud cries of pleasure which echoed throughout the arena, her body shuddering uncontrollably as the orgasm she had been holding back for so long tore through her. She had been on the verge of climaxing for the last few minutes but Natasha had held on, gambling on her being able to escape before her will gave way and her body succumbed to the throes of ecstasy, but she had lost that bet and now she could do nothing but lay there underneath Natalia, her pussy gushing with her warm juices over the woman's hand. Her vision was starting to blur as she became unable to focus on anything but the woman's fingers inside her, desperately needing a reprieve to let her orgasm run its course but the Dream refused to grant her such, continuing to assault her pussy with further pleasure.

When Natalia spoke again she heard her clearly, shaking her head in refusal to submit even then as her body was wracked with unending waves of heat and pleasure. Her entire body felt as if it were on fire, her sensitivity having skyrocketed in the midst of her orgasm turning every faint movement of Natalia's fingers inside of her into an explosion of ecstasy that drained her of what energy she had left. Natasha slumped against the mat, having lost the willpower to continue trying to squirm her way out of the hold, laying there panting and moaning as Natalia massaged her sopping wet sex.
Natalia caressed Tasha's sex gently, trying to keep it aroused but not attempting to bring another orgasm just yet. She hugged Tasha closely and cozily and then let her go, slowly standing up to admire the beautiful Tasha and how even more beautiful she looked when almost sexually broken. But although she looked devastated, Tasha's will wasn't broken, not yet at least. Natalia put a foot on Tasha's ass and felt the firm asscheeks of her opponent with her sole while she thought what to do next. Tasha looked ripe to be taken and Natalia had been waiting for long for this that she wanted to do it right.

Natalia moved to Tasha's head and grabbed it with both hands, slowly but forcibly pulling it to make Tasha stand up with her. "Come here Tasha-chan. It is time to put you out, but first..." Natalia said as she made Tasha stand in front of her and then hugged the voluptuous French woman closely, to give her a deep and passionate French kiss.
Natasha felt like she was lost in a fog of arousal, unable to think of anything but the burning heat pulsating within her sex and the faint desire to deny Natalia the win that she was clinging onto. That thought was fading away from her however and even after being released from the hold, after what felt like hours of endless pleasure to her, it was all the Frenchwoman could manage just to keep her eyes open as her body slowly came down from the high of orgasm. She was in no shape to fight back and she knew the Dream knew it just as well as she did and yet the woman left her alone for a moment, seemingly content with grinding her foot down upon Natasha's sweat covered ass while the blunette moaned softly in between her panting breaths.

It was then she felt Natalia's hands taking hold of her head, Natasha grabbing weakly onto the woman's wrists as she rose back to her feet with the Dream's help. Her eye lids fluttered open after hearing Natalia's words, just in time to look into the other woman's eyes before she was forced into another fierce kiss. She offered nothing in the way of resistance, moaning loudly into Natalia's mouth as she wrapped her tongue around hers, kissing her on instinct.
Natalia held Tasha close to herself, pulling the French woman into the hug like she would a lover. She kissed Tasha deeply too in the most passionate and romantic way she could think. In a way Tasha was her lover, Natalia considered wrestling, especially of the ecchi kind, to be the same as making love. Love and war at the same time. What could be better than that? Kissing Tasha was so delicious that Natalia kept doing it for quite a while, letting the fans roar and get tired of roaring while her lips continues glued against her opponent's own.

Only when she was satisfied with the kiss did Natalia decided to move on to the next thing... the thing she planned to be the last thing in this match. "Now Tasha-chan... " Natalia said as she pulled Natasha's head down, under her crotch and between her legs. Quickly moving her arms around Natasha's waist, Natalia tried to lift the Frenchwoman upside down as if setting her up for a piledriver.
Natasha had fought on for as long as she could but her body was spent to the point that her mind was barely functioning, leaving her body on auto pilot as she became putty in the other woman's hands. Brought back to her feet Natasha was out of the fight from the moment the kiss began, taking Natalia's tongue into her mouth as she kissed her back eagerly, wrapping her arms weakly around the woman's waist to slide her body over Natalia's own. Their breasts mushroomed out to the sides but not by much as their firm and heavy mounds would not give an inch even now, their pussies slowly grinding together as well until Natasha was picked up with no resistance from her by Natalia.
Natalia was so tires after this long and exhausting match, but the urge to defeat Tasha and the lust she felt for her opponent kept her going. Having the sexy French woman in such a vulnerable position and ready to be ravaged, energized The Dream... and she knew exactly what she wanted to do with the lovely Tasha. Natalia hugged her opponent closely, holding Tasha upside down as if she was about to pile drive the French beauty but instead pulled Tasha up even more so to bring Tasha's pussy up and closer to her face. Then Natalia lowered her head between Tasha's legs and began to lick at the French woman's kitty.

"Mmmmm so yummy!" Natalia purred, nuzzling Tasha's sex a bit before she sunk her tongue deep inside her opponent to start licking her out from the inside all the way out to the clit. Natalia rained kisses on Tasha's inner thighs and then went back to explore Tasha's folds with her mischievous tongue.

Natalia looked up while her tongue continued going in and out of Tasha, she wanted to see the titantron on top of the arena that was showing a beautiful take of the two naked bodies. Eating Tasha's sweet pussy while holding her upside down and watching herself in a huge TV screen was simply perfect. Now it was just matter of making Tasha cum, put her down and take her home. Natalia giggled with her lips presses against Tasha's pussy, thinking how cute Tasha was going to look laying in the mats after what she was planning to do to her.
Page 8 of 9 •

1, 2, 3, 4, 5, 6, 7, 8, 9


---
Permissions in this forum:
You
cannot
reply to topics in this forum