Champions & #1 contenders
Moonhearts Promo intro thread is O p e n.
Mon May 21, 2018 4:21 am by XSirenX
Feeling brave?, lost?, or without a thread to post in?, hit up the newest Moonheart if any of those apply!
CLICK HERE
What Moon has to offer?, many things...:
Comments: 0
The Austrailian Mudslide is Back.
Sat Apr 21, 2018 6:20 am by Softsquad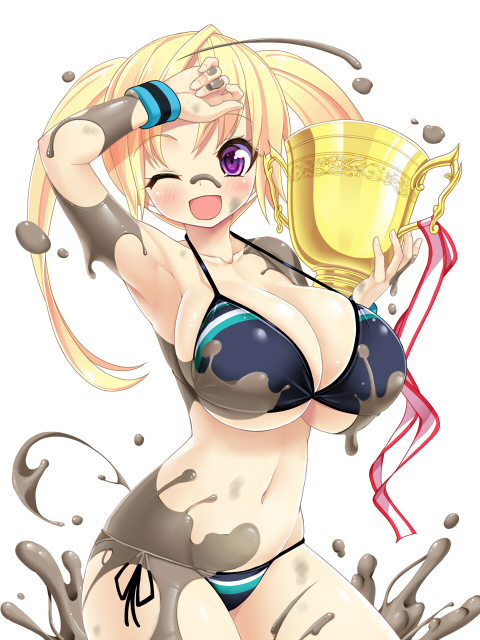 Granted that most of you won't know me or remember me, but I've had a few matches here and there some time ago. Well I think its time to become a regular around here and try to have some fun again, but at the same time keep coming back. Anyway I think its time to jump into some matches with Zoe Taylor, my mud wrestling character from Australia and get her back into the squared circle. Furthermore I will update my characters as I think some proper changes need to happen.
So if anyone would …
[
Full reading
]
Comments: 4
Page 2 of 9 •

1, 2, 3, 4, 5, 6, 7, 8, 9


Natalia hadn't changed at all since she last encountered her, the woman every bit as alluring and playful as she remembered from their first match, as well as just as proud of her body too, though for that she couldn't blame her at all she thought to herself while she stared up at the woman's breasts. The Dream showcased just how playful she could be after Natasha treated her to a little love bite, the woman putting on quite the show pouting over it too which drew a giggle from Natasha. She reluctantly let the stiff nipple escape her lips after the rough treatment of her tits at Natalia's hands, teasing the woman for her efforts as she pretended to bite the air a couple times.

"Can you forgive me Talia-chan?" Natasha said in reply, giving the girl her best impression of her being truly sorry though the slight smirk upon her lips gave away the act almost immediately. "Ouch!" She then let out in a sharp gasp of pain as Natalia gave her tits a little slap in return for the biting, her hands squeezing Natalia's breasts a little more forcefully in response while her eyes glanced down to watch her large orbs bouncing off one another. "And you called me a meanie!" She pouted just as Natalia went to reach for her wrists, not sure what the Dream had planned but a woman famous for knowing over a thousand hentai holds was not to be taken lightly.

Her hands would escape Natalia's grasp as they shot up to wrap around the woman's head, pulling both the Dream's face downward and her own upward until she locked the woman into a deep kiss.
"Never!" Natalia answered as she played a bit more with Natasha's tits, leaving her own perky breasts dancing right in front and barely out of reach of Tasha's hungry teeth. The crowd seemed to just love how the two busty girl's played and attacked the other's breasts and the were cheering particularly loud for both and not in a very polite manner. "Never forgive...never forget..." Natalia said as she looked down into Tasha's eyes frowning cutely, trying to look like she was being serious but unable to hide how much fun she was having. "NO MERCY! only kisses..." Natalia said having a hard time not giggling as she brought her legs up over Tasha's shoulders, wiggling her cute ass in the oil as she tried to get in a good position... but before she could do so, Tasha pulled her head down and forced a kiss.

"mmmmmmm...." Natalia purred as she kissed Tasha back, letting her lips rub against the French girl own lips, parting her mouth a little like inviting her opponent to have a little tongue duel. Making use of her great flexibility, Natalia leaned forward, still sitting on her butt, bending her body to kiss Tasha's luscious lips, her hands held Tasha's arms, trying to free herself of her opponent's grip not because she wanted to break the kiss, but because she feared what Tasha may attempt next.
The pleasure Natasha had taken in teasing Natalia with words was nothing compared to the thrill and satisfaction she took from embracing the Dream in a deep, wet kiss, Nastaha moaning into the kiss while her tongue teased at the entrance of Natalia's mouth, licking along the girl's lips to tease her greatest sexual rival. However upon receiving such a polite nonverbal invitation from Natalia she couldn't resist plunging her slippery tongue up into the woman's throat, rubbing up against the girl's tongue to initiate a little wrestling within their mouths to go along with the primary match.

As hot as their kiss was Natalia didn't seem to want to continue it any longer than she was forced to, the Eurasian woman tugging at Natasha's arms trying to break the grip she had on the Dream's head. A soft sign would escape Natasha as she knew she couldn't fight her off for too long, her clasped fingers already starting to come apart upon the insistence of Natalia, but she was not going to let the woman off lightly.

Her legs would then rise up and in a move that showcased just how flexible Natasha was herself, as well as taking advantage of how far the Dream was leaning forward, she would press her ankles against either side of Natalia's head and lock her feet behind the girl's neck. She would then attempt to roll from side to side a few times picking up speed before finally trying to roll them both over entirely, Natasha ending up on her knees with Natalia's head caught between her legs, the french woman facing the rest of Natalia's wonderful body while she proceeded to face sit the Dream.
Last edited by 10067 on Thu Sep 12, 2013 2:28 pm; edited 1 time in total
Natalia enjoyed the kissing, letting Tasha slip her tongue inside her mouth where she suckled it and wrestled it with her own tongue, but as much as she loved the sensation of her opponent's luscious lips against her own, the blue-eyed cutie continued struggling with Natasha's hands to free her head and kept and eye open for what the French girl may try next. When Natalia felt Tasha began to make her move, she pushed herself up a bit, breaking the kiss just to see how the French girl's long legs were coming for her.

"ughhh...." Natalia groaned as she felt Natasha's ankles pressing at the sides of her head as her opponent locked the feet behind her head. The Dream knew very well what was coming next and had no intention of letting Tasha get away with her plan, so she immediately leaned back, sitting on her haunches, pulling her head back with the weight of her body as her hands went up to grab Tasha's ankles and pull them back too. Natalia moaned as she resisted Tasha's attempt to roll her over and instead kept pulling back, trying to push Tasha's legs under her armpits to fold the voluptuous French girl into a nice tight package, trying to leave Natasha's cute butt high up in the air, while pushing the girl's legs and closely as she could to her own shoulders.
"If only this wasn't a match." Natasha thought to herself while she tightened her arms around Natalia's head, pulling her upper body further off the mat while her face pressed even closer against the Dream's, their lips locked in a steamy embrace while her tongue pushed its way into the woman's mouth. She immediately got the feeling thats what her beauty of an opponent had wanted anyway, Natasha releasing a soft moan into Natalia's mouth as their tongues fought their own little match, only too happy to give the woman more of what she desired.

But however much she might have wished this was not a match, that she could just lose herself in this pleasure, Natasha reminded herself that this was indeed a match and that she had to make a move if she didn't want this to become one sided very quickly. The muscles in her midsection tensed up as Natasha swung her legs upward, catching Natalia's head in between her ankles, and locking her feet behind the woman's head to keep her legs from slipping off. "Looks like I caught you this time." Natasha says with a wide, bright smile as she begins to turn her body, only for that smile to be replaced with a look of surprise once she realizes its not her who trapped Natalia but the other way around.

"Wait wait!" Natasha exclaims with an air of panic in her lyrical voice, her body squirming about trying to pull her legs free only to have her feet slid underneath her armpits folding the french woman neatly in half. A light blush appeared on Natasha's face as she pictured how she must have looked in that moment, her firm rear end high up in the air with her sex exposed for any lustful woman to take advantage of, Natasha pushing against the mat with her shoulders trying to get her body to rock from side to side hoping she could fall to the side and get out of this predicament.
Natalia moved quickly to lock Tasha's legs under her armpits and then placed her knees over the girl's shoulders, trying to pin Tasha so that when the French woman started to rock her body from side to side it would be easier for The Dream to contain her. "No no, Tasha-chan... stay still." Natalia teased, giggling as she struggled to keep the shiny oiled body of her voluptuous opponent in place. From this position Natalia had a very good view of Natasha's round butt and she made sure that the crowd could enjoy the view as well by leaning back some more, pushing Tasha's legs trying to putt the girl's rear as high as she could. Holding Tasha's slippery legs was difficult with all the oil covering the steamy bodies, but Natalia moved her hands to Natasha's butt, letting her armpits and elbows to hold Natasha's legs while she spread the girl's asscheeks to expose her even more. Natalia then took a second to look up at the titantron screen above the arena just to make sure the camera guys were taking a good close up of Tasha's exposed pussy and she wasn't disappointed.

"mmmm... so yummy." Natalia said as she squeezed Tasha's asscheeks with her hands, keeping them spread and then she leaned forward, making the crowd roar as she went down on Tasha, taking advantage of the folded position in which the French girl was to give Tasha's pussy a long teasing lick, followed by another and another and another. "mmmmm... Love it!" Natalia then gave Tasha's sex a soft kiss before she started to lick the girl's pussy furiously, lapping Tasha's slit with her tongue as if she was cutting butter with a knife, trying to slip the tongue inside Tasha's sex to lick the girls inner walls. "Stop shaking, Tasha-chan... you are ruining my fun here." Natalia said without removing her face from Tasha's sex, lowering her mouth then to swirl her tongue around the girl's clit while she poked at Tasha's pussy with her cute nose.
Natasha had realized she was in trouble the moment her legs had been caught by Natalia, the woman moving without any hesitation to lock down Natasha's legs before she could slip them free, leaving the french woman without much in the way of options. Thoroughly stuck she tried to do the only thing she could think of and began rocking her body from side to side, squirming against Natalia hoping the oil would be her ticket to sliding out of the woman's hold, but that plan came to an abrupt halt as Natalia crept forward pressing her knees down against Natasha's shoulders, without which she could do nothing but obey Natalia's command for her to say.

Straining her neck to peer upwards she could see the titantron and immediately her face turned a deep shade of crimson upon seeing the intimate shot of her pussy and ass that was not only being seen by everyone in the arena but also the millions watching from home. She was not the type to get embarrassed easily but with her ass wiggling cutely in front of Natalia's face, the result of her squirming with her lower body, and her sex getting an extreme close up she couldn't keep herself from feeling humiliated.

"Mmmmahhhhh." Natasha let out in a low moan as Natalia's tongue brushed along her quivering labia, a series of short gasps following each time Natalia's tongue graced her nether lips with another lick. Her eyes fluttered closed for a moment as she felt the Dream's soft lips gently kissing her now moist sex, but they shot open the moment she felt the woman's tongue lashing against her slit at a ravenous pace, Natasha letting out another moan, louder this time, when the tongue pushed past her labia and invaded the folds of her pussy, "Its uhhh hard not to...TALIA-CHAN...when you're eating me out like this!" Natasha replied, speaking almost casually at first however she shouted out Natalia-s name as the woman's tongue swirled around her clit.

As Natalia continued to ravage Natasha's defenseless pussy the blue haired beauty renewed her struggle to free herself, twisting her lower body and legs every which way to try and slide her legs free from Natalia's hold over them. Looking up she could see the woman's own sex was not too far, Natalia having moved closer when she used her knees to lock her down. Leaning her head up as much as she could Natasha reached with her tongue for the Dream's pussy, looking to exact some sort of payback for the pleasure she had been receiving thus far by licking along Natalia's pussy lips.
Natalia giggled and purred, keeping her lips pressed against Natasha's labia to make the French girl feel how her lips vibrated. The Dream was having a lot of fun playing with her opponent in such compromised position, and although Natasha wasn't making it easy at all to keep said position, Natalia had enough control of her opponent's body to take some liberties. "You have a real sweet pussy, Tasha-chan... I think I am going to eat it until you pass out..." Natalia teased at the same time she threatened her opponent, feeling confident that she could do a lot of damage although she doubted it would be enough to put Natasha out.

"mmmmmmmm...." Natalia moaned as she felt Tasha's lips fighting back against her pussy. "oh Tasha-chan... I know my pussy is super sweet too... but you have not done enough to deserve it!" Natalia said giggling as she shook her body a bit, trying to make things harder for Natasha so the French girl would have to work extra to reach The Dream's pussy. Knowing she should be focusing on the attack instead, Natalia went back to work on Natasha's pussy, first by giving it a few more laps and then using her fingers to spread Tasha's labia Natalia , gathered a glob of saliva on her lips and spit it with deadly aim right into Tasha's sex... And then another...and another...and once more, trying to make them go as deep as she could into the girl's pussy

Natalia then let go one of Tasha's legs so she could use her hand more freely, immediately inserting two fingers into Tasha's sex to start massaging the girl's inner walls at the same time she moved her thumb up above Tasha's clit, circling around it slowly but firmly, using the saliva she had spread before to make all her movements even more slippery than what the oil allowed. "Remind me, Tasha-chan... do I have to make you cum or submit to win this fight?" Natalia asked in a nonchalant tone as she fingered her opponent deep.
Natalia certainly seemed to be enjoying herself at Natasha's expense but that didn't bother the french woman in the slightest, after all there was very little which could compare to the thrill of locking down a sexy woman and taking ones time thoroughly enjoying their trapped bodies, especially when the captive beauty was as breath taking and passionate as they both were. Her moans abruptly ceased as Natalia took a little break from lapping at Natasha's pussy to lavish praise upon her, the blue haired beauty squirming a little more forcefully at the threat of being eaten out until she slipped into unconsciousness, an act she didn't doubt the Dream could pull if she gave her enough time.

"But Talia-chan! Your pussy has always belonged to me..." Natasha whined cutely before giving the woman's pussy a rather deep french kiss as if to prove her words, her tongue lashing about within the tight and warm confines of Natalia's sex. Natalia was not making it easy for her however, the woman wiggling her lower body about forcing Natasha to move along with her so long as she wished to continue kissing those lovely pussy lips of the Dream. "Hey what...uhhh...are you doing?" Her voice trembled as did her body when she felt her opponent spreading her swollen lower lips, forgetting the pussy she had been lovingly eating out a moment ago as she felt her own glistening sex becoming flooded but not by her own juices.

"Ahhhhhh w..wait, thats embarrassing..." She protested, her voice trailing off as more saliva filled her exposed pussy, the sensation one that was completely foreign to her which in it of itself surprised the french woman who had thought herself having experienced all theres was when it came to the sexual arts. "Gawh!" Gasping as those eager fingers of Natalia slid right into her ridiculously lubricated pussy, a low moan escaping her lips with every movement of the woman's fingertips along her inner walls.

Shaking her head once Natalia began to work upon her clit Natasha didn't allow herself to leave the Eurasian cutie's sex alone any longer, thrusting her head back up but not to lock lips with Natalia's labia, but to instead wrap her lips around the woman's clit, sucking upon it heavily while her tongue lashed against the top of it. Her hands had laid dormant for some time but Natasha found a use for them now, reaching up to firmly latch her fingers onto the Dream's round ass, each hand massaging one of the woman's firm cheeks.
Natalia tried one more time to spit some saliva on Natasha's pussy, using her delicate fingers to enter the French girl's labia while at the same time she pushed her opponent's asscheeks to the sides with the palms of her hands to make sure that the guys working the cameras above them could get the best takes of Natasha's exposed and now penetrated sex. "How that feels, Tasha-chan?" Natalia teased, giggling as she had her way with the French woman, but Natasha didn't gave her much time to enjoy the way she was dominating her and soon The Dream felt Tasha's tongue fighting back.

"Mmmmmm..." Natalia purred as she felt the French girl giving her pussy a French kiss. Even from the very dominant position Natalia could feel how Tasha fought back. Natalia decided to raise up the pressure and the speed of her attacks, moving two fingers back deep into her opponent's pussy while she used her thumb to tease the girl's clit. The Dream was a very proud woman and she was not going to back down from a challenge like this, specially when she was on top. Natalia was fully convinced that she could handle the French girl from this position, even if Natasha was doing an amazing job eating her pussy and sucking her already aroused clit.

"Not bad Tasha-chan... but it is your pussy which is mine... I am just going to prime you in the ring, because once you lose I am taking you with a strappy..." Natalia said giggling as she shook her butt left and right, trying to make it harder for Natasha to lick her pussy and at the same time embarrass her opponent by rubbing her perfect rear all over her face.
Page 2 of 9 •

1, 2, 3, 4, 5, 6, 7, 8, 9


---
Permissions in this forum:
You
cannot
reply to topics in this forum