Champions & #1 contenders
All you squash fans....
Tue Jan 24, 2017 9:36 pm by starvalentine
I have made a replacement for Yuki who I stopped using.
http://www.afwrpg.com/t15990-claire-the-sumo-banks
Claire is bigger, heavier and waaayyyy more fun

Looking for any match, win or lose. Happy to absolutely squash any character as you wish. On Trillian also as StarValentine if you want to keep it private

Comments: 0
Match For Max.
Thu Jan 19, 2017 5:52 pm by Scarf
Just wondering if I could get something going for my
newest Friction wrestler.
If anybody finds themselves interested or has any possible ideas for the future don't hesitate to hit me up, I'd be happy to hear from you.
Comments: 0
Inconsistent posting
Mon Jan 16, 2017 8:53 pm by RJD
I have stuff coming up in the next couple of weeks and will not be able to post anywhere near as often as usual/before. To be honest this has already been showing it's effects lately but it will do so even more from now on. I'll prioritise my Avalanche match and multi character matches but other than that I'll respond probably once every few days, I'll try not to leave anyone hanging though.
Comments: 10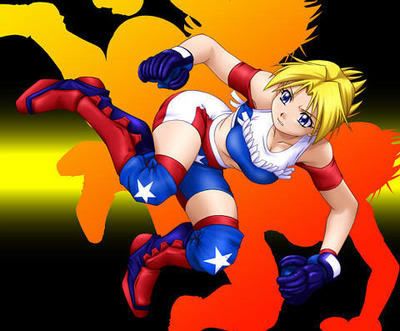 Name: Aurora Higurashi (formerly Wilson)
Sex: Female
Age: 26
Eyes: Blue
Hair: Blonde
Height: 5'6"
Weight: 124 lbs
Nationality: American
Alignment: Face
Theme Song:
Background
Aurora grew up in a somewhat competitive household.  Her mother is a corporate lawyer and her father is a local politician.  She was always pushed by the two to become something great.  In high school, she originally pursued such intellectual prospects like law.  However, when she discovered athletics her life took a very different turn.  She got into track and field first.  Then swimming.  Then lacrosse.  She couldn't get enough of it.  By the time she graduated high school, she knew she wanted to do something that was active and competitive.  Something that could really make her feel alive.
During college, she took up wrestling simply as a hobby.  It developed into something much greater than that.  Though average in size, Aurora made up for it with a dedication to doing everything she
could
do, perfectly.  By the time she graduated college, she was already a regular on the amateur wrestling circuit.  She got a big break when a talent agent saw her in one of her matches.  The next week, she was signing a contract and officially ascended to professional wrestler status. She spent the next four years traveling the country and performing with the big names on the national stage.
Her younger sister, Talia, followed in her footsteps and traveled to Japan to participate in the AFW league.  When she stopped calling and popping up on television, Aurora thought she'd travel there to join Friction.  At the very least, she'd get to catch up with her sister.  More importantly, though, the AFW was the hottest thing in the female wrestling world. She
had
to be apart of it.
Personality
Aurora's a perfectionist in everything she does but still has enough sense to know when enough is enough.  She's kind and outgoing with an unhealthy obsession with yogurt.  It's a little hard to fully gain her trust as she's a bit skeptical of other's intentions.  She still does care deeply for her friends and family, though, and shows it in her own ways.
Wrestling Information
Strengths: Experienced in countering opponents
Weaknesses: Not strong on offense
Wrestling Style: Balanced Defensively
Signature Moves:  
Springboard Moonsault
- Aurora leaps onto the second rope and launches herself into the air backwards and towards a lying down opponent.
Sleeper Slam
- Aurora applies a sleeper hold to the opponent, then falls face first to the ground, pulling the opponent down with her and driving the back and head of the opponent into the ground.
Finishing Moves:
Face Breaker DDT
- Aurora grabs her opponent at the back of the neck with both hands, leaps up while putting her knees up as she pulls her opponent to the ground and facefirst against her kneecaps.
Elevated Boston Crab
- While her opponent is facedown, Aurora picks up both legs as if applying a boston crab except that she straightens her back and keeps the legs high so her opponent's chest is the only thing hitting the ground.
Preferred Matches:  Anything, preferably nothing hardcore or NHB.
Stats
Strength
- 74
Submission
- 87
Durability
- 81
Technical
- 98
Speed
- 88
Charisma
- 83
Hardcore
- 75
Stamina
- 89
Overall - 89
Appearance: Aurora has a radiant complexion that matches her bright personality.  
Aurora and Talia:
AFW Match History
: 2-0
Match vs Cassie Elliot:
Win
via Pinfall
Higurashis
:
Win
via Pinfall
Ongoing Matches
AFW Relationships
FriendsAlliesRivals
Taylor Parker
EnemiesCrushesFamily
Talia Wilson
(Sister)
Alex Wilson
(Brother)
Mamouru Higurashi
(Husband)
Megumi Higurashi (Daughter)
Timeline
1. Establishing Networks: Aurora happens upon a helpful manager...in more than one way.
2. The Real You: Just walking by...
3. Illusion: Aurora rushes to the hospital after she hears about her sister's injury
4. The Bond of the Broken: Aurora arrives at the hospital just in time to catch Cassie leaving
5. Good Morning Beautiful: Training with Mamouru....'s mother
6. Cassie Elliot Vs Aurora Wilson: Aurora finally gets her chance at Cassie
7. So What if You Can See: Aurora has to put up with that annoying girl again
8.
Can I Come Over?
: It's a small world after all
9.
Summer Splash
: Aurora gets to play spoiler for Taylor
10.
The Hand That Rocks
: A little revelation...and a huge plan for the future.
11.
Baby on Board
: Truth is stranger than fiction anyhow
12.
Lightning Crashes
: A new mother cries
Last edited by 9943 on Tue Apr 15, 2014 6:38 pm; edited 7 times in total



Posts

: 2029


Join date

: 2012-03-20


Age

: 26




Similar topics
---
Permissions in this forum:
You
cannot
reply to topics in this forum