Champions & #1 contenders
Seeking new matches
Wed Oct 18, 2017 6:14 am by GrandAkumaShogun
I've been absent from here for a good while so I want to get back into the swing of things. If you have any interest in taking on either Takeichi Mori or Takeshi Kawai get in touch.
Comments: 0
Will be offline next 2 weeks
Tue Oct 17, 2017 7:51 pm by peek6
Hi all. I've been enjoying all the great threads I've been having on here with many of you. I need to take a short break and go dark for the next 2 weeks or so. Apologies in advance for leaving threads hanging. See you in November!
Comments: 2
Looking for matches
Mon Oct 16, 2017 11:31 pm by kiranar
I am looking for matches for most of my characters or rps they are all links listed. I am also looking for an opponent for Celeste see Carpathian impaler for profile and Emerald Moons for an opponent or opponents for avalanche ppv event. I prefer atm non hentai matches, but I may make exceptions for some characters depending on the idea.
Comments: 0
Page 1 of 2 • 1, 2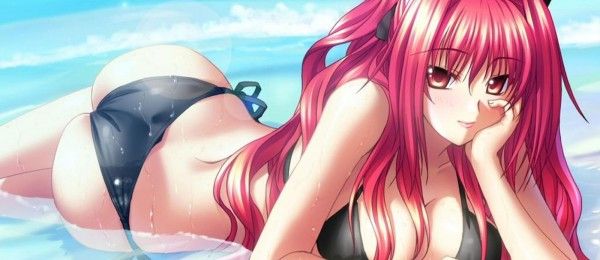 Asashoryu was going away from the AFW and her daily life for something called relaxation. The sun was shining brightly that wave were pushing in today seamed like one of the few days were she could get away from everything. Walking down the peck wear she saw everything. "Alright time to head down and have some time to my self!" Asashoryu would hum a song as she neared. Aashoryu was not expecting anyone to find the beach as few people knew how to get to it. Reaching the beach she set her mat up under a palm tree and read book that she had.
Last edited by 10269 on Sun Jun 16, 2013 11:39 pm; edited 1 time in total
Erica hummed a little song to herself as she wandered the beach. "Oh how beautiful this is. If only Mr G was here with me." she sighed.

The maid's mindset was focused on pleasing John, she'd do anything for him. But her care also went towards John's patient Ryan, the young man was like a Brother to her.
"I think I need to get Ryan hooked up, get him some fun." Erica muttered.

Just then she noticed Akinori at the tree, Erica grinned with her lips and thought "That's that woman. What was her name again? Asashoryu or something? Anyway I bet I could get her and Ryan into a 4 way with me. Mr G said she's a good gal and that's good enough for me. Let's try."

Erica would walk slowly and then bend down at Akinori, giving her a peak below the lacy bra and panties the maid wore.
"Hello I hear you know Mr John and Ryan. Well I'm their maid and I want to play, can we? Please!"
Asashoryu would only read a page before getting interrupted by Erica, Ryan's maid. Asashoryu would turn her head to face Eirca as she spoke. "Well I do know John and Ryan... Oh your their maid they have told me about you!" Asashoryu had heard many thing about Ryan's made and had been wanting to meet her and know was the time, then she heard that Erica wanted to play with her.

[color=#BF0000]"Alright then lets have some fun!" Asashoryu would jump up causing her breast to jiggle up and down more a few moments.
"Yay!" Erica yelled out, she promptly yanked off her bra and underwear and lept right at Akinori.
Her intent was to try making out with her and run a hand into her long red hair with a giggle.
The thing with Erica was that she'd get real horny whenever she got naked, like the slightest touch would send pleasure all over her. It came in handy when she wanted to please her Mr G.
"Oh you wana go their!" Asashouryu would also yank off her bra and underwear too as she got pounced on! Seeing Erica intentions so to start things she'd start rubbing her pussy to start things off. "Try not to cum on me so fast." Asashoryu had gone agienst many people in hentai but all of them just cum after a few minutes of it.
Erica yelped and then giggled in joy. "Oh John was right, you are good." she muttered to Akinori's ear, then she'd playfully bite her earlobe and start humping her in joy.

Her hands would begin rubbing Akinori's ample chest and Erica muttered "Me and Mr J are always up for 3 ways, maybe we can coax Ryan into it as well. He's secretly quite romantic, all those books he reads."
Asashoryu was giggle as well as Erica playful bit her ear, Asashoryu would suck on Erica right breast getting some milk as she did this, at the same time she kept rubbing Erica pussy moving her way down so she could finger it. John had told Asashoryu how sensitive Erica was when she got naked and how even the slightest touch could give her pleasure all over her body so Asashoryu was expecting her to cum at the end of this.
Erica was feeling waves of pleasure, her skin twitching all over as Akinori got her downstairs.
At the same time Akinori was lacating on her breasts, Erica was cupping the red head's own in her hands.
It wasn't long before Erica was starting to seep her juices out, it was getting all over Asashoryu's fingers as she did this.

"Oh......If only Mr G could see me now. Say why don't we call him over? I'm sure Ryan would join in too, I know you'd love a piece of him Akinori-san. He's quite big when he's in the mood." Erica muttered with a giggle.
"Aw your already cumming..." Asashoryu felt the liquids come out Erica rear dripping down. Asashoryu would see she could get milk come out of the breasts now as she kept sucking on one while squeezing the other. "Mmmmmm." Taking it to the next level Asashoryu would start to finger Erica pussy now wanting to make her climax.
"Well Mr G loves it." Erica muttered in response.

She kept moaning in joy as Akinori did her handiwork. The maid ran a passionate hand into the beautiful red mane that belonged to her new friend.

"Oh! If only Mr G could see me now. I'd have him and Ryan just take us both from behind." Erica moaned out as she was climaxing all over the fingers of Asashoryu.

"Hang on." Erica said as she escaped the grasp of Akinori briefly, she went into her dress and picked out a bottle of whipped cream. She'd then spray it all over the belly of Akinori and lick slowly to tickle her.
Page 1 of 2 • 1, 2

---
Permissions in this forum:
You
cannot
reply to topics in this forum