Champions & #1 contenders
Might be a bit slow
Fri Mar 24, 2017 2:33 am by noob
hi people that im rping with. I'm gonna be away for a bit so I might be a bit slow with posting. Sorry xp
Comments: 2
Duo from Iceland has arrived!
Thu Mar 23, 2017 9:38 pm by Jaystar
Hello again everybody!
I managed to get creative, with the result of having two friends,
Isa
and
Julie
flown in from Reykjavik, who are ready to rumble in AFW!
While not sure if they get to decide, Isa is still a little bit reserved and is hoping to get a smaller opponent that she could use her lower body strength on, while Julie is very excited and eagerly up for pretty much anything!
If you have any characters who might want to challenge either one of the newcomers, or basically any fun …
[
Full reading
]
Comments: 0
Impromptu Break
Thu Mar 23, 2017 7:47 pm by Gadot
Hello,
I'm just leaving this here so people know! I'm dealing with a lot at my new job (coming in as a manager with a person on my team who's been there for years and being a bit of a bitch about it), and I'm trying to finish up my last year of college. So for right now, I'm probably not gonna be around. I'm sorry for everyone I'm leaving up in the air with matches, and that I vanished without saying anything to. If you need me, feel free to message me on Trillian. I'm on it from time to time, …
[
Full reading
]
Comments: 1
Page 1 of 9 • 1, 2, 3, 4, 5, 6, 7, 8, 9

Penalty Match
2 out of 3 falls
After every fall the winner may do whatever they want with the loser
[url=http://s1126.photobucket.com/user/armads89/media/headphones-anime-blazblue-noel-vermillion-hd-92039_zps5079e3de.jpg.html:28wo4i95]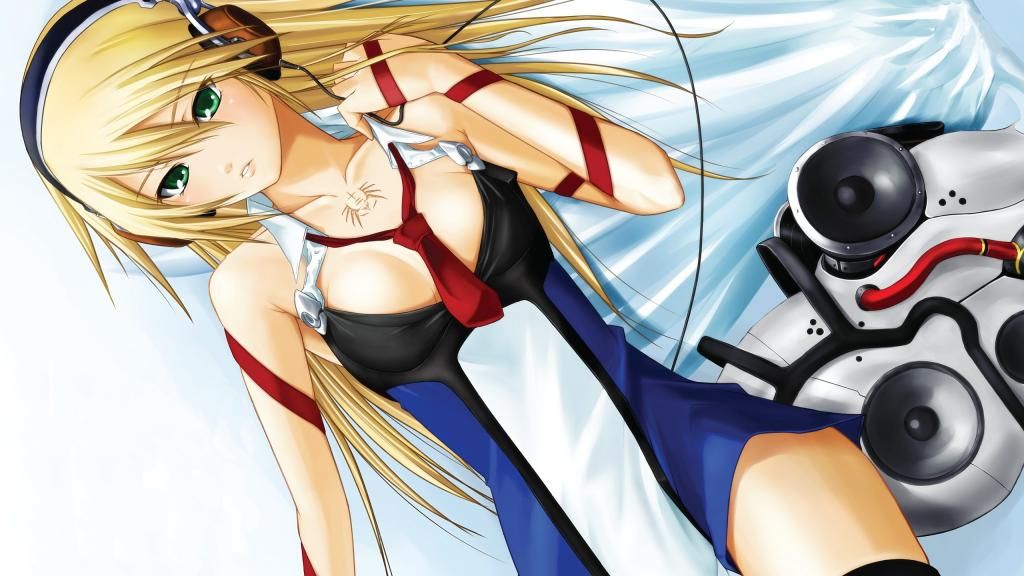 [/url:28wo4i95]
Noel shuffled around backstage adjusting her uniform as she nervously waited for her music to start. Tonight was Noel's first match in the AFW and she didn't know what her first match was going to be and who she was going to wrestle tonight. Noel had heard some of the backstage technicians talking about her match and what she heard about her match Noel didn't like it. Noel started to settled down as her music started up.
Noel jumped a little when the attendant told her to make her way to the entrance. Noel heard her [url=http://www.youtube.com/watch?v=0cu6rIiv6Ig:28wo4i95]music[/url:28wo4i95] begin to play over the loud speaker. Noel stepped out into the arena and she was greeted by the cat calls and whistles of the audience. Noel blushed deeply as she tried her best to ignore the crowd. Noel made her way to the ring with surprising haste and she slide under the bottom rope before standing up and moving to the opposite end of the ring.
Noel just stood there as the crowd cheered as she was to nervous to even wave to the crowd as she waited for her opponent. All Noel cared about was that when the bell rang she would be able to forget about the millions of people watching her and remember what she was taught by her father and wrestling instructor.
Last edited by 407 on Tue Jun 11, 2013 8:52 am; edited 1 time in total

_________________
Characters

The Den
SWuccubus Manabe pulled at the chains on her uniform and grinned as she posed for the mirror. Tonight was going to be her singles debut and the first singles match for anyone in Team Corona. After their last humiliating defeat, the team, or YUUKA, rather, decided to go on tour and show everyone that she was the best.

She didn't care. She was just looking forward to her first delicious match. As her music began to play, she strolled out of the back stage area in her skimpy outfit and feasted her eyes on her timid looking opponent. This was going to be awesome! Not only that but the match stipulations practically made her cream herself right then and there.

She slid into the ring and hopped to her feet, marched towards Noel with a big grin on her face. She got close to the girl and leaned in near the girl's face. "Let's have a fun match!" She chirped. "But... I should know... You're not... a ... viiiirgin, are you?" She said and tilted her head. "I wouldn't want to cross any lines, you know! Just some good clean fun here, eheh!"
Noel watched her opponent enter the arena and she couldn't believe the girl was wearing such a skimpy outfit. Noel immediately began to blush as she watched Succubus enter the ring and get close to her "V,V,Virgin." Noel screamed out as she became embarrassed while her face turned red "That is not a question you should ask someone when you first meet them." Noel said as she took a step back from Succubus. "Why should that matter anyway?" Noel was too embarrassed to notice how Succubus said good clean fun and noel was still blushing with her hands over her face when the bell rang signalling the start of the match.

_________________
Characters

The Den
Succu stepped forward when Neol stepped back, puffing out her nonexistent chest. "Why should it matter?" She said, tilting her head. "She lifted up her hand and pushed an index finger into Neol's breast. "If I score a pinfall... then I wouldn't want to do something that would embarrass you if you're a pure, Succubus ran a finger along Neol's boob, "innocent maiden, now would I?" She grinned up at Noel. "Friendly, remember?" She grinned. "I mean, if you're a lusty 'lil devil then I could... accomodate you. So... How is tonight going to be? Have you ever been penetrated before? Ever have a throbbing dick stirring inside your loins?" She said as she pressed her face closer and clsoer into Neiol's face, the grin never leaving her.
Noel couldn't believe that this girl in front of her was asking so many embarrassing questions and what made it worse was that Succubus jabbed her finger into Noel's breast. "Hey don't do that." Noel said as she tried to take another step back from Succubus only to find herself pinned against the ropes. "Ahhh, stop asking questions like that." Noel said as she shook her head from side to side as she tried to ignore Succubus invasive and crude questions. "So what if i am a virgin? Lets just start the match already." Noel said as she tried to get Succubus away from her.

_________________
Characters

The Den
Succubus straightened up when Noel admitted that she was a virgin. She tilted her head. "Oh. Ok." She said and turned hopping to the middle of the ring. "I'll play nice then!" She chirped and squatted into a wrestling stance as she waited for the bell to ring, giving Noel all the time she needed to regroup.
Noel was glad when Succubus finally hopped away from her "Yes, let us both just have a nice match." Noel said as she leaned against the ropes panting as she tried to cool herself down. After a few seconds Noel stood up straight and moved towards Succubus "Ok, let's get started but please no more weird questions and boob poking." Noel said as she looked at her opponent and wondered if she would be able to make it through this match without being humiliated.

_________________
Characters

The Den
Succu only chuckled a little bit at Noel's words. When the bell rang, the feisty imp darted at Noel with all her power and as she approached, she threw her head back and with a mighty scream, launched herself off the ground and threw herself forward to start off the match with a driving headbutt towards Noel's boob.
Noel was taken as Succubus charged at her and let out a scream "What are you going?" Noel managed to say before she stumbled backwards holding her small boob. "Hey, watch where you swing that head of yours." Noel said as she clutched her chest and tried to make the pain go away. "That really hurt." Noel kept complaining but she knew she had to attack back. Noel quickly jumped forward and tried to plant her foot in Succubus's stomach. "Take this."

_________________
Characters

The Den
Succubus raised her eyebrow at Noel's words. Of course it hurt. What was wrong with this girl. When Noel suddenly threw her foot back, Succubus hopped backwards to dodge the attack and waved her hands.

"Whoa, whoa, whoa!" She said and waved her arms at Noel. "So, you're telling me that I can't fingerbang your pussy." She said, using crude language and curling her left thumb and forefinger around her right index and middle finger and rubbed it up and down. "Because you're a virgin. AND I can't wrestle you because you don't want a boo boo?! What the fuck am I SUPPOSED to do!? Tickle you into submission!?"

Succubus then grinned. Maybe that wasn't such a bad idea. she leaped at Noel and looked to grab at the girl's sides and lightly wriggle her fingers against Noel's underarms.
Page 1 of 9 • 1, 2, 3, 4, 5, 6, 7, 8, 9


Similar topics
---
Permissions in this forum:
You
cannot
reply to topics in this forum