Champions & #1 contenders
Moonhearts Promo intro thread is O p e n.
Mon May 21, 2018 4:21 am by XSirenX
Feeling brave?, lost?, or without a thread to post in?, hit up the newest Moonheart if any of those apply!
CLICK HERE
What Moon has to offer?, many things...:
Comments: 0
The Austrailian Mudslide is Back.
Sat Apr 21, 2018 6:20 am by Softsquad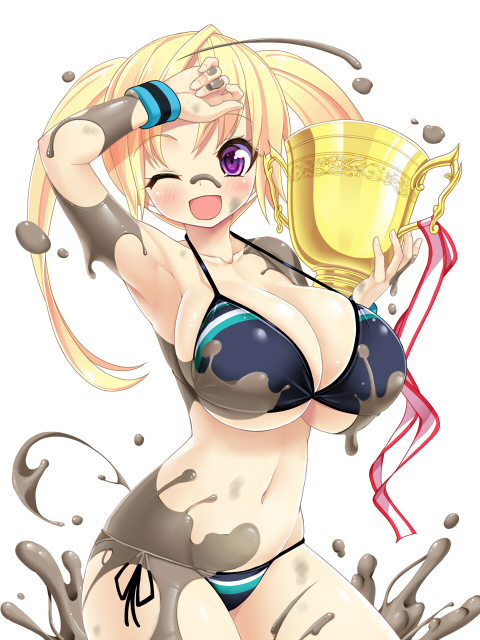 Granted that most of you won't know me or remember me, but I've had a few matches here and there some time ago. Well I think its time to become a regular around here and try to have some fun again, but at the same time keep coming back. Anyway I think its time to jump into some matches with Zoe Taylor, my mud wrestling character from Australia and get her back into the squared circle. Furthermore I will update my characters as I think some proper changes need to happen.
So if anyone would …
[
Full reading
]
Comments: 4
Page 2 of 3 •

1, 2, 3


"Yeah, Johnny.." Mercy said with a nod. Johnny furrowed his brow and glared at Mercy before turning an apologetic face back on Taylor. He ran his hands through his silver hair and sighed.

"Listen, babe...." Johnny began, appealing to her with his body language. "I beat that girl pretty badly. She was stumblin around, prolly needed a hospital. I helped her to the back and made sure she was alright. We started talkin and then..." Johnny paused and shrugged. "She just kissed me man. I don't know why!" Johnny said and waved his hands. "You know how crazy chicks are, man! I broke it up right away and flashed my ring! I swear that's it." Johnny furrowed his brow. "I don't know what kinda dick flashed the picture but fuck that man!"

Johnny shook his head and "Dude!" He said and looked back at Taylor. "I ain't fuckin around with ya! I don't fuckin want another chick, man! I want YOU! Maybe I ain't the smartest guy around but I know what I got and I wouldn't ruin it by makin out with some chick... in the dressing rooms of AFW... with the FUCKING DOOR OPEN!"
Taylor stood perfectly still, staring daggers at Johnny. She hardly looked to be breathing, until finally, her glare softened somewhat.

"Johnny..." She said, and her voice quavered slightly. He had a good point, but then when were guys ever smart about where and when they chose to hook up with slutty girls? "If..."

She paused, and lowered her gaze. Her face collapsed, her brow wrinkled and her lips pursed. She was fighting off tears when she spoke.

"If you're telling me that's the truth..." She managed. She suddenly had no idea what to do with her hands. "I'll believe you." There was a lengthy pause, but she still appeared to have more to say.

"But it has to be the truth. If you're not honest now I'll never trust you again."
Johnny was shaking on the inside when Taylor finally spoke. Even when her face softened, he wasn't ready to go off the defensive just yet. Still, when Taylor was finished, Johnny felt relief. He HADN'T lied to her so there was no way he was going to lose Taylor's trust.

"Babe... You're the best thing that ever happened to me. If you don't trust me, then... that's just shit, man. I don't know what I'd do!"

Mercy's gaze remained hard while Johnny spoke and when Taylor began to falter, Mercy felt she needed to step up some support and leaned in and pressed her hand against Taylor's back. "You got this, girl." She whispered in encouragement. She nodded along with Taylor and when Johnny was finished and looking to bring himself in with a hug, Mercy held out her hand with the cell phone in it.

"Whoa, whoa, whoa. Just because Taylor's forgiven you doesn't mean you're out of the doghouse, yet, mister!" Mercy said and looked at Taylor. "Isn't that right, Taylor? That's right!" She said and nodded at Johnny as though Taylor was in agreement.

"If you think this is all over with a nice, neat bow, then you're quite mistaken! You better prove to Taylor that you're the man she thinks you are! uh huh." mercy nodded.

Mercy then patted Taylor on the back and gave her a comforting smile and nod. "It'll be ok, Taylor. I'll make sure he's not done twisting in the breeze just yet."

Mercy then pulled up her cell phone and scrolled through it like the pro she was. She hit a button and turned her back to the couple while her phone rang. She turned and looked at them. "I'll give you two a few minutes." She whispered before her eyes lit up and she turned away from them and quickly began to chat away into her phone. "Kelly? Kelly Conway? My name is Mercy Wrenn. I represent the Chief Manager of Talent Relations for Friction, Aurelia Fortuna, you know, your boss?" She always liked adding that part and puffed out her chest a little bit every time she said it. "We're currently in the process of booking a guest for an impromptu Conway's Crib tomorrow, so we're going to need you available to run that. I hope you'll be ready."
Taylor gave Mercy a filthy look when she came between her and Johnny. The look she gave Johnny made it abundantly clear that Mercy did not speak for them both.

When Mercy turned away, Taylor was instantly in Johnny's arms. "I'm sorry I hit you," she said quickly. For a while she just clung to him with her head on his chest.

"Can I still kill her?" She said quietly. She didn't need to explain who she meant. "Hold on a second."

She walked up to Mercy and yanked the phone out of her hand and put it up to her ear. "Hold on a second, a'right?" She said, sounding just like NYC, and dropped the phone on the floor. She grabbed Mercy by the back of her collar and the back of her pants, wheeled her around once, and flung her bodily into the front door, and made sure she found the floor with a shove with her foot.

She leaned down to put her face inches from Mercy's. Her voice was calm and collected and severe, like a killer.

"Look at me," she said. "Don't ever try to come between me and Johnny. Do you think I don't see what you're doing? You will not fuck with our marriage. Not even a little, or else you and I will have a problem. Do you understand me?"

She didn't break eye contact. She didn't blink.
Last edited by 1167 on Thu May 30, 2013 5:38 am; edited 1 time in total
Johnny crashed against Taylor when she hugged him and squeezed her with all the might of his burly arms. He never wanted to separate from her and was glad that she believed what he said. That made him feel like a huge weight was lifted off his shoulders.

Mercy was too engrossed in her conversation to even think about noticing Taylor. When her phone was yanked away, She knit her eyebrows. "Hey!" She cried. Another shriek came from her when the phone was dropped. But before she could even get out a 'what the hell!?' she was being spun around and thrown out the door.

She landed with a thud, squeaking when she was kicked and before she could even straighten out her tie, she had Taylor in her face, screaming at her. SHe stared at Taylor with wide-eyed disbelief and when the girl was finished, Mercy's face wore the look of a puppy who had just been swatted with a newspaper for a reason she could not fathom.

"W-What!? What are you talking about!? I'm the one that rushed down here to Kyoto to get Johnny and bring him to you! He didn't even KNOW what was going on! If I'm doing anything, I'm savingyour marriage! I can't believe that you think I'm..." Mercy brushed her hands down her suit coat and looked yup at Taylor. "I... I... Taylor... I can't believe I'm hearing this! Should I have just left Johnny in the Tension facility?! With all those girls and... completely oblivious to everything! If I hadn't gotten to him first, then who knows what kind of vultures would!?"

Mercy turned her head and pouted. "I'm putting Shauna on Conway's Crib... That's the girl's name. No matter what you want to believe it's not JUST yours and Johnny's business. I'm not TRYING to ruin your marriage, but if you don't let ME help you in all of this, then you'll end up dealing with SOMEONE else. AFW wants to sell this." Mercy looked back up at Taylor. "If someone had emailed you the pic... or if a friend told you, I wouldn't be here, but the WORLD knows and you can't put the cat back in the bag. If you kick me out and shut the door, it's NOT going away. You need damage control, understand?"
Last edited by 445 on Thu May 30, 2013 9:24 am; edited 1 time in total
Taylor let her eyes do the talking. She really doubted that Mercy came all the way here just to help them through their marital problems. She liked Mercy, but she got the distinct feeling that she... Maybe it was just her. Probably not.

She grabbed hold of Mercy's hand and hauled her back up to her feet. "We do not need damage control!" She protested loudly. "This is between me and Johnny, and not even that girl. Just us! And we're going to handle it however we handle it! It's not like it happened in the ring and everyone saw, it's just a picture and it's no one's fucking business! If I ever find out who took that picture... Johnny, tell her. Tell her this is not a... PR thing!"
Mercy squeaked when she was hauled up and tugged her hand free, pulling it close to her chest and furrowing her brow. "You can get angry and pretend all you want." She said looking sternly at Taylor. "But if you think it only involves you and Johnny then you're burying your head in the sand."

Mercy brushed her hands down her suit and let out a sigh. "If I find out who took the picture, I'll be sure and pass it on to you." She said in a serious tone. "But millions of people have seen it. If you want to settle things, you have to do more than just believe Johnny's telling the truth and hope the rest fizzles away."

Mercy marched past Taylor and bent over and picked up her phone. She pushed the off button on the call that had long since been hung up on. She'd have to deal with Kelly again and that wasn't something she was looking forward to. She tucked away her phone and turned back to Taylor. "Millions of people." She said again. She was certain Taylor had no clue about the scope of the situation. "Taylor, if you try and fight this and just hope it will go away, then you're only going to make it worse." Mercy's tone changed from matter-of-fact business to more sincere. "Or, you can let me do my job... the whole situation is going to SUCK for a while... and then it will go away." Mercy cocked her hip and looked at Taylor with a serious look. Hopefully the girl understood what Mercy was trying to say. She turned and looked to Johnny who Taylor also seemed to want some backing from.

Johnny ran his fingers through his hair and looked between the two. "Uhhhh...." He said at first. "Man, I dunno about this shit. I don't want it to be a mess and junk. We're just trying to live our lives. Taylor ain't even fuckin wrestlin man." Johnny looked down. "If this shit is gonna happen every time I get into the ring, I don't even know if I wanna keep fuckin doin it. It ain't worth makin a hassle for my wife, man."
Taylor could only scowl. She stared off into space while she considered the idea.

"Sorry I roughed you up and stuff," she said. "But... You've got to understand that 'me and Johnny' is off limits. We're both pretty public people, but when it comes to our problems... Ya know, just some stuff is for us only. I will not let some random bitch come in and try to mess us up."

She turned and wagged her finger at Johnny. "You're good at what you do. You're somebody. I don't want you to quit and neither do you."

She paused, and looked at Mercy. "So, like... What do we DO?"
Last edited by 1167 on Sat Jun 01, 2013 5:51 am; edited 1 time in total
Johnny smiled at Taylor and instantly went over to her to give her a big hug. He needed her words and didn't even realize it until she had said it. It felt even better knowing she had his back despite punching him in the face a few minutes ago and he knew he couldn't ever do anything to let her think that way again.

Mercy brushed her hands down her suit one more time and then shook her head. "I've been roughed up way worse than that." She then lifted up her head. "I'd probably do the same in your position." She then smiled. "And because we're friends, I won't even have you arrested for assault!" Mercy laughed softly and then looked between Johnny and Taylor. "You have to get your story out there." She said. "Your side. People WANT to hear from Taylor Parker." Mercy tilted her head. "Sorry to say, Johnny, but all you are in all this is a slab of man meat for the ladies to drool over."

Mercy smiled and pulled out her phone. "I'm putting Shauna on Conway's Crib. That is going to be a circus, but it could give you a chance to speak your mind or have a good look at Shauna and make sure that she tells you straight in the eye how things really went. See if she buckles under the presence of you and Johnny. I think that would make sure she came clean."

Mercy bit her lip. "But... I don't really trust Kelly. She was stirring the pot when you and Akashi were on and Lukretia was standing right there watching the whole time." Mercy looked at Taylor sheepishly. "I don't really trust myself too much either. A powder keg like that is just too hard to resist throwing a match on." Her eyes gleamed at the thought. "But! If that's no good, then we can set up an interview of some kind independently. But, you NEED to get a statement out at the very least. Why don't you try... tweeting about it?" Mercy said and gave a hopeful shrug. "You could decide from there what to do next based on the reaction you get."

Mercy pushed the button on her phone. "I'm going to deal with Kelly now. I'll give you two a few REAL minutes alone and when I finish up, you can tell me what you want to do, ok?"

Mercy then turned and began walking towards the door and opened it to step out into the hallway. "Kelly!? Kelly, it's Mercy Wrenn! Something came up and I had to set the phone down. I have time to talk now and I need to get you the details about your next show...."
Taylor stared blankly at Mercy, and then pointed off at the ruins of her phone on the floor. She wouldn't be doing a lot of tweeting, at least not right away. She wasn't really sure where her laptop was at the moment.

She nodded silently and once Mercy had left them alone, Taylor stood in front of Johnny with her arms drooping at her sides, and put her forehead on his chest. She couldn't immediately think of anything to say that didn't sound like she was blaming him for the whole thing, so she stayed quiet. The whole thing sucked. It was one thing for something like this to happen, it was entirely another to have the whole world oggling your shittiest moments.

And why did she have to respond to it? She wasn't anything now. She was a housewife. Why did it matter? Did people just want to see her flip out on TV and go after Shauna like on Jerry Springer? Probably. People sucked. She didn't want to go after anybody, but she felt like if she was in that situation that's exactly what she'd do. It made her feel like she was set up to be the bad guy on top of everything else.

She sniffled. Her eyes glistened with tears, but none fell. She blinked them away and looked up at Johnny. She needed to not be herself if this thing was every going to work out. For Johnny's sake, and for his career.

"Tell me what to do," she said.
Page 2 of 3 •

1, 2, 3


---
Permissions in this forum:
You
cannot
reply to topics in this forum