Champions & #1 contenders
Summer Splash interest in Natasha Loclear?
Mon Apr 09, 2018 11:30 pm by daemongirl
Well my girl hasn't missed a summer splash yet, would anyone be interested in a match with her? Open to just about anything match wise, just pm me!
Comments: 1
Been Out with the Flu
Sun Apr 22, 2018 7:47 pm by daemongirl
Just letting those I have threads with know I've been out with the flu since early last week, but I will be back to posting tomorrow.
Comments: 0
The Austrailian Mudslide is Back.
Sat Apr 21, 2018 6:20 am by Softsquad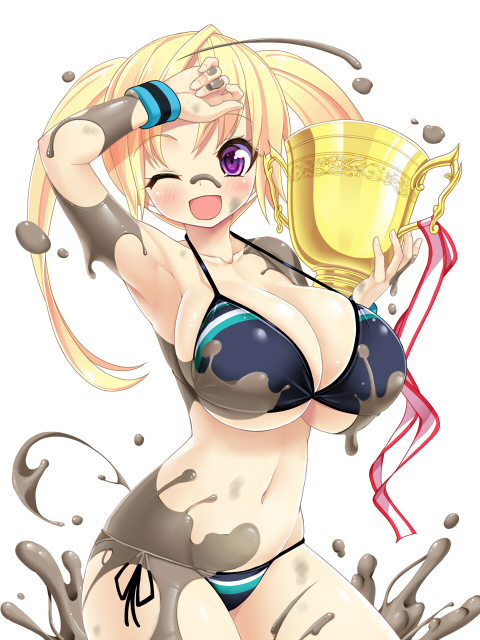 Granted that most of you won't know me or remember me, but I've had a few matches here and there some time ago. Well I think its time to become a regular around here and try to have some fun again, but at the same time keep coming back. Anyway I think its time to jump into some matches with Zoe Taylor, my mud wrestling character from Australia and get her back into the squared circle. Furthermore I will update my characters as I think some proper changes need to happen.
So if anyone would …
[
Full reading
]
Comments: 0
Page 3 of 4 •

1, 2, 3, 4


"GAAHHHHH!" Ryan cried out in an inhuman tone. His wrist was broken, the pain shooting into him like a shock.

"The darkness envelops me." Ryan muttered.

Then came the spray, it reminded him of the black eggs that were used when he was the savior.
Only his were much worse than what he went through, still hurt like fuck however.

The kick then came shortly after that, Ryan's skull was hit hard by it. Sending him to the mat, he could hear his Doctor yelling something to him. But he couldn't pay much attention right now.

"Daddy...it hurts, please stop it Daddy." Ryan muttered as he lay on the ground, he was having flashbacks to when he was abused as a child. The pain continued as the bad memories returned to him.

Suddenly he felt someone grab his arm, it couldn't be Dragoneel cause the arm came from his Doctor.
John had dragged him out the ring by his non-broken arm. "Dammit! Alright hang on Ryan. I saved you once and I'll do it again!" John said.

He grabbed Ryan's broken wrist and said "Grit you teeth." then he popped the broken bones back into place, Ryan said nothing, he was too delirious now to respond much. Once he did so John would mutter "Ryan listen to me, it's okay. You're not being attacked by your Father, you're fine."

Meanwhile Erica was weeping "How dare you hurt my dear sweet Ryan! I outta choke you to death! He's like a Brother to me you Bastard!" she yelled while pounding the floor.

Just then she felt a hand on her shoulder "Mr G?" she muttered as she felt it.

"Yes it's me Erica. I will make this right, I promise you." John said.

Erica sniffed as she held Ryan's non former broken hand. "It's just he's suffered so much in his life." she muttered.

"I know but here's where we make a stand, I love you Erica." John said.

"Oh Mr G, thank you." Erica bit her lip and kissed John's hand and then Ryan's forehead.

John quickly got into the ring, he was totally serious now. Sheer determination was in his eyes now "Tsk tsk, hurting my patient like that. I can withstand the hate on me but that boy is like the son I never had, now get ready for I know you will show no mercy and neither shall I, this Doctor has been paged." he said.

Meanwhile Erica was gently holding Ryan's sobbing form "Don't worry Ryan, Mr G is gonna make this all okay."
Ryan's dog Duke whined and licked the left shoulder of Ryan in comfort.
Last edited by 11503 on Wed Jun 19, 2013 12:21 am; edited 1 time in total
_________________
Check out my wrestlers
here
, but PM me for match requests.
Solaire of the AFW.
Dragoneel grins sadistically after what she did to this guy, she felt completely satisfied for this. She opens her mouth slightly and licks inside her mouth to get the pack that had the mist in her mouth out and then crosses her arms and glares down at the guy as the doctor comes into to drag Ryan away and out of the ring.

She sees that the girl is pissed off and is yelling at her with threats. "Oh shut the fuck up you skank!"

She waits and sees that the doctor is taking Ryan's place and she cracks her knuckles. "That insane freak had it coming, after what he did to my sister just be lucky I didn't do much worse then that you fucker." Neel prepares herself for this sicko if he plans to make the first move to destroy him in this match.
As John stood in the ring Ryan was still sitting outside, he muttered "This has all been my fault, it I just let Ryu-chan hit me there none of this would happen." a small amount of tears left his eyes.
Erica hushed him and said "Ryan we can never see what our actions bring in the future before hand, we can only hope that we get what we want."
Ryan nodded and said "That may be, but regardless I need to try and put this right, if good people do nothing that is evil enough. Erica would you do me a favour?"
"Sure name it Ryan."
"I want you to go over to that girl in the corner with the light purple hair. Tell her I'm sorry, that things weren't meant to go down like how they did. And she can keep Johnny, he'd be better off with someone like her than a guy like me." Ryan said.
Erica smiled and said "I'll do it Ryan."
With that she performed many backflips towards the corner of Ryujin, her ample chest flying around earning cheers from many of the crowd.
Once Erica was in front of Ryujin she stopped and turned to face her. "So listen uh....Ryu-chan, I'm Ryan's maid and he wanted me to say something on his behalf, he'd do it himself but these are hardly good circumstances. He's real sorry for what happened earlier with you two, I watched it earlier just before I put my stuff on and it was just due to his lack of technique, his profile only gave him two stars. So yeah he's gonna botch moves and f stuff up, but he's solid gold at his core. In fact he even wants to give you Johnny, you can keep him. But just give him another chance, he's here to create a new life for himself, I can relate there." she explained, the maid was putting on her best puppy eyes as well.
Then Erica turned to leave and said "You know I really love your hair, it reminds me of candy floss." with a giggle she went to leave.
Meanwhile Ryan went near Johnny's cage and took something that was linked to it. It was this
http://www.brothersreconciliation.org/blogs/FriarDon/wp-content/uploads/2012/08/RosaryBeads.jpg
He placed them on his neck and muttered "We are blessed for we are also cursed."
The Doctor meanwhile sighed and said "I know what's going to happen here. Your most likely thinking "I'm gonna rip this guy into two." Well let me just say, there can only be one of me, and that belongs to my dear sweet Erica." he then gave a laugh akin to the joker.
He then rubbed his knuckles and thought "Now how will I approach this session? Use my psychiatrist skills? Confuse her with joker style combat moves? Nah I think any combat move I try will just be countered, ah what the hell. I'll just do this and try and counter back." The Doctor would just go for a simple flying body splash, if Dragoneel dodged it and began to stomp him or go for any kind of kick then he'd quickly grab the leg and push her down for his ankle lock.
Last edited by 11503 on Wed Jun 19, 2013 11:26 pm; edited 4 times in total
_________________
Check out my wrestlers
here
, but PM me for match requests.
Solaire of the AFW.
Ryujin kept sitting outside the ring to let her head heal up on it's own while putting a bag of ice against it after she banged her head into the concrete ground when she was tossed out of ring by Ryan's Suplex, her head feels a bit better but hurts like hell still especially since she hit it on the side. She didn't pay any attention to what was happening in the ring but knew her sister was probably brutalizing Ryan.

Until she heard the girl's voice she didn't notice the skimpy girl approach her to tell her that Ryan was sorry for the throw and offers her Johnny the Komodo Dragon baby. "Oh no I cannot accept that at all." Was her only answer to all she said as she kept leaning on the ring's edge to wait for her head to heal a little bit up as she keeps the bag of ice against it.

In the ring, Dragoneel punches her fists together, eager to beat this sick doctor's face in who makes an assumption of what she is thinking. "Correct, and when I am done with you, there won't be anything left, or at least you won't have anything between you legs."

As the doctor came flying at her and jumped at her with an aerial body slam attack, Neel fell backwards and rolled back so her legs can come in contact with the doc's chest and she will use his momentum against him and kick launch him into the turnbuckle that is behind her. "You have no wings so you shouldn't fly!"
"Lord, I have no right to ask this of you. But please, do not let my friends suffer because of me." Ryan thought to himself as he held the cross tightly.

As if in answer to Ryan's prayer something good happened for once to team mental, call it devine intervention.
When the Doctor neared Dragoneel he saw where she was aiming her legs. He quickly made sure to wrap his arms around them, then he rolled forward so that his back was on top of her chest. With her shoulders on the mat the ref girl went for the pin count.

"Nice one Mr G, that's why I got eyes for you!" Erica said.

"Of course my dear." John said with another Joker like laugh.

Erica then walked over to Ryan and said "The lady said she can't accept that. That's all she said to me."

"What did she mean by that? Ah no doubt she refused my apology." Ryan said assuming the worst, he held his cross but the artefact gave no real happiness right now.

Ryan meanwhile looked at his shirt and thought "Is my medication still there? Perhaps it's time to take it."
Last edited by 11503 on Mon Jun 24, 2013 10:25 am; edited 1 time in total
_________________
Check out my wrestlers
here
, but PM me for match requests.
Solaire of the AFW.
"What the?!" Neel was utterly surprised when the doc somehow grabbed her legs in a split second before rolling onto his back, on top of her chest, folding her lower body to pin her. A major grave mistake, the doc's back was pressed against the girl's breasts. This sick fuck was doing this on purpose! In bitter rage, the second the man landed on her chest, she raised her arms up and slammed her fists HARD on both sides of the doc's head, which is a major weak point for humans since this hurts like hell, and its made even worse since Dragoneel had hidden steel knuckles in her gauntlets. If the first strike was unsuccessful, she would keep punching the guy's head hard on both sides until he released her and then roll off to the side and she surely INTENDED on giving him a concussion "Get. the fuck. OFF ME!!!"
"Ohh a little bit lower. Be sure to get my good side, aw heck they're all good!" John said as the fists hit his back, now he acting like the Joker now.

"Why'd you want the Doctor off you? He's perfect cause he's my Mr G!" Erica said as she blew kisses to the Doctor.

"Well Erica that's the price of comedy, you take hits from people who just don't get the joke." John said in response to his maid with another laugh.

Then the hits to his head came "Ow okay you don't get the joke ya party pooper. Trying to spoil my fun are ya? Well I never!" he said as he got hit on both sides.

Erica was getting the crowd on the side of John now with her cheerleading moves, the photos of John barely covering her chest as she swung her hair wildly about. They were all chanting "MR G! MR G!"

"Thank you my people! It's good to know that there are people who admire me! I too admire you all!" John said with another Joker laugh.

Unlike Ryan or his alter ego the Doctor did not have a different mindset that helped to block out the pain.
He got off but he was able to see what Dragoneel was up to, if the dark savior was a batman wannabe then John had a body just like the batman. She could try something but the Doctor would be ready for it. After all a funny man like John can often see the punchline coming.

Elsewhere Ryan crawled over to his discarded shirt and fumbled around in the pockets.
"You can always have more of a good thing I guess." he muttered as he withdrew some red pills.

After grabbing some water from a nearby stage hand he consumed his medication.
It had three effects. One it would help to block out pain. Second it would calm your heart rate. Third it helped to prevent Ryan's illness from taking effect. But unknown to him there was a problem in manufacturing, something odd but humorous was going to happen to the young man very soon as the pills took effect.
Last edited by 11503 on Thu Jun 27, 2013 10:03 am; edited 4 times in total
_________________
Check out my wrestlers
here
, but PM me for match requests.
Solaire of the AFW.
(There is like no change at ALL in that but whatever... )

Neel kept punching at the doc's head with her fists that have steel knuckles hidden in the gauntlets so she can inflict more damage onto her opponents, she kept punching both sides of his head hard, and with the combination of using both fists at the same time along with the steel knuckles, it should be enough to give this sick pervert a concussion as well as leave his head hurting in pain for a long time.

By the time she finally got the guy off of her, Neel rolled onto the side on her knees and placed her right hand against her chest as if she was injured. "Damn you, you landed too hard on my breasts you sick fuck!" She wanted to lure this guy in, and with this guy being a doctor he wouldn't hesitate to come to try and help her, especially if she was a woman.

In the meantime however she was getting real annoyed with that skimpy bitch that is "cheering" for the doc, and was able to get some of the losers in the crowd to cheer with her. Talk about pathetic, the only reason they are cheering is so they can make the "sexy" slut happy that she won them in over, in reality the crowd is only playing along with her because they still feel disgusted with Team Mental after what they did to Ryujin, and they really did hope that she would recover soon and actually wanted for Dragoneel to tear them a new one.
(Sorry my friend.)

Ryan was feeling real bad about what he'd done to Ryujin, he made a mental note to attend confession at the nearby church immediately after this match even with his broken wrist. If only to make himself feel better, he choked down tears as he took the medication.

Ryan had rolled onto his back and his vision went white, everything was drowned out as he felt at peace.

His vision at last returned to normal, only he felt different. Ryan sat up and thought "Jesus that's potent stuff. I feel.....Renewed. Like I could walk into a hail of bullets now." the medication's effects were temporary but damm was it strong. The problem with the manufacturing was with the pain relief, the pills Ryan took had the effect improved.

However there was something that Ryan didn't see, now his face was really red, a side effect of the tampered pills. We're talking real embarrassed looking red, and Ryan just walked by without even noticeing it was on him. The crowd weren't really looking at him, they were focused on Erica and the match and not some freak who acted as a vigilante at night.

He then looked at his then broken wrist and popped back into place by John. Suddenly it wasn't hurting as bad, in fact it felt normal. Ryan knew it wasn't but he just couldn't feel it, was it wrong to be happy about that? Ryan didn't know.
The young man put his shirt back on and kept his cross necklace on as well.

"Meh bones grow back" he said to himself, he then put his hands behind his back and walked back to his corner. All the while humming the theme of call of Juarez.

He then climbed back up to his corner and said to everyone in a rapid tone. "Okay Doctor I'm feeling better, arm's still busted but I'm fine otherwise."

As he was doing this John saw this and said "Ah Ryan my boy, I was right about you. You never stay down for long. My you look real flustered."

"Do I?" Ryan said, he would've checked for a mirror if one were around.

Just then John turned to Dragoneel and said with folded arms "Oh by the way you can quit the wounded gazelle gambit, I can tell you ain't got injured breasts. Normally I always help women out, but in your case I'm gonna make an exception cause I don't help women who are "Heels". Nice try anyway."

Meanwhile Ryan still looked guilt ridden, he hadn't felt this bad in ages. Not since that "Incident." he was involved in prior to meeting the good Doctor. He looked at Ryujin and then his cross and held it, then closed his eyes.

"Lord, everything that has happened here is my fault. I am responsible for the injury of a woman in an unintended way. Please aid her recovery as I have with my own. Do not do so on my behalf Lord, but on that of the innocent woman. Please." Ryan muttered, his eyes shut and non broken hand on the cross.
Last edited by 11503 on Thu Jun 27, 2013 10:48 pm; edited 1 time in total
_________________
Check out my wrestlers
here
, but PM me for match requests.
Solaire of the AFW.
"Heh, I guess your not stupid after all then." Neel just stood up in an instant unamused that her act was caught, although she didn't care, she'd still beat this doctor up hard. She puts her hands on her hips and rotated her neck around in a circle and lifted her shoulders up as her neck rotated to crack it, and it feels good. "Well come on then you jackass, come and get bloodied." She said to taunt the doctor as see rose her hand up an made a gesture for him to come at her so she can brutalize him. All while making a motion with her jaw as she used her tongue to assure that her second secret weapon is still in her mouth, she used it unintentionally the first time on Ryan as payback for what he did to her sister, and she was sure as hell gonna use it on this guy as well.
Page 3 of 4 •

1, 2, 3, 4


---
Permissions in this forum:
You
cannot
reply to topics in this forum