Champions & #1 contenders
Summer Splash interest in Natasha Loclear?
Mon Apr 09, 2018 11:30 pm by daemongirl
Well my girl hasn't missed a summer splash yet, would anyone be interested in a match with her? Open to just about anything match wise, just pm me!
Comments: 1
Been Out with the Flu
Sun Apr 22, 2018 7:47 pm by daemongirl
Just letting those I have threads with know I've been out with the flu since early last week, but I will be back to posting tomorrow.
Comments: 0
The Austrailian Mudslide is Back.
Sat Apr 21, 2018 6:20 am by Softsquad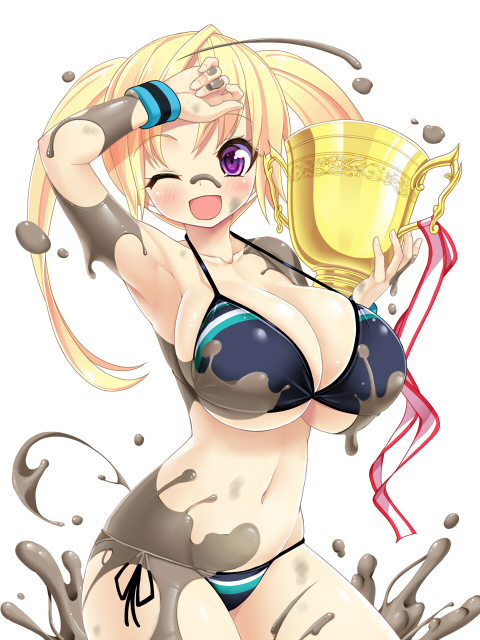 Granted that most of you won't know me or remember me, but I've had a few matches here and there some time ago. Well I think its time to become a regular around here and try to have some fun again, but at the same time keep coming back. Anyway I think its time to jump into some matches with Zoe Taylor, my mud wrestling character from Australia and get her back into the squared circle. Furthermore I will update my characters as I think some proper changes need to happen.
So if anyone would …
[
Full reading
]
Comments: 0

It was a quiet Saturday Afternoon, Hikaru was currently listening to her head phones as she sat on the couch with a book folded up in her head. She was wearing a pair of jeans and a simple white graphic Tee with her legs crossed. She slightly adjusted her glasses before placing a strand of blue hair over her ear as she flipped another page in her book. She was facing their new LCD screen Television, to the right of them was a kitchen which had a granite counter accompanied by 4 bar stool chairs. Hikaru had convinced Rei to do some renovations around their apartment. The kitchen by far was their biggest project and it was looking pretty sleek if she said so herself. Hikaru was planning to read a bit more before making dinner as it was her turn to make it this time. Although they had enough for left overs she wasn't expecting anyone to come over as Rei had neglected to inform her that she had invited Tomomi over for a bit of sparring.
Rei, on the other hand, was in in her room lying in the King Sized bed in her master bedroom. Their apartment had 3 bedrooms and at first neither Hikaru or Rei wanted to take the master bedroom because it seemed like too much space. Both of them were so used to dorm style rooms and made it into a training gym, with mat floors. Hikaru still loved her dorm style bedroom littered with stacks of books and surrounded by posters. She loved living in a smaller room finding it liberating and comfortable. Rei's room was now the storage room and the guest room to some extent. It was chalk full with all of Rei's anime DVD's, blue rays and manga collection as well as more of Hikaru's books and a small single bed.
Rei's new room was spacious, had a nice hardwood floors, light red walls, an LCD screen equipped with a Wii U, PS3 and Xbox360 in one corner, some training mats in another corner, her bed in another corner and a walk in closet in the final corner. The center of a room had a leather couch for Rei to accompany the Television. It was oddly spaced out but Rei liked this arrangement finding it rather efficient. Before Tomomi would come, Rei would take a nice long shower lathering her hair with her favorite shampoo and using a very floral and fruity shampoo so she'd smell extra sweet for Tomomi when they had their little spar.
After her shower, she grabbed her Galaxy S 3 and layed on her leather couch upside down and began texting to kill some time while she waited for her hair to dry. She sent Chigusa a text thanking her setting up the sparring session with her and Tomomi as she hadn't seen the girl in ages. I would be fun to catch up and halve a little fun with each other. She got up to take a look at herself in the mirror and nearly had a heart attack.
"Ahhhhhhwwwwwww!!!" Rei said as she looked at hair with a sigh as she for got to put on her special color conditioner. The new shampoo she use washed off most of her color. She smiled though as the hair she had was reminiscent of her old Wrestle Angel Days. She'd just have to remember to buy some hair dye later. She smiled admiring herself in her white lingerie before she heard a knock at the door.
"Come in! The door's unlocked!" Rei yelled as she tried to dry her hair quickly with her towel. Hikaru would be unaware of the knock and would have her back turned to the door.
[align=center:r03cjymh]
[/align:r03cjymh]
Last edited by 863 on Wed May 08, 2013 2:36 pm; edited 1 time in total
Tomomi was extremely excited that she was finally getting a spar with Rei Tomizawa. They hadn't known each other too well in Wrestle Angels, having only met a few times before the end of the league. But now that Rei finally had come to AFW, they could get to know each other and really practice each other's skills. Chigusa took the liberty of setting things up when Tomomi asked. She knew Rei would absolutely love it and Tomomi would enjoy it as well, maybe learn a few things. Tomomi did wonder whose idea it was to meet at Rei's apartment instead of the gym or somewhere sensible, but she guessed it would be Chigusa's idea. The girl had dirty ideas about everything, and she wouldn't pass up a chance to have such a thing become reality. Especially since in Tomomi's bag she brought not gym clothes but a sexy set of lingerie. She wore rather cute street clothing since she was doing travelling and going trenchcoat was both too obvious and far too warm. Instead she wore a light sweater and short skirt, with light black stockings and a pair of buttoned ballet flats.
She arrived at Rei's place after a short bus ride, walking over to the girl's apartment. They all didn't live too far from one another and the places they worked at. Tomomi quickly breezed past security, who had come to expect pretty girls to come and go out of the apartment complex already. Tomomi knocked on Rei's door politely instead of barging in, which happened surprisingly often at the Wrestle Angel dorms. She heard Rei's clear voice come from the inside, opening the door at Rei's invitation. "Sorry for the intrusion!" Tomomi said softly as she came in and took off her shoes. She walked over to the living room, finding Hikaru reading a book.
"Hikaru-chan! Ohaiyo!" Tomomi called loudly to make sure Hikaru heard over her music. She gave a quick wave and walked over towards where Rei's voice was coming from. She knocked on Rei's door before entering, pushing it open without waiting for a reaction since that was the way they were before. She blinked a little as she saw a sexy pale girl with purple hair dressed in white lingerie admiring herself in the mirror. Rei looked good, very good.
"Wow, not bad!" Tomomi said, "You're making me feel overdressed right now, wait one second ne~? Let me use your bathroom for a second."
She quickly ducked out before Rei could say anything and quickly slipped into a bathroom in the hall, shutting the door. She blushed at the throught of wrestling with Rei while dressed in such sexy attire. Rei was always pretty like all the Wrestle Angel girls, but Tomomi never got to see her so sexily exposed. She wondered what Rei would think of her, and her fuller curves. Tomomi quickly undressed taking off her sweater and her skirt, changing out of her leggings and unsexy underwear into her better gear, which supported and pushed her big bust up to an almost embarrassing height.
She licked her lips as she admired herself for a second, before quickly ducking back into Rei's room. "Yo! Sorry about that, I had to get ready pretty quickly!" Tomomi giggled, blushing as she looked at Rei and flaunted her own body. "You look great by the way!"
Hikaru merely raised her hand in recognition but didn't take her eyes off the book thinking it was Rei coming back from the convenience store or something of that nature not really the type to keep track of that. Her music was loud enough for her not to distinguish Tomomi's voice from Rei's nor decipher the words she spoke. Speaking of Rei, she blushed slightly as she saw Tomomi enter her room as she realized she was not only in her undergarments but still looking at herself in the mirror posing rather whimsically.

"Ahaha... I was just... I just finished taking a shower...And!" Rei said as she scratched her head nervously but before she had a chance to explain, Tomomi had excused herself.

Rei didn't wait long before she saw Tomomi enter her room again, the green eyed girl couldn't help but examine Tomomi head to toe.

"Th-thanks but Wow! you look really... hot!" Rei admitted as her red cheeks revealed her honesty putting her hands on her hips. "Ohh.. hehehe.... geeez... what am I doing?!"

The girl opened her arms and embraced Tomomi full heartedly as she squeezed her unintentionally bringing them chest to chest. Feeling the warmth and softness of her skin as she embraced Tomomi. Rei could smell the girl's irresistible scent on her neck, it tempted her to run her tongue across such delicate skin but Rei resisted such an urge. Rei would pull away blushing a bit realizing their attire but realized that i wouldn't really matter. Chigusa had organized a training session/get together between the two of them but at heart she knew what it would lead to.

"It's been such a long time Tomomi! I've missed you! It's been way too long!" Rei said smiling as her face turned into a tomboyish smile.

"Since I kicked your ass..." Rei added with a wink trying to be playful.
Tomomi giggled when she saw Rei so flustered. The girl didn't seem to be the easily embarrassed type considering what Tomomi knew of her, and how quickly she adapted to the much more risque fighting of AFW. Being able to rape an old friend to submission the after not seeing her in a long time was evidence of that. Tomomi attributed it to surprise and how hot she was. She let out a little gasp of her own when Rei ran up and hugged her, hesitating for just a second before bringing her arms up and hugging Rei tightly as well. Their breasts pressed together so deliciously Tomomi wondered if this was going to be just a spar, or if they were going to get started sexing each other up already.

Tomomi blushed as Rei pulled away. "Thanks, you look amazing too!" she said with a smile, "I never got a really good look at you before Rei but... You're really hot!" She giggled as she moved towards the bed, sitting down on the edge and feeling how soft and bouncy it was. It was all quite satisfactory to the idol.

"It's been too long Rei," Tomomi said, "We never got to know each other too well during Wrestle Angels since I wasn't there for too long, but I guess I should call you sempai as well!" She clapped her hands together. "But then again I was in AFW before you... Ahh whatever! We'll decide who is the senior with this fight!"

Tomomi got up and walked back over to Rei, getting right up close so her big bust was pressing right up against Rei's much smaller chest. "I'll give you a good fight Rei," Tomomi declared, "You better not think of me as just a kid anymore! I've gotten a lot better!" To prove this, Tomomi stepped in and grabbed Rei around the hips, her hands gently cupping the girl's perky ass. Tomomi winked at Rei before suddenly tightening her grip, lifting Rei up and tossing her towards the bed! For such a small size, Tomomi's frame sure packed a lot of strength!
"Ooh... uh heh.... thanks!" Rei said accepting the compliment rather bashfully as her cheeks were slightly flushed from their breasts making souch close contact.

Tomomi seemed like someone Rei really should have known better from Wrestle Angels. The thought that she hadn't gotten to know her all that well seemed liked a real shame. They seemed like like minded individuals and she seemed awfully nice. Rei smiled at Tomomi's challenge as she found the girl's competitive spirit to be very endearing. Seeing Tomomi stand up as the two stood toe to toe, the Cosplay Fighter couldn't help but grin at the girl's proclamation.

"Waah!" Rei said as she was suddenly lifted into the air by Toshimi totally taken off guard as Tomomi lifted her by her ass. She blinked as she was tossed onto the bed by the pink haired combatant. She bounced up from the spring of the mattress as she looked up at Tomomi with a blank look before she produced a smile. Tomomi was surprisingly strong for someone her size but then again so was Rei. It would prove to be an interesting match up. Rei would get onto her knees and put up her arms as she put a strand of her hair over her ear. Rei would inch back on her knees awaiting for Tomomi to get on.

"Alright then... but I warn you... this is my bed! I can't afford to take it easy on you..." Rei announced as she would find it rather embarrassing to tap out in her own bed. "So...show me what you got Tomo-chan!"
"I wouldn't want you to Rei," Tomomi replied, "That would defeat the point of this spar! I want to get better and the only way to do that is to fight someone better than I am. If you don't go all out, I can't guarentee your safety!" Tomomi laughed cutely, but she was only half joking. If Rei really let her she would put the girl through painful submissions. This was Rei's home and her bed, but that didn't mean Tomomi was going to go easy. Out of respect for Rei she was going to go all out from the start and hope that Rei could keep up!

She climbed onto the bed and got onto her knees. The idol looked extremely cute in her lacy bra and matching panties. She looked over at Rei, whose pale skin and white lingerie made it look like she was glowing. She had to suppress a moan of desire and swallow her saliva before she started to drool. It wouldn't do to get this excited before the fighting even started. Tomomi needed to focus if she was going to give Rei any kind of competition.

"These clothes won't stay on us for long," Tomomi said to Rei, "Best to enjoy the look while we still can!" She suddenly clapped her hands as an idea popped into her head. "Hey, let's take a picture!" she said. Tomomi reached down off the bed to grab her bag, presenting her tight ass to Rei. She was looking for her camera to take a few sexy pics together before their clothes got inevitably ruined. Once she found it she got back on the bed, pointing the camera at Rei.

"Smile!" Tomomi said before the flash went off right in Rei's face.
Rei nodded in agreement at Tomomi's statement that she was indeed better than her and her way of thinking. The only way to get better was to pit yourself against stronger opponents. The Cosplay Fighter learned a lot through fighting tougher, and more experienced fighters. Then both of the girl's eyes met, it was only for a momment but Rei could feel how Tomomi's eyes were undressing her from head to toe. She could feel the hunger and desire in the girl's eyes, Rei found that exciting. It set her teeth on edge how the girl was starring at her, Rei softly bit on her bottom lip to suppress her own dark desires.

"Oh? A picture? Oh umm... sure!" Rei said snapping out of it as she looked at Tomomi in her black lingerie.

When she saw Tomomi expose her ass to her, Rei was tempted to smack it due to the fact it would be hilarious and secondly she had a feeling the pink haired girl was just asking for it. Right before Tomomi turned around, Rei lifted her hand ready to strike as she leaned forward. However, as Rei positioned herself to spank Tomomi, the girl turned back forcing Rei to sit back and hide her hand behind her back. Rei then smiled innocently as the flash went off in her face as she giggled to herself nervously.
Tomomi noticed out of the corner of her eye how Rei was eyeing her ass. She knew that when presented with such a tasty prize Rei was holding herself back, and had Tomomi been in her position she would've had trouble resisting Rei's glorious ass. She blushed a little and stifled a giggle. She straightened up slowly, letting Rei get a full view of her pert buttocks before turning around with a small digital camera in hand. The idol took a series of pictures of Rei's sexy attire. "Give me a few sexy poses Rei! I'm going to give these to a photographer friend so he can make a nice album," Tomomi said. She slid onto the bed afterwards, getting right up close to Rei. Tomomi grabbed Rei around the waist, hugging her closely as she brought the camera up.

"Let's take a selfie!" Tomomi said cheerfully. She brought the camera up and took a series of photos of both of them dressed in light and dark lingerie. She giggled, bringing the camera down to show Rei the pictures. "Mhmm... not bad!" Tomomi said. She then handed the camera to Rei.

"Take a few of me too!" Tomomi said, "Let's make some memories today Rei-chan!"
Rei grinned as she posed for Tomomi by putting her hand on her hip and leaning her head down as she winked at the camera. However, Rei would offer a few more posses before the violet haired girl was suddenly hugged by Tomomi as the girl was about to take a photo of both of them. Right before the flash, Rei cutely pecked Tomomi on the cheek. "Chuuu~" Rei said before pulling away from her with a silly grin.

"Alright!" Rei happily accepted the camera and smiled as she glanced down at the Camera before looking back up to Tomomi with a playful smile. "Then pose for me... Tomomi-chan..."

The violet haired girl lifted the camera and began flashing the girl in her dark lingirie. Rei worked on the angles trying to bring out the idol's features. Rei bit her bottom lip as she tried to capture the other girl's body as she tried to contain her lust. Angling the camera, she snapped a photo to bring out the other girl's cute ass and her chest. Getting into it, she snapped a photo of Tomomi from a low angle where Rei laid down on her back and shot upwards at Tomomi. Rei paritculairly thought that the last one would be a great photo showing off the girl's well toned legs, the curves in her body, her sexy chest and her cute face all in one picture. The Cosplay fighter would then get back up to her feet and pass the camera back to Tomomi.

"Hehehe... that was fun." Rei said putting her hands on her hips. "But... we didn't come here just to take pictures did we?"

Rei would crawl into her own bed and turn to face Tomomi and would lure the other girl with her finger. "I still have to teach you a lesson don't I? Luckily, lesson one is to a fun one...."


Similar topics
---
Permissions in this forum:
You
cannot
reply to topics in this forum