Champions & #1 contenders
Hi I'm back...I don't know where to begin...
Fri Sep 15, 2017 6:43 pm by Silentcoins
Hello everyone. I'm not too sure if anyone still remembers me, but if you do thanks.
I haven't been around for a long time for reasons I guess. If there's still anyone out there who wishes to play with me or to continue whatever we left off, please don't hesitate to reply.
It's kind of awkward just saying this.
Comments: 7
I'm Back
Fri Sep 22, 2017 11:57 am by RadiantKarna332
Alright, after a few days of hiatus, I'm back. I'm sorry for my absence, for those who have threads with me here.

Comments: 4
Looking for a match.
Wed Sep 20, 2017 9:27 am by Silentcoins
As the title says, I'm looking for a match up.
I can do just about any kind of match up, though I prefer one with some hentai elements mixed into it. Wonder if there's anyone interested in a match of any kind?
Comments: 0
Name: Caitlin Boyd
Sex/Gender: Female
Age: 20
Eyes: Pinkish Red
Hair: Blonde, tied in pig tails with red ribbons.
Height: 5'6"
Weight: 120 lbs
Nationality: American
Citizenship: American
Wrestling Information
Strategy: Offensive
Style: High Flyer, Striker, and Mat wrestling
Type: Speed/Technique
Preferred Attacks: High kicks, leg sweeps, sometimes hairpulling
Preferred Matches: Standard matches with girls, grappling and hentai matches with boys
Finishing Move/s:
Rah! Rah! Rah!: When the opponent is stunned, she'll spin towards her opponent, leaping up for one kick, two kicks, three kicks while continuously spinning, and keep her leg high in the air after the third kick so the crowd can pictures of her while she poses.
False support: Caitlin will dart behind her opponent and grab her by the waist, lifting her up if she can and will balance her opponent's feet on her hands for a second, and then will throw her hands up to send her opponent plummeting back to the mat face first.
How far can you stretch?(pin): While not Caitlin's favorite move, if she's angry enough at her opponent, she'll look to humiliate her. With this, she'll wait for the opponent to try to kick her. When she does, in one fluid motion she'll catch her foot, sweep her other foot out from under her and while still holding her leg she'll jump over her opponent's body and land sitting on her face while keeping that trapped leg up to her shoulder and force her opponent to give the crowd a nice panty shot.
Hentai Moves:
69 Handstand: She'll flip herself onto her hands and trap the boy's head with her legs before reaching up to grab her waist. From there, she will proceed to orally stimulate her male opponent, also giving her opponent the opportunity to fight back.
Entrance Music:To be decided later
Characteristics
Visual Apperance: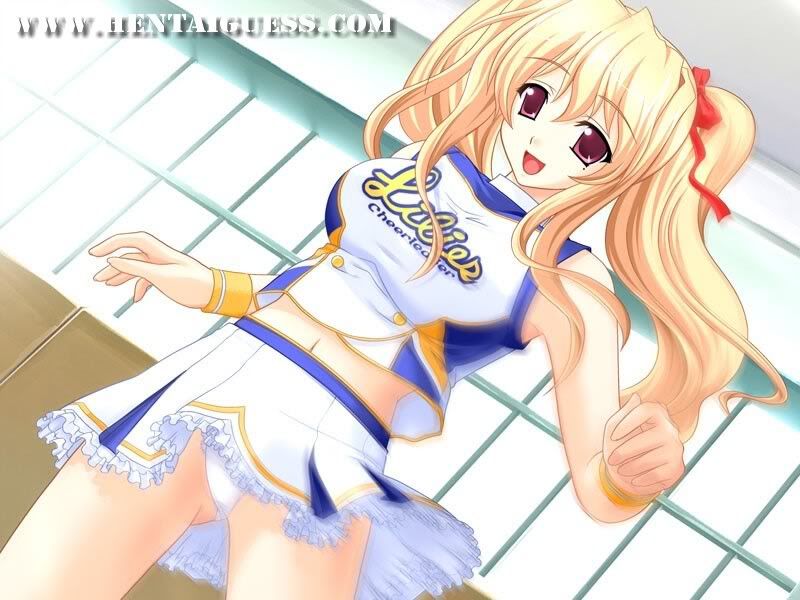 Physical Appearance:Caitlin is energetic, and very spry. She has quite a bit of stamina and flexibility from her training as a cheerleader, but also has a good idea on how to wrestle on the mat.
Personality: Caitlin is a mixed bag. She can be friendly and kind to opponent, or she can be jealous and vengeful. While Caitlin is in both leagues, she's all about the boys. She refuses to participate in any kind of hentai match with another girl, as she has comfirmed in her heart she is not into girls that way. It doesn't mean you can't be friends with her, but if that girl tries to make a move on her, well, it'll be a while before she talks to that girl again.
Past/History: Caitlin was a cheerleader in high school. Pretty much your average cheerleader. Things changed for her however when one day she came across a boy who was a high school wrestler. She had never wrestled before, but after meeting him a few times, she finally agreed. She had lost, easily, but grappling with him, struggling to pin him down, having their bodies grinding against one another, it came to be quite a turn on for her. It was then, however, that the boy's ex decided she wanted her back. Refusing to let go of the boy, the ex challenged her to a fight. Caitlin had never fought in her life, yet she fought like a pro against the girl. She used her training as a cheerleader to her advantage and soon took her down. She also found that she had enjoyed beating down his ex like that.
The boy was impressed too, and told her of a wrestling league she could try out. She agreed, but only if he would train her how to mat wrestle. After a couple of years, they had graduated, and the two had parted ways. He had taught her everything he knew about mat wrestling, and now Caitlin was ready to give the skills she learned a shot in both Sex Wars and the Friction leagues
Attire: See pic.
AFW Information
Record:
Wins:
Losses:
Draws:
Championships/Accomplishments:
Friends:
Allies:
Rivals:
Enemies:
Crushes:
Alliance: Tweener
Other:
Caitlin playing with her high school crush.



Posts

: 6476


Join date

: 2008-04-30




Similar topics
---
Permissions in this forum:
You
cannot
reply to topics in this forum