Champions & #1 contenders
Highfly Flying Out Of Town
Tue May 22, 2018 2:31 am by HighFly
Hello everyone, I just wanted to inform all I have threads with that I will be gone from this coming Wednesday through Sunday. I won't be able to post consistently if at all during this time, but I will try to make up for it next week! I am sorry for the inconvenience to everyone.
Comments: 7
The Austrailian Mudslide is Back.
Sat Apr 21, 2018 7:20 am by Softsquad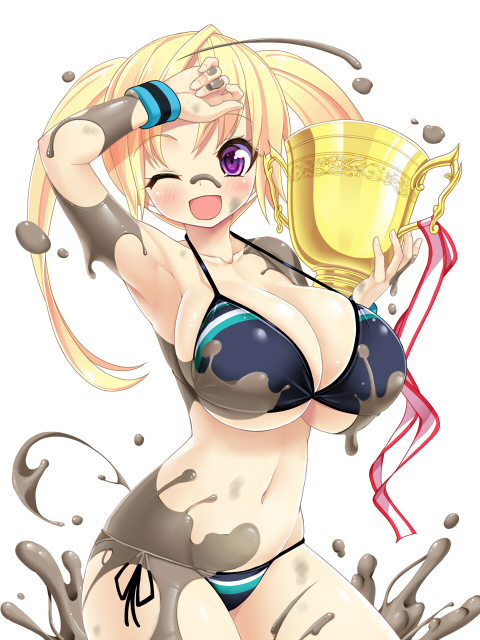 Granted that most of you won't know me or remember me, but I've had a few matches here and there some time ago. Well I think its time to become a regular around here and try to have some fun again, but at the same time keep coming back. Anyway I think its time to jump into some matches with Zoe Taylor, my mud wrestling character from Australia and get her back into the squared circle. Furthermore I will update my characters as I think some proper changes need to happen.
So if anyone would …
[
Full reading
]
Comments: 5
Page 2 of 4 •

1, 2, 3, 4


Mamouru got into the cab and let some silence roll over them. He knew that Taylor needed to speak first and when she was finished, he turned and looked at her. "Yes. I understand. And I would hope that you wouldn't threaten me as I have done nothing wrong. The opposite in fact." Mamouru turned his head and looked forward. "I like Cassie. I know it's no secret. I would love nothing more than for us to be together. But... it is impossible for that to happen right now."

Mamouru looked at Taylor and put on a serious face. 'I want to be good enough to be with Cassie-san. I'm not." He looked down. "I know it. I've certainly gotten better, but... " Mamouru sighed. "It isn't fair to her. And... I don't think Cassie-san even knows how she really feels about me. I think that she just thought kissing me was the way I wanted her to show gratitude for the things I have done for her lately." Mamouru adjusted his glasses and leaned back in his seat.

"Not to mention the impact it could have on her career. That is what is most important to me right now." Mamouru added seriously.
Taylor breathed a laugh. "Is that what's most important to her?" She said, and left it at that. She spent the rest of the trip in silence. Whatever conversation they were about to have could wait until they didn't have a cab driver listening in.
Akashi furrowed her brow as she toweled off in he bathroom. It was already the middle of the day and she felt like she was only just starting her day. It was strange having so many people in the house and, as she wrapped a towel around her long hair, she sighed as she thought about it. She adored Cassie's family. They were so much different and yet, so similar to her own. It certainly made her miss her family a little bit even though they weren't so far away aside from her father but he may have been even closer to her than anyone else.

She grabbed the door handle, ready to make her way to her bedroom when she paused. "O-Oh!" She stuttered out. She then turned and went back to the sink and brushed her teeth. She couldn't believe she had forgotten!

Then when she was finished, she grabbed the handle and pulled open the door. The sudden rush of breeze made her pause and she quickly slammed it. "Gaaaah!" She cursed and looked down at her naked form. She blushed deeply and turned to grab another towel. She wrapped it tightly and this time slowly poked her head out. She looked down the hallway to make sure no one was in ear or eyesight and then tried to quickly sneak up to her room. She hoped no one would notice her but the coast seemed clear. She was sure she heard something about something. That was good enough to make a hasty retreat
Rachel was folding and organizing Marc's and her clothes. She had laid them out on the guest room bed, refolded them to undo what their trip in the luggage had done, hung up what needed to be hanged, and had a small pile ready for the laundry. She thought that maybe Cassie would have some things to be washed as well, though it might be a bit forward to ask Akashi for her soiled unmentionables.

She turned around to head around the corner for the stairway, caught an eyefull of stark-naked Akashi, stopped dead and turned back around to busy herself with the piles of clothes. She was still wide eyed, wearing a shocked and surprised and ironically amused smile while she shuffled clothes around for no reason other than to pass the time until she heard Akashi door upstairs close.

She made her way up the stairs and stepped into Cassie's room, where Cassie laid on her back on her bed and Jacob lounged on his side on the floor. Cassie was tossing a grapefruit-sized blue rubber ball with a cartoon face on it up in the air and catching it.

"So I saw your roommate naked," she said. She could be so direct. Cassie was instinctively embarrassed.

"Mom!" She said in a hushed voice.

Jacob's eyes lit up. "Oh reaaally?"

Rachel folded her arms and leaned casually against the door frame. "She's..." She began, and trailed off. She never managed to regain her train of thought and only looked back up and smiled.

"Big?"

"Well, yes. there's that."

"How come you got to see her naked?"

Cassie bounced her ball off Jacob's head. "Shut up, Bucky, she doesn't like you like that." Jacob only shrugged.

"Maybe I'll have better luck when Taylor gets here," he said eagerly.

"She's married!"

"Ohh, that's right," he said disappointed.

Rachel decided that having seen Akashi naked, she had no real reservations left and it would be polite to at least offer. She turned for Akashi's room and tapped on the door. "Akashi, I'm doing laundry, do you have anything to go in?"
Last edited by 1167 on Thu May 16, 2013 6:14 am; edited 1 time in total
Akashi was in the process of getting her pants on when she had heard the light tap on the door. "Ah.. Ahh.. I'm changing give me a second as she slid the pants on. She hopped up off her bed and grabbed a kimono. She threw it over her like a robe, not tying it but making sure that her chest was mostly covered. She had shown that much cleavage that she hardly doubted it would be that much of an issue.

She moved to her door and opened it and looked at Rachel. "Uhhh...." She said and looked down at herself as if she could somehow produce dirty clothes. "R-Rachel-san." She said and blinked. She shook her head. "No. No. No. You are a guest in my home. It would be disgraceful for me to have you do any of my laundry." She nodded. "B-besides, most of my stuff is dry cleaned and that only leaves..." Akashi bit her lip as he cheeks blushed.

She tilted her head in a polite bow. "Thank you but no thank you." She said and let out a squeak as her kimono flopped open. She pulled her hand over her chest and flashed Rachel an apologetic look. "S-SUMIMASEN!" She said and closed the door quickly. She hurriedly tied up her outfit and speared her hair into a messy bun with some chopsticks.

Akashi stomped out of her room and down the hall quickly. She swiftly moved past the laundry room without so much as a glance and then stopped when she was in the kitchen. She turned and looked around and saw Marc outside in the backyard. She kept it nice but she really didn't use it for too much.

She slipped into a pair of slippers sitting next to the door and stepped outside. She bowed to Marc and smiled. "Marc-san." She said as she stepped closer to him. "How are you enjoying Japan so far?" She lowered her head. "I know it must seem like the whole of the island does not extend beyond this house, but I would like for you and your family to see more of my homeland. I am quite proud of it." She began.

While Akashi engaged with Cassie's father, on the other side of the house, Mamouru and Taylor had finally pulled up next to Akashi's house and were waiting at the door. Mamouru leaned in and pushed the doorbellbefore taking a step back, eying Taylor quickly before pulling back a little more and letting her take the lead.
Rachel put up a hand to cover her snicker, and turned to walk away. She could only imagine how Cassie got on with Akashi, being the... free spirit that she was. She was probably good for Cassie, really.

Outside, Marc looked up from the plant life he was studying to see Akashi coming to greet him. "Akashi," he said. "I'd like that. It's a beautiful place from what I've seen. I'd really like getting out of the city to see some of it without so much... concrete." He said with a handsome smile, and pushed back his sandy hair.

"Thanks again for your hospitality. It means a lot to us to know that Cassie has someone with so much character. Would you mind..." He paused thoughtfully. "Can I ask you about Taylor? You seem like you'd be the one to ask, by what I can tell. Cassie has told me so much about her, but I feel like I don't know her at all. What..." He trailed off, and smiled. "Anything, I guess."

At the front door, Taylor raised an eyebrow at Mamouru and let herself in. Why on earth would she need to ring the doorbell? The biggest risk was walking in on Akashi while she was indecent, but the shock of that had long since worn off for Taylor. She strode into the house and tossed her keys on a table.

"Hellooooooooo?" She called. A high pitched squeak issued from upstairs, followed by a herd of elephants trampling down the stairs. Cassie catapulted herself at Taylor to cannonball into her with a hug, but came up a short when she saw Mamouru standing right behind her. She glanced at him, and then back at Taylor with a renewed smile.

"Hi! I'm so glad you're here, come up and meet Bucky! He's just dyyyiiing to meet you." Cassie paused for a moment, and then spun to run back for the stairs. "Buckyyyyy!"
Akashi bowed and smiled politely at Marc once more. "The honor is mine, Marc-san." She raised her head up and looked over the gentle and proud man. "I feel that there is a lot between us, even though we are so far away. Oceans are a miniscule distance when connected by the bonds of friendship and family."

Akashi turned her head and looked at the fence separating her property from her neighbors. "My family runs a heya, a sumo stable. It has been part of our heritage for generations as that is the Tanikaze tradition. I'd like you to visit the Ryōgoku Kokugikan. It is our great Sumo hall. It is also the place I was born. You remind me of of my father very much, Marc-san. Though as a memory, there is only the faintest image in my mind, I feel that when I look at you, who I have only known briefly. It is easy to see in the hearts of your children and wife. The images, though faint, are quite similar to me."

Akashi turned her head and brought a hand to her eyes. She had no reason why the words seemed to fall from her mouth in such a disjointed manner but she didn't think she could stop herself if she tried. Something had triggered inside of her and suddenly demanded to be put forth. "I barely knew him. He died when I was six and yet, he occupies the strongest presence in my heart." She blinked rapidly but she could not hold back the sudden rush of tears. "Please forgive me... T-There's not a day that goes by that I don't wonder if my actions honor him and live up to his greatness." Akashi pushed her other hand against her chest and turned her back to Marc, not wanting him to see her in such a state.

Mamouru shook his head slightly at Taylor's bold intrusion. Regardless of who lived here, there were just polite ways to go about things. Still, he let it pass and quickly shuffled in after Taylor. He looked around, not seeing anyone immediately in sight. When Taylor yelled and he heard the stomping, he couldn't help but smile. It was funny how it went and when he saw Cassie burst into their vision, with such an enthusiastic smile, he couldn't help but be infected by it and his smile broadened.

However, when Cassie met his gaze, he immediately turned away as though suddenly overcome with contrition. His smile fell and he lowered his head. When Cassie disappeared, Mamouru sighed softly. "Wonderful..." His tone sounded relieved as he took off his shoes and gave Taylor a soft nudge. "You should go on and meet him. Don't make them come to you." He added. "I'll be up momentarily." He smiled. "Let them get a taste of Taylor-Parker-san." Mamouru then smiled wryly. "But, I think on this occasion, you will not be prepared." Taylor's exuberant personality was a match for Cassie alone on a good day. Against the full force of the Elliot family, Mamouru was pretty certain that even she'd have no chance.
Marc's eyes softened while he watched Akashi rather unexpectedly open up. He got the distinct impression that this was not the first time she had thought about this.

He was immediately paternal as he stepped forward and turned her around by the shoulder to pull her into a tight hug. He stood silently for a long moment, eyes closed, and took a deep breath.

"Akashil," he said. "Maybe he never had the chance to tell you, but nothing you can do could ever make him love you any more. I'm sure that he'd be proud of the woman you've grown into, whether that woman is a yokozuna or pro wrestler or tax accountant." He pulled her back to look in her eyes with a smile. "I know it's cliche, but part of being a father is saying all the silly things that matter."

He let her go and took a step back, not wanting to crowd her too much. "And don't worry, we have plenty of room. We'll adopt you. When you get tired of doing this, come to Canada and teach with us."


"Yeah dude, can't leave my fans hanging," Taylor said with a lopsided little smile at Mamouru, and then paused. She felt it in the lump in her throat and the flutter in her stomach, and she couldn't deny it. She was nervous. Really nervous.

She quickly covered by seizing Mamouru's wrist and yanking him along with them. "You're not off the hook either, bro. We might need somebody smooth to balance out my 'shoot first, forget the questions' style. Ya know, to help ease them into... me, and stuff."

Cassie skipped up the stairs like bubbles rising in a fizzy soda, and Taylor followed behind with Mamouru in tow. She didn't let go of his wrist, and not because she didn't think he would come if she let go. She took a deep breath as they rounded the corner into Cassie's room, where Jacob was sitting on Cassie's bed and leaning against the wall with her hands behind his head. Their mother was seated at Cassie's desk chair, turned to face her son for whatever idle conversation the trio had interrupted upon their arrival.

"Bucky!" Cassie said, and leapt with both feet to the middle of the room. "This is Taylor!" She pointed dramatically at Taylor, who was uncharacteristically shy. "Mom! Taylor! Where's dad?"

Jacob stood up quickly, and then tried not to look so eager. But then, standing face to face with Taylor, he found himself more bashful than Taylor, and he struggled to find words. Rachel stood and crossed the room to Taylor, and without hesitation gave her a hug.

"Nice to finally meet you, Taylor. I'm Rachel Elliot," she said. "Cassie's mom."

"Yeah, she knows, mom, she's smarter than she looks."

"No I'm not."

"Bucky!" Cassie grabbed her brother's hand and Taylor's and pulled them together in a manufactured handshake. "This is Taylor! Taylor, this is my brudder. Bucky!" She gave their hands a vigorous pump and let them drop.

Taylor discovered her bravado enough to give Jacob the sharp, radiant grin that had helped make her a star. Bucky promptly responded by blushing. "Hey Bucky," she said. "And it's nice to meet you too... um..." She had no idea what to call Rachel.

"You can call me Rachel, it's okay. Don't make me feel like too much of an old lady!" She said with a laugh.

"O-okay." Taylor said, and then glanced back at Mamouru for help.

Cassie's smile couldn't possible have been any larger without risking physical injury. "I'm gonna find dad!" She exclaimed, and bolted out the door.
Last edited by 1167 on Mon May 20, 2013 5:57 am; edited 1 time in total
Akashi squeezed Marc tightly when he went in for a hug. She didn't whimper but silent tears stained his shoulder. Maybe he wasn't her father but for the first time since he passed, it felt like she was actually holding onto him. She felt like she was five again and never wanted to let go.

She pulled away and drug her sleeve across her face and smiled at Marc. "Arigatou, gosaimasu, Marc-san." She said and bowed her head. "Even I didn't realize how much I needed that." Akashi sighed deeply and looked away, grinning. "It is tempting but I still have my family here. Even if we may not be close, I do not think my brothers would appreciate me moving to Canada." Akashi than turned and looked at Marc. "Aside from that, I think that I have my own family here in Japan that still needs me." She said beaming.

Mamouru was pulled up by Taylor's tight grip. He didn't mind and he didn't really expect to be left alone. When he was pulled into the room, he just smiled at the introductions.

Mamouru watched as Cassie zoomed out of the room before he turned and looked at Rachel. "Clearly you could pass as Cassie-san's slightly older onee-chan, Rachel-san." Mamouru said with a small nod of his head. "Taylor-san was excited when she found out that you were in town." He said, trying to reel in the conversation.

Mamouru looked at Bucky and then at Taylor. He wondered how he could be shy with Taylor and the opposite with Akashi. He ignored it for the moment. "Have you been able to get out of the house yet?" He asked.
"Well," Marc said with a quiet smile. "The offer still stands. Maybe you'll come visit us sometime."

He turned and slipped his hands in his pockets while he peered up at the sky. It didn't matter how far from home anyone was, the sky was always the same. "Your sun looks just like ours!" He joked dryly, and then added as if it was related "So I gather you and Jake hit it off."

Cassie interrupted from the doorway. "Hey you!" She called pointing her finger at her dad and closing one eye while she drew circles around him. "Come meet Taylor! Akashi, you remember Taylor, right?"

"Alright, we're coming," Marc said. He looked over at Akashi and offered the crook of his elbow. "Since my daughter is currently crazy, will you help escort an old timer?" His plea held little merit, given that he still appeared to be in top physical condition for a man 20 years younger.


"Oh, Mamouru," Rachel said. His flattery would've made someone else blush. "I'm old enough to be your mother, too, don't forget."

"I went to the store with Cassie, but we haven't really done much of what you'd call sight-seeing. We're slow starters. We had to figure out what kind of trouble Bear had got herself into first," Jacob said.

"I think Jacob's most interested in the food, anyway," Rachel said. Taylor looked confused.

"Who the hell is Jacob?" She asked, and immediately felt self-conscious for her language. "Sorry..."

Jacob and Rachel both laughed, and Rachel leaned in as if telling a secret. She held up her hand and pointed into her palm at Jacob. "He is." Taylor mouthed a response and nodded. She noticed that she was close to half a foot taller than Cassie's mom, and she suddenly felt like a gawky, lanky teenager.

A brief pause followed, and then Jacob caught Mamouru's eye. "Hey, should we get to work on dinner?" He asked.
Last edited by 1167 on Wed May 22, 2013 6:57 am; edited 1 time in total
Page 2 of 4 •

1, 2, 3, 4


---
Permissions in this forum:
You
cannot
reply to topics in this forum