Who is online?
In total there are
48
users online :: 13 Registered, 1 Hidden and 34 Guests :: 1 Bot
321Shazam
,
acuya
,
anime_hentaifighter
,
dlamp
,
dragonswill
,
Harrier
,
I_care_not_till_I_must
,
Iron Soldier
,
killcarrion
,
LARIATO
,
Mystery Dragon
,
Teenwrestler
,
Underdog21
Most users ever online was
155
on Sun Oct 09, 2016 8:33 am
Champions & #1 contenders
Reduced Post Rate
Tue Jun 27, 2017 12:14 pm by RadiantKarna332
For those who are currently roleplaying with me in threads, you guys may have noticed my reduced post rate. I'm sorry for being so late to inform you guys about this, but due to some real-life businesses, I have no choice but to post infrequently compared to usual. I'm so sorry about that.
So, I will return to my normal schedule next week, so please don't worry about me not posting. Have a nice day.

Comments: 3
Catching up and stuff
Wed Jun 28, 2017 4:19 am by LARIATO
Hey guys.
First, trying to finally get my ass in gear and get caught up with threads and everything. Pretty sure I've finally posted to all active threads I'm involved with now. But I can be very scatterbrained and forgetful at times. So if anyone's got an active thread still waiting for a post for me, it probably just means I've forgotten, so PLEASE let me know about it so I can get on that asap.
And second, I'm aware it took me a long ass time to get around to a lot of these posts, and some …
[
Full reading
]
Comments: 0
Active Kawaiis
Sat Jun 24, 2017 1:25 am by Daaharu
Hey, guys. I'm hoping to get a sense from everyone of where the active kawaii girls are at. No guarantees or anything, but I am looking to figure out who is out there consistently making matches because we are looking to inject some new blood into the kawaii title scene, and I don't want to have tunnel vision on just the players and characters I know.
So, if you've got a kawaii girl who's had at least one match and is currently active, can you let me know either here or via PM or IM? This …
[
Full reading
]
Comments: 6
Page 1 of 4 • 1, 2, 3, 4

Standard match
Win by Pinfall or Submission.
[url=http://s1126.photobucket.com/user/armads89/media/1251749924807.jpg.html:1ga973vi]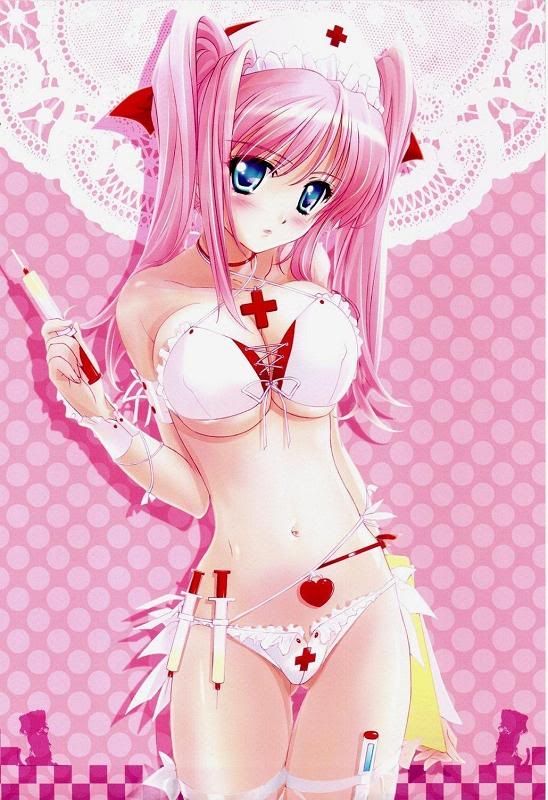 [/url:1ga973vi]
It had been a while since Joy had come to the arena to wrestle as she usually preferred to spend her time in the infirmary where she could help her patients while practicing her art of helping those in need. "Oh, It has been forever since i actually wrestled someone in a ring. Usually i just have to wrestle unruly patients to restrain them but oh well, I get to have fun with my opponent tonight and that is all that i care about." Joy said as she adjusted her ring attire which was just a bra and panties with a nurses hat.
Joy smiled as her music began to play and she strapped her thermometer and needles to her thigh before stepping out into the bright lights of the arena. As Joy walked down to the ring she received many catcalls and whistles as the audience loved her attire. Joy just smiled and waved to them as she slid into the ring and reached between her breasts to pull out a couple of lollipops. Joy then tossed the candy into the audience before turning to face the entrance with a peaceful smile on her face "I can't wait to meet my patient for the night.

_________________
Characters

The Den
Seconds later after Joy had made her way down to the ring, the lights would turn to a deep blue as "Choir Jail" began to play over the speakers. Heather crawled out onto the stage, dressed in her usual match attire, her dark purple fishnet top over her black bikini top, topping off her black baggy pants that she wore as the green laser lights shot out from behind her. She would crawl down to mid-ramp, earning quite the applause from the crowd as she stood up, raising her hands in the air as the pyro would shoot out from the entrance.

She ran down the ramp, sliding into the ring before running up to the middle rope, raising her hand in the air as pyro shot down from the ceiling, Heather jumping off the ropes afterwards and turning to Joy, who was dressed in quite the revealing attire. The lights turned back to normal as Heather narrowed her eyes on her, blushing a little bit. "...No clue who you are, but I think you should know who I am." Heather let out, crossing her arms as she took a step closer to Joy.

"Hope you're ready to get your ass kicked tonight."
_________________
Friction/Tension:
| | | | | | |
| --- | --- | --- | --- | --- | --- |
| Heather Sunderland| | Alessa Mason| | Sena Iwakura| | Cristina LaBrie| | Victoria Baynes| | Cheryl Pride |
Alternative/FnF
Trisha Birkin
Tension:
| | |
| --- | --- |
| Dante Sunderland| | Ambrogio Mastrostefano |
Joy would watch Heather as she made her way down to the ring in a rather odd fashion but Joy didn't mind as it let her have a good look at Heather. "Oh, i know who you are but you don't need to know who i am. You just need to know that i am the nurse that will be taking care of your defeated body after the match." Joy said with a smile as she reached into her breasts one last time to pull out a lollipop. "Here have a lollipop." Joy would say with an innocent smile as she looked at Heather.

Joy was known for using some pretty underhanded tactic in the ring but at the moment she was just giving Heather a normal lollipop as Joy loved a little struggle from her patients before she put them to sleep in her loving embrace. "Don't worry i will be gentle with you. I don't want to hurt you too bad...yet." Joy said with an innocent smile.

_________________
Characters

The Den
"...Well for knowing who I am you're pretty confident in yourself.." Heather let out, narrowing her eyes before Joy would reach into her breasts, pulling out that lollipop. Heather hesitated a bit, blinking her eyes a couple times before grinning and taking it. "..Thanks, I'll keep it for later for a little celebration taste after I beat you tonight." Heather let out, slipping the stick of it into her pocket as she kept the grin on her face.

"You won't have to worry about that. I won't be giving you the chance to anyways." Heather retorted, backing up a bit to ready herself, just waiting for the bell to ring. "You'll be nursing your own wounds by the time this match is over, trust me on that one."
_________________
Friction/Tension:
| | | | | | |
| --- | --- | --- | --- | --- | --- |
| Heather Sunderland| | Alessa Mason| | Sena Iwakura| | Cristina LaBrie| | Victoria Baynes| | Cheryl Pride |
Alternative/FnF
Trisha Birkin
Tension:
| | |
| --- | --- |
| Dante Sunderland| | Ambrogio Mastrostefano |
As Heather took the lollipop Jot leaned in close and she whispered in Heather's ear "The only real taste of victory will be me tasting your defeated and aroused body." Joy said before backing up and smiling at Heather "But let us save that for later as i still need to beat you before you can have a taste of my tender ministrations." Joy said as she backed away from Heather.

Joy bounced in place a little before smiling at Heather "I hope your ready for a check up because i am going to be doing a very special check up on your lovely body." Joy said as she smiled at Heather and waited for the bell to be rung.

_________________
Characters

The Den
"Ah.." Heather bit her lip a bit as Joy would lean forward, whispering in her ear. Her words were causing her to blush quite a bit as she clenched her fists, trying to ignore them as much as she could as the girl backed away. She shook her head, taking a breather to just refocus herself, assuring herself there was no way she'd let Joy follow through on her words as she readied herself for the match.

She narrowed her eyes a bit, blushing just slightly at the girl's bouncing body before the bell would finally ring, Heather charging at her straight away. "We'll see about that!" Heather yelled out, leaping up as she tried to hit an enziguri kick on Joy right at the start.
_________________
Friction/Tension:
| | | | | | |
| --- | --- | --- | --- | --- | --- |
| Heather Sunderland| | Alessa Mason| | Sena Iwakura| | Cristina LaBrie| | Victoria Baynes| | Cheryl Pride |
Alternative/FnF
Trisha Birkin
Tension:
| | |
| --- | --- |
| Dante Sunderland| | Ambrogio Mastrostefano |
Joy just continued to smile at Heather as the girl seemed to think she could beat Joy. As the bell rang Joy smiled at Heather before letting out a surprised gasp as Heather charged at her. Joy quickly dived down to the mat to avoid Heather's kick and Joy immediately rolled away from Heather "You shouldn't be so hasty." Joy said as she got to her feet and charged at Heather

"I don't want you to waist all your energy in the first few minutes of the match. I still have all night to play with you." Joy said as she would reach for Heather's hair to pull the girl into a kiss.

_________________
Characters

The Den
Heather came in as soon as she could with that kick, only to find that the nurse girl had ducked down, evading it with that roll. She yelped out as she quickly tried to readjust herself in mid air, landing luckily on one knee before she would push herself up, letting out a little sigh. She would have to get over her frustration oon that miss as she turned to Joy.

As soon as she did though, she heard the girl's words during her charge, feeling her grab at her hair and pull her into that kiss. Heather's face turned a deep red as her eyes widened, freezing up for a couple seconds before frantically trying to push Joy away.
_________________
Friction/Tension:
| | | | | | |
| --- | --- | --- | --- | --- | --- |
| Heather Sunderland| | Alessa Mason| | Sena Iwakura| | Cristina LaBrie| | Victoria Baynes| | Cheryl Pride |
Alternative/FnF
Trisha Birkin
Tension:
| | |
| --- | --- |
| Dante Sunderland| | Ambrogio Mastrostefano |
Joy kissed Heather passionately as she held onto the girls hair to prevent her from getting away. Joy would soon feel Heather trying to escape from her kiss but Joy didn't want her to escape just yet so her other hand would move down towards Heather's pants to grab onto the girls panties. Joy would then pull Heather's panties up in a wedgie to try and distract the girl while her tongue tried to probe Heather's mouth.

_________________
Characters

The Den
Heather struggled in Joy's grasp, keeping her attempts at trying to push the girl away as she held her in place for that kiss. She would then feel the girl grab her panties and pull them up, causing Heather's eyes to widen as she let out a little muffled yell. It was enough of a distraction for Joy to be able to make her tongue probe her mouth, causing Heather to wince as her face turned an even deeper red, it taking her a few seconds before she would try again to shove Joy hard to try and get her to release her
_________________
Friction/Tension:
| | | | | | |
| --- | --- | --- | --- | --- | --- |
| Heather Sunderland| | Alessa Mason| | Sena Iwakura| | Cristina LaBrie| | Victoria Baynes| | Cheryl Pride |
Alternative/FnF
Trisha Birkin
Tension:
| | |
| --- | --- |
| Dante Sunderland| | Ambrogio Mastrostefano |
Page 1 of 4 • 1, 2, 3, 4


Similar topics
---
Permissions in this forum:
You
cannot
reply to topics in this forum