Champions & #1 contenders
Moonhearts Promo intro thread is O p e n.
Sun May 20, 2018 11:21 pm by XSirenX
Feeling brave?, lost?, or without a thread to post in?, hit up the newest Moonheart if any of those apply!
CLICK HERE
What Moon has to offer?, many things...:
Comments: 0
The Austrailian Mudslide is Back.
Sat Apr 21, 2018 1:20 am by Softsquad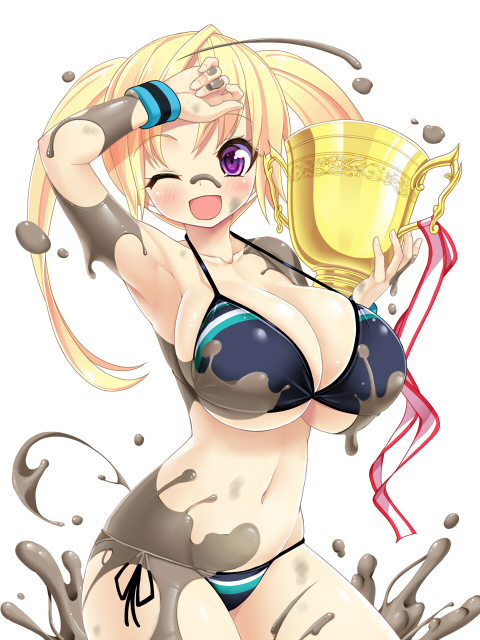 Granted that most of you won't know me or remember me, but I've had a few matches here and there some time ago. Well I think its time to become a regular around here and try to have some fun again, but at the same time keep coming back. Anyway I think its time to jump into some matches with Zoe Taylor, my mud wrestling character from Australia and get her back into the squared circle. Furthermore I will update my characters as I think some proper changes need to happen.
So if anyone would …
[
Full reading
]
Comments: 4
Page 1 of 11 • 1, 2, 3 ... 9, 10, 11


The sold out AFW Friction crowd let out a loud chorus of boos as [url=http://www.youtube.com/watch?v=9TeCqaRur_k:20sjjpic]Stay Hungry[/url:20sjjpic] blared over the P.A. system, heralding the arrival of the AFW Entropy Champion, Tai Kamiya, who had won the belt a month or so ago at the highly successful Tension PPV. Making his way onto the ramp, the crowd would notice a change in the champs look.

His hair was slicked back, with its natural hazelnut color instead of the bright pink he liked to dye it. His attire was also different, his usual t shirt and gym shorts replaced with knee length white spandex tights, with black knee pads acting as a connection between the tights and his shiny new boots, also black. Complimenting the pants was elbow and wrist pads, with a sleeveless jacket, all matching the tights, with Tai's initials on one side of the tights, and the Eclipse logo on the back of the jacket. The final touch happened to be the Entropy Title, shiny and bright, wrapped around his tan, shirtless, waist.

Entering the ring, Tai looked at the audience, which sat quietly, surprised at his appearance, before moving to each of the 4 turnbuckles in turn, standing on them and raising his arms to a large amount of flash photography, changing his pose on the final turnbuckle where he unhooked his belt from around his waist and held it up for all to see. Some would call it showboating, others would call it enjoying the moment...and both would be right. Tai knew that there was a good chance that history would not look kindly on his career, nor would it look kindly on his bullying of Wells Quinn for the belt. Hell, there was a chance that, after what he had planned tonight, history would mark him as a one-hit-wonder of a champion.

History, however, even if it was for one brief moment, would look back on him as a champion and even his detractors would have to admit that Tai, perhaps finally taking his career seriously, looked the part perfectly.

Finally ending his posing as his music faded off, Tai grabbed a microphone, the crowd starting to boo him again, making him shake his head.

"Yeah yeah, I get it. Your all pissed off because I beat up a cute little Kawaii girl named Wells Quinn for the belt."

He stated, the crowd booing its agreement.

"Give me a break, its not like I was planning on facing her! I didn't even know who she was or that I was facing her until the day of the show! Blame management if you want!"

He explained, only to be met by more boos, making him sigh before looking up.

"Alright, alright...I get it. However...I admit, while it's great to not only be a champion...but to be the only 3 time champion and there fore the single most decorated star in ALL of AFW history... I would have liked to get there in a more honorable way.

It's with that in mind that I have decided upon the opponent I will be granting a shot at this Entropy title. You see...since I've won this belt, I've been met with a wave of backlash from every single person around me. From the fans that call me a bully and spit on me, to the wrestlers in the back who refuse to even look at me...I have been treated like crap by every single person that I've come across...Hell, even AFW management is doing it, telling me that their "still deciding" if my title reign should even be considered official or not, because I'm a Tension star and this is a Friction belt!"

He yelled, venting some of his recent frustrations, understandably upset, given that having his short reign declared unofficial would ruin his claim of being AFW's most decorated star.

"So after several weeks now of hearing crap from everybody, I've made a decision. My opponent will be somebody who I have wanted another match with for a looooongg time...somebody who may actually beat me tonight, but who I believe fighting against and giving my all against, win or lose, will finally earn me some overdue respect."

Tai stopped again, smirking at the crowd, who had stopped booing and was now eagerly awaiting to hear who he had picked...before continuing talking, stringing the crowd along with every word.

"You see...I've realized that, if you want to earn respect...sometimes you have to go up to the biggest, baddest, and best person around, look them in the eye, slap them in the face, and then give them the fight of their life. If this was the old WWF...I'd challenge the Rock. If this was WWE...I'd challenge John Cena...if this was TNA...I'd challenge AJ Styles. If it was Ring of Honor...I'd challenge Austin Aries. Hell, if this was Tension, I'd challenge Killer King!"

He said, the crowd popping a little at the nostalgic names, before Tai pointed at the entrance arena.

"So, because of all that...I have decided to name as my opponent...a girl I who is talented and beautiful. A girl I'd love to take out to a bar before taking her to my bed...and most importantly, a girl that I honestly consider to be the single greatest wrestler and champion in AFW history...Ladies and Gentleman...may we bring out the incredibly talented, and incredibly sexy..."

"Pause for dramatic effect..." He thought


"AKASHI TANIKAZE!!!!"


He finally shouted out, the crowd screaming in delighted cheers as she was named.
Nothing came though the back stage area for a long moment. The crowd began to wonder if Akashi was not going to accept the challenge. Was it too soon!? Was she not interested in the title? Was something like this beneath her or was she repulsed, as many others seemed to be, by the fact that Tai had ended up with the Friction belt.

But then the lights dimmed and "Storm" began to play over the loud speakers and the crowd erupted once more. Akashi came out and looked like she was dressed to fight right then and there. She had her spotted mawashi on and a green sports bra on. She ran down the ramp with a microphone in her hand, slapping fans with her free one as she slid into the ring and stared at Tai.

She stared in silence for a long moment before lifting up her microphone. "Kamiya-san..." She said in a low tone. "There are many things I could say. You seem eager to tout yourself as a true champion of champions..." Akashi said. "A very honorable and respectable career." Akashi turned and looked at the audience.

"What should I say to this?" Akashi began. "That the belts you have won lack... prestige? That you claims as champion stem from a time when this organization was a shadow of its current self? It is easy to be champion when your victories are over opponents named Default."

Akashi shook her head. "Or that you hold Friction's least prestigious title and that you earned it from someone who you had no business fighting, who had no business possessing the title in the first place?"

Akashi smiled. "This is what I could say but I will not. I would not diminish your accomplishments in such a way, Kamiya-san. I am sure you earned your titles and whether the roster was 40 or 400, a victory is a victory." Akashi smirked. "Plus, it was not as if Quinn-chan layed down. She certainly gave you a difficult time of things." Akashi gestured to Tai.

"Tis is the nature of the title and I think that it can serve the intended purpose and still retain some honor and dignity to it. After all, if I taint it to prove a point, then I taint it for everyone who has held it, including the inaugural champ, my tag team partner and Imouto, Taylor Parker."

Akashi nodded as she looked at Tai. "I don't think I deserve the title, nor do I desire it. It was meant for those girls who put in hours and hours of work hoping to just get a taste of what I have already supped deeply from." Akashi paused and smiled. "And will [i]continue[/i[ to do so."

Akashi's face settled back into a serious one. "But there IS something I can do. You've been so generous to call me out and that is very admirable, Kamiya-san. So, on behalf of those who DO deserve it, I believe I have a duty to bring it back where it belongs and restore honor to it."

Aashi then stepped forward, closing the distance between us. "But, Kamiya-san, let's get a little personal here for a moment." She said as she lowered her voice. "Your choice IS quite admirable, but there was more to it than that, isn't there?" Akashi pressed forward again, pushing her chest against Tai's and getting quite close to him, only the microphone separating their lips.

"Really you're just using this opportunity to try and get closer to me, aren't you? You've always wanted to get in my pants and you have just had no way to go about it, right? Maybe, you thought, that you could use this opportunity to finally cope a feel or whatever cheap and disgusting trick you use to get your rocks off. I'm forbidden fruit, untouchable, so this is perfect for you, isn't it?"

Akashi's hand came up and she grabbed Tai's and pushed it so he was holding onto the mic, rather than her. Her now free hand, slid downward and snaked between his legs as she pushed her hand against his manhood. "Maybe, in some wild fantasy, you even thought, or HOPED that I would pick a hentai match, right?" She whispered the last bit in a husky manner, batting her eye lashes at Tai as her hand slowly , ever so slightly, rubbed against his crotch. "Well, I have a match type in mind that will make sure that my hand will remain firmly tucked, right where it is if I ever hope to achieve victory. What to you have to say about that... Kamiya... kuuuun..."
Tai watched eagerly as he and the crowd waiting, letting out a sigh of relief as Akashi's music played. After all, it would be humiliating if he called out the biggest star in the company and she simply ignored it.

Akashi eventually made her way to the ring with a mic and started speaking about Tai in a way he found complimentary, getting a sly smirk on his face....that quickly vanished as Akashi proceeded to, theoretically, dismantle his reasons for bragging entirely, only to apparently take back said comments right after, out of respect for her teammate.

Personally, Tai wanted to disagree as, after all, the girls he had beaten for his earlier two titles were among the elite in Friction/Tension at the time, even if the roster wasn't as large as it currently was, nor was it his fault that somebody decided to toss him in a ring with a tiny Kawaii and make it for a title.


Before he could reply however, Akashi surprised him, getting up front and personal, the two of them just barely kept apart by her microphone, her sports bra covered chest bumping against his bare chest.

With that, Tai listened intently as she lowered her voice and claimed he only wanted the bout to get access to her incredible and, for him, forbidden body.

Tai would have replied, albeit by stammering out a negative, when Akashi grabbed his hand and forced him to hold onto her mic, before her free hand pressed against his crotch, actually just barely, slowly, rubbing against it a little, causing his body to shiver, ever so slightly, yet still enough for her and the crowd to notice, ruining any chance he had of denial as the crowd laughed in response.

Tai ignored them however, as Akashi batted her eyelashes at him, having whispered huskily at him, gaining his full attention as she mentioned a match type that would keep her hand near his crotch.

Possibly...and most likely...blinded by the idea of some sort of hentai action with this flawless wrestling goddess, Tai nodded, before raising the mic to his lips and letting out a quick

"I accept!"

out of his mouth just barely after she finished her "offer."
While Tai contemplated Akashi's offer, her mouth opened into an expectant grin, eager to see what Tai was going to say. Her hand gently rubbed against Tai's crotch as she waited and when he accepted, she pushed her hand even harder against his crotch.

"Great, go head and ring the bell!" She said, shifting her eyes off to the time keeper. She then put her hand on Tai's shoulder and gripped it tightly. She pushed past the microphone, pushing her large chest against Tai's bare one. She pushed her lips against his ear and whispered hotly as the bell echoed around them.

"I made this match a body slam match."

Akashi then grunted while she used her strength and positioning to try and lift, flip and slam Tai hard onto his back with Akashi's full weight pressing against him.
Tai shivered a little bit more as Akashi rubbed against his crotch, rubbing harder when he accepted, calling to the time keeper to ring the bell before pressing her body against his and grabbing his shoulder, leaning in to whisper the match type into his ear.


A body slam match.


Tai's eyes widened as, with the simple words of "Body slam match" were caught by the microphone for all to hear, he realized just how badly he had been tricked, having just enough time to mutter out-

"...Oh Shi!"

-before Akashi lifted him up and over, slamming him hard onto the mat with authority, the crowd letting off a roaring round of cheers and applause as the bell rang, signaling the end to the single shortest match in all of AFW history, with the ring announcer standing up and declaring Akashi the new Entropy champion!

Tai, meanwhile, laid on the mat underneath Akashi, though he would sit up as soon as her weight was no longer pressing against him, face palming himself as he had to stare up at Akashi, who had picked the belt up from off the mat, having fallen off his shoulder during the slam. Not only had he been defeated for the belt, he had officially set a new record for failure as well.

During Akashi's celebration, he would sit up, shaking his head as he tried to figure out what the hell had happened.


"S...Son of a bitch....."
Last edited by 143 on Fri Apr 26, 2013 9:21 pm; edited 2 times in total
It was definitely a satisfying feeling slamming Tai down and winning the match in a nigh literal blink of the eye. It seemed like the starting bell wasn't even finished echoing before it was ran again. She only lingered briefly against Tai to flash him a coy look as she had her hand lifted up and adorned with the Entropy Title belt.

She raised her hand up to the cheering crowd only to suddenly bring it back down and cringe. "Eewwwwww!" She said in a impromptu fit of squeamishness. I can't believe I touched it for so long! It's all... " She opened her mouth and rolled her tongue out of her mouth as she shivered. "I can't believe you have to live with those things attached to you, bleeeech!"

She shook her head and pulled away from the referee and turned her back to Tai. "Just keep telling yourself it was for the sake of Friction..." She nodded as though she was replying to herself. When she was done freaking out, she turned and picked up the microphone from the ground.

"Thank you, everyone..." She said. "This belt is finally back where it belongs, now... I think my first order of business as the champion should be to give it to someone who deserves it." Akashi smiled. "Well, maybe 'give' is the wrong word... but, after such a grueling match, I don't think I am in any shape for a REAL title defense right this moment..." Akashi grinned.

"So... whoever wants this title can come have it." Akashi said and set it down in the center of the ring." She then paused. "Let me clarify... I challenge any girl who is part of Friction to come down and take it."

Akashi cracked her knuckles and settled into a squat in front of the belt. "All you have to do is get me over the top ropes."

Akashi then lifted up her leg and slammed it down to the ground. She then lifted her head up and let out a primal scream. She hoped she'd get some eager girls coming down the ramp.
After Akashi was able to win the title from Tai in the blink of an eye and announced her challenge "Fearless Hero" by Nana Mizuki starts to play, at first everyone is confused who would show up since no one used this song for their entrance. But then when 2 fountains of sparks ignite and the chorus of the song plays Tatsuki Le Feuvre, a rookie wrestler enters the arena from backstage in her signature Fantasy Hero outfit as the crowd recognizes the little athlete and cheers for her as she walks down the ramp to the arena without doing her usual show of acrobatics and just waves at the crowd and high fives them while walking to the ring.

The athlete Tatsuki enters the ring and keeps waving at the crowd until she is given a microphone from the ref girl and speaks in it. ""I'll gladly be the first to accept this challenge Tanikaze-san!" She said with a competitive expression with a grin on her face.

Tatsuki was so very excited to fight Akashi at least once during her career in the AFW that she cannot stay still, she is positive she might lose against her but it will still be fun to face her. "I want to win the Entropy Title for Wells-chan, and I wanted to avenge her loss."

She walked closer to Akashi and stops close in front of her and the belt and got a good view of it before returning her sights on Akashi. "Tanikaze-san, let us have a good and probably short match!" Tatsuki says as she bows politely to Akashi and offers her a handshake to be a good sport and hopes she will accept the handshake.



Posts

: 3031


Join date

: 2013-02-06


Age

: 24


Location

: Castle of The Guy



Akashi was surprised when the unfamiliar music came on. When Tatsuki appeared, Akashi really had no idea who the girl was. She waited patiently in her squat while the girl came down the ring and grabbed the microphone.

She listened tot he words of the girl patiently and when she was finished, she looked at Tatsuki. The girl was... tiny... She wondered if the girl wasn't supposed to be in the kawaii division? Maybe that was why she was trying to avenge Wells?

Akashi picked up the mic she had and looked at the girl. "Please forgive me." She said. 'I do not know your name, but I admire your bravery and determination. I am pleased that you have a reason to earn the title besides yourself. I hope that your bravery will not wane."

Akashi stood up and bowed when Tatsuki held out her hand. She then dropped to her sumo stance. When the bell rang, she barely had much distance to close and shot her palm out to slam her palm deep into Tatsuki's belly.
Tatsuki's eyes open wide when she realizes she forgot to introduce herself due to her excitement to fight Akashi as she has an "Oh my god" expression and facepalms. "Oh, I am so sorry! I forgot to introduce myself, I am Tatsuki Le Feuvre. A rookie wrestler of Friction." The athlete then feels a bit better after she introduced herself to Akashi.

She then notices that Akashi is getting a good look at her and then takes a good guess what she was thinking, Tatsuki's size. "Yes Tanikaze-san, I am short. But that doesn't mean I am a Kawaii, I am in the real Friction League, and don't underestimate me just because of my size I may just surprise you! Tatsuki said with a competitive and confident expression with an excited grin as she puts her fist to her chest. Since Tatsuki is 5'1 people make the mistake to confuse her as someone from the Kawaii League.

As Akashi stands up the athlete takes her own stance as she does while saying one more speech into the mic. "I will probably lose, and it might be quick too but that doesn't matter. As long as we both enjoy ourselves and have fun it doesn't matter whether one of us wins or loses." Tatsuki says to finish up as her final speech is well received by the audience and gives the mic back to the ref girl.

But as the bell rings Tatsuki barely has any time to react as Akashi shoots out a palm strike at Tatsuki's stomach that hurts like hell and stumbles back a bit while clutching her chest.



Posts

: 3031


Join date

: 2013-02-06


Age

: 24


Location

: Castle of The Guy



Akashi was happy to hear most of Tatsuki's words but she wasn't around to chat. The rookie had to learn that the girls in this league didn't play around. When she felt her palm sink into Tatsuki's chest, She continued to push as the girl bent over and clutched herself.

Akashi took a big step and reached out for Tatuski's hair to grab it roughly and pull the girl towards the ropes, hoping to throw her over the top ropes with and out to the outside of the ring unceremoniously.
Page 1 of 11 • 1, 2, 3 ... 9, 10, 11



Similar topics
---
Permissions in this forum:
You
cannot
reply to topics in this forum