Champions & #1 contenders
Kawaii Opportunities
Sun Jun 17, 2018 3:04 pm by Daaharu
Hey, guys!
With the kawaii title match at Avalanche taking on an interesting wrinkle with the interruption by the Brat Pack, we are moving forward with the overall kawaii storyline, and at this point I'd just like to take stock of what kawaiis are out there that are interested in participating in a cohesive storyline.
Can't make any promises about titles or what exactly each girl's given role would be. We can talk a little more about the specifics of where the story is going soon, but I …
[
Full reading
]
Comments: 2
Match or RP?
Wed Jun 13, 2018 3:48 pm by Lotuswarrior
I'm just looking to do something while I wait for match replies. Really want to get some characters cemented a bit with a rival or some interactions with other characters here.
If anyone wants to do something hit me up.
Comments: 0
Match for Takeichi
Tue Jun 12, 2018 6:13 am by GrandAkumaShogun
So with my other two guys having their own matches I figure I should do something with my first character on here, Takeichi Mori. If anyone is interested feel free to post here or get in touch through a pm so we can plan it out. I can either have Takeichi remain a jobber or begin to work him towards being a more serious competitor.
Comments: 0
Page 1 of 3 • 1, 2, 3


Handcuff match
Victory condition: Handcuff your opponents wrists together, or handcuff their wrist to something else.
Freia Kagami already stood in front of the curtains that blocked off the way down to the ramp, the crowd was already getting pretty excited about seeing Freia Kagami, who had not made an apperance here at AFW for a little while, with her being gone for a couple of weeks and doing other things. But now finally the Beautiful white haired heel wrestler that everyone seemed to love had finally returned and she was doing so in a handcuff match with a girl that she hadn't heard about before and if she was perfectly honest hadn't even bothered looking into the girl to find out anything about her.
The Perfection beyond death or the White She-wolf as she was also know couldn't be bothered trying to look into anything about the girl because she had decided to simply walk out here and try and take on this opponent and defeat her, and do what she always did after which was have her bit of fun with her. As such Freia decided not to let her fans wait any longer and would start to step out onto the ramp, as she did her music began [url=http://www.youtube.com/watch?v=MmVeFmPx6Mk:2d8bzfiq]NIGHTWISH - Nymphomaniac Fantasia[/url:2d8bzfiq] as the music started to sound the white haired beauty made her presence known on top of the ramp as the spotlights went straight to her, she struck a pose, pulling her arms up into the air and entwining them, her eyes looked straight up into the ceiling for a few seconds as her music started up fully and as soon as it did the beauty would begin to walk down to them ramp. Much to the crowd joy as even though she was a heel wrestler the loving fans that she had were many in numbers, especially in Japan.
As she made her way down her hair swayed and fluttered behind her as her elegant frame walked down to the ring, and right as she reached it the white haired beauty climbed up into the ring and went up to the center, where she struck a sexy pose that the crowd went wild over, as they settled down she would walk up to her corner and look on at the ramp, wondering just what kind of opponent she's gonna have.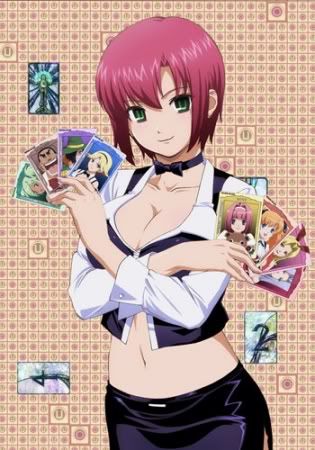 Lisa was standing backstage shuffling a deck of cards when she heard her opponents music begin to play "Ah, it seems like my match is about to start." Lisa said as she moved towards the entrance ramp while still shuffling her deck. Lisa didn't know much about her opponent but that didn't matter to her as she knew that by the end o the night she was going to have her handcuffed and begging for mercy.
Lisa stepped out into the arena to the cheers of the crowd. Lisa walked down to the ring while tossing cards into the audience while staring at her lovely opponent. As Lisa threw the last card away she jumped up into the ring and slipped through the ropes "I hope your ready to be handcuffed because i have a feeling that lady luck is on my side tonight." Lisa said as she blew Freia a kiss before waving to the audience.

_________________
Characters

The Den
Freia would look on at Lisa started to come down towards the ring, her opponent was a rather lovely young lady it seemed who soon was in the ring, and made Freia smirk a bit as she saw her, she looked on a second as she would then hear what the girl said. " Ooh ? " Freia let out as she would toss her hair back a bit and start to head up towards the center of the ring with a smile on her face. " Well let's see what we can do to fix that then shall we ?" Freia said with a little smirk as she would stand in the center of the ring with her hands on her hips.
Lisa looked at Freia and she couldn't help but laugh "I hope your still that confident after i handcuff you. I do love a disobedient slave." Lisa said as she licked her lips and moved to the center of the ring to meet Freia "I also hope you aren't a pushover becuase i love to roll away all hot and sweaty with a girl i am about to fuck into oblivion." Lisa said as she moved closer to Freia and pushed her breasts into her opponents "Please tell you know how to beg as well. I do so love my opponents to beg for sweet release." Lisa said as she poked Freia in her breast "This is going to be so much fun."

_________________
Characters

The Den
Freia placed her hands on her hips and looked on at the wrestler she was facing today, this Lisa was quite a looker at the very least, though her attitude could use some work in Freia's opinion. " Oh ? Slave huh ?" Freia let out as she was simply thinking about the idea, wondering quite a bit for a second or two how to make that come true. " Of course I'm no push over, I'm one of the better wrestlers you've ever met." Freia let out in a teasing little tone as she then felt the girl press her breasts up against her, causing Freia's eyebrows to move up a bit as she looked on at Lisa. " I don't really beg sweetie~" Freia let out as she licked her own lips a mere inch away from Lisa's face, " I make others beg too me instead ~" After which Freia would take a step back and look on at Lisa. " I'm ready to start whenever you are...cutie pie ~"
Lisa stood tit to tit with Freia and she couldn't help but smile and giggle "OH, i love when a woman resist me." Lisa said as she took a step back from Freia as well "I can't wait to make you mine." Lisa said with another giggle. As the two women stepped apart the bell rang which signaled the start of the match "I just hope you have the stamina to keep up with me."

Lisa then charged at Freia and grabbed for the girls hair "I hope your ready for some fun." Lisa would say before trying to run past Freia and pull her down to the mat by her hair "I am going to make sure you scream my name in submission before the end of this."
Last edited by 407 on Thu Apr 04, 2013 1:10 am; edited 1 time in total

_________________
Characters

The Den
Freia grinned a bit as she stood breast to breast with the girl's body and looked on at Lisa a bit, she would then hear what Lisa said and couldn't do anything but let out a bit of a scoff. " I will do more than just resist." Freia let out as she would then see Lisa take a step back, but that was only for a moment before the girl took a hold of her long hair and pulled her down onto the mat by it, taking Freia by surprise. " Aagh!" Freia let out as she was dragged down onto her back on the mat, feeling her scalp burning a bit from the way she was brought down by Lisa.
Last edited by 2237 on Mon Apr 08, 2013 7:14 am; edited 1 time in total
Lisa quickly turned around to see that Freia was on the ground just like Lisa had planned "What's the matter? I figured you would be more comfortable on you back." Lisa said as she would run towards Freia before jumping in the air and trying to land a elbow right on Freia's breasts. "Now all we need to do is get you out of your clothes and it will be like every other night for you. Naked and flat on your back while giving your fans a show." Lisa said as she would try to mount Freia's chest so she could look down into the girls eyes with a smile on her face.

_________________
Characters

The Den
Freia groaned out a bit and move her hands up to her burning scalp for a second but that was all that Lisa needed as the girl soon came at her again and did so with her elbow raised up in the air, and with that she crashed down hard on Freia's chest, making air spew out of Freia's lungs and a bit of spittle fly out of her mouth. Which left her stunned and gave Lisa all the time she wanted to mount her and place herself on top of the perfection beyond death, with her eyes staring down into Freia's as she mounted the white haired beauty who was left coughing underneath her opponent.
Lisa smiled at Freia before blowing the girl a kiss before slapping her across the face "I wonder how long you will last until you beg me to cuff you." Lisa said as she would then lean down and kiss Freia on her lips "How about you just give up now and i promise to treat you kindly." Lisa said as she pulled away from Freia just to slap the girls face again. "Or if you refuse to submit i can just kick your ass and then spank it before cuffing you." Lisa then smiled down at Freia before slapping her again "So, which option are you going to pick? I kinda of hope you pick option two."

_________________
Characters

The Den
Page 1 of 3 • 1, 2, 3



Similar topics
---
Permissions in this forum:
You
cannot
reply to topics in this forum