Champions & #1 contenders
Reduced Post Rate
Tue Jun 27, 2017 12:14 pm by RadiantKarna332
For those who are currently roleplaying with me in threads, you guys may have noticed my reduced post rate. I'm sorry for being so late to inform you guys about this, but due to some real-life businesses, I have no choice but to post infrequently compared to usual. I'm so sorry about that.
So, I will return to my normal schedule next week, so please don't worry about me not posting. Have a nice day.

Comments: 1
Active Kawaiis
Sat Jun 24, 2017 1:25 am by Daaharu
Hey, guys. I'm hoping to get a sense from everyone of where the active kawaii girls are at. No guarantees or anything, but I am looking to figure out who is out there consistently making matches because we are looking to inject some new blood into the kawaii title scene, and I don't want to have tunnel vision on just the players and characters I know.
So, if you've got a kawaii girl who's had at least one match and is currently active, can you let me know either here or via PM or IM? This …
[
Full reading
]
Comments: 6
Ending RPing
Sun Jun 25, 2017 7:04 am by KillerV
After I finishing up couple of threads, I am officially done RPing here. I apologize to you guys currently with me and even the future ones. But I am just tired of it, not going into too much details as it makes me feel like ranting so much, rather not.
But will still be here just to read n respond, as for Trillian, wont able to contact me soon, rather send PM here instead.
Good luck with everything.
Also, NOT gonna give King, rather not see people using him like
[
Full reading
]
Comments: 7
Name: Katelyn Lymer
Nickname: Scar
Age: 19
Eyes: Red
Hair: Red
Height: 6'1
Weight: 180 lbs
Nationality: Italian
Entrance music
Bible Evil
http://www.youtube.com/watch?v=2TMMi8tymrg
Wrestler Type
Improvement
Favored moves
Swallow Tail- Katelyn leaps off the ropes and lands a hard flip-kick to the opponent's head.
Hell River Plunge- A modified backbreaker in which Katelyn drops her opponent on her knee with her forearm and either crushes the opponent between her knee and forearm or slams the opponent into the ringpost.
Spinning Double Toe Hold- As Katelyn is an improvement-type wrestler, she often tries to improve the moves of others. This is an improvement of the spinning toe hold. Unlike the regular move with is simply one arm twisting the ankle and working its way up to the toe, Katelyn uses her legs to grasp on a downed opponent's legs, twistling them like a corkscrew up her knees reach the opponent's toe.
Man's German- This move starts off as a regular German Suplex, but as Katelyn releases her opponent, she grabs onto the opponent's ankles and uses the momentum of the throw and her own added weight to slam the opponent into the mat.
Scar Lariat- It's like a regular leg lariat, the only difference being that Katelyn adds strength with the rather hard boots she wheres to matches.
Flying Body Splash- Katelyn leaps high off the ropes planting her body hard into a downed opponent for a pin.
Finishing Move (This updates every time she tries to improve an opponent's finishing move)
Buffalo Branding- Like Terry's Calf Branding, only she uses both knees to force the opponent face-first into the mat instead of just one.
Ultimate Scar Buster- An improvement (If possible) of Rinko's Muscle Buster. She leaps high into the air with the opponent's thighs forced into a splits formation, but unlike the Muscle Buster, she makes it virtually inescapable and more powerful by locking the opponent's head with her legs during descent.
Katelyn Cannon- An improved version of the Chigusa Cannon. After her opponent is downed, Katelyn will climb onto the top rope and wait until her opponent gets up. Then, right when her opponent gets up, she'll leap off the rope and deliver a devastating full-body tackle pinning the opponent to the mat.
Match Preferences
Anything as long as it's not hentai.
Physical Appearance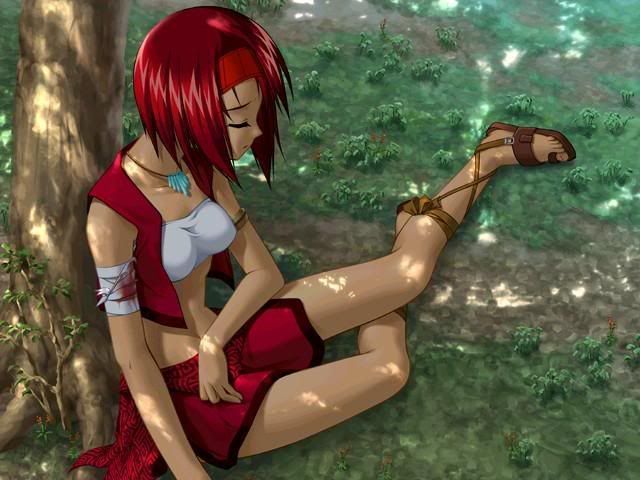 Personality
Katelyn can come across as rather mean most of the time, often mercilous and quite cold-hearted. She often likes to steal things from opponents that she beats. Example: Say an opponent wears a mask. If she wins, she will steal the mask and wear it herself. Say her opponent has a big title. If she wins, she'll steal the title.
But there are moments in which she will show sympathy. She won't exactly look caring while doing it, but she's not heartless. She's just confused.
Background
Katelyn used to be partners with Robin Nask when Robin ran away from home to become a wrestler. Somewhere in the middle, Katelyn got rather tired of Robin's gentle attitude and wanted to leave, in which Robin challenged her to a match. Long story short, Katelyn came out on top and left Robin to pursue her own path. She found the female wrestling league a while back and decided to observe the matches there in both friction and sex wars. She watched matches involving Terry in sex wars and attended Friction to watch Rinko. From those matches, she was impressed by their finisher moves and decided to make her own versions of them, stronger and more effective versions.
See, Katelyn was always taught that a big part of inventing was to take something that already existed and improve upon it. Katelyn decided to use this to her advantage and make her own finishing moves out of these two wrestlers' finishers.
She joined Friction believing it could help her in the long run to become better and make a name for herself.
Recent events: After beating Carol in a match, Katelyn stole her guitar, and as long as she has it, she intends to enter the ring playing hard metal on it.
Attire
Pretty much what you see in the picture, the only difference being that she wears these rather odd red boots made from the skin of a dangerous wild animal. It helps add force to moves involving her feet.
Record:
Carol- O (Ultimate Scar Buster)
Chigusa- O (Katelyn Cannon--->Pinfall)
Carol (Rematch)- O (End of Career)
Carol (Rematch 2)- X (Muscle Spark)
Chigusa- X (Scissor Drop)
Avryl- O (Swallow Tail--->Pinfall)
_________________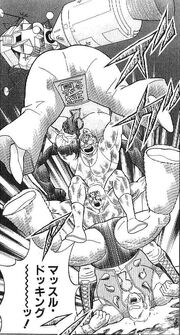 MUSCLE DOCKING!!!!!



Posts

: 1489


Join date

: 2009-02-10




Similar topics
---
Permissions in this forum:
You
cannot
reply to topics in this forum