Champions & #1 contenders
Seeking: Friction Spar Match
Mon Nov 20, 2017 6:40 am by Yori
Looking for a spar for
Alexa.
Howdy, I'm new to the forums and figured I should get my, and my characters toes wet with some good old fashion sparring. It can be a one off, or blossom into something else down the road for a friend/rival relationship. Alexa as a character is a fresh face, and an unrefined talent. I don't mind having someone at her skill level to have an event match, or someone superior to her to have a more one sided bout. I'm looking to use this regardless as a way to build …
[
Full reading
]
Comments: 1
Gonna be slow the next week or so... just had surgery IRL
Wed Nov 15, 2017 2:33 am by SleeperAgent94
Hey guys, got back from surgery today. Ruptured abdominal wall. In a LOT of pain right now, so posts will be VERY brief the next few days.
Comments: 6
Character updates.
Wed Nov 15, 2017 4:14 pm by Lotuswarrior
Since I'm starting to get a bit busier here, I'm trying to be a bit more professional. With that I'm going to overhaul my characters and update their profiles or release them all together. I'll post any images here of the characters I release, so that you guys/girls can claim them if you want.
Also looking for some characters to interact with outside of matches.
Comments: 0
Page 1 of 3 • 1, 2, 3

Match takes place on the AFW Beach
First to 10 points wins!
1 Point for Pinfall, 2 Points for Submission, 4 points for Breast Smother KO, 5 points for Facesit KO
Immediate Victory for Forcing the other girl to eat you out.
Enforced Attire: Bikini
Spoiler:
It was a hot sunny day on the AFW beach as quite the bout was about to take place. There was a wrestling ring set up per request of Heather, knowing that without it her moveset would be quite limited. The match was quite the special one, definitely about to become one that would be quite the highlight.
Hearing about all the stupilations, Heather was readying herself as much as she could. She was dressed in her white bikini, one that she used the last time she had a beach match as she arrived at the Beach area. She walked towards the beach, seeing the ring as she would let out a long sigh. "Well alright..I...sort of won the last one..I can do this." Heather let out, making her way to the ring as she would slide in.
She jumped a couple times in place, stretching herself out with the ropes as she took another deep breath. She knew her opponent should be arriving anytime now. She didn't know much about her but she was prepared for the words, stretching her legs out a bit more.
Last edited by 1905 on Wed Mar 20, 2013 12:18 am; edited 1 time in total
Many, if not all, would have never expected Cerbera to even consider a match like this but the kawaii had made rapid progress both socially and in terms of experience. She had become open towards hentai matches as well due to some help from people who seemed to really like being close to her. At first she didn't understand the challenge in things like these, nor the enjoyment because she was such a huge fan beating people up in the past.
Still, now that she has experienced a few of these hentai matches, she learned to enjoy them, especially when it came to dominating others. As she learned to love them and even accepting such matches, she began developing skill for it and now sought to fight a more experienced person in a match she was new to, but having quite the same settings as others.
Cerbera was dressed in a light blue bikini set, still wearing her light brown denim shorts and loosening it, getting ready to remove it when the staff member said she was up, taking some time to inspect Cerbera's well developing body before she was caught peeking by Cerbera and quickly scurried away.
She decided to remove the shorts once she was in the ring, making her way towards it with only one button removed from the shorts and the zipper all the way unzipped. She found the ring and her opponent was already in it, quite a cute one too. She rolled inside and quickly hopped up, moving her hands to her shorts and gave Heather a wink. " Just a minute. " She would say quite softly before she would remove the shorts and throw it out of the ring. Now that she was set to begin, she would face Heather and take a quick gender at her body, just sizing the girl up and thinking of what kind of moves she would try to use against her. Cerbera had mastered most of the submission holds and now stood a fairly good chance against the Friction wrestlers and today she was going to prove it.
[align=center:1pybu35u]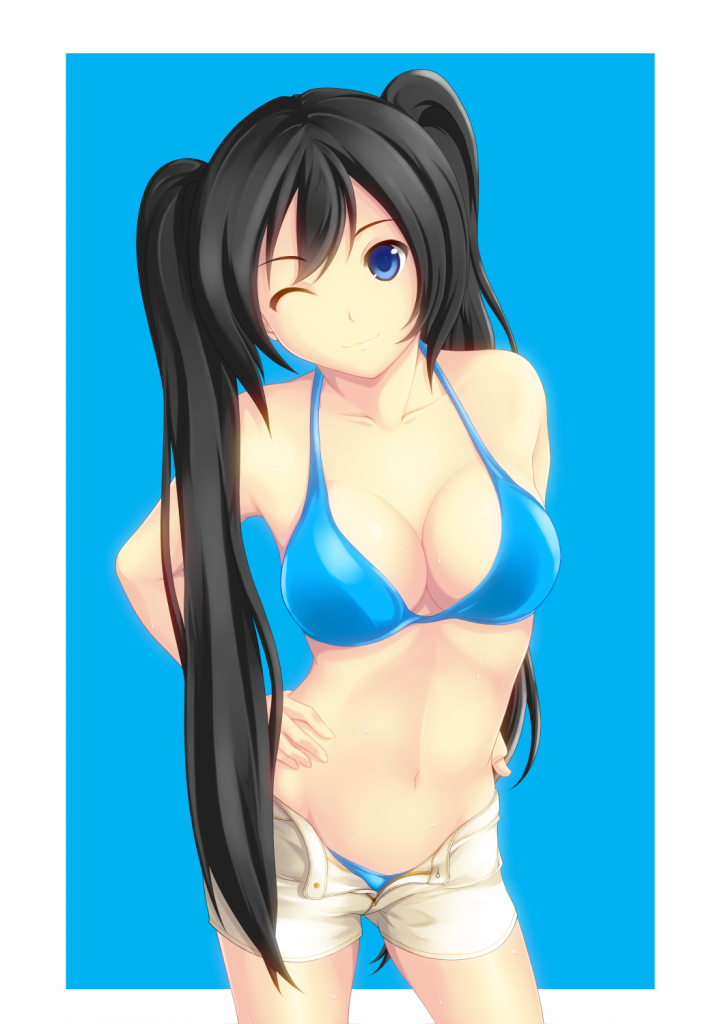 [/align:1pybu35u]
[align=center:1pybu35u]" Ready to kiss my ass for mercy? " [/align:1pybu35u]
Heather watched and waited until finally Cerbera would arrive. The girl was shorter than her, but not but not by all that much. With her developing body, Heather would hesitate to even think that the girl used to be a member of the kawaii division. She would narrow her eyes as Cerbera made her way into the ring.

She watched as Cerbera winked at her, saying what she did, causing Heather to blush quite a bit as she teasingly removed her shorts right in front of her, tossing them out of the ring. Heather stood her ground, trying not to make her blush obvious as she sized up the girl.

"Hah! No way in hell is that happening. I'm kicking your ass tonight even if it takes me ten pinfalls to do it." Heather was smart enough to not actually do something that ridiculous, but she figured she'd get in her trash talking right away.

"You'll be t he one kissing MY ass if I have anything to say about it.
Cerbera smirked when she heard Heather's swift reply, getting into a loose wrestling stance since she was going to use her speed right off the bat to catch Heather, her eyes narrowed at the girl as she waited for Heather to be done talking. " It'll take you more then just one match to beat me.. Allow me to.. " She brought a hand down, bending over slightly to show off her cleavage while placing a hand upon her knee, then slowly trailing her hand up and to her stomach, the her chest, just letting her hand glide softly over her other breast before pointing her hand at Heather. " Show you..? " When the bell rung, she quickly rushed forward and tried to slide herself past and behind Heather, trying to slip her arms under Heather's armpits and catch her into a full nelson!
Heather would just grit her teeth as Cerbera said what she did, t rying to ready herself before she saw the girl making t hat pose, bending over slightly. Heather blushed quite a bit deeper as Cerbera would slide her hand from her knee up her body, her cleavage there for Heather to see as her hand brushed over her breast. Heather couldn't take her eyes off t he girl as she bit her lip, trying to shake her blush away before suddenly Cerbera would rush forward.

Heather yelped out in surprise as the girl slipped behind her, locking her in that full nelson hold. "Hah!? L-let go!!" She let out, struggling in the hold, desperately trying to pry her arms apart to try and break out.
Her speed worked! She had Heather right in the full nelson and she knew what to do with it. She moved in to stroke her tongue over Heather's ear just to tease and distract her enough so she could move her forcefully towards the turnbuckle, trying to press her stomach against the turbuckle and hold her there for her punishment.

" Prepare yourself, Heather! " She called out her opponent's name before she would proceed to grind and hump Heather's rear hard with her crotch, not only seeking to humiliate Heather with this but also to keep her distract her while she would tighten the hold greatly.
"H-haah!? Wh- wha." Heather let out a shudder as Cerbera licked her ear, sending shivers down her spine. The action was more than enough to distract her enough for Cerbera to force her into the corner, pressing her stomach against the turnbuckle as Heather groaned out.

She would feel the girl start to grind and hump her rear hard, causing her to blush deeper than ever. "A-ahhn..s-stop!!" Heather let out, the position incredibly humiliating as she felt her raking up the pressure on the hold, Heather doing her best to struggle out, but feeling the hold take it's toll more and more.
Having Heather in such a position this early was just perfect for Cerbera, who was now practicing her dancing skills on Heather's butt, humping it quite hard before she grinding back and forth against it, thoroughly enjoy the exposure of Heather. She had to change pace though since she knew she couldn't keep the girl here forever.

She looked over her shoulder at the center of the ring and tightened the full nelson before she would try to lift Heather up and away from the turnbuckle but also arch her body back and tried to lift Heather over her and slam her down onto the mat in a Dragon Suplex!
Cerbera kept humiliating her further and further as she kept humping and grinding her crotch into her rear. It didn't help that the only thing between them were their bikini bottoms. She shut her eyes tightly as she grit her teeth, trying her best to endure the humiliation.

Soon though, through her fighting, she would feel Cerbera tighten her hold even more, feeling her start to lift her up and away from the turnbuckle. Heather's eyes widened in shock as she was suddenly lifted over Cerbera, slammed down with that Dragon Suplex. Heather groaned out as she lie there on the mat, shaking her head to try to recover herself as quickly as possible.
That Dragon Suplex came out quite nicely and now Cerbera could do much more thing to the now stunned Heather. She knew exactly what though. She thought about the many things she could do to the girl from that position and figured that if she could put Heather on display . She moved quickly to get herself ontop of Heather, trying to hook her legs inbetween Heather's so she could try and spread them wide for a grapevine and made sure her breasts were pushed down upon Heather's nice pair while she tried to pin those wrists down as well.
Page 1 of 3 • 1, 2, 3


Similar topics
---
Permissions in this forum:
You
cannot
reply to topics in this forum