Champions & #1 contenders
Highfly Flying Out Of Town
Tue May 22, 2018 1:31 am by HighFly
Hello everyone, I just wanted to inform all I have threads with that I will be gone from this coming Wednesday through Sunday. I won't be able to post consistently if at all during this time, but I will try to make up for it next week! I am sorry for the inconvenience to everyone.
Comments: 7
The Austrailian Mudslide is Back.
Sat Apr 21, 2018 6:20 am by Softsquad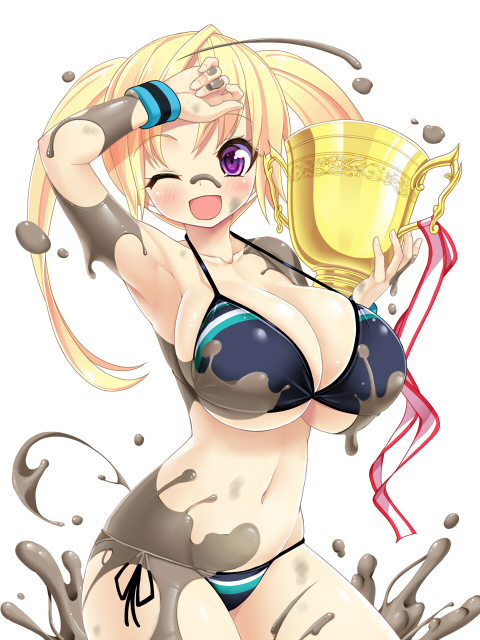 Granted that most of you won't know me or remember me, but I've had a few matches here and there some time ago. Well I think its time to become a regular around here and try to have some fun again, but at the same time keep coming back. Anyway I think its time to jump into some matches with Zoe Taylor, my mud wrestling character from Australia and get her back into the squared circle. Furthermore I will update my characters as I think some proper changes need to happen.
So if anyone would …
[
Full reading
]
Comments: 5
Page 2 of 6 •

1, 2, 3, 4, 5, 6


(Post 6)

Rei grunted as Chigusa successfully stripped her of her bra, not that it was going to last long anyway, it was still an admirable feat. The girl's perky breasts revealed themselves as Chigusa seemed to have drew first blood figuratively speaking of course. Having been exposed first, Rei wouldn't have Chigusa having her way with her anymore.

"Alright...you've had enough fun My Turn!" The purple haired girl grit her teeth as she couldn't afford to stay down like this anymore. Although the girl had copious amounts of energy, it was unwise to spend it while being under Chigusa. Rei used her hand and planted right under Chigusa's jaw and began to try to straighten out her arm to get Chigusa to lean back. Next, Rei, with her hips still off the mat, would swing her legs up to catch Chigusa's head and pull her backwards. Rei would then scramble and try to get on top of Chigusa facing the girl's legs with the side of her face pressed up against Chigusa's stomach. She'd put her hands on either side of Chigusa's hips to keep her hips firmly planted down while her head would b safe from the girl's legs. Rei would kick out her legs straight so her toes were pressed to the mat and force her stomach into Chigusa's face pressing down with all her weight to keep her down. If Rei managed to get into this position, she would waist no time trying to untie Chigusa's panties.
Chigusa crowed in joy when Rei's top came free in her hands, Rei's perky tits and hard nipples revealed to the camera. There was no doubt a crowd of horny men watching this right now. Chigusa couldn't wait to make them even more excited. However, Rei did not play nice and counterattacked Chigusa, forcing her head back using her hand. Chigusa couldn't push back against Rei's strength while stuck in this hold. Her grip started to loosen around Rei's head. Then suddenly the idol felt two smooth legs close around her neck. Chigusa gasped before suddenly she got pulled back, Rei easily overpowering the out of position idol. Chigusa found herself pulled back and completely losing the advantage she held before. Rei turned them both over, pushing the idol down with her legs and half-smothering her with her thighs, keeping Chigusa underneath as she undid the knots on Chigusa's panties!

"Nngh!" Chigusa grunted. She gathered her strength quickly, not caring about her panties for now. She pushed up with all her might, trying to buck her body upwards while pushing hard against Rei's hips to throw her off! Chigusa might not seem strong, but the little idol could handle lifting someone of Rei's weight!
Last edited by 265 on Thu Mar 14, 2013 3:09 am; edited 1 time in total
(

Grunting as she felt Chigusa struggling under her, the two girls grappling each other on the mats. Rei was doing everything in her power to keep her opponent under her but Chigusa was a feisty one. Rei loved how soft the girl's skin was and the warmth that lay just beneath her. They had barley gotten started but there bodies were already starting to warm up from trying to wrestle each other to the ground. Rei hadn't quite broken a sweat yet but she knew that she was going to. She imagined wrestling Chigusa with both of them of breath, glazed in each other's sweat and fighting for dominance. The prospect of that happening excited Rei as she tried to keep Chigusa from moving. The purple haired girl chuckled under her breath as she stripped the girl of her panties as she tossed it in Megumi's general direction but hoping it would hit her face. However, her celebration was short lived as Chigusa lifted her hips off the mat.
"Wahhh!" Rei blinked as her entire lower body was lifted off the mat. She knew Chigusa was capable of doing this but, it still surprised her. Rei bit her bottom lip slightly, she couldn't keep underestimating Chigusa like this. She snapped out of it, she wasn't going to let Chigusa beat her on the mat and she would give her no mercy.
Pressing her hands onto the mat, she lifted her upper body as well and lifted her hips higher than Chigusa's reach. Rei did a handstand to avoid being thrown off Chigusa's body before collapsing and turning herself onto her side. Rei would land right on top of Chigusa's stomach on her side facing the other girl's legs. Rei would work fast and try to wrap her legs around Chigusa's leg and using her hands, she would try to wrench open the girl's legs leaving Chigusa in a rather humiliating and vulnerable position. Rei would waste no time press her open palm against Chigusa's sex and grind the girl's womanhood with it.
(9)

Chigusa's panties fell short of reaching Megumi, but the idol got the message. Rei really wanted to fight her it seemed. That was fine for Megumi. All Chigusa had to do was bring Rei in close and they could double-team her into oblivion. But her partner was having some trouble, unable to shake Rei off of her despite her best efforts. Chigusa gasped when Rei suddenly lifted herself out of her grasp. The idol moved to roll out of the way before Rei came down but she wasn't fast enough, as Rei fell right over Chigusa's stomach. "Guh!" the idol gasped, flattened against the mat by Rei's weight. Chigusa gasped as Rei forcefully wrenched apart her legs, revealing her pink sex and began pleasuring it!

"Ahh!" Chigusa moaned, feeling Rei's skillful hands rub her sensitive and tight little sex. Her toes curled from the pleasure. Her hands grabbed at Rei's body, trying to pry the girl off. She decided to settle for Rei's bottoms, reaching down to undo the knots and pull them off to reveal Rei's sex so she could assault that area as well, even as she tried to resist and close her legs before Rei could do anything dangerous to her body!
(10)

"Mmhhh.... Chigusa's pussy is already so wet, you must have been excited when you realized that you were going to wrestle me." Rei grinned as she managed to spread the girl's legs wide open for all the camera's to see. She began toying with the other girl's clit as she fondled the girl's crotch. The purple haired girl was ecstatic at this development as she had Chigusa right where she wanted her. Rei had the girl's legs spread wide open and she wasn't going to let Chigusa go despite the girl's best efforts. Chigusa's struggles only slowed down the inevitable as Rei made slight adjustments to compensate. She could tell Chigusa was trying hard to escape but the girl would have to try harder.

"Tsk..." Rei let out as her opponent began undoing her panties, it seemed Chigusa seemed to try and do some attacking of her own. The purple haired girl decided it was time to get to work. Rei stuck her fingers in her mouth sucking them a little before inserting her middle and ring finger into Chigusa's womanhood. Rei would pump her fingers in and out of her furiously trying to do some damage while she could. As focused as Rei was, she paid no attention to how close Chigusa and Megumi were to each other nor how far she was to Chizuru.
(11)

Chigusa moaned and whimpered as Rei pleasured her sex nonstop, rubbing it and fondling her sex lips to make her wetter and wetter, teasing her clit to weaken her defences, all leading up to the penetration. The idol gasped and moaned when Rei's fingers went inside her. It had been a long time since she actually got fucked in a match. Now Rei had overpowered and defeated her within minutes. The idol continued to struggle, pushing her body closer and closer towards Megumi while Rei was busy pleasuring her. She had to get within reach of her partner before Rei made her cum.

"Nngh!" Chigusa moaned. She stretched out her leg, reaching towards Megumi with her foot to get the tag. The process inadvertently left her pussy totally undefended. Her sex, which had been clenched tightly to slow Rei's access, suddenly loosened enough for Rei to penetrate her much deeper. Chigusa was staking everything on this. She had to get within tagging range now, or else Rei would destroy her!
(12)

Rei still had no idea what Chigusa was trying to do but, the girl did have a change of plans. Rei would sit up and would try to grab Chigusa's ankles pull her towards her before trying to turn the girl onto her hands and knees. Rei then would try to force the side of the girl's face to the mat down. Shoving her head down firmly as she planted her hand against the girl's face. Licking her lips, she grinned as she realized now that they were somewhat close to Megumi. However, Rei quickly calculated that Chigusa was still a few inches out of reach. Feeling confident, wanting to get on Megumi's nerves and wanting to humiliate Chigusa, Rei would squeeze her hand into a fist and would try to drive it into Chigusa's sex forcing it's way in. While she held the girl's head down forcefully, she wanted Megumi to watch this happen to her beloved. She wanted to do it right in front of her eyes but just out of her reach.

Rei would laugh at this, she had to admit that coming to AFW was changing her. She couldn't deny how me much she began to enjoy making other girl's beg for mercy and that she crossed the line between face and heel by a mile and a half.
(13)

Chigusa's world collapsed around her when Rei grabbed her and forcibly flipped her over, bringing her ankle out of Megumi's reach. Rei was totally dominating her at this point, as Chigusa had lost all ability to fight back. With her face pushed against the mat and her body pinned by Rei's sexy sweaty form, the idol could barely even budge. She looked to find Megumi moving around the ring, hoping to find a place to tag Chigusa. She was still just out of reach.

Then Chigusa felt something very large and hard pushing against her sex. She turned her head back, eyes widening as she realized Rei was about to fist her! "No Rei! NO!" Chigusa protested, but her pussy couldn't resist as Rei's hand forced its way inside her sex! Chigusa screamed in agony as she felt her sex getting stretched and brutally reamed. The worst part was the pleasure, which broke the idol completely. She slammed her hands against the mat, screaming and crying from the brutality of Rei's attack. "S-stop! It hurts!" Chigusa protested, tears running down her face. It wouldn't be long before she came at this rate.

"TAG!" the referee suddenly called. Chigusa's inadvertant flailing had just been able to hit Megumi's desperately outstretched hand. Megumi was furious. She knew Rei only did this to Chigusa to get to her, and it definitely got to her. The idol barreled forward like a bull let out of the gate, smashing into Rei to take her down to the mat and pin her so Rei got a little bit of what she deserved!
Last edited by 265 on Thu Apr 04, 2013 8:33 pm; edited 1 time in total
"Hhehehe...Poor... poor Chigusa.... Does it hurt?" Rei wasn't in her right state of mind as the heel side of her awakened. Hearing Chigusa's cries only fueled her desire to destroy her sexually, Rei panted heavily as her green emerald eyes suddenly were glazed with a venomous glint.

"OH...it does?" She said breathing against Chigusa' ear. Her eyes now wild with the girl's pleas for help as she pressed her head to the floor. The camera's watched the idol be utterly destroyed sexually. Her mouth watering for the girl to cum all over her fist. She almost couldn't believe that it could fit inside her. Rei's heartbeat and adrenaline were now skyrocketing as she didn't even hear the Ref call tag. She didn't realize what happened until Megumi tackled her off of Chigusa. Hitting the mat with a thud, she grunted as she gritted her teeth looking at Megumi with hatred in her eyes. She hated being interrupted but when she had seen that Megumi was on top of her. Her lips formed a grin as she tried to coil her legs around her waist as she looked up at her.

"Hehehe...did you enjoy wathcing me fuck your girlfriend Megumi-chaaan?~" Rei said grinning at her. "I loved hearing her cry out like that far more than I realized, it was so exciting... have you done it before to her? You should..."
(15)

Megumi tackled Rei off her defeated girlfriend and tried to gain control, but Rei was a skilled mat wrestler and her legs quickly came up around Megumi's waist. Megumi knew she could probably take Rei, but this wasn't time for that. They had only 30 seconds to double team the girl and force her to orgasm, and only two tags after this one! Megumi desperately looked around, hoping Chigusa had recovered. Luckily for her, Chigusa had enough grit to sit back up even after being so sexually destroyed. Megumi smiled as she used her hands to grab Rei's shoulders and pin her down against the mat.

"Go for it Chigusa!" Megumi cried. Chigusa quickly crawled over and stabbed two of her fingers forward at Rei's inviting sex. There would be no foreplay as Chigusa would try to stab two of her fingers into Rei's pussy as roughly as she could and finger-fuck Rei as hard as she could manage, even curling her fingers inside of Rei to probe and claw at her g-spot. If Rei's grip on Megumi weakened, the Crimson Idol would quickly move to straddle Rei's body while pinning her down, before leaning in and smothering Rei's face with her tits!
Page 2 of 6 •

1, 2, 3, 4, 5, 6


---
Permissions in this forum:
You
cannot
reply to topics in this forum