Champions & #1 contenders
Summer Splash interest in Natasha Loclear?
Mon Apr 09, 2018 11:30 pm by daemongirl
Well my girl hasn't missed a summer splash yet, would anyone be interested in a match with her? Open to just about anything match wise, just pm me!
Comments: 1
Been Out with the Flu
Sun Apr 22, 2018 7:47 pm by daemongirl
Just letting those I have threads with know I've been out with the flu since early last week, but I will be back to posting tomorrow.
Comments: 0
The Austrailian Mudslide is Back.
Sat Apr 21, 2018 6:20 am by Softsquad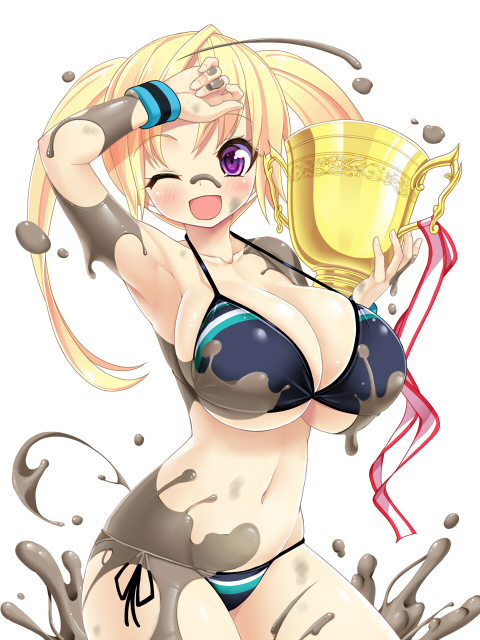 Granted that most of you won't know me or remember me, but I've had a few matches here and there some time ago. Well I think its time to become a regular around here and try to have some fun again, but at the same time keep coming back. Anyway I think its time to jump into some matches with Zoe Taylor, my mud wrestling character from Australia and get her back into the squared circle. Furthermore I will update my characters as I think some proper changes need to happen.
So if anyone would …
[
Full reading
]
Comments: 0
Page 6 of 8 •

1, 2, 3, 4, 5, 6, 7, 8


Nikolette's fingers slid along Angel's glistening thigh and fell to the ground. On her hands and knees in front of the taunting Latina beauty, she felt as much like a dog as she looked. She couldn't look the girl in the eyes and she was far too out of it still to really put up any sort of fight. She had some options bust most of them included going into places that she would rather not tread as her face lifted up enough so she was staring at Angel's crotch.

it wasn't that she wanted to look, but her head felt heavy and she was already embarrassed enough as it was, hearing the cat calls of the crowd as they ogled her. "Y-Y'all're the worst..." She said in a low growl. Maybe she couldn't fight back physically and get back in this match but... if she could help it, maybe she could even the score of this match in one area.

It might have been a little dirty but compared to what Angel was doing, it sure seemed like it might even the odds. Plus, Nikolette's body was moving on its own as the thoughts swirled and clouded inside her brain. She threw herself upward trying to grab hold of Angel's top and give it as hard a yank as her weary body could muster. If this bitch wanted the crowd to see some skin, who was Nikolette to deny them?
Angel felt on top of the world, as she stared down at Nikolette, the girl on her hands and knees before her, practically bowing before her. The feeling was empowering, it made the Latina feel like she could do anything, as she watched Nikolette struggling to lift her head, the audience still cheering for the match, cheering for Angel's stripping of Nikolette. Angel basked in their sounds, giving herself a few moments to enjoy things, wanting to fully grasp the moment before she went to finish off the beaten-down Nikolette.

Angel looked up, after a moment, and looked back over her shoulder, towards the audience. She grinned wider, giving them a slow, teasing wink, gesturing down towards Nikolette with one hand. She slowly licked her lips as she gazed at the crowd, as if letting them know she had more plans for Nikolette in store. The crowd of course cheering more for this, more whistles and cat-calls emerging from them. They were going nuts for the match so far, they were loving every minute of it...

...but not as much as they loved it, when Nikolette suddenly threw herself upwards, latching onto Angel's top. With a look of surprise crossing her face, the Latina's head snapped back towards Nikolette, barely realizing what was happening at first. By the time the realization had hit her of what was happening, it was too late to do much. Her own hands snapped forward, trying to grab the brunette's wrists to stop her, but by that time Nikolette had already given a surprisingly strong yank. With a single loud ripping sound, both the half-jacket that Angel wore and the bra underneath were torn open, Angel's rather large and ample breasts spilling forth, pillowing outwards for everyone to see. The crowd jumped to their feet at the sight, cheering and calling even louder, Angel's magnificent chest on display for all to see. On top of that, not only were the nearby audience members getting a good look, but the camera crew made sure to zoom in on her chest, displaying it over the large monitors that adorned the entrance area to the arena.

With shock in her eyes, Angel stumbled back from Nikolette, staring at her in complete disbelief, her hands quickly coming up to cover herself, to block the view of her chest. It wasn't entirely that she was embarassed, so much as it was that she just couldn't believe it. No one in the AFW had ever torn open her outfit like that, had put her on display for everyone to see. In fact, Angel was proud of the fact that as much as she loved teasing the crowd with her body, they had never gotten a good view of what was beneath her clothes.

And now, here she was, staring at Nikolette in shock, unable to comprehend just what had happened. In one short, quick action, Nikolette had done what no one else had been able to do!
Nikolette barely acknowledged what she had wrought. She fell forward to her hands and knees with Angel's top clutched firmly in her hands. She panted deeply as sweat rolled down her face. She was clad in her underwear and, despite getting the long end of the beatdown stick in this fight, seemed to have one up on the Latina right now. She let out a hot breath and looked up, watching Angel recoil. Her cheeks blushed, but she had a rueful grin on her face.

She gripped the clothes that were in her hand and slung them into the crowd. The eager people tore at it, trying to claim a very prized souvenir. As good as it felt, Nikolette knew that her body wasn't in it for another go, even with the adrenaline pumping through her body. She lifted up her head and stared Angel down. She then opened her mouth, licked her lips as sensually as she could muster and then blew a kiss at Angel.

Her body was shaking on the inside but she knew that she had to. "Guess y'all were right about that hentai debut, eh?' She said as she glared at Angel. "Hope it's as good for you as it is... hah... for me..." She said as she tried to stand up.
Angel simply stood there, staring at Nikolette silently. Her face was still twisted up in shock, scarcely believing what the mechanic had done. It didn't take long, however, for her expression to start twisting up into a look of anger, of hate towards the brunette, especially after she made her little comment about the hentai debut.

"You...you bitch!" She suddenly screamed, lunging towards Nikolette in a sudden explosion of motion. With a red-hot glare on her face, she wildly swung her leg towards her opponent's head, trying to nail her square in the side of the skull with one of her dangerous, deadly kicks.
Nikolette was halfway up when she heard Angel scream out. Her lips curled up into the faintest smile but it was all she could do to strike at Angel while she, and all her glory, bounced towards her in naked, shining fury. She threw her hands up ti try and protect herself from the kick but her balance was jostled and she could only mitigate it enough to keep her from blacking out again. She stumbled and thumped against the side of the apron, slumping against it and leaning enough so she didn't fall down completely, groaning as she clutched the side of her head.

Even blocking a kick threatened to put her back into dream land. Still, she could hear the hoots and hollers of the crowd. Every time Angel walked, they got to see exactly what she was made of and they relished every bit of it. Nikolette was going to be sore in the morning and she didn't have the will to do much more than run away, as she tried to crawl back into the ring, but it had felt like she won. Like she'd beaten that smug bitch for a second time in a row.
Angel, at this point, didn't really give a shit that the crowd could see every inch of her bouncing, bountiful bosom. It was too late to do anything about that. That had gotten a wonderful view and she couldn't change that.

What she could do, though, is let loose the rest of her anger and frustration on Nikolette.

Realizing that her kick didn't take Nikolette back down, as she had intended, she stormed up to the girl, grabbing her by the shoulder, forcefully yanking her around so that she faced Angel, so that her back was against the apron. She came in close to her, pressing right up against the mechanic's body as she began to scream and yell right in her face, her naked tits smushed right up again Nikolette's nearly naked pair.

"Think you're funny, chica?!" She screamed, her anger fully taking control of her. "Think you'd give all these people a show, huh?! Well, if that's what you want, that's what we're going to fucking do!"

With those words, Angel took a step back from Nikolette, bringing up each of her hands as she did so. Straight towards the brunette's rather expensive looking top they went, the Latina latching up tightly to it with both hands. Then, she gave a sharp pull, just like Nikolette had done to her own top, hoping to rip the bra right open, and expose Nikolette's breasts to the crowd just like the mechanic had done to her!
Nikolette was nearly turned, just mustering up enough strength to throw her leg up and roll into the ring when she felt a hard slap against her shoulder. She let out a yelp and was spun around, feeling a little woozy just from the spin, she almost fell down without the support of the apron, only to be propped up by Angel's large chest mashing into hers.

Nikolette winced at Angel's screams, feeling the hot breath pelt her face. Her eyes groggily stared at Angel's as she tried to flash a defiant smile back in her face only to stumble forward when Angel stepped back, falling bosom first into Angel's claws. Her eyes widened and before she could even gasp out a 'No!'' The soft snap of the bra being torn off and the long hooting cheer of the crowd engulfed the moment.

Her hands went up on instinct and she covered her large, glistening orbs. Her face went red and she staggered back against the apron, staring at Angel with mouth agape.

She could almost feel tears welling up in the corners of her eyes as she shivered and tried to keep the cat calls out of her head. She weakly looked at Angel until her brow began to furrow. She then let out a shriek and summoned up every last bit of strength to bury her fingers in Angel's hair and try and drag her down to the ground with violent tugs. All thought and reason escaped her. All logic had disappeared. The only thing that was left inside her exhausted body was a cat looking to sharpen her claws one more time on her most hated rival.
Angel stared right back at Nikolette, wadding up the mechanic's bra and flinging it over her shoulder, towards the crowd. Another souvenir for a lucky fan, and Angel couldn't help but taunt her hated enemy as she stared towards the Latina.

"That looked pricey, chica...a bit out of your price range, maybe? Gonna have to save up toilet cleaning money to get a replacement, huh?" She called towards Nikolette, though her voice was hard, no sound of teasing or joking within it's sound. She opened her mouth to continue, to insult and verbally assault the brunette more, but the sound of Nikolette's shriek made her freeze in place. Before she knew it, Nikolette had lunged right to her, grabbing her by her short, white hair. Angel couldn't help but let out a shriek of her own, as she was dragged down to the floor by the desperate mechanic.

"P...puta!" She screamed at Nikolette as she hit the floor, her own arms shooting up towards the brunette. She reached out, trying to grab Nikolette's long hair and yank her right down to the floor with her, trying to drag her fellow topless competitor down with her onto the ground.
Nikolette's shriek of rage turned into cries of pain as the two vixens tumbled to the floor. She only let out a low grunt as they hit, more concerned with digging her fingers tightly into Angel's silky silver hair and pulling like she was trying to tear it out.

She struggled to get the top position as she pressed her forehead against Angel's, trying to kick and knee Angel's lower half with wild, flailing motions as their bodies slipped and slid together. "You too, kurva!" Nikolette spat as she glared deep and hatefully into Angel's eyes. She didn't hate the girl before when she first approached her. In fact, maybe it was the opposite. Perhaps she even admired Angel a bit and just wanted to see what she was doing that Nikolette wasn't. After all, Nik had won their debut match. Was the gap really so different?

But now, Nikolette could only see red. It was unreasonable, even she could probably admit that if she had a clearer head but she couldn't. All she knew was that she just hated this woman with every fiber of her being and all she wanted to do was hurt Angel.

If she could get Angel down on her back, she would try and push Angel's head back so she could lift up her own head and put some distance between the two. Her instincts pushed her to let out one more scream and drive her head downwards for a vicious headbutt. A headbutt that would, if it struck true, have unintended for the angry mechanic who was already running on fumes. Leaving the mechanic to black out from her own attack and slump heavily against the bare chested Latina.
Last edited by 445 on Wed Mar 27, 2013 5:41 am; edited 1 time in total
Angel yanked and pulled on Nikolette's hair, just as hard as the mechanic was doing to her, the two of them struggling against each other as they hit the floor. The fight between them had devolved into an all-out catfight, but Angel didn't seem to care. All she was concerned about at this moment was breaking free from Nikolette, turning things back to her advantage, making the girl suffer for daring to drive Angel into this position.

Somehow, though, Nikolette had managed to get the dominant position over the Latina. Maybe it was shock due to Nikolette's sudden, fierce fighting, maybe it was just the disbelief that the girl had it in her, but before Angel realized what was happening, she was on her back, Nikolette lying atop her. Angel glared up at her hatefully, trying to thrash and buck her body, trying to force the mechanic off of her, but...out of nowhere, Nikolette's skull came crashing downwards, her shrill scream leaving Angel stunned and open for the attack.

When the heads of the two women met each other, Angel let out a loud, harsh scream of her own, one of pain and filled with hurt. She would be stuck with a headache for days after an attack like that, and it had dazed her enough that she wouldn't be able to follow up, not yet at least. She lied there panting, closing her eyes, waiting for Nikolette's followup, but...it never came.

Slowly, cautiously, Angel began to open her eyes, staring up at Nikolette, wondering what was happening. It only took her a moment to realize that the brunette had knocked herself out, and now was lying there atop her, completely helpless. "Chica...?" Angel called out softly, wondering if this was just a ruse or not, as she tried to sit up, trying to slide Nikolette's body of of her own and to the side of herself...
Page 6 of 8 •

1, 2, 3, 4, 5, 6, 7, 8



Similar topics
---
Permissions in this forum:
You
cannot
reply to topics in this forum