Champions & #1 contenders
Looking for a few matches.
Thu Mar 29, 2018 11:14 am by Yori
As the title suggests, I am in the market for a few matches, specificly for...
Luna
- Vampire themed wrestler who prefers to play with her food before she sinks her fangs in. Prefers no DQ or hentai stipulation matches. Preferred in a more dominant role, fills a more heelish role.
Reiko
- Punk upstart with more experience fighting in the streets than the ring. She takes part in hardcore matches primarily, using weapons far better than she can wrestling techniques. Strictly heel.
Leah
- …
[
Full reading
]
Comments: 6
A match for Brie.
Thu Apr 12, 2018 5:15 am by BootsForSpooks
A week ago, I made my own character named
Brie Schuhart
. I thought it would be best to post a notice here. I'd like to have an opening match with her.
I also understand that a lot of characters here have story lines. I'd like to start one for her too. Her opponent can lead to a romance, it can be something that turns into a grudge over time, or it can be something more complicated. Whatever the case, we can discuss. I'm open to a lot of things. We'll make it work.
[
Full reading
]
Comments: 5
Taking on a thread or two
Wed Apr 11, 2018 12:50 am by LtLukas
I don't really have a plan in mind. If you want to throw something out there, be it a storyline, match, or whatever, I am willing to entertain it. Let's talk about it.
Specifically, I have two ladies that I want to have a thread with:
The inimitable
Jessica Wright
. With her, I am leaning for some more hardcore stuff: no DQ, shit outside the ring, coffin matches. But I am willing to listen to anything that you want to try.
The lovely
Eka Guramishvili
. She has a new flag-based outfit. So maybe …
[
Full reading
]
Comments: 0
Page 1 of 5 • 1, 2, 3, 4, 5


Standard Match
Win by pinfall or submission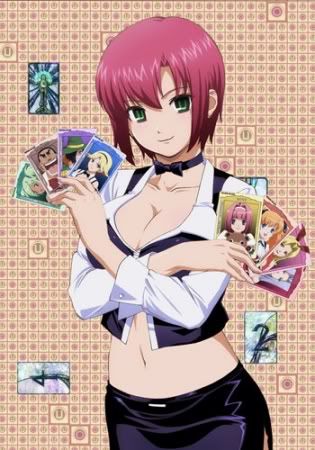 Lisa stood backstage shuffling a deck of cards as she relaxed before her fight tonight. Lisa had a smile on her face as she looked around the backstage area and she noticed she was alone "I hope my opponent tonight is a good sport. I haven't had a decent match in awhile." Lisa then stopped shuffling her deck of cards and drew the top one "Ah, the ace of spades. What a lucky card for me to draw. I think tonight i am going to have a good match." Lisa said as she stood up and made her way to the entrance.
Soon, Lisa's [url=http://www.youtube.com/watch?v=e85wdLI0JBc:2b0osnkb]music[/url:2b0osnkb] began to play over the loudspeakers. Lisa stepped out into the arena and she was greeted by the cheers and catcalls of the crowd. Lisa was wearing her usual dealers uniform and as she walked down to the ring Lisa threw cards from the deck into the audience and as she reached the ring she kissed one of the cards and tossed it away before stepping into the ring and waving to the crowd. Lisa then smiled and pulled a brand new deck from in between her breasts and she started to shuffle it as she waited for her opponent to arrive.

_________________
Characters

The Den
Ayame peeked around the edge of the curtain as her opponent for tonight was making her way down the ramp, her white eyes wide open in both shock and awe at just how many people there were in the stands tonight. She had known there would be an audience and had even seen its usual size from matches she had watched before now, but being here in person was an entirely different experience. This was going to be her first match in the AFW, something she had thought herself prepared for but apparently she still had some butterflies left in her stomach, though she wasn't going to let that stop her. She was dressed in a black mesh top over which she wore a zipped up purple coat, black pants with matching boots worn below, a much more conservative outfit than most wore in the AFW but she liked it. The stage hands could hear her gulp down some air before Ayame took her place for her own entrance, taking deep breathes to calm herself down before her music began to play.
Smoothing out her clothes for a moment Ayame took one last calming breath and emerged from the back, the crowd cheering not quite as loudly as they did for Lisa but that was only natural given her being the new girl. With a nervous smile on her lips Ayame slowly made her way down the ramp, waving at the fans cheering to either side while thinking this was something that would take some getting used to. Making her way to the ring Ayame chose to climb up the steps, holding the top of her coat against her body so that no one could look down it at her breasts, and once in the ring she made her way towards Lisa.
"Uh, sorry if I seem nervous, this is my first match after all. My name is Suzuki Ayame, but please just call me Ayame okay?"
Lisa stood in the ring shuffling her deck of cards watching Ayame enter the arena "She doesn't look half bad and i bet she would look even better is she shower some more skin." Lisa said as she waited for Ayame to enter the ring "Oh, don't worry everyone is nervous their first time." Lisa said as she winked at Ayame "Also no need to be so formal just relax and lets have a fun match."

Lisa then heard the bell ring and she placed her deck of cards in the corner "May Lady luck smile on us both tonight." Lisa said as she bowed to Ayame and moved to the center of the ring and motioned for a lock-up "Lets start off a bit slow to get you warmed up."

_________________
Characters

The Den
Ayame may have been a shy girl but she was by no means a blind one despite how white her eyes were, blushing deeply the moment she laid her eyes upon the beautiful Lisa. She even averted her gaze for a moment when the girl winked at her, bringing her hands up to just below her chin and tapping the tips of her index fingers together in a rather embarrassed gesture. "Oh o..ok, I'll do my best to give you a fun match." She managed to get out while returning her eyes to Lisa, giving the woman a quick bow in a show of respect before she would hear the bell ring.

Taking one last deep breath to calm her nerves somewhat, Ayame then realized she wasn't sure how to actually begin a match, luckily for her she didn't have to think of one as the other woman had an idea for that already. She reached up and locked up with the woman in a standard collar and elbow hold, pleased to hear her opponent was willing to give her some time to warm up. "Oh by the way, no one told me your name."
Lisa smiled at Ayame thinking that the girl was kinda cute when she acted shy but as Ayame asked what her name was Lisa couldn't help but giggle a little "Ah, well you did introduce yourself to me, i guess i better do the same." Lisa said as she pushed against Ayame in the lock up

"You may call me Lisa." Lisa said as she tried to overpower her opponent and push her back towards the ropes "And i am glad that i am going to be your first opponent." Lisa said with a smile before twisting her body and trying to toss Ayame to the mat.

_________________
Characters

The Den
Now that they were properly introduced Ayame felt even better about the match as knowing the other girl's name made her feel more connected to her opponent, some of the nervousness leaving her as she nodded enthusiastically to Lisa. At the same time she was on the defense already, Lisa working to push her backward and though it worked a little at first Ayame's growing confidence seemed to boost her strength, her feet coming to a stop as she began to push back.

"So am I Lisa-san" Ayame said cheerfully just before she found herself flying through the air and landing hard on her back, groaning softly as one hand shot to rub her lower back. She hadn't expected Lisa to do that but knew that was a mistake on her part, it was a match and that meant she needed to keep on her toes. "Oww, good one Lisa-can." She let out before trying to roll away so that she could get back to her feet.
Lisa let Ayame roll away and get to her feet as she smiled "Thank you Ayame but i am just getting started." Lisa said as she would begin to circle Ayame while staring at the beautiful girl in front of her. "Shall we try that again Ayame?" Lisa said as she motioned for another lock-up. "Lets see if you can do better this time." Lisa said as she would move towards Ayame as she hoped to be able to pin the girl in the corner this time so she could have some fun with Ayame.

_________________
Characters

The Den
Ayame managed to get to her feet without having to fend off an attack from Lisa, the much braver woman, at least in Ayame's mind as her clothes left little to the imagination, again showing how considerate she was of Ayame's inexperience inside the ring causing the new girl to smile despite having just been put down onto her back. She couldn't just take advantage of that kindness forever though, Ayame needed to show the woman that she could not only give her a good match but that she could win as well, taking a deep breath to calm her rapid heart beat a bit trying to focus on the task at hand.

"Yes Lisa-san, no more taking it easy on me okay?" She said knowing full well the match would get rough but she knew she was ready for it, bringing her hands up to lock up with Lisa. She wasn't the best grappler and she knew it, but Ayame felt Lisa trying to push her into the corner and tried to counter by sliding her foot in behind one of Lisa's and pulling hard, pushing with her arms at the same time hoping to push her onto her back.
Lisa was pushing against Ayame when she suddenly felt the girls foot slip behind hers "Well it seems like you know a trick or two." Lisa said as Ayame managed to push her onto her back "Well now what are you going to do?" Lisa said as she would try to pull Ayame down on top of her to see how the shy girl would respond. Lisa wouldn't hold Ayame on top of her as she would just try to see Ayame's reaction.

_________________
Characters

The Den
Ayame thrust her hands forward and sent Lisa toppling over onto her back, though the woman was crafty as she managed to drag her along for the ride as Ayame ended up laying on top of the woman. Her eyes had closed during the fall but she felt her hands cupping something soft, in the back of her head she knew what she had to be squeezing just then but it wasn't until she opened her eyes and looked at how her hands were cupping Lisa's mounds did she react, Ayame's face turning bright crimson the moment she realized how she had landed, rolling off of the woman immediately before scrambling back to her feet while bringing her hands up in her usual sparring stance used when training in the gentle fist. "You let me get up Lisa, so I will do the same. And ummm, s..sorry about that, I didn't mean to do that I swear!"
Page 1 of 5 • 1, 2, 3, 4, 5



Similar topics
---
Permissions in this forum:
You
cannot
reply to topics in this forum