Champions & #1 contenders
The Austrailian Mudslide is Back.
Sat Apr 21, 2018 6:20 am by Softsquad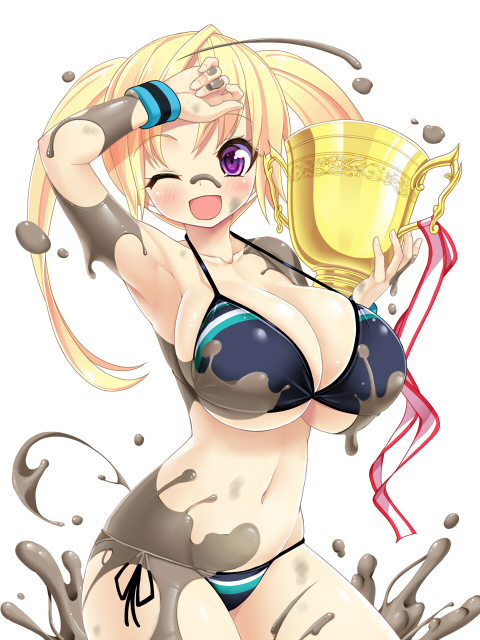 Granted that most of you won't know me or remember me, but I've had a few matches here and there some time ago. Well I think its time to become a regular around here and try to have some fun again, but at the same time keep coming back. Anyway I think its time to jump into some matches with Zoe Taylor, my mud wrestling character from Australia and get her back into the squared circle. Furthermore I will update my characters as I think some proper changes need to happen.
So if anyone would …
[
Full reading
]
Comments: 4
Looking for debut thread.
Sat May 12, 2018 9:28 pm by Hedgehawk
Hello All.
I am looking for a debut for my girl Trinity (http://www.afwrpg.com/t18107-trinity-cordova#495678).
This doesn't have to be a match, it could be a gym battle, interview or anything else. I just want something to help get Trinity off the ground. If you wanna plot feel free to reply to this message or fire me a PM.
Many thanks in advance and thank you for reading my message,
Hedge
Comments: 0
Page 4 of 5 •

1, 2, 3, 4, 5


Johnny rubbed his fingers through his hair Clyde seemed to be a bit of a downer so when he said he had to get going, Johnny politely smiled. He wasn't going to kick the guy out but if he had places to be, then Johnny could go back to spending time with Taylor. As she came in, his eyes veered towards he and lit up just enough for her to notice. He let a little chuckle escape his lips. "I guesso...' He said, answering both her questions with one answer.

"It's been cool man." He said. "Thanks for the gift, dude." He said and smiled at Clyde. "If you ever wanna pump iron and junk, just uh... give me a ring or something..." Johnny turned his head. "Since you, like, know where we live and junk.." He added a little awkwardly. Maybe Taylor told him? That didn't seem like her.
As Clyde got up from his seat, he turned when he saw Taylor appear and his eyes raised a bit at her appearance that he found to be rather appealing to the eyes. Maybe it was because she was wearing tight jeans and he had a thing for Denim, maybe he had been too drunk to see how attractive she was before, either way kept himself from looking too obvious when he took a sec to check her out. He felt sorta 'dirty' blatantly scoping out a married man's lady, after all Clyde clearly remembered a lot of AFW's roster doing the same and more to his old, old lady once before and never being able to do anything about it. He should have let go of those memories but

"Yeah." He told her before being forced to chuckle at her question."Yeah, we best friends forever, now." Clyde joked while making his way to the kitchen sink, pulling back on the sleeves of his jacket to begin washing his plate without waiting for anyone to give him permission or something.

"Uh huh." Clyde confirmed pleasantly with Johnny. "Yer' welcome. More than happy to congratulate the Newly Weds." Said Clyde honestly. Though truth be told he was starting to feel he might have given them too much money, He was a bit of a cheap-scape after all. His head perked up when Johnny offered to join him in working out sometime, he thought over it and felt he was just going to be embarrassed by the clearly stronger dude. But...

"Well if you ain't already got plans with ya lady you can tag along now if ya want, man. You too, Blondie. Wanna show me how tough you is now from stayin' home and watchin' The Young and The Restless?" Clyde offered to the couple while rinsing his plate. Maybe it wouldn't be so bad working out with a friend or two? He figured they probably had plans for the day though and he didn't want to intrude on that, after all they were just married, they were probably going to do what most people after their happily married. Whatever that was.
Taylor raised her eyebrows in surprise. She hadn't expected the little guy to actually throw out an invite, it didn't really seem like his style. She leaned into Johnny and held his hand with both of hers.

"Welllll, maybe Johnny could. I might catch a train and go visit the girls today, anyway. What do you think, Jun-Bug?" She asked with a grin, standing on her toes to lean her forehead against Johnny's for a moment. Then she walked off to the couch to find her phone so she could text Cassie and Akashi.

There was a time when Clyde might've got a face-full for suggesting that Taylor would sit at home and watch soap operas like a housewife. It didn't bother her now, though, and that fact alone made her happy. She felt as light as air without the burden of proof regarding her toughness sitting squarely on her shoulders.

"Man, what do people do, other that work out and train and stuff?" She mused, and flopped onto the couch, laying on her stomach with her phone in her hands. "I mean, we can't just go play soccer in middle of winter, and I don't want to go to a gym, because that defeats the whole point. I guess maybe... eat, and... I dunno. I guess this is how I get so much shopping done." She looked back at Clyde. "Fuck, man, I really am turning into a housewife, aren't I?" She laughed. "Thank god for no kids, though." She added more quietly.
Johnny grinned at Taylor as their foreheads pressed. He pushed his lips out and gave her a smooch as she strolled off and his eyes followed her to the couch. But her words made Johnny turn his head. He did mostly that... But still, she was right. Kyoto was great and all, but Tokyo had been his home for most of his life. He stretched out and looked at Taylor. "Why don't we head up to Tokyo then, babe?" He said. "If you wanna see the girls, it's cool. I got some junk I wanna do up there and we can meet up later."

Johnny then looked back at Clyde. "Yer free to come along, man. Those chicks are great an all, but we ain't gotta just hang out with em. There's plenty of junk to do in Tokyo. Plus, Akashi will probably just maul you." Johnny then realized that Cassie and Clyde ad an encounter as well. "Oh... maybe Cassie will too, eheh..." He said scratching the back of his neck. He then slid over to the couch and sat next to Taylor, wrapping an arm around her. "I guess we're gonna head to Tokyo then. We got a whole train ride ta figure out what we're gonna do."
Clyde was slightly disappointed Taylor didn't respond to his little joke towards her about watching Day Time Soaps. He couldn't believe he was saying this but he was starting to miss that snarky little punk who used to piss him off easy. Maybe Marriage wasn't as great as he thought. Maybe it made you slowly more lame and old?

"The girls?" Clyde asked with a raised eyebrow when he didn't know who the duo was talking about visiting in Tokyo. He wasn't at all affected by neither of them wishing to join him in finally going to the gym but was surprised when Johnny offered him to come along, hang out with whoever, do junk and... Get mauled by Akashi. The latter was something that Clyde was quick to picture inside his head, he would definitely welcome it.

"Psh. I'd like ta' see her tr-" He began to talk tough before Johnny cut him off with mentioning Cassie. Clyde's face drooped. "Awww Maaan. Not the cute little red head who hit me with the damn bucket... Like a little punk." Thought Clyde, he barely remembered what happened but he recalled being hit with a bucket and then screaming at Cassie for it. He didn't know why it happened but Clyde figured maybe he told her a dirty joke or something while he was drunk. He crossed his arms and stared at the floor while mulling over what he should do. Go workout or socialize. Working out alone didn't bother him at all, he really wanted to get stronger and be taken seriously, even more so if Johnny was just going to keep getting jacked. But something heavy to lift will always be around.

"I 'spose I'll just have to apologize." Muttered Clyde who had not been drinking as heavy as he once was. "I'd like ta' tag along. But what makes you think I'd perfer hangin' with you over a couple of ladies?" Said Clyde with a smug grin while he pulled on the collars of his jacket, kidding around of course. He then heard Taylor talk about things to do over there She mentioned soccer.

[size=140:3hhcssg9]"Play Football!!!" He cut in happily. He could totally outrun Akashi and Johnny, they probably didn't know how to play. His only competition was Taylor because she was faster... She'd have to be first pick.
Last edited by 621 on Mon Feb 04, 2013 11:54 pm; edited 3 times in total
Taylor's smile remained but she lowered one eyebrow quizzically at Clyde's reaction to the mention of Cassie. She was confused for a moment, but then she remembered the Tension hotel, when Taylor had got Cassie to tag along for the trip when she went to see Johnny. Clyde was there, dead drunk as usual, and while Taylor and Johnny got reacquainted, Cassie brought Clyde back to his room.

That's all Cassie told Taylor. She got the impression there was something she wasn't telling her, though, and being as protective as she was...

"Football?" Taylor said, snapping out of her train of thought. She broke into a big, bright smile. "That actually sounds really fun. Except I think me and you are the only people around that know how to play. Japanese people don't know American football. Right?" She poked Johnny in the ribs. "Well, actually... I've sort of... I don't have much experience. Like I probably can't throw the stupid ball, but I can run and stuff, but... hey."

Her smile faded and in a moment she was serious again. Her eyes were intense as she squared up to Clyde, and it was obvious she meant business.

"What happened with you and Cassie?" She asked in an even, but demanding tone. "At the hotel. I think she didn't want to tell me everything, so now you get to."
"Football." Clyde replied with a proud nod while looking at Johnny as if to say my sports are better than yours.

Clyde then waved dismissively. "Pssh, They could learrrnnn! YOU could learn! 'Less you have us play Baseball. Ya' can't tell me all you know is Soccer..." Clyde played football back home, sometimes in school during the 8th and 9th grade but didn't last long due to low grades. His cheerful demeanor faded though when Taylor brought up the Cassie incident in a demanding tone, Clyde's shoulders slumped. Great. Now he felt bad. More than... the last time he remembered feeling bad about it. Whenever that was.

"Uhhhhhhh.... Don't really know the exact details but after she got me back in the room, she splashed me with water, I... Yelled at her I think... Then she hit me in the head with a bucket... Yelled at her again to get out Annnd... Passed out on the floor..." Clyde admitted while rubbing the back of his neck before he took a deep breath and looked at the duo while he patted his pockets.

"I was drunk."
Last edited by 621 on Tue Feb 05, 2013 3:10 am; edited 1 time in total
Taylor folded her arms and scowled. Then she began shaking her head and looked away from Clyde. Then she put a hand to her brow and rested her elbow in her palm.

"Have I told you this before?" She said, looking back at Clyde and gesturing out with both hands. "If I ever see you with a drink, or drunk, or smelling like booze, or even if I think that there's been stuff near you and you thought about drinking it, and you're around me or my friends, I'll kill you. Seriously, I'll fuck you up, for real. Don't fucking do it."

Especially around Cassie, she thought. But she didn't say that.

She went off to put her socks back on and pulled on a pair of very minimal running shoes that fit like gloves, and meticulously tightened and tied the laces. Then she grabbed a warm winter vest and slid it on on her way to the door.

"So football in Tokyo?" She said.
Clyde slumped and frowned as Taylor grilled him and warned him to keep away from the stuff from now while around Taylor her posse. He didn't like being threatened like that or just letting it go, Those were fighting words after all. He just couldn't back down when someone said they would kill him, fuck him up. But he let it go. He knew he probably deserved some of it. He wasn't much a good guy when he was plastered.

"Yeah, Yeah..." He told her begrudgingly with his hands stuffed in his pockets like a kid being scolded by his mom. Clyde gave Johnny a look when Taylor left after scolding him and waited for the gal to return so they could get going.

"Foosball." Clyde quoted Momma Boucher. "'Less Johnny boy prefers his country's sport of Baseball. I warn ya though, pardner. I throw me a Meeeaaan Fastball." Clyde gloated.

"What is it you said you had to do in Tokyo, man?"
Last edited by 621 on Thu Feb 07, 2013 6:40 pm; edited 1 time in total
Johnny was surprised at Taylor's serious scolding of Clyde. He wasn't surprised that it happened but more that it happened just now and that she was serious. It was good though. Johnny wasn't around Clyde enough to make light of the man's issues, though if something had happened, he'd be right there kicking the guy's ass. Still, it seemed to go as quickly as it came and Johnny was glad the serious atmosphere died off.

"Yeah, dudes." Johnny said, scratching his head. "Sounds cool." He turned and looked at Clyde and shrugged. "I dunno man. I was mostly into wrestlin when I was young. I guess they are both pretty cool. I rather use my arms than my feet though..." He said half-heartedly picking baseball of the two. "Let me clean up and we'll be off." Johnny said and looked at Taylor. "You wanna order the ticket's babe?" He said with a grin before looking at her with a little incredulity. "I guess you'll wanna be on different teams?" He asked. Against her, he stood no chance and not for lack of skill or effort. She could flip on the charm in an instant and turn him to gooey mush. Thankfully she usually liked competition too much to use it against him, which was even hotter to the silver haired Nihonjin.
Last edited by 445 on Sat Feb 09, 2013 6:09 am; edited 1 time in total
Page 4 of 5 •

1, 2, 3, 4, 5



Similar topics
---
Permissions in this forum:
You
cannot
reply to topics in this forum