Champions & #1 contenders
Highfly Flying Out Of Town
Tue May 22, 2018 1:31 am by HighFly
Hello everyone, I just wanted to inform all I have threads with that I will be gone from this coming Wednesday through Sunday. I won't be able to post consistently if at all during this time, but I will try to make up for it next week! I am sorry for the inconvenience to everyone.
Comments: 7
The Austrailian Mudslide is Back.
Sat Apr 21, 2018 6:20 am by Softsquad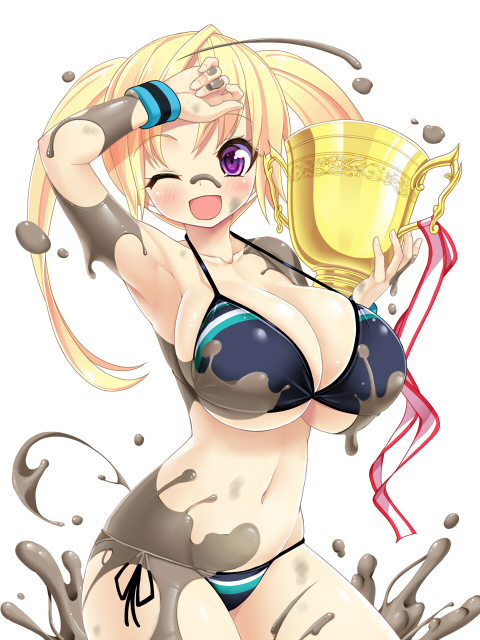 Granted that most of you won't know me or remember me, but I've had a few matches here and there some time ago. Well I think its time to become a regular around here and try to have some fun again, but at the same time keep coming back. Anyway I think its time to jump into some matches with Zoe Taylor, my mud wrestling character from Australia and get her back into the squared circle. Furthermore I will update my characters as I think some proper changes need to happen.
So if anyone would …
[
Full reading
]
Comments: 5
Moonhearts Promo intro thread is O p e n.
Mon May 21, 2018 4:21 am by XSirenX
Feeling brave?, lost?, or without a thread to post in?, hit up the newest Moonheart if any of those apply!
CLICK HERE
What Moon has to offer?, many things...:
Comments: 0
Page 5 of 7 •

1, 2, 3, 4, 5, 6, 7


"Uh... well..." Clyde began as he scratched the back of his head nervously somewhat embarrassed to say: "...Not really." He admitted. While he knew it was a small sized fish meal, that was about it, he honestly didn't really know what it was and The way Mercy looked and reacted made him feel like he SHOULD know what Sushi was. It made him slightly dumb in a way.

"Well I've seen it, I've just never tried it." Clyde admitted with a slight frown towards Mercy's reaction to how he never touched Sushi. Leaving him to just sigh. He didn't know it was such a big deal. It must be amazing, he thought. He blinked when he saw Mercy turn back around with a light smile, he found it odd how she went from looking a bit irked to smiling again. Either way she had his arm snatched up before he could say a world, tugging him along with her. Her hand was on the sleeve of his coat, he couldn't feel her grip too well, it shouldn't have been a big deal anyway, it was just a hand on his arm. But it made his heart begin to beat a bit faster.

"This sushi stuff must be really good, huh?" Clyde asked cheerfully while following Mercy into the sushi shop. It must be the greatest thing ever with the way Mercy talked about it. Maybe it wasn't raw? Either way, when the hostess greeted them and escorted them to their counter seats, Clyde pulled up a chair and sat down next to Mercy. All the little Sushi things looked really interesting. They always have though, but now he was going out of his way to have some.

"...So! Any idea what I should start with?" He asked with a light chuckle, he really didn't know what was what and Mercy seemed to know her Sushi. "...What are you gon' be havin?"
Last edited by 621 on Fri Feb 01, 2013 9:45 pm; edited 1 time in total
"Uh huh, uh huh." Mercy said, nodding. "It's no octopus, but it's pretty close!" She said. "It's just... perfect!" She said and beamed When they sat at the counter, Mercy greeted the chef with some polite Japanese. She turned and looked at Clyde. "You should just start with the makizushi. It's the kind everyone knows. They don't have California rolls here... otherwise I would say that..." She ordered some sushi, makizusi and some Nigirizushi.

When the food was served, Mercy pulled up her chopsticks and looked at Clyde. "The Japanese have a saying before they eat. Itadakimasu." She said and pulled her chopsticks apart. "Since... we're in this place.." She muttered. She then let out a soft fight. "Dip it in soy sauce before you eat it. Let me know what you think and then maybe you can step up to the big boy sushi." She said and gave him a nudge and a smile.
Clyde's eyes went wide for a moment but later shared a smile with Mercy, internally though he thought: "Octopus!? She eats that? Wow she must really like Japanese food... She even knows some the language. Bet she loves it here." Clyde thought, he heard Ock was a dish here but he wasn't exactly up for trying it. Sushi he could handle. Eating Ock sounded gross yet... Interesting. "Octopus is your favorite dish? Wow. Heh. That's real intrestin'. I ain't ever met anyone who's eaten Ock before." It really did catch his attention. He guessed it was kind of slimy but maybe it was really good? It made him a tad curious.

"Maybe i'll try them Cali Rolls next time. But we'll see how this Ma-Makizushi tastes." Said Clyde as their food was served and Mercy instructed him on what the Japanese say before they eat. Clyde's eyes lit up like he just pieced a puzzle together. "So that's what it's for..." Clyde muttered. He'd noticed it before a couple times during his stay in Japan but didn't understand it until now. He then chuckled following her last remark and moving him up to big boy sushi, smiling when she nudged him. Oh, he'd show her! "I'd get that big boy plate ready then." He teased before bringing his hands together.

"Itadakimasu!" Clyde stated in twangy Japanese before getting out his chop sticks, which he actually knew how to handle and proceeded to grab the makizushi, dip it in soy sauce and hold it out in front of him briefly before turning to Mercy. "Here goes-!" He said and ate the piece, shuddering a bit from the taste and making a slight face, but ultimately didn't seem to mind it as he enjoyed cucumber and eggs especially so he didn't really find it... That bad... Just a tad weird.

"W-Wow. Heh. That ain't bad at all!" He turned to Mercy and laughed a bit. It was better than what he hoped but not as amazing as he thought it would be. Granted he'd never say that.
Mercy nodded her head vigorously as she daintily chewed on her sushi. It was quite good! When she was finished, she patted her lips and turned to look at Clyde. "That's right! It's just so... chewy and delicious! And Octopi are so c-cute!" She turned her head, blushing. "I wish I could have one as a pet! I guess eating them will just have to do though!" She let out a gentle sigh and popped another sushi into her mouth after dipping it into some soy sauce.

She finished it quickly, glad Clyde enjoyed it as well. She lifted up. "Temaki, please!" She said and after a few minutes, the chef came back with a [url=http://images.wisegeek.com/temaki-sushi.jpg:2370jz6n]cone shaped sushi[/url:2370jz6n] and set it in front of them. "You can have that, I'll take some of the rest." She said. 'I'm already a little full." She added.

When she was sure that he had a grip on it, she went back for another go at the other sushi and began to nibble on that as well. It was nice to sit and eat but as she consumed the fish and rice, she thought maybe she should put a little more into things than just trying to get a meal out of the boy. "So... uh..." She said, blushing a bit. "I don't really pay attention to Tension or anything." She said. "Friction is my job so I know pretty much every girl on the roster. I have to..." She paused. Rally did and Mercy couldn't let her boss outdo her. That would make her a terrible assistant. and even if her big blonde boss hated a lot of things about bureaucracy, the woman was good at the crux of her job. "So... How are things... going... over there?" Her question stalled out. She wasn't sure why she couldn't get into Tension. She liked looking at half naked males. She liked looking at half naked females... The thought of them grappling was enticing but... She blew a lock of hair out of her face as her aqua eyes turned and looked at Clyde aloofly.
Clyde smiled brightly as Mercy nodded so enthusiastically, It was almost criminal how cute she could be with little things like that, It made Clyde melt a bit. Though he had to admit, the octopus thing was a tad weird for him but she did seem to enjoy Japanese stuff a lot so perhaps it wasn't really that strange. "Haaaa... Cute?" He let out, that was an odd choice of words. He then made a somewhat pleasantly surprised face when Mercy expressed her desire to have an ock as a pet. "Uhmmm... Whut?" He thought, unable to hold back a grin and slight chuckle.

"You wanna have your favorite kinda food as a pet?" He asked with a curious grin, just before they were served some Temaki, which Clyde thought looked kind of odd but would gladly take it just as Mercy spoke and declared she was already a little full. "Oh. Uh. Alrightly then..." Clyde let out pleasantly Didn't she just have 1 sushi thing? Maybe she already ate? Clyde was curious but decided not to touch that subject because even he knew that could backfire.

Looking at the Temaki, Clyde debated using the sticks but realized it was too big. Without a worry if he was going against customs and traditions or something, Clyde picked up the Temaki and examined it for a sec, about ready to chow down it before he heard Mercy speak, making him pause and set down the sushi. "Huh?" He let out and then listened to her words, his cheek twitching in a flash, chuckling briefly under his breath when she stated that she didn't really pay attention to Tension. He didn't take it personally at all, but once again he was reminded that no one seemed watch that damn show at times. Granted, sometimes Clyde hated the program as well. Either way he listened to her talk about her job and friction, how she knew most of the roster because she had to. Part of Clyde wished she could know him as well.

He gave her a strongly noticeable attentive look the whole time she spoke, giving her his utmost attention, nodding along with her words that made him wonder what she was getting at. When she paused his eyes and head perked up as if to signify 'Yes, please finish what you need to say', until at least she finished her question and Clyde eased up at its simplicity, wondering why it seemed so difficult for her to ask that.

"Crazy. Same as ever!" He answered with blunt pleasantness. "Got ambushed by Kawaii's in a Super Market, fought a really tough Masked Chick with a cheesy name but had a really awesome theme song." Said Clyde without much of a care. "And... Had a match with some sadist cheerleader chick who was actually kinda tough but I managed to beat her no problem." It was a narrow victory. "Oh and get this... She managed ta' catch me off guard after the match and dragged me to the locker rooms, tellin' me "You gon be my slave Fo'Ever now and wash off my sweat!" Clyde said, parodying Lilly's voice in a slurred effeminate mockery.

"And then I'm there like... Uh, No, 'cause... uhh..." Because he had too much pride to just submit himself. Because of he thought of Mercy. He hesitated on mentioning the latter part, she didn't want to hear cheesy stuff after all, telling Mercy he turned down a super hot cheerleader because he was smitten with her would be cheesy, right? "...'C-Cause she was all crazy and stuff. Sayin' that she owned me and she was my mistress now, I'm her slave, blah blah and stuff. Chh, I just got up and left, But I tell ya' that's how alotta girls are in AFdubya, ya know? Thinkin' they can just own ya' and make you do whatever they want. She was persistent too... Prolly still lookin' for me, but I ain't worried. She's just some crazy chick. I Ain't even in Kyoto, tonight. Haha." Clyde mused about Lilly, leaving out quite a bit of details.

He then looked to Mercy with eyes going wide slightly. "Oh! Sorry if I rambled it's just, she was pretty creepy haha... I'd rather hear what you've been up to lately."
Mercy dipped another sushi roll into soy sauce and popped it into her mouth. It was something to pass the time while Clyde started to talk. She was just expecting a "Good. My matches are going pretty well" or something like that. Instead, she got a rundown of all the current events that revolved around him and Tension. Which, as he continued on, seemed to grow more pathetic a tale by the second.

As the story continued, her chewing slowed and her eyebrow raised. By the time he was finished, she could only express incredulity at Clyde. She swallowed the mush that she had chewed up and took a sip before turning her body and set her chopsticks against her plate. She coolly placed her hands on the table flatly and opened her mouth.

"Kawaii... masked ...chicks... cheerleaders... slaves?" Her eyebrow twitched. "Mr. Gastin, just what kind of man are you?" Really, she had no room to talk, she'd had been in a feud with some low-class street urchin and threatened by a psycho hose-beast wearing snakeskin. But Mercy was just a dainty lass. She was frail and not made for such strenuous physical exertion, let alone wrestling or fighting! But, wasn't Clyde a man? He sure presented himself to be some kind of macho tough guy. A cheerleader!? Kawaii?! Mercy's shoulder's slumped. And here, she had almost started to get her hops up. That this boy was something he could work with. But if she could even take him in a fight, which seemed to be what he was implying, then all hope was just gone.
"And Bikers. The Kawaii's ambushed me durin a fight with this biker chick. So they got lucky hittin me while I was worn out already. " He added while eating Temaki like it was no big deal before he heard Mercy ask her question that made him turn and blink at her with confusion.

"A.... Regular... one?" He muttered. He really didn't know what to say to that question. He was regular, right? His eyebrow raised when he saw Mercy's shoulders slump like she was dissapointed in something.

"Whut I say? Somethin' wrong?" He asked in a clueless manner.
Last edited by 621 on Sun Feb 03, 2013 11:03 pm; edited 2 times in total
Mercy gave Clyde the driest look she could as he added to his explanation. Bikers... really!?. She thought. Honestly, she couldn't harp on him too much for the kawaii thing. Those little brats had been in a thorn in Rally's side ever since Avalanche. By extension, they had been a thorn in her side as well. If they went and assaulted Clyde during a match, she couldn't blame him for that. However, the rest of it was completely different.

"Clyde..." Mercy said, slapping her hands against the table and getting into a standing position. She turned and looked at him with knit eyebrows. "I've seen some of the girls in this league. I WORK for one of them! If you were telling me that you were getting your butt kicked by 200 pound muscle bound Amazon freaks then maybe I might feel bad, maybe I could talk to Tension manage meant and have them schedule a match for you that was more your speed." She pushed away an errant lock of hair out from her face and continued.

"It's not like... I expect you to be the champion or something..." Mercy began to sit back down in her seat and let out a deep breath. "You seem like you try your best, I guess..." She added with a frown. She really didn't know. "B-But..." Her fists began to shake. "Getting your butt kicked by... by some skanky cheerleader is just... unforgivable!" She said and eyed him. "Don't you understand that much!?" She said, adjusting her glasses as she stared at him.
Clyde stopped eating his food when he saw Mercy give him that dry look. He blinked twice and looked at her with a slightly oblivious gaze. "Yes Ma'am!?" He let out as Mercy quickly when she slapped her hands down on the stable and stood up. Something seemed wrong. Did he say something dumb or did she leave the stove on at home? Seemed important. His eyes slowly widened in the most nonchalant of ways when she started speaking about the girls in the league, 200 pound amazon freaks and matches that were more his speed. He frowned slightly but it was quick to turn into enthusiasm.

"Well actually I'm kinda disappointed I ain't been booked to fight 200 Pound Amazon Freaks. Now that's a fight!" Clyde replied pleasantly and almost excitedly. He wasn't afraid of fighting anyone, regardless of how difficult it could be to win. He started to actually consider making a challenge to heavyweight now. Does Tension even have any? Maybe Rebecca was free? Who else did AFW have? These thoughts got cutoff though when Mercy went back to speaking. He'd keep that in mind though.

"Eh don't worry. Few do. That's why it feels even better when I win." Clyde replied proudly to Mercy. There was no greater feeling than winning against the odds and proving everyone wrong. Still, he listened to Mercy's words, of course he tried his best, sometimes he had trouble hitting a girl at full force though and that was best trick. When he saw Mercy's fists begin to shake however, Clyde looked to her with concern, about to ask her what was bothering her before she let him know how she felt, making the kid lean back slightly from the paralegal who started to grill the tiny cowboy.

"W-Well yeah! 'Course I do" Clyde replied nervously. "B-But she didn't fight like no Cheerleader either! And it ain't like I didn't kick her ass too, ya know! Hell I won!" Clyde tried to say. "And I dun' even know if she's REALLY a cheerleader... I mean we got people who dress up as Nurses, Teachers and uhhh...Uhhh... Cats! And uhhh... What else? Well stuff like that! She coulda been trained too!" Said Clyde in an attempt to not seem like a total wuss in front of Mercy. Maybe Lilly was a cheerleader who got trained? No, she was untrained. Clyde just remembered her yelling to him that she untrained and better than everyone in AFW. Clyde decided not to share that... He started to understand what was probably making Mercy upset.

Would it be weird if he told Mercy he got shot and showed her the scar? Taylor thought it was cool. "Damn that's a cheap way to pick up chicks..." He thought.
Mercy let out a cute growl at Clyde's words. Was he just a total buffoon? It certainly seemed that way. "Oh..." She said rolling her eyes. "Congraaaatulations, Clyde! Do you want a freakin medal?" She said. "Thank the stars you managed to win!" She threw her hands up. "So.. if WE wrestled, and you won, and I decided to get all whack job on you and try and kidnap you, you'd be, what? Proud you barely escaped from me?" She shook her fists and her body shook. "You shouldn't let it happen in the first place!" She blurted out, her lips pursed and he cheeks red.

"Don't you understand how poorly this reflects on me?!" She said, turning her head. "You can't just... suck!" She said and turned her head. "You shouldn't even be fighting someone that I could take in a fight!" Of course he didn't understand. He didn't seem to understand anything at all!

"No one wants a man who's happy to be lucky for the things that fall into his lap." She said and furrowed her brow, looking at him. "I told you... I don't expect you to be champion but..." She lowered her head and spoke a little softer. "I want you to expect you'll be champion."
Page 5 of 7 •

1, 2, 3, 4, 5, 6, 7


---
Permissions in this forum:
You
cannot
reply to topics in this forum