Champions & #1 contenders
Match for Takeichi
Tue Jun 12, 2018 6:13 am by GrandAkumaShogun
So with my other two guys having their own matches I figure I should do something with my first character on here, Takeichi Mori. If anyone is interested feel free to post here or get in touch through a pm so we can plan it out. I can either have Takeichi remain a jobber or begin to work him towards being a more serious competitor.
Comments: 1
Kawaii Opportunities
Sun Jun 17, 2018 3:04 pm by Daaharu
Hey, guys!
With the kawaii title match at Avalanche taking on an interesting wrinkle with the interruption by the Brat Pack, we are moving forward with the overall kawaii storyline, and at this point I'd just like to take stock of what kawaiis are out there that are interested in participating in a cohesive storyline.
Can't make any promises about titles or what exactly each girl's given role would be. We can talk a little more about the specifics of where the story is going soon, but I …
[
Full reading
]
Comments: 2
Match or RP?
Wed Jun 13, 2018 3:48 pm by Lotuswarrior
I'm just looking to do something while I wait for match replies. Really want to get some characters cemented a bit with a rival or some interactions with other characters here.
If anyone wants to do something hit me up.
Comments: 0
Page 1 of 11 • 1, 2, 3 ... 9, 10, 11


Handicap Table Ladders and Chairs match
Win via pin or submission
There was a certain quiet before the storm within the arena, broken by the sound of tapping drum that kicked off "Banana Splits" by the Dickies. Mere seconds later, the two founding members of the new faction in town "The Brat Pack" stepped out onto the ramp way, Izzi coming in from the left wearing her usual purple skin tight lycra bike shorts and tube top with an orange sleeveless jacket on top with bat wings... While Cham Cham from the right wearing her tiger stripe rags cat tail, ears, paws and boots. They both gave each other a quick high five as the as they reach other.
[align=center:2wr7irt2]
[url=http://afwrpg.informe.com/forum/kawaii-league-f27/izzi-t7568.html:2wr7irt2]
[/url:2wr7irt2]
[url=http://afwrpg.informe.com/forum/kawaii-league-f27/cham-cham-t4321.html:2wr7irt2]
[/url:2wr7irt2]
[/align:2wr7irt2]
This was going to be the first time that the two teamed up in Friction... Although perhaps a "strange" tag team, they certainly were in unison in the size department, both of them a measly 4"11... Some of the audience members looked at them quizzically, they thought that the next match was going to be a hardcore match, not a kawaii bout..
They both made their way to the ring and rolled in under the bottom ropes before getting to their feet. Izzi made a B line straight to the announcer, snatching the microphone off of her and then heading over to the turnbuckles to hop up onto the middle ropes, pointing out into the crowd at no one in particular.
"That's right! Don't adjust your sets.. Small is the new big thing! Now bring out the next dumb minotaur needing to be turned into beef burgers!" She hopped down from the turnbuckle and went over to Cham Cham with her hand raised up looking for a high five.
"ehh... Minotaur? into beef burgers?" She said with a wrinkled nose and quizzical expression
"You bet your ass!" Izzi said with a grin, her hand still raised high
"..."
"Don't leave me hanging.." She said looking at her hand
"Cham Cham thinks Izzi's being weird.." Cham Cham said before dropping to a cat like perch position on all fours and proceeding to start scratching at the side of her head with her foot.
Last edited by 2 on Thu Jan 03, 2013 10:27 pm; edited 1 time in total
" I have to fight toddlers? " She gazed at the television from the locker rooms, noticing the two small, fragile looking opponent with one behaving like she was the biggest brat in the world and the other.. Well.. Like she just came from the jungle. She got dressed in her usual short battle maiden uniform, crossing her arms underneath her chest, which made them pop up slightly as she just stared at the television, waiting for the staff member to tell her that they were ready for her.
[align=center:2ky7sseb]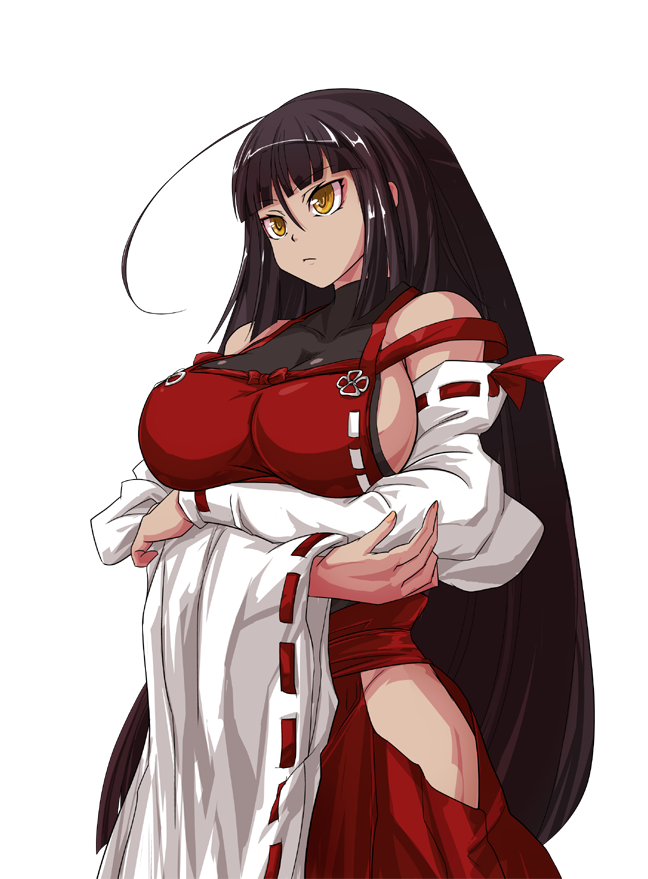 [/align:2ky7sseb]
She gave a gentle sigh when the entrance of the two small kawaii wrestlers were done and not long afterwards, a staff member calling her out, telling her that they were ready to begin. She was going to avoid doing too much damage to them and just pin one of them whenever she had done enough. She stepped out from the locker rooms and quietly followed the staffmember to the backstage area, giving her a simple nod when she was told to get ready, standing in front of the entrance that led to the stage. Soon her theme song started and Suzume stepped out to face the crowd, that dominant glare still in her eyes, despite her opponents being kawaiis, did not mean she was going to go too easy on them, they would just have to behave enough for Suzume to go for a pin.
Suzume went down the ramp and towards the ring, the many cheers from the crowd as they saw how her breasts bounced with each step but not really caring for it, she hopped onto the side of the ring and stepped through the middle and top ropes, soon standing tall infront of her two opponents and glaring straight down at them, as if she wanted them to fear her right away, her dominant tone of voice quickly making it'sself heard. " I hope you two are ready for a fight. "
Cham Cham stood up to Suzume with her paws on her hips in something that was probably suppose to be a face to face stare down, although it ended up being more like face to breast...

"You don't scare us.." She growled gruffly, trying to body block Suzume a bit but her breasts kind of getting in the way of her doing so.. Izzi put her hand on Cham Cham's shoulder to calmly draw her attention and pull her back a bit.

"Now now.. thats not the Brat Pack way.." She said faintly before suddenly hoping forwards and trying to Suzume off guard and ram her boot right into Suzume's stomach before the bell
Wondering why she was going to have to act like a rough parent towards these two became more clear when Cham Cham was tried to stand agaist her but was ushered back by her partner. Before she could wish them a good match at least, Izzy kicked her right in the stomach, causing Suzume to flinch and bend over slightly, such a cheap attack was uncalled for, she was still waiting for the referee to get everything ready for them.

Still, she refused to just take hits from either of the two and lunged forward with her arm outstretch to try and slam her arm against both Izzi's and Cham Cham's chest to try and knock them down to the mat together.
~This is the Brat Pack Way!~ Izzi had thought about say after stubbing the kick right into Suzume's stomach, but all she could manage was a mute "Oh.." as the jump start attack didn't prove to be nearly as effective as Izzi had planned. Suzume still managing to move back upright and then lunging forwards with the double clothesline on the two.

Both the kawaii girl's grunted out as Suzume's arms slammed into their small chests, taken off their feet right down onto the mat with a bump.. Izzi body bounced over onto one side and rolled away from Cham Cham and Suzume, while the green haired feline proped herself up at a 45 degree angle on one arm with her other hand clutching across her bust.
Though Izzi moved away before Suzume could grasp her. It seemed that her partner was not going to do the same, making her a perfect target for Suzume's next attack. She moved over to Cham Cham and lowered herself down to try and swoop her arms around Cham Cham's waist from behind. If she could manage to take a hold of the jungle kawaii, she would then move back up straight on her feet, taking Cham Cham with her and applying a reverse bearhug to the girl.
Cham Cham groaned out as she felt Suzume's big breasts pushing into her back and her strong arms wrapping around her waist, slowly working her up to her feet.. Cham Cham cute little butt pushing back into Suzume's crotch as she moved up to her feet, still doubled over. Then the jungle girl felt the big Japanese woman's arms slowly start to close in on her belly in a reverse bear hug.

"Ough!" Cham Cham huffed out, her hands clasping onto Suzume's forearms as she was forced to rise into an upright
Suzume didn't took pitty on Cham Cham after that sneak attack that her partner Izzi had done to her. She began to squeeze the girl's waist tightly in her grasp, a confident smirk appearing on Suzume's face as she tried to step back and away from Izzy so she could keep her eyes on the girl from the side of her own reverse bear hug, she had to fight the both of them, she would have to keep them both in check one way or another.
"Nnggrrrrrhh!!" The feline let out sounding somewhere inbetween a grunt and a growl as Suzume's powerful arms squeezed in with full strength, almost yanking the kitty right off her feet.. Cham Cham let out a deep huff and then forcefully twisted her body from side to side, grinding herself against against Suzume's front in her attempts to escape.

Meanwhile Izzi had gotten to her feet following the double clothesline, she saw that Suzume was turning around to face her but didn't let her deter her in the slightest, storming forwards towards Suzume's side and then drop down at the last minute, trying to ram her shoulder right into the side of Suzume's knee to try and take the big woman off her feet.

In the background the ref frantically called for the bell to actually get this match officially underway
She wasn't going to let Izi get any closer then she was now. When she had passed the center of the ring, she slammed Cham Cham down onto the mat so she could bring her attention towards the other brat, though she managed t ram her knee into her knee and force her to fall onto both of them, she wanted to bring hre hand to Izzi's head and forcefully push her back and away from her.
Page 1 of 11 • 1, 2, 3 ... 9, 10, 11


---
Permissions in this forum:
You
cannot
reply to topics in this forum