Champions & #1 contenders
Serious apologies to everyone....
Mon Mar 19, 2018 1:59 am by Cy_Man
To those who I RP with, I just want to say that I am terribly sorry for all my delays that I constantly do. I just have been SO unbelievably busy as of late that I hardly have any free time to be able to attempt to make posts to our threads. I really needed to get his off my chest badly, and it makes me feel like a complete piece of shit for doing this all the time. If you don't want to RP with me, I completely understand, there should be no reason or excuse for me to have to keep you waiting …
[
Full reading
]
Comments: 1
Explanations and Apologies
Sun Mar 18, 2018 10:02 pm by acuya
Okay, so.
As some of you may have noticed, the Entropy Title Match from last year's Summer Splash has come to an abrupt conclusion.
The reason for this is because my match with Lies was taking too long, and with the next Summer Splash coming up, the Entropy Belt needed to be put in play for this year.
I won't get into the specifics of WHY that happened, suffice to say it ultimately comes down to my fault, I think. For those who haven't been here long, back in the day, I had a problem with …
[
Full reading
]
Comments: 1
A match for Takeichi
Mon Mar 12, 2018 7:31 am by GrandAkumaShogun
Since both Imai and Takeshi are currently involved in matches I was wondering if anyone is interested in taking on my first wrestler I made for here, Takeichi Mori. His profile says he's a jobber but I intend to change that and hoping a match can help with that. Anyone interested please get in touch with me on here in a pm.
Comments: 1
Page 1 of 3 • 1, 2, 3


Standard prostyle match
Victory by pin, K.O. or submission
The crowd was buzzing with excitement at the prospect of the next match. Their eagerness seemed justified, as, within a few moments, a familiar Street Fighter theme began to play. There was an explosion of pyrotechnics, and Rainbow Mika suddenly strode into the arena, much to the cheering of her fans. In response, Mika smiled brightly and gave them all a V-sign gesture.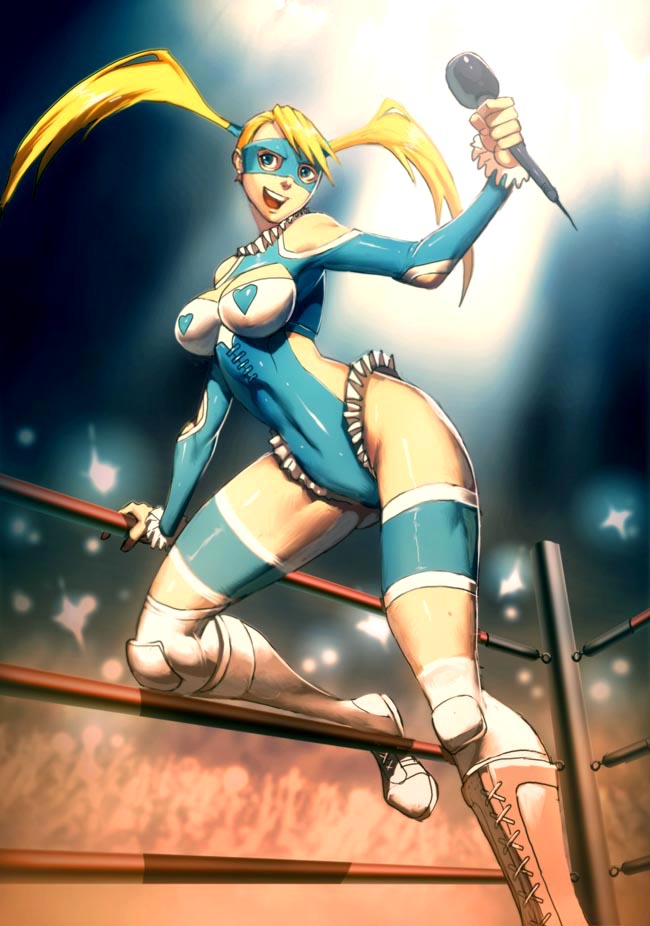 As Mika walked down the ramps, she waved to her fans, the motion causing her sizeable breasts to bounce noticeably. Breakking into a run, Mika rolled under the ropes and hopped to her feet. As usual, the former Street Fighter seemed eager and ready to take on whoever she had been paired up against today, no matter who they were.
Last edited by 137 on Wed Jan 02, 2013 8:32 pm; edited 2 times in total
As soon as Mika had finished Toshiko burst out onto the ramp with her piano tune blaring out loudly. She wore her usual attire, however since this was against a pro wrestler she decided to wear knee length wrestling boots and kneepads herself just like her rival.
Toshiko sucked up all the attention that she was getting from the crowds and decided to enter the ring by dashing up to the ropes and jumping to the top one before throwing her hands up and waving to the crowds. Once she was done she would backflip off the ropes and land in the centre of the ring, looking over at Mika
"Ready to be taught a lesson in brutal wreslting girl?"
Mika watched quietly as her opponent entered the ring. She was thin and slender, and she moved very quickly...but for some reason, what drew Mika's attention the most was her opponent's outfit. It was just so weirdly interesting...

As her opponent spoke, Mika grinned back at her. "Me? Trust me, girl, there's nothing you can teach me about brutality." She rotated her shoulder as she readied herself to throw down. "On the other hand, if you keep your eyes open, you might learn a thing or two..."
Toshiko said nothing and just waited for the bell to ring. As soon as it did Toshiko rushed up to Mika and locked up with her to try and show her that she was the stronger one out of them both.

"You will not win this at all!" She then grinned and quickly threw her knee at into Mika's gut. If it worked then she would turn around and throw Mika over her shoulder and slam her into the ring canvas
As the bell rang, Mika sprang from her corner at the same time as Toshiko. The willowy girl closed the distance between them too quickly for Mika to launch into a strike or spinning kick, grappling with her aggressively. Mika was all too happy to reciprocate, and pushed back, the two girls pushing and twisting in the centre of the ring.

That us, until Toshiko's knee slammed into Mika's gut. "UGH!" she gagged, doubling over...and then she went flying head over heels as Toshiko tossed her, sending her crashing hard on her back. "Owwie..." Mika moaned, clutching her back.
Toshiko let out a grin when all of her moves had worked just like she had planned them to.

"Not so tough now are we missy?" She said with a even bigger grin now plastered to her face. Toshiko then proceeded to lift her foot up and stomp it down onto Mika's stomach and then end with a kick to the face. She would then take a few steps away to make sure she was out of Mika's immediate lashing out range

"I thought you were a prowreslter, even wore these boots just for you. Hurt don't they?" She grinned once more. "But it looks like it you are just a fake. A girl who dresses up because she thinks she is a wrestler"
Mika was still on her back when Toshiko continued her attack, bringing a foot down to stomp down on her gut. Mika reacted too slowly, and her eyes widened as Toshiko stomped on her brutally. She gagged, doubling over further, only for her head to snap back as Toshiko's boot slammed across her face.

"Nnnngh..." the Rainbow Warrior rolled onto her back, clutching her face. The match was only a minute old, and she was already in trouble.
Toshiko was really enjoying this match so far. The only reason being was the fact she was destroying this so called pro wrestler. Toshiko knew she was being rough and brutal with her moves. She did not want to give Mika a chance, mainly because she was scared at what Mika could really do. And she did not expect Mika would of given her any breathing room if she was in a similar situation.

Toshiko loomed over Mika and grabbed both of her legs and put them under her arms "Guess what comes next sweetie?" She said with a smirk. She then stepped over Mika, turning her over in the process and pulling her into a boston crab
Mika barely heard Toshiko, as the ever-present ringing in her skull blotted out most of the sound around her. Shaking her head furiously to clear out the dizziness, she opened her eyes...just in time to see Toshiko standing over her, grinning as she grabbed at the Rainbow Warriors boots and lifted her legs...

"No!" Mika gasped, kicking out, hard, with her legs in an effort to force Toshiko back. If she failed, however, then she knew she would be in big trouble...
Toshiko was ready to put some serious super hurt of Mika, however just as she was getting ready to pull Mika into a boston crab, however things suddenly took a turn. Mika had managed to kick out, with such force Toshiko let go and went staggering backwards.

"Gah! Damn it!"

It got worse. After 5 staggering steps back Toshiko tripped on her own foot and fell backwards and slammed into the mat. with her neck hitting the bottom ring rope
Page 1 of 3 • 1, 2, 3



Similar topics
---
Permissions in this forum:
You
cannot
reply to topics in this forum