Champions & #1 contenders
The Austrailian Mudslide is Back.
Sat Apr 21, 2018 1:20 am by Softsquad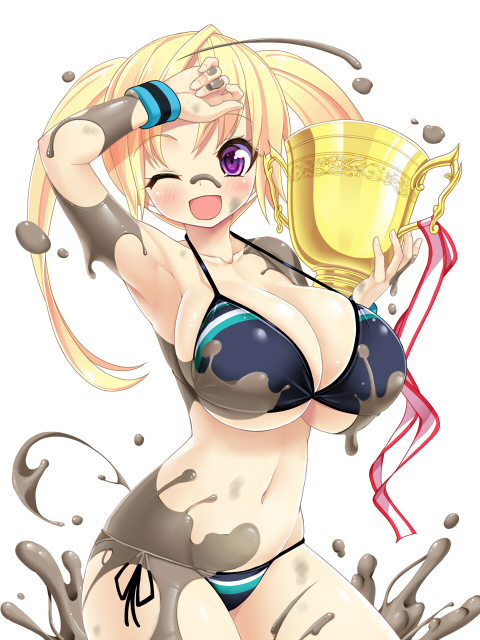 Granted that most of you won't know me or remember me, but I've had a few matches here and there some time ago. Well I think its time to become a regular around here and try to have some fun again, but at the same time keep coming back. Anyway I think its time to jump into some matches with Zoe Taylor, my mud wrestling character from Australia and get her back into the squared circle. Furthermore I will update my characters as I think some proper changes need to happen.
So if anyone would …
[
Full reading
]
Comments: 4
Looking for debut thread.
Sat May 12, 2018 4:28 pm by Hedgehawk
Hello All.
I am looking for a debut for my girl Trinity (http://www.afwrpg.com/t18107-trinity-cordova#495678).
This doesn't have to be a match, it could be a gym battle, interview or anything else. I just want something to help get Trinity off the ground. If you wanna plot feel free to reply to this message or fire me a PM.
Many thanks in advance and thank you for reading my message,
Hedge
Comments: 0
Page 8 of 11 •

1, 2, 3 ... 7, 8, 9, 10, 11


Strangely enough, through all of this embarrassment and humiliation Dominic was feeling even more turned on... the knowledge that she was just the cream puff and now that he belonged to her at least for as long as she wanted to make her "reward" last, was really quite arousing. And that on its own added to the pool of shame, the circle of arousal and humiliation was something that Natsumi herself ironically was not so unfamiliar with.

Natsumi started to crawl forwards, during the match their bodies couldn't be separated while they struggled for dominance... Since it had ended they had had the chance to part from each other but Dominic felt that he still had not had the chance to cool off, he could still clearly feel where Natsumi's sweat had trickled and smeared onto his body. Now with him naked, that feeling would be intensified.

She gently took ahold of his shoulders and guided him down onto his back, he was forced to look up and meet her gaze with her even though he was trying to avoid eye contact.. Not that it mattered now, eye contact was barely anything compared to what else they had shared and were about to share... Dominic's breathing rate quickened, he couldn't deny that he was serious attracted to Natsumi and with her completely naked now it more than a slight distraction. She pressed her breasts down against his chest nice and slow as his shoulders went down to the mat, for the first time he could feel her beautifully soft orbs against himself without a barrier in between. Her body still felt slick and wet from the intense sweaty battle moments before and the heat that they had previously been sharing among one another had not died down. The head of his cock ended up push up against her lower belly a bit much to his embarrassment, but soon he wouldn't be thinking about that as she moved her head forwards.

Dominic's heart skipped a beat as she came down and placed her lips against his own, his cheeks bright red as he closed his eyes and let Natsumi have her way. Parting his lips a bit to accept her tender kiss, the tip of his tongue moving out to the inner part of her upper lip and he let out a groan right into her mouth.
Natsumi pressed her lips softly against Dominic's own lips and slowly began to increase the pressure, slipping her arms under his neck and head as she laid full body on him. She was sweating so much that she could feel like she could swim on her own sweat over Dominic. She hesitated a bit, almost moving away from him when she felt his cock pressed against her belly, but then she pressed herself tighter on him, pinning Dominic's cock, trying to make it clear to the boy that she was in charge by dominating his manhood with her belly.

Natsumi groaned back at Dominic when she felt the boy's tongue touching her lips. It was clear that the boy wanted her and that made Natsumi feel both great and uncomfortable. She knew she wanted Dominic probably more than she had ever wanted anyone before. The fact that she had conquered him, that he was her spoils-of-wars, made Natsumi felt a strange dominant lust like she had never experienced before. She still had a hard time acting on those impulses. Part of her was still screaming inside her head telling her this was very VERY wrong.

But... she didn't had any option. She was a slave, like Dominic. She had to do what she was told, right? Natsumi suddenly found that being a slave freed her of any responsibility and guilt. Or at least she tried to think that because what she wanted to do right now was way too dirty to be her own idea.

Natsumi broke the kiss and looked deep into Dominic's eyes, resisting the urge to apologize she finally said. "I am just doing this because I have to...". It was a lie, but Natsumi had decided she was going to believe it. She placed her hands on Dominic's shoulders again and very slowly pushed herself up a bit. Her sweaty perky tits felt like velcro when she pulled it off Dominic's chest to move them right above the boy's face, and she was very careful with the move to lift her hips so she stopped pinning Dominic's cock. Natsumi made her pussy 'hop' over Dominic's cock without touching it to place it on his abs as she lowered her breasts so they would end up hovering over the boy's face.

"Kiss them..." she demanded.
Dominic moaned as Natsumi's lips drew away from his own, he'd gotten lost in the kiss and felt disappointed for it to come to an end. Dominic tilted his head forwards a bit so that his forehead remained in contact with Natsumi for a couple of heart beats longer, keen to just resume the mouth to mouth exploration.

His cheeks flushed up as her body slipped up against his own as Natsumi pushed herself into a partial sitting position, her hands pressing his shoulders down to the mat to further exert her authority over his naked ass as she hoped her hot wet woman hood right against the underside of his cock, making it throb from underneath the mini pin.. Her bust was thrust up towards Dominic's face, making him gulp in a bit just before he was brought back around to the humilating reality of the situation as Natsumi ordered him to kiss her naked sweat coated breasts.

At first, Dominic instinctively wanted to turn his face away from them in humilation but Natsumi pushed them forwards so that Dominic would know there was no way out..

"ah.." Dominic let out gently as he felt his member being squashed by the position as Natsumi leaned forwards, a sweat droplet dripping from Natsumi's breasts onto Dominic's face as the boy turned his head and ended up pressing his nose and lips right against Natsumi's wet orbs. Closing his eyes and not quite believing that he was allowing Natsumi to have her way quite like this, he pursed his lips and gently nipped with his lips against her soft warm breast
Natsumi looked down while she kept her breasts in front of Dominic's face. This was quite embarrassing for her as well but she was slowly getting rid of her shyness. She was starting to enjoy being in charge but seeing Dominic hesitate before complying made her feel once again nervous and insecure. She was about to add a 'please' to her command but right before she could say it Dominic moved her mouth and nose to her gorgeous hanging breasts.

"Mmmmmmm" Natsumi purred delighted as she felt Dominic so close to her fast beating heart, touching her sensitive breasts in such intimate way. She closed her arms around Dominic's head, hugging it gently almost like cuddling as she pushed him deeper into her bosom. Her arms pressed her breasts together to engulf the boy's face as she curled up her body, squeezing the boys sides, pressing her sex into the boy's belly more intensely and almost without noticing Natsumi began to rub herself very slowly up and down against the boy's body. "Mmmm....mmmm.. don't....stop..."
As Dominic's lips moved and rubbed into Natsumi's breast with paint brush fine strokes, cutely enough his heart beat mirrored Natsumi as it started to pound quicker... He could feel the heat radiating from her skin and the moisture of her sweat covering her breast. Natsumi's arms came around the back of Dominic's head, not taking his head in a smother but instead cuddling him gently to herself as the nipple of her breast slipped around and lodged itself right between his lips.. Breathing in the scent of her bust and feeling the warmth of her body against him, something hypnotic in his mind urged him to just go with it.. Just let it happen... They were going to be sharing so much today anyway...

With an almost submissive moan of resignation, Dominic let his lips part slightly.. Natsumi's nipple slipping with ease between his now open lips and into his mouth along with the whole of her areola as he slid his hands around her waist just above her ass.. The very tip of her nip nestling down on the bed of Dominic's tongue as he let out a "nnnmmmh..." that rumbled against her breast. He closed his eyes, cheeks flaring up red as her heated crotch started to leave a wet slip up and down his abs, his cock responding by straining at full erection.. The head pressing against the underside of her butt cheeks as if it sensed the warmth of Natsumi's pussy
Last edited by 2 on Thu Jan 02, 2014 4:57 pm; edited 1 time in total
Natsumi felt like she was floating. Dominic was somewhat clumsy, it was clear that he didn't knew what he was doing and wasn't fully convinced, but it still felt incredibly good to have him under her and to feel his tongue on her sensitive nipples. Natsumi began to run her fingers through Dominic's hair, letting a few loud moans of pleasure escape her lips when the boy captured her hardrock nipple fully. SHe closed her eyes and allowed herself to get carried away by the pleasure but suddenly opened her eyes, gasping a bit surprised, when she felt Dominic holding her waist. Natsumi had been held by the waist like that before... well, not exactly like that. She had been on her fours not on top of a guy and it had ended with some mean bitch fucking her with a strap on. She could feel the hard tip of Dominic's boyhood against her and she was sure Dominic was going to pull her down by the waist and penetrate her. She had never been penetrated by a real boy cock and she was more than a bit curious about how it would feel, yet she didn't wanted to relinquish her control over Dominic. She had won, she was the boss now. As much as she loved how Dominic's hands felt holding her waist right above her round butt, and as much as she wanted to have Dominic inside her, she wanted to make sure Dominic understood who was top and who was bottom.

Natsumi moved one hand down, to grab Dominic's shaft with it and pull it up, aligning it to her wet slit, but keeping it under control. Then she closed her other hand on Dominic's hair and very gently pulled the boy's face out of her chest as she arched her back. She looked down at the boy and slowly moved her head down to kiss his lips briefly, then moving her chin over his right shoulder to whisper in his ear. "Domi..." she whispered softly, kissing him under the earlobe. "Who won?"
Dominic winced a little as Natsumi took a commanding hold around his shaft in the palm of her hands, guiding it upwards and before he knew it he could feel the heat and moisture beating on the head of his cock from her pussy above it. Dominic's eyes went wide as he gasped sharply around her breast, it wasn't like he hadn't been with girls before.. Mimi Minami had made quite a sexual prey out of him in the past and his bouts Cherise Campbell had gotten rather heated... But he had never really gone any further then dry humps and hand jobs.. He had naively thought that "fuck the loser" would just be the same thing, but as Natsumi placed the head of his member to her sex he realized the seriousness of the situation, she was about to take his virginity away.

Dominic started to hyperventilate a little as Natsumi took him by the hair and drew his lips away from her breast... The thought of Natsumi dominating him in such an embarrassing way, changing his career path to becoming a jobber with her victory of him and now also about to become his first forever more; was really getting to him... His cheeks deeply flushed as she moved in to whisper into his ear, her moist breast moving back down to his chest... There was no doubting who was in dominating who in this for Dominic but still it seemed like Natsumi wasn't as certain as she asked him..

"Y-you did.." Dominic muttered
Natsumi's body trembled as she got more and more nervous with each second it took Dominic to answer. Dominating the boy was taking a lot of will power to do and Natsumi didn't felt like she could deal with him if he rebelled; she felt so ashamed of hat she was doing and so aroused at the same time. She let out a deep sigh of relief when she heard Domi accepting her dominion over him. It was real hard for her to feel dominant when Dominic's hands controlled her hips, making her feel ready to melt.

"Do it..." she whispered trying to make it sound like a command although she was almost begging. She closed her eyes and kissed the boy's lips softly again waiting for him to push in...or pull her down. She hugged his head bringing him even closer to her, trying not to tremble, but in a way it was also her first time, at least with a boy, and she was very nervous.
Dominating Dominic might have been taking a lot of will power on Natsumi's part but she had no idea how effective it was on him.. She wasn't being aggressive or overpowering, but her sweet soft domination over him was embarrassing but also sensual.. Dominic found himself humiliatingly enough, wanting Natsumi to keep dominating him this way. He blushed a little more as that thought came to mind, she had dominated his body and even put him out.. Now she was kinda dominating his mind.

She whispered to him to "Do it" and as naive as Dominic was, he didn't really understand what "it" was... But that didn't matter, soon enough she moved forwards to touch lips and before he knew it he was lost in her kiss.. He allowed his lips to part and their the tip of their tongues to connect, still feeling a little breathless from being held so long in her sleeper previously that the kiss only made him feel more dazed.

After a while in the kiss, Dominic became aware to the fact that Natsumi's heated opening was still looming over his cock and bathing the head with her warmth, but not making a move.. That's when he figured out just what "it" was... His heart started to race once more as his hands gently moved on her hips. Slowly he pulled down on them, guiding her passage down over the head of his cock. His lips parted from her slightly as he let out an unconscious groan, faintly biting on his lower lip while his upper lip still pressed against her own.. He felt her passage way gently blossom open and move to accommodate his girth. His hot member pressing against her inner passage all of the way into her and by the time he was in up to the hilt, he had been left even more breathless then he was before!
Natsumi was too busy enjoying the kiss to care much about Dominic's hesitation. The sensation of her lips pressed against Dominic's while their tongues touched softly right between their mouths was so warm and delicious that Natsumi lost track of time and didn't realized was taking a lot of time to do what he had been told. Natsumi was so lost in the kiss that it took her a bit by surprise when Dominic began to push himself inside her, even when she had commanded him to do it.

She gasped into his mouth, and tightened her arms around him pulling him even closer to herself. She tightened her body and clung to him, moning softly into his mouth as she felt how he split her tender labia. This was so much different than being penetrated with a dildo. Even if is was just as hard, Dominic's shaft was warm...hot, and alive; Natsumi could feel it pulsing inside her as the boy breathed against her. This was definitively much better than any toy.

It took her a handful of seconds to get used to the pleasing but still weird sensation of having Dominic inside her, but once she did Natsumi relaxed her body, stretching her legs and spreading them a bit around Dominic's own lets, arching her body a bit to uncurling it, so she could rub herself on Dominic some more. Natsumi had never been like this with a boy and just now was realizing how good it felt to roll her perky tits on a boy's chest. Almost without noticing it Natsumi began to move her hips up and down, making Dominic's shaft to half leave her pussy only to make it go full inside over and over.
Page 8 of 11 •

1, 2, 3 ... 7, 8, 9, 10, 11



Similar topics
---
Permissions in this forum:
You
cannot
reply to topics in this forum